Buying Solar? Don't Pay 'BMW' Prices For A 'Kia'!
By Finn Peacock – Chartered Electrical Engineer, Ex-CSIRO, Founder of SolarQuotes.com.au
Last Updated: 17th Nov 2021
In this article:
Reputable solar brands that I'm happy to recommend
The SolarQuotes "Grandmother rule"
How to get quotes from reputable, pre-vetted solar installers
Imagine buying a new car, without realising that paying BMW prices for a Kia is a really bad deal.
(I'm not trying to say that Kia is bad compared to BMW – I know a lot of people that are thrilled with their Kias – but I think we can all agree that you wouldn't want to pay a BMW price for one!)
It sounds crazy – but in the solar industry, this is happening every day around Australia. Just the other day, I got an email from someone who had been quoted $10,000 for a system I wouldn't pay more than $5,000 for.
The fact that I'm answering emails like that all the time tells me that the average Aussie doesn't know much about solar – and why should they?
That's why I decided to write this article, to get people up to speed about solar and set some basic expectations for a solar quote.
Solar brands – What's a "Kia" and what's a "BMW"?
A new solar system is made up of two major components – the solar panels, which go on the roof (duh!), and the solar inverter, which will either go on the wall (if it's a 'string' inverter) or on the back of each individual solar panel (if they're what's known as 'microinverters').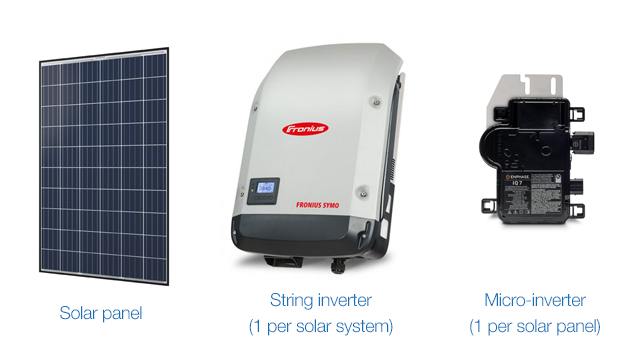 Part of what makes buying solar hard for the average Aussie is that there are bucketloads of reputable brands of both solar panels and solar inverters out there – as well as a minefield of crap ones.
It can be quite difficult to make a decision on which brand to go with when everyone's claiming theirs is the best. "What brand should I choose?" is probably the most common question that I get every day.
This is where my "Grandmother rule" comes in to play. Simply put – if I wouldn't recommend a solar panel or inverter to my grandmother, I won't recommend them through SolarQuotes.
To make it easy to visualise a) whether a brand has passed my "Grandmother rule" test and b) where it then sits on a spectrum of budget-end ('Kia') to top-end ('BMW'), I've put together these two charts.
The first is for solar panel brands that I'm happy to recommend:
---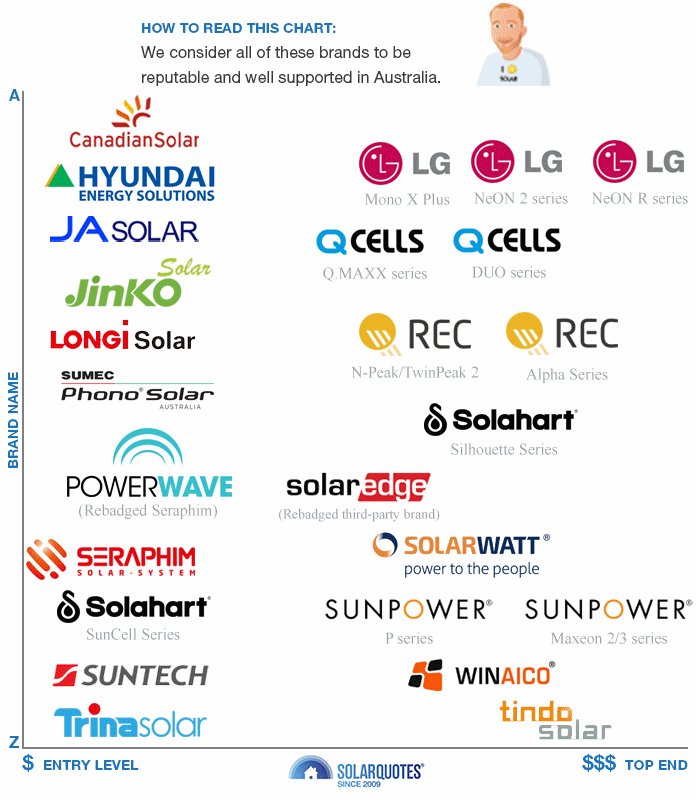 The second is for solar inverter brands that I'm happy to recommend:
---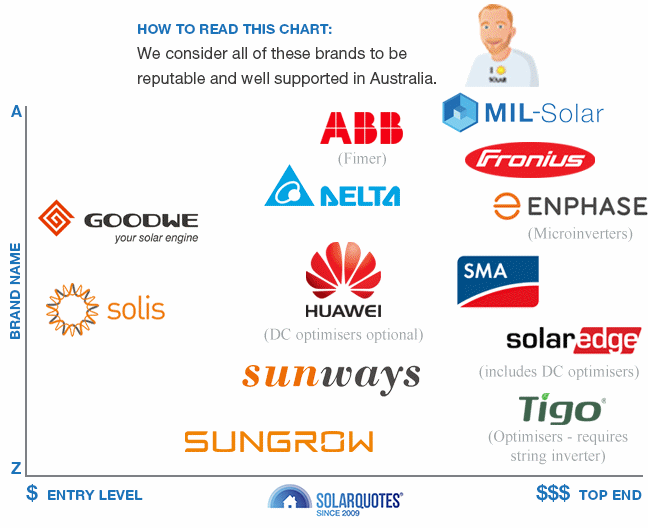 You can see how it would be a problem if you got a quote that was charging top-end prices for budget-end brands!
If you use my website to get quotes for solar from installers that I trust, chances are extremely high that your quote will include brands featured on the charts above.
(I could also have put together a "stay away from these brands at all costs!" chart, but my lawyers are busy enough!)
If you ask me about brands not on the above charts, my reply is most likely going to be "I'm not familiar with that brand, so to be on the safe side, go with a brand listed on my chart". But as new products come into Australia, I do update these lists when I get enough feedback from installers I trust that the products are decent.
What's a fair price to pay for a system using these brands?
The charts show brands that I trust, as well as where they sit in a spectrum of budget-to-top-end.
If you're quoted these brands, what kind of prices should you expect to pay?
Well – it depends on a couple of things. But for ballpark figures for a fully installed solar system:
1.5kW (around 4 panels): $2,500-$4,000
2kW (around 5 panels): $3,000-$4,500
3kW (around 8 panels): $3,500 – $5,000
4kW (around 10 panels): $4,000-$6,000
5kW (around 13 panels): $4,500 – $8,000
5.4kW (around 14 panels): $4,700 – $8,500
6kW (around 16 panels): $5,000 – $9,000
6.6kW (around 18 panels): $5,200 – $9,600
7kW (around 19 panels): $6,500 – $10,000
8kW (around 21 panels): $7,500 – $11,000
10kW (around 27 panels): $8,000 – $12,000
15kW (around 40 panels): $13,000 – $18,000
20kW (around 54 panels): $17,000 – $22,000
You might be wondering why 5.4kW and 6.6kW are only marginally more expensive than a 5kW system.
This is due to the way the 'solar rebate' works. The solar rebate is based on how many panels you have. You are allowed to add panels over and above the inverter capacity (up to 33% more).
This means that if you have a 5kW inverter, the rebate actually covers most of the cost of adding an additional 1.6kW to bring it up to 6.6kW total.
And to be clear – the upper end prices are for top-end systems (e.g. LG/Sunpower panels with full panel level optimisation), installed by a solar 'craftsman'. Think 'Ferrari'.
Prices on the lower end are for budget-end systems installed by a 'no frills' solar company. Think 'Kia'.
Prices in the middle of the above ranges will be for a midrange-to-premium system installed by an experienced solar team. Think 'BMW'.
Also note that the above prices include the discount from the federal solar 'rebate', but not the Victorian state rebate (if you're in Victoria).
Costs can increase if you need a switchboard upgrade or other electrical work to make your home suitable for solar power, or if the design of your home makes the system installation more difficult.
If you decide to go with micro inverters over a string inverter, costs will also increase by approx. 20%.
Installing battery storage (for an off-grid or hybrid system) will at least double the price of the system.
If you're quoted much less than these price ranges by a solar energy salesman, their margins are likely very slim (and potentially unsustainable), or they may have to cut corners – whether that is with their customer service or elsewhere.
If you're quoted much more than these price ranges by a solar energy salesmen, you're most likely dealing with a rip-off merchant who employs the industries most persuasive sales people (who they can afford to hire due to the high margins), and who is praying you won't seek additional quotes for comparison.
The quickest, easiest way to be put in touch with installers that I trust who charge fair prices for reputable brands
Since I founded SolarQuotes in 2009, I've made it my personal mission to only recommend reputable solar companies in Australia – ones who charge 'Kia' prices for 'Kia' gear, ones who charge 'BMW' prices for 'BMW' gear, and all those in-between.
The fastest way to be put in touch with them is to request quotes through my website – I'll do my absolute best to connect you with up to 3 quality pre-vetted solar installers (ones I'd be happy to recommend to my grandmother!).
So – decide what type of system you are in the market for:
Budget, but reputable
Good mix of quality and price
Top, quality, most expensive, bespoke service.
Then use my free service here to request quotes.
And of course – you can email me at any step of the way if you need anything clarified.
SaveSaveSaveSave