SolarQuotes in the media.
SolarQuotes and/or Finn Peacock have been regularly mentioned in online and print media, radio and television both in Australia and overseas – below you'll find a few examples.
---
2GB Sydney
October 5, 2023. Finn chatted with 2GB Sydney's Ben Fordham about a major milestone for solar energy during the weekend and the cost vs. benefits of home solar power (and battery) systems. Listen to the discussion here.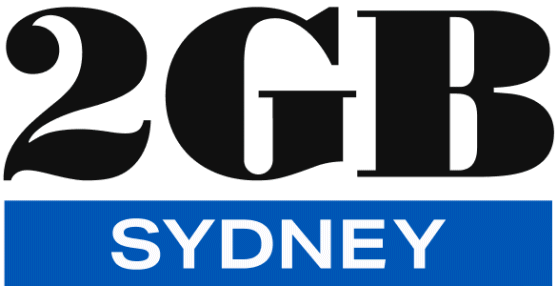 ---
The Guardian
September 23, 2023. Finn contributed a detailed article to The Guardian on how to tell if a home battery could save a household money in 2023. You can read it here.

---
ABC Radio – Nightlife
September 20, 2023. Finn was back in the Nightlife studio to chat about solar and the economics of home batteries. You can listen to the segment here. Listen to the segment here.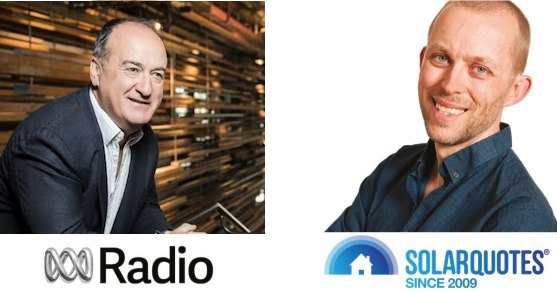 ---
9 News
March 22, 2023. Finn weighs in on the importance of having an advanced solar monitoring system to help maximise savings and provide a heads-up when something's not quite right. You can view the segment here.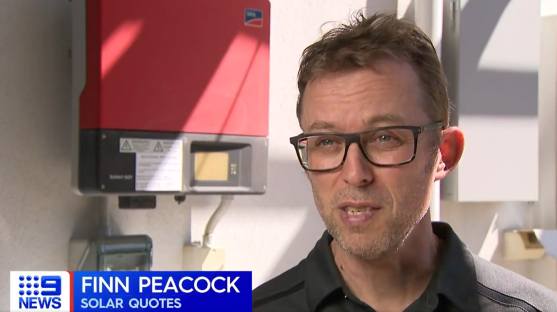 ---
ABC Radio – Nightlife
March 1, 2023. Finn joined Philip Clark to discuss and answer caller questions regarding rooftop solar, batteries and EVs – and to also tackle some recent media hype on the rise of rooftop solar power in Australia. You can listen to the segment here.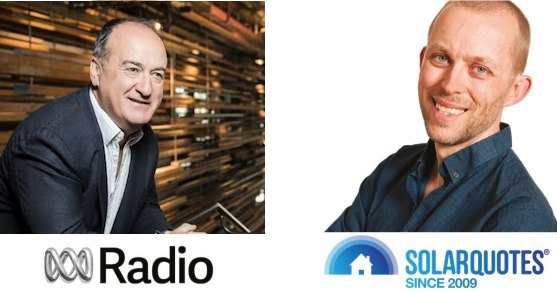 ---
ABC Radio – AM
December 8, 2022. Finn and others from the industry comment on the latest solar and battery boom, and the impact on installation times. You can listen to the segment here.

---
The Guardian
October 12, 2022. The Guardian's Peter Hannam spoke with Finn about another surge in solar interest after Alinta Energy CEO Jeff Dimery predicted a 35% power price rise. You can read the article here.

---
ABC Radio – Nightlife
July 5, 2022. Finn Peacock spoke at length with ABC Radio Nightlife hosts Indira Naidoo and Phil Clark about home solar power and batteries, and answered questions from listeners. You can catch the full segment here.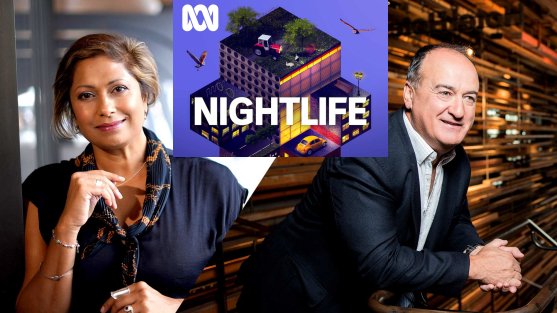 ---
ABC Radio Adelaide – Afternoons
June 22, 2022. Finn chatted with Sonya Feldhoff on ABC Radio Adelaide's Afternoons program about the home solar power situation in SA.  You can listen to the full discussion here (starts at the 1:03.20 mark and runs for around 17 minutes) or read a summary here.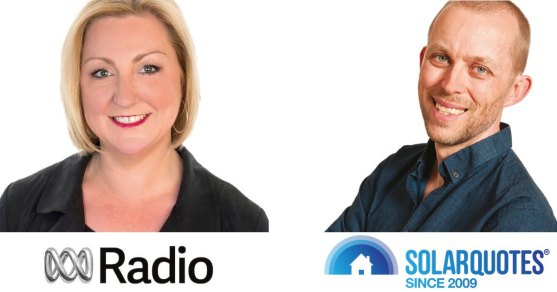 ---
ABC Radio National – RN Drive
June 13, 2022. Finn spoke with RN Drive's Andy Park about the rush on solar power systems resulting from looming electricity price rises, and feed-in tariffs.
You can listen to what was discussed using the player, or read the transcript here.
---
7 Sunrise
June 9, 2022. Finn chatted with Channel 7's Sunrise team about the benefits of home solar power . See the segment here.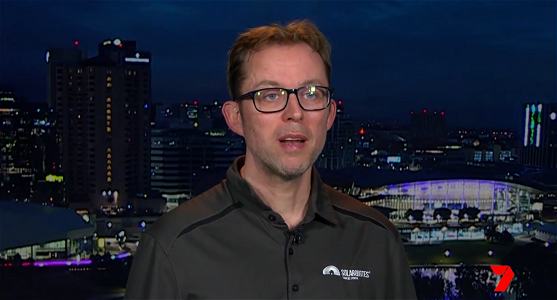 ---
7 NEWS Brisbane
June 6, 2022. Finn appeared (albeit briefly) on a 7 NEWS Brisbane segment on the impact of rising electricity prices in Queensland, and a new rush on solar power systems. See the segment here.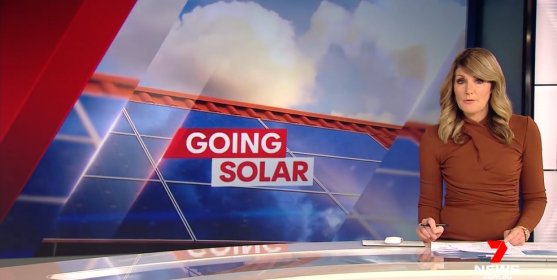 ---
ABC Radio Adelaide – Mornings
June 2, 2022. ABC Radio Adelaide's Caroline Winter asked for Finn's take on the Malinauskas Government's dumping of the Home Battery Scheme and Switch for Solar program. The whole segment, which also features commentary from David Speirs (State Opposition Leader),  Tom Koutsantonis (SA Energy Minister) and Robert Simms (Greens MLC), starts at 1:00, with Finn's comments at 26:05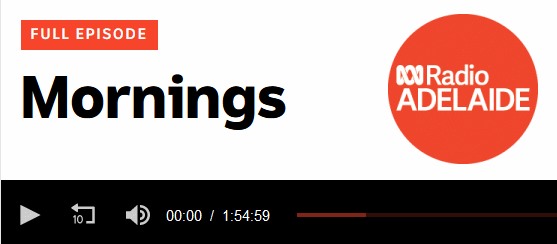 ---
ABC Radio – Nightlife
November 25, 2021. ABC Radio Nightlife's Philip Clark spoke with Finn on a broad range of topics relating to home solar power; including feed-in tariffs, solar energy self-consumption and adding batteries. Listeners also called in with their questions for Finn.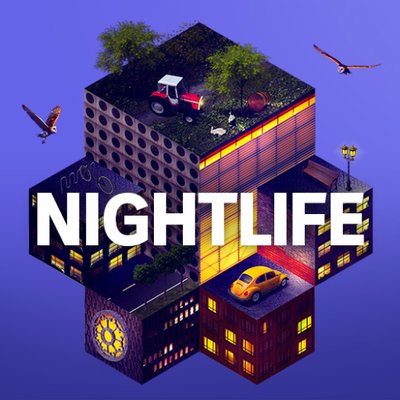 ---
Aussie Firebug
October 8, 2021. Finn was interviewed at length for the very popular Aussie Firebug financial independence podcast, discussing his backstory and the in and outs benefiting from solar energy.

---
Adelaide Advertiser
April 11, 2021. Finn provides some tips for Australian households wanting to go solar.

---
Australian Financial Review
March 26, 2021. Finn discusses the need for reforms given electricity network congestion and instability due to the ever-rising popularity of rooftop solar.

---
ABC Radio Newcastle
January 29, 2021. Finn chats with ABC Radio Newcastle Drive presenter Paul Turton about the potential for EV manufacturing in Australia, government policy and electric cars generally (click here – segment starts around the 1hr. 18m mark, runs for 8 minutes).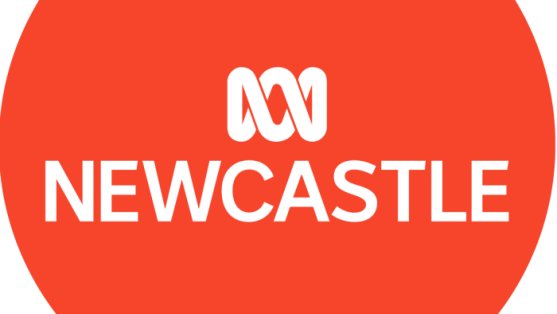 ---
Channel 10 News
Finn comments on a new Virtual Power Plant (VPP) deal and points out many Australians are already achieving zero dollar electricity bills with solar alone – no batteries required:
---
---
The Australian Financial Review
In October 2020, Finn alerted solar purchasers to so-called "interest-free" solar deals and outlined the potential savings through installing PV. Click on the image for a larger view.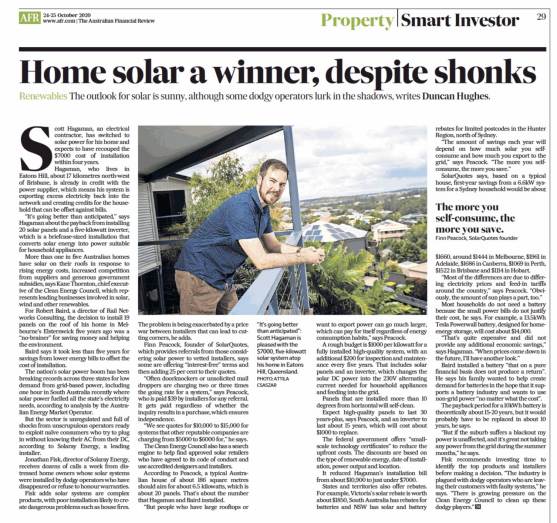 ---
Advertiser, Courier Mail, Daily Telegraph, Herald Sun
In this February 2020 article, Finn warned solar buyers about some companies that combine the payback figures of solar and batteries, obscuring the benefits of just installing solar. Click on the image for a larger view.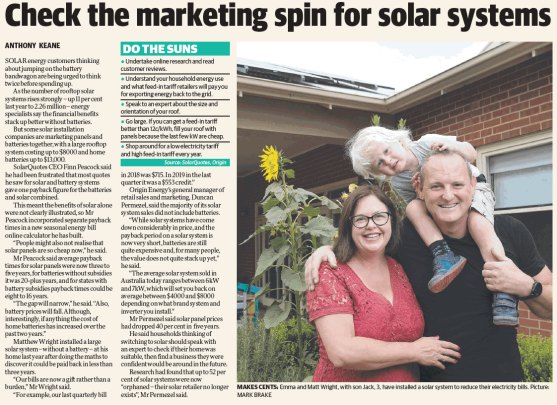 ---
Adelaide Advertiser, Courier Mail, Daily Telegraph
In this November 2019 article, Finn provided advice on what a home solar power system should cost – and for consumers to be wary of so-called "interest-free" deals. Click on the image for a larger view.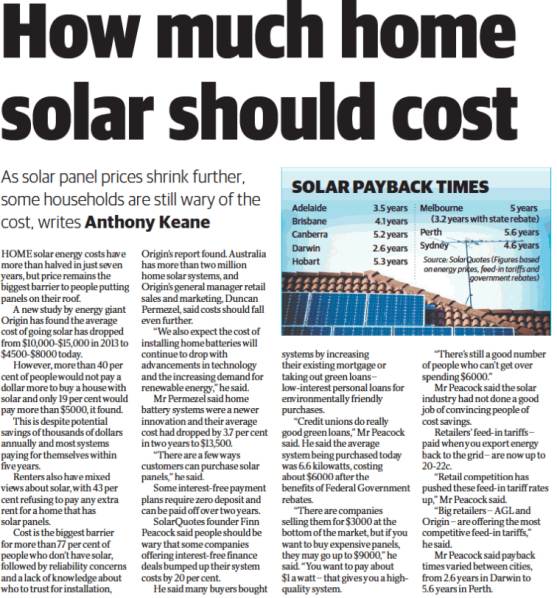 ---
Adelaide Advertiser
In this May 2019 piece in the Adelaide Advertiser, Finn bust the myth that solar isn't worth it without batteries. Click on the image for a larger view.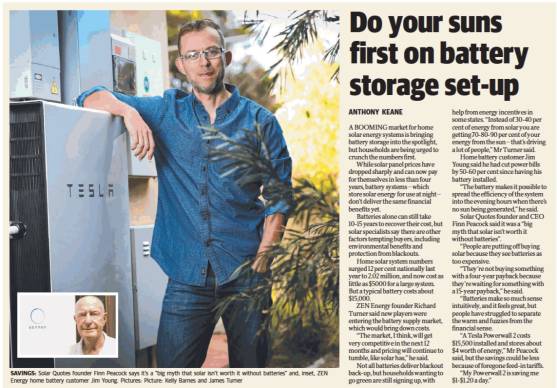 ---
Courier Mail
An interview with Finn regarding his career direction that appeared in New Limited's national careers lift-out in early May 2019. Click on the image for a larger view.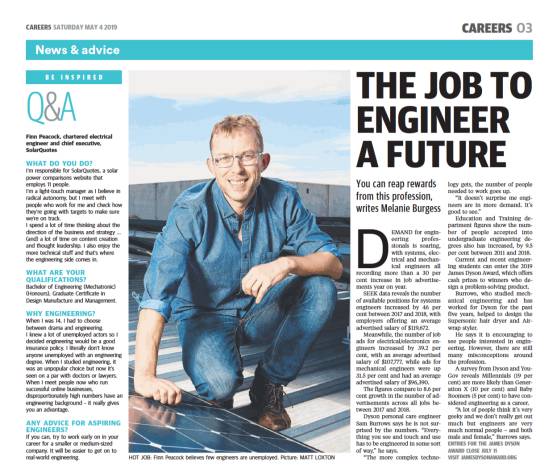 ---
Adelaide Advertiser
Panels, batteries, inverters, feed-ins – it's enough to confuse anybody. In this Advertiser article from March 2019, Finn translates the jargon and answers readers' questions. Click the image for a larger view.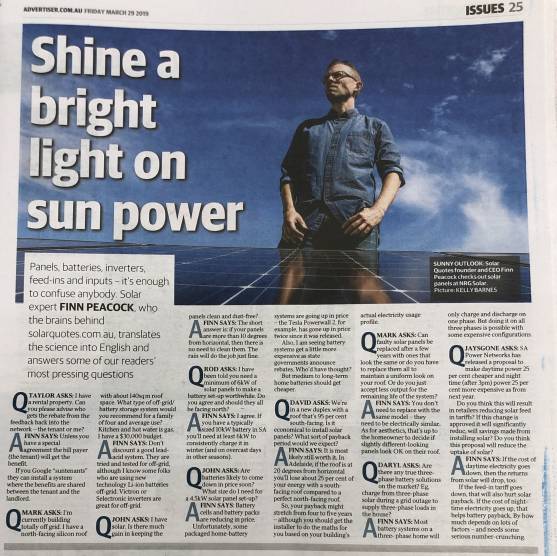 ---
7 News
In this 7 News item, Finn comments on AGL's Offsite Solar scheme and Carlton United Breweries being supplied  with 74,000 MWh of electricity per year from Karadoc Solar Farm.
---
NightLife – ABC Radio
Finn appeared on ABC Radio's Nightlife on November 14, 2018, chatting about the basics of home solar and batteries, and answering questions from callers. You can listen to the full segment here.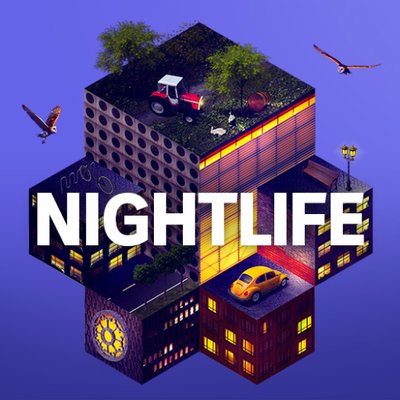 ---
Adelaide Advertiser
In this Adelaide Advertiser piece (November 2018), Finn comments on the South Australian Home Battery Scheme (click image for larger view).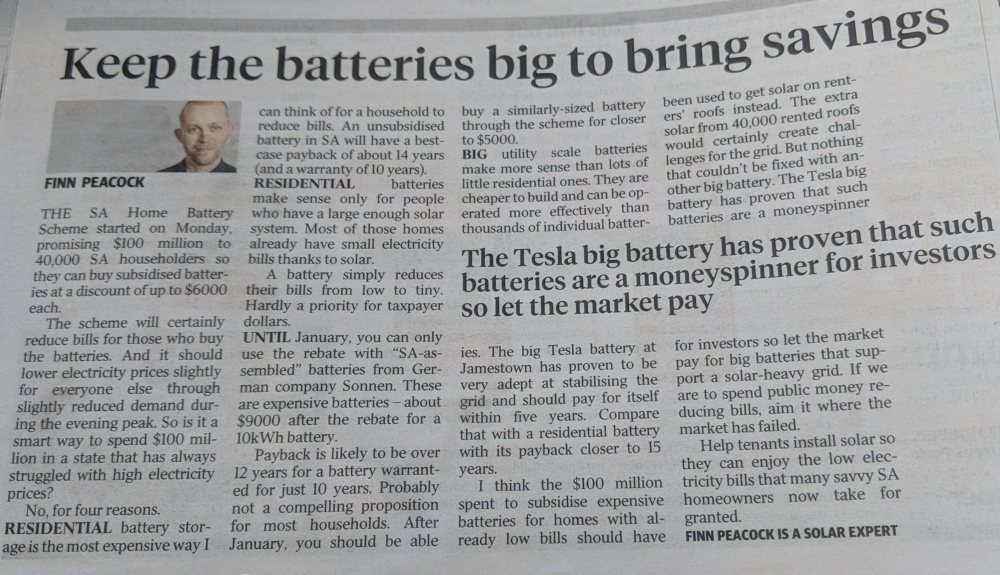 ---
Studio 10
Finn takes questions from the Studio 10 panel about:
electricity prices – and why they have risen so much
how much you can typically save in each capital city with solar
how much solar costs
the risks of shoddy installs
…and manages to stink out the studio with the charred remains of a DC isolator.
---
The Checkout
ABC's The Checkout had a great segment to help people considering solar power. SolarQuotes was mentioned a couple of times, as a recommended way to get 3 quotes from pre-vetted installers:
The ABC team did a fantastic job on covering home solar power in Australia, but the segment crammed *a lot* of information into a short duration – so we followed up with a post on the SQ blog on the major points The Checkout addressed or touched on; along with links to further reading.
---
Nine News
Finn chats with Will McDonald about:
How much more affordable and accessible solar power is today and how quickly it can pay for itself
How the electricity companies want to introduce Demand Tariffs so they can hit us with extra surcharges to try and make up for lost revenue due to the popularity of solar panels.
Why I wrote my book, The Good Solar Guide.
The difference between utility scale batteries and home batteries.
---
Radio
Here Finn chatted for an hour to Philip Clark on ABC's Nightlife, which is broadcasted nationally, about how to buy solar well. During the segment, Finn also took questions from Australians calling into the program, covering a wide range of issues relating to purchasing, using and making the most of solar power.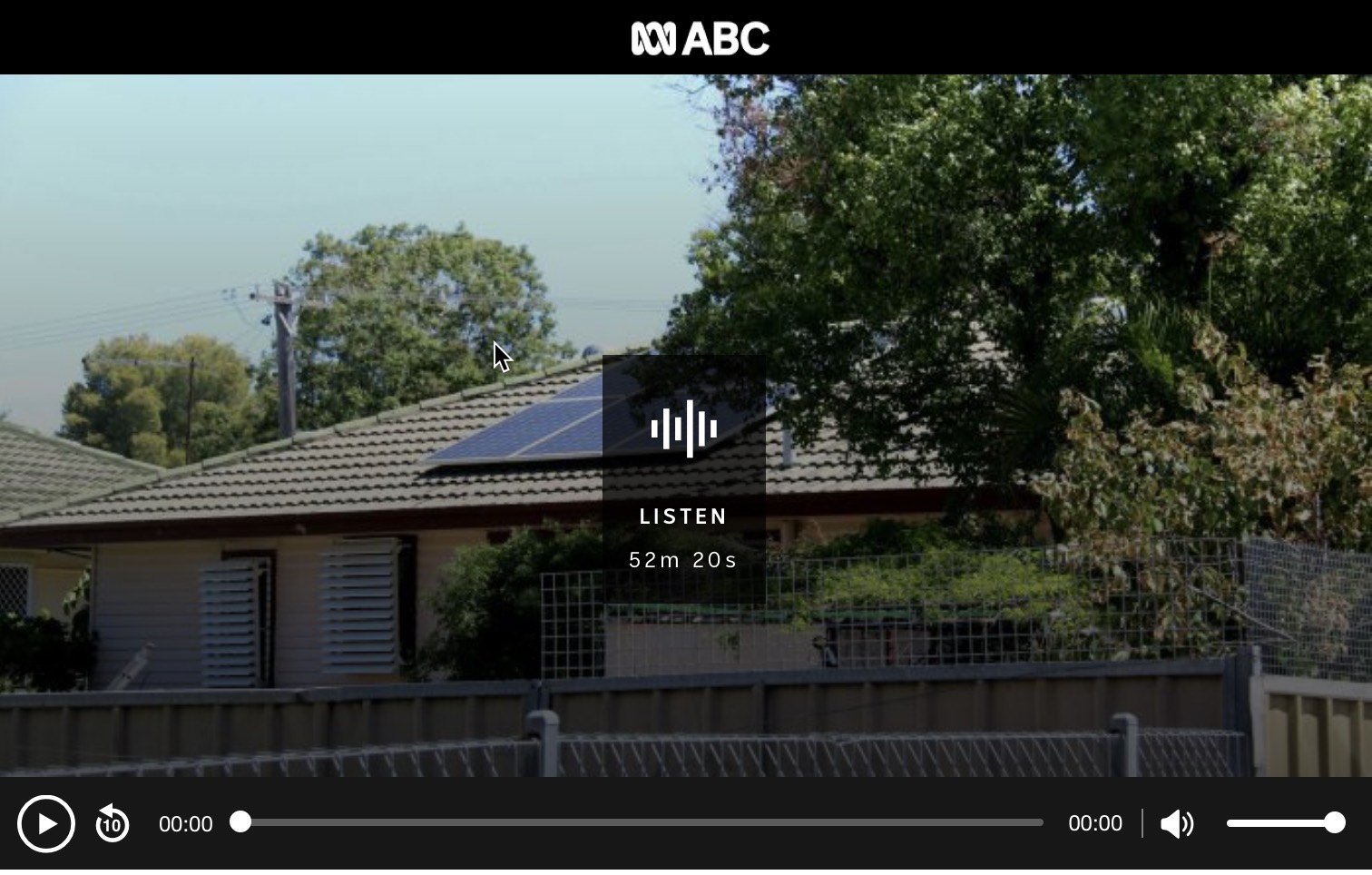 Finn has also appeared on ABC Radio Adelaide, Radio National, and FiveAA taking live questions from listeners.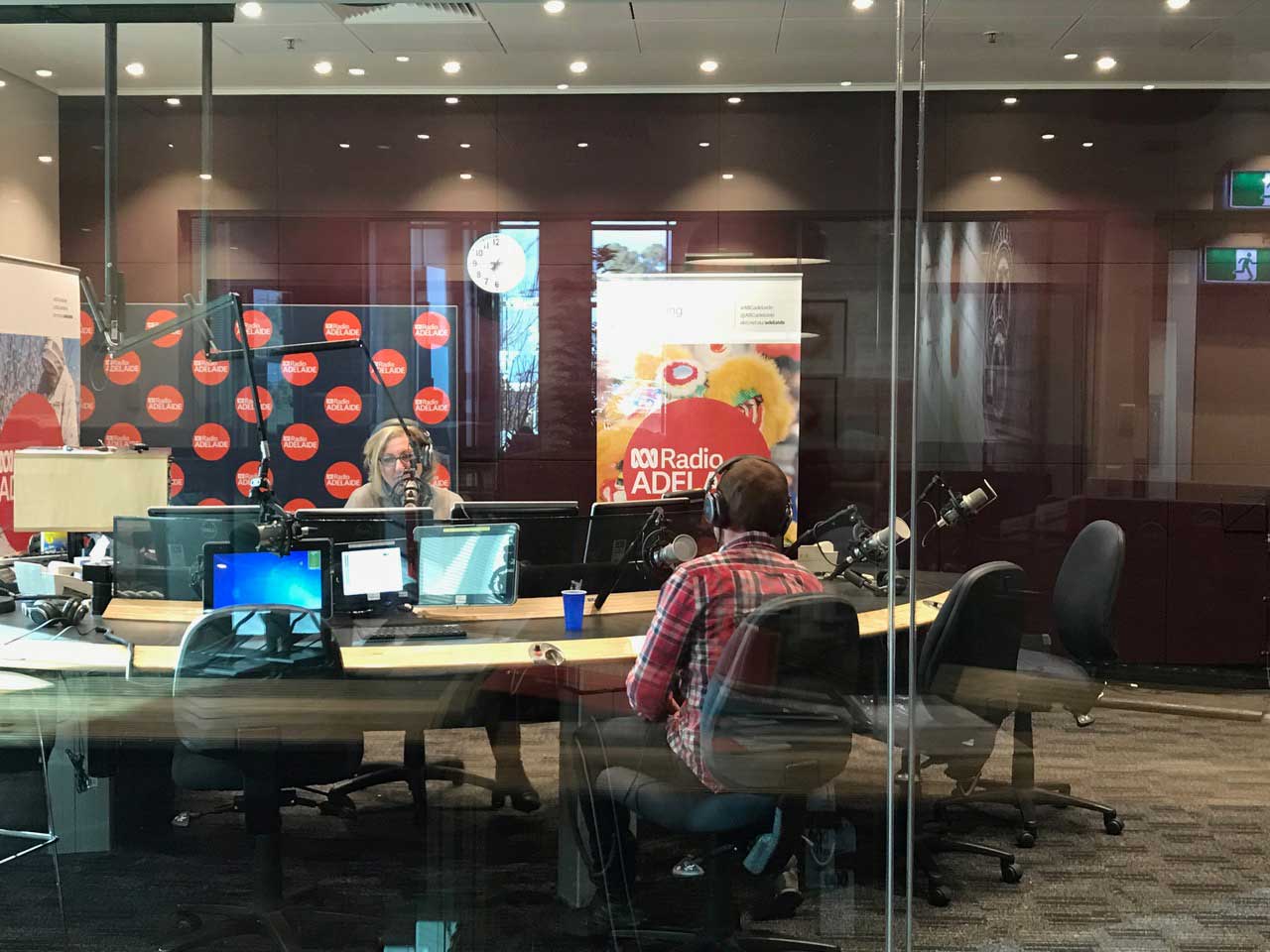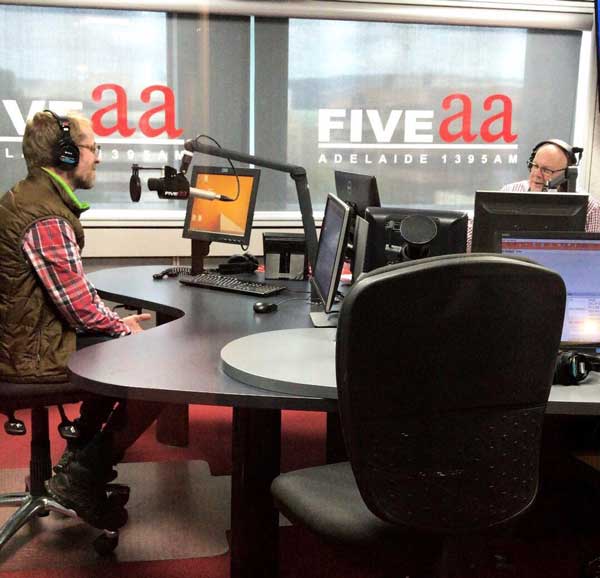 ---
Sydney Morning Herald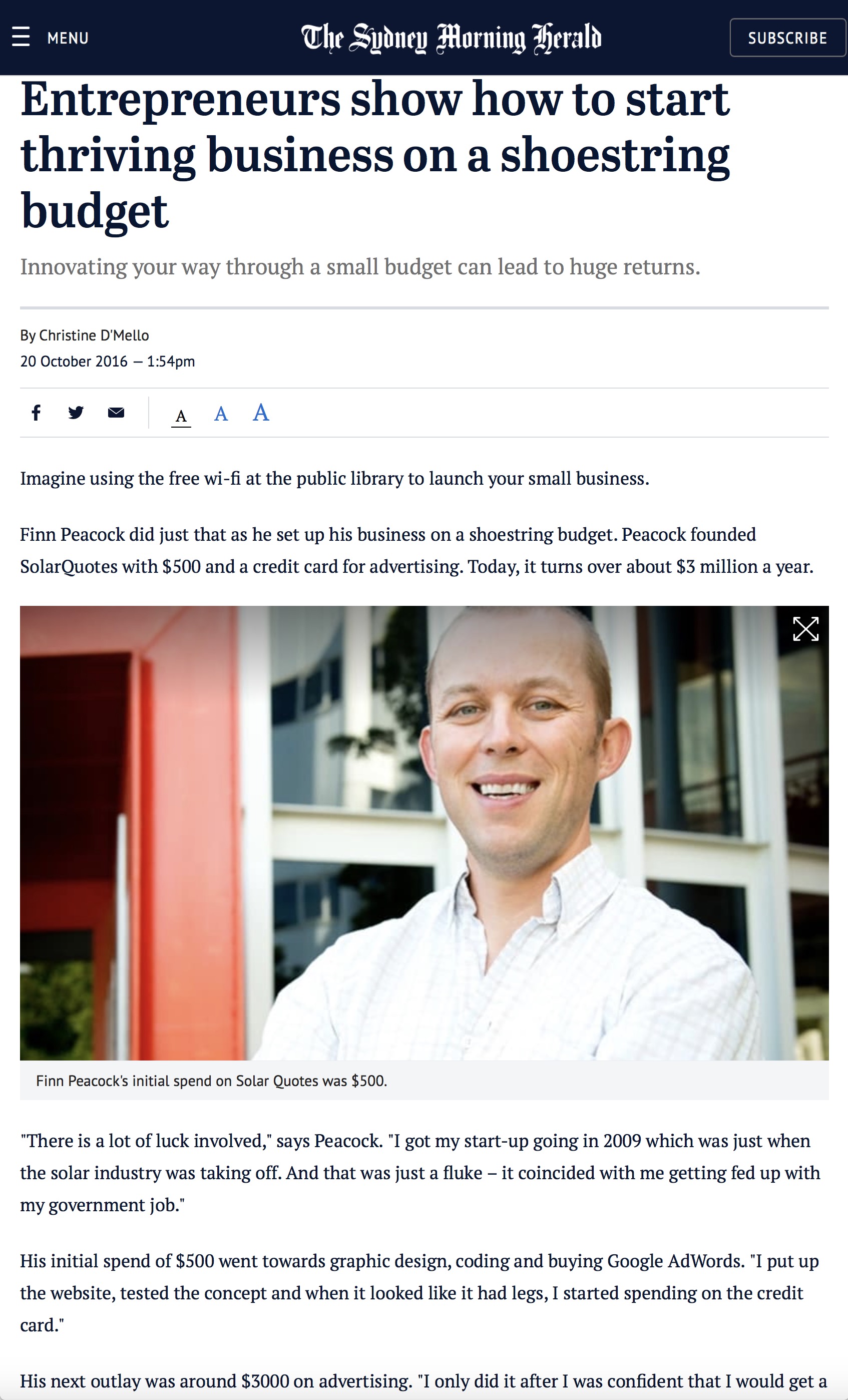 ---
The Age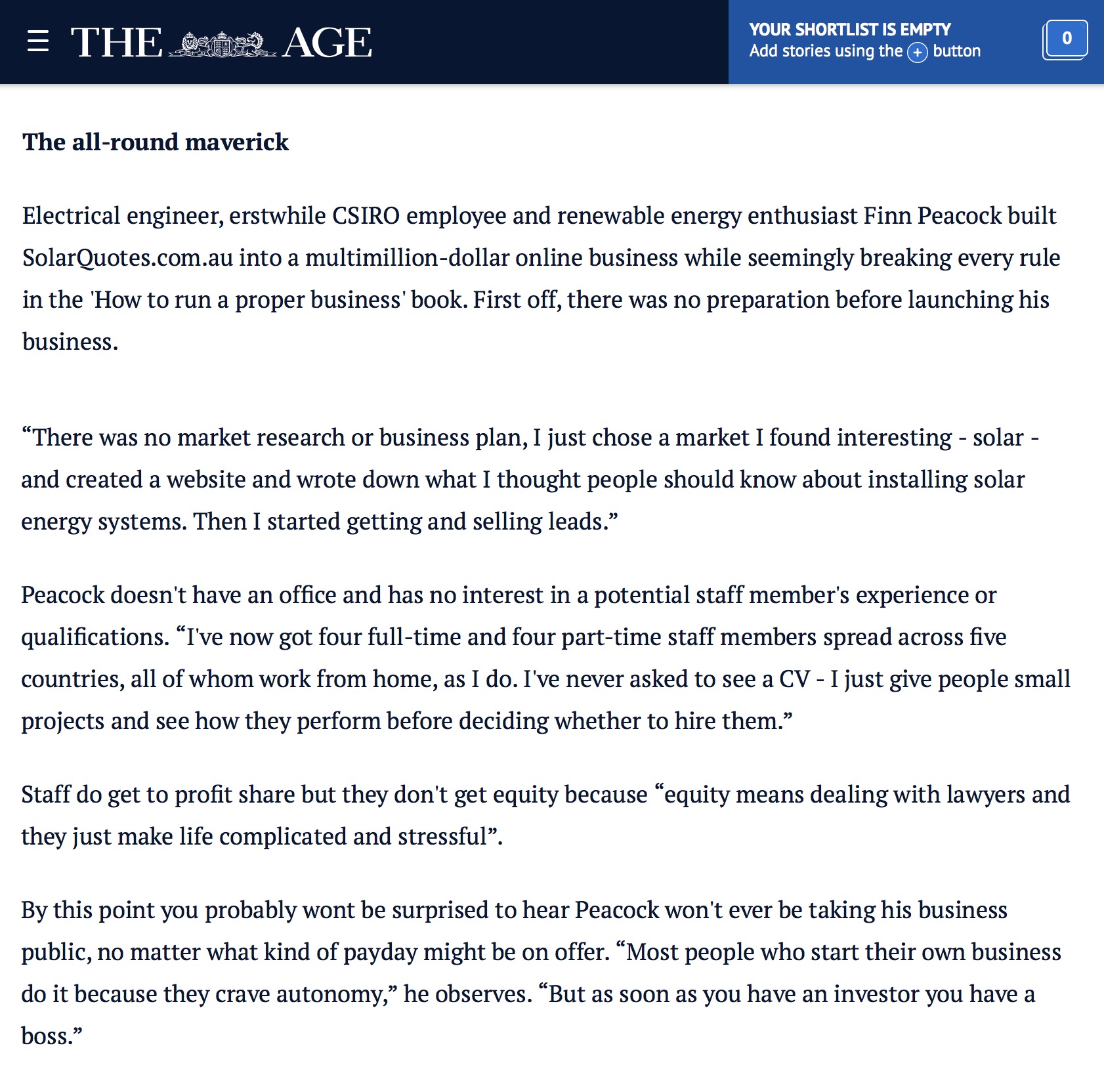 ---
Smart Company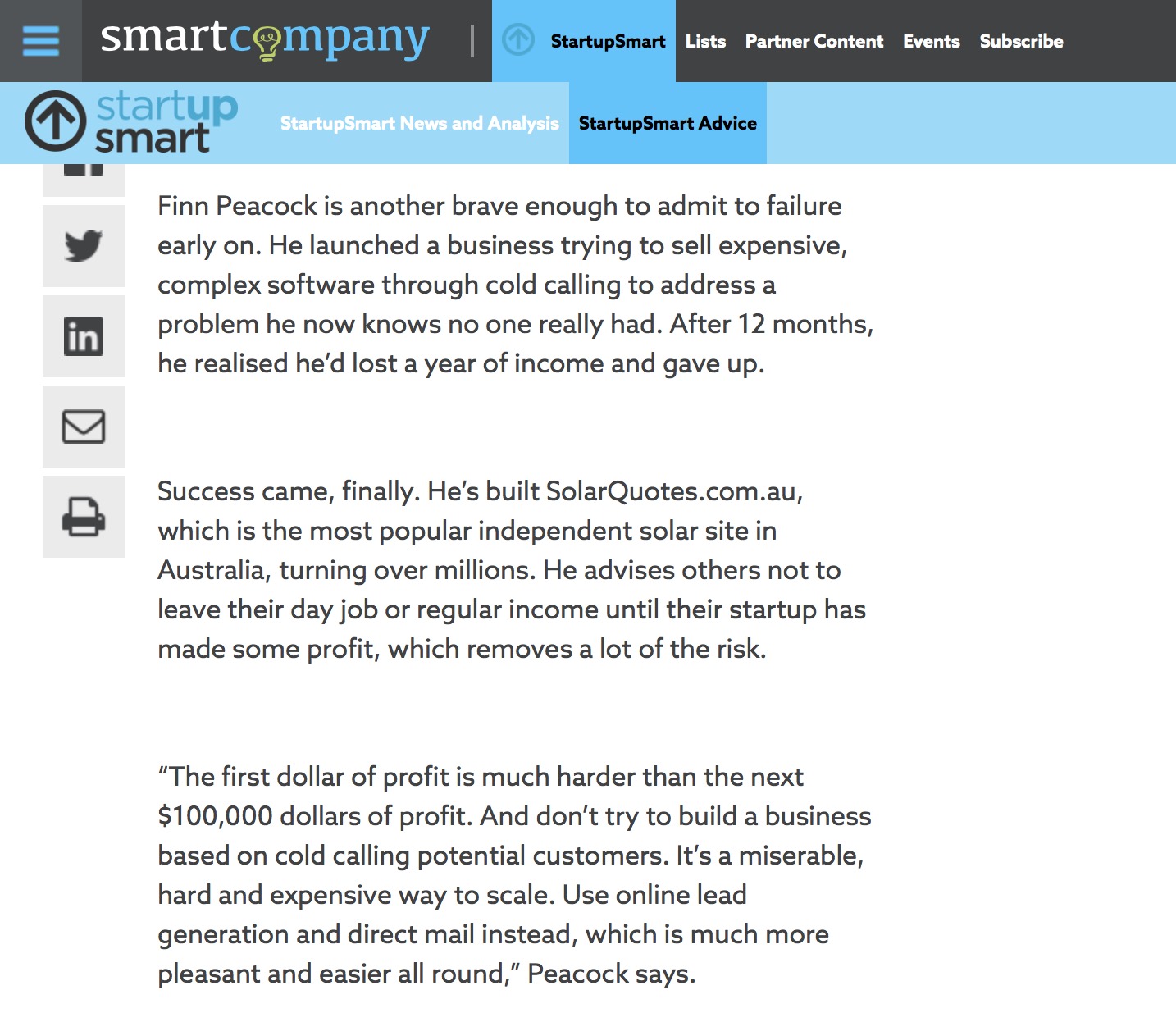 ---
SolarQuotes®  and/or Finn Peacock have also appeared in/on:
Nine News
ABC Radio Adelaide
FiveAA
ABC Radio National
WA Today
Rooster Radio
The 4 Hour Work Week (pages 364 & 365 of the multi-million selling business book)
news.com.au
Australian House and Garden
lifehacker
The Guardian
Renew Magazine
Solar & Storage Magazine
One Step Off The Grid
Sanctuary Magazine
The Courier Mail
RenewEconomy
The Owner Builder
choice.com.au
The Australian
Network Ten's Studio 10
If you're a journalist and would like to contact Finn Peacock regarding an interview or require background information for a solar energy story you're working on (or a piece on entrepreneurs in Australia), you can contact him here. 
You can also learn more about Finn and how SolarQuotes evolved here.
SaveSaveSaveSave