The Good Solar Guide – 7 Steps To Tiny Bills For Australian Homeowners
Order now in paperback or Kindle
This book will give you bulletproof confidence when buying solar power that you are getting the right size, right brand, and a great installer at a fair price. After the install, you'll rest easy in the knowledge that your new system will reliably deliver low bills for decades.
Finn Peacock, Chartered Electrical Engineer, Ex-CSIRO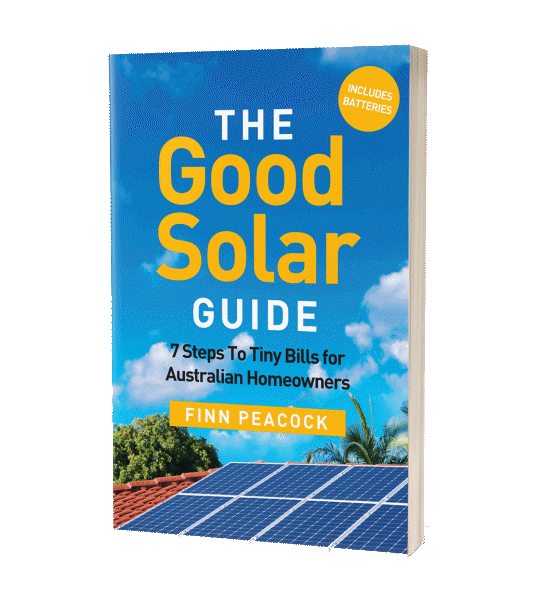 FEATURED BOOK
The Good Solar Guide
The Good Solar Guide demystifies the solar buying process in Australia showing you how many panels you need, which panel brands to buy, which to avoid, and how to find a great installer. The seven-step process revealed in this book, developed over 10 years in the industry, will walk you through understanding, evaluating, buying, installing and using solar power to deliver on its promise of tiny bills.
What Readers Have To Say About The Book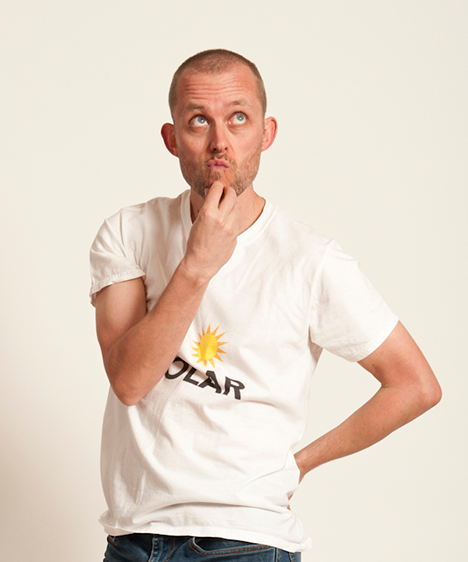 THE AUTHOR
Finn Peacock
Finn is a Chartered Electrical Engineer and lives in a straw house in Adelaide.
Having been involved in the solar energy industry first with the CSIRO, then founding his own enormously successful, independent solar energy website, SolarQuotes®, Finn has helped over 400,000 Australian homes get quotes for solar power since 2009. This makes Finn uniquely placed to guide Australian homeowners through the maze of buying and installing solar.
In fact, Finn walks the walk. His most recent electricity bill for a family of 5, a small business and his beloved Finnish sauna was a credit of $128.
Learn more …
Engineer
Finn is a registered professional engineer. His first book was a highly technical guide to tuning industrial control systems. It has been used by thousands of engineers worldwide in applications from power stations to chocolate factories. Yum!
Entrepreneur
Finn's business, SolarQuotes®, employs 10 people and has over 200 solar installer clients. It operates one of the most popular solar energy websites in Australia and has helped over 1-in-30 Aussie homes learn about and get quotes for solar power.
Environmentalist
Finn used to help coal companies get coal out of the ground more efficiently. In 2007 he decided to get into this new-fangled solar thing and joined the CSIRO in Newcastle. In 2009 he started his own solar company that is still growing.
What people are saying about Finn Peacock's writing…
"Solid advice you can trust. Anyone who has read Finn's articles knows that they are receiving quality information and advice from an industry expert. … Choosing the right solar system for your needs and budget isn't straightforward but Finn makes the process much easier."
Michael
Wallan, Victoria
"I had no idea what I was looking for and just from reading your tips has made me feel like I know everything about solar that I need to know, also providing me with a list of questions to ask the companies was so good! And pretty much got all of them to extend all their warranties and give me a better price then what they originally offered".
Pantea
Leederville, Western Australia
"An amazing resource that just led me through the whole process very clearly and succinctly. I learnt so much more about the technical side to solar, than I ever thought I would (or wanted to!), but in the end very glad that I did, because I can now conceptualise (very basically) how my system will work, what the various options are, as well as common traps/scams. … Thanks again Finn.
Kim
Firefly, New South Wales
What makes this book unique?
It is focused on the Australian consumer, Australian standards, Australian climate and the Australian electricity market. Every other book I can find is aimed at either the US or the UK market. The Australian solar market has lots of unique aspects that require dedicated advice.

It is independent and written by a qualified engineer. Many books about going solar are full of 'green-hype' and breathless 'solar panels will save the world' commentary. My approach is balanced and pragmatic, and I will happily advise people if their situation means solar power is not the right choice for them.

It recognizes that the end game for Australians going solar is tiny bills. It includes energy efficiency and energy monitoring to provide a holistic approach that will minimize bills post solar panel installation.

It is up to date. This book covers the latest battery & solar panel technology, rebates and regulations, and I plan to update it annually.

It is written in the humorous but scientifically grounded style that I have used to great praise from my blog readers. It is also based on my interaction with 1-in-30 homes in Australia through my website. It contains links to online tools and comparison tables that help homeowners compare panels, calculate payback and even find out how many panels will fit on their roof using Google Maps.

It is a proven, step-by-step approach to getting tiny bills with an affordable solar power system.
#1 Bestselling Book on Amazon.com.au