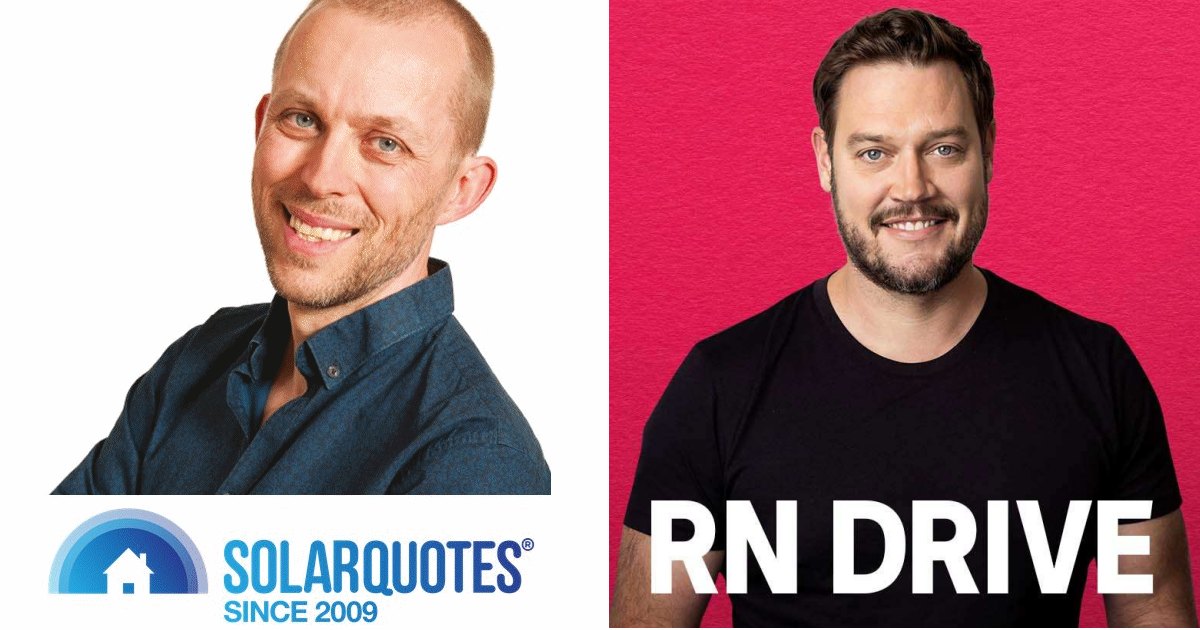 SolarQuotes founder Finn Peacock spoke with ABC Radio National's RN Drive's Andy Park last night about the recent – and and at this point ongoing – rush on solar power systems resulting from looming electricity price rises, and feed-in tariffs.
You can listen to the segment using the player, or read the transcript below.
—- Transcript begins
Andy Park : It's time for the Carbon Counter on RN Drive. And you are in the thick of the worst energy crisis in 50 years right now. And there's no easy remedy.
In a perfect storm of geopolitical events, freezing temperatures, unscheduled outages at coal-fired power stations and no room for quick improvements and government interventions, the cost of energy is soaring. I don't need to tell you that. So, looking to the sun – but not directly into the sun because that's what Mum told you not to do – looking to the sun could offer some relief.
Many Australians are turning to solar to generate their own power, which they of course can use themselves or they can sell back to the grid or store for rainy days. But does switching to solar now mean you won't feel the burn of soaring energy prices?
Finn Peacock is the founder of SolarQuotes.
You are connecting people, making the switch to solar retailers, if you like. You're the middleman – perhaps we could say that. What kind of uptake are you getting in the past couple of weeks? Your phone's just ringing off the hook with people wanting solar panels?
Finn Peacock: Well, our virtual phones are, yes. Our website inquiries have more than doubled compared to this time last year. And it's a sustained volume of inquiries – it hasn't stopped for the last two and a half weeks. Before we've had booms that have lasted a few days when rebates have been announced that they're ending, but this is quite unprecedented the demand we're seeing,
Andy Park : Well, this is market forces, right? Because as you rightly said in previous spikes in solar uptake, it was largely based off government state rebates. So this is the market speaking for better or for worse.
Solar Power System Installation Timeframes
Andy Park: What is the process switching to solar? I mean obviously you have to have the initial consultation. How long does it normally take and how long is it going take for people who are jumping on this queue now?
Finn Peacock: So, it all depends on how busy your installer is. Generally, it will take between – once you pay your deposit – it'll take between three weeks and three months to actually get the install. And because it's so busy right now, you're looking at three months plus for many installers from paying the deposit to getting the solar on your roof.
Andy Park : Wow. Three months; who knows where the energy prices will be in three months' time. Surely the demand for solar, you know, ebbs and flows as you said. Do you think this is going to be sustainable? I mean, what if energy prices do stabilise over the next six months? Will we go back to the older forms of energy generation, that you don't offer in your business?
Finn Peacock: Well, we, the solar industry, we call it the solar coaster because one thing I've learned over the last 13 years is after every boom, there is a bust. So, I think a lot of demand for solar is getting pulled forward. A lot of people think about solar and when the media's all talking about electricity prices, that motivates them to actually go out, get quotes and, you know, get the system on their roof.
So, I expect there to be a bit of a bust after this; just because all that demand's being pulled forward.
Feed-In Tariffs
Andy Park : My solar panels on my roof, you know, they're pretty old. I've got a pretty weak inverter – I think it's two-and-a-half kilowatts. I'm not getting much of a rebate1 anymore. The feed-in tariffs are obviously what they are. So, how do you sell it to people in terms of the upfront cost? There is a big upfront cost to solar.
Finn Peacock: The typically sized system is 6.6 kilowatts – that costs about five, six thousand dollars. That will save people between a thousand dollars and about $1,500 a year. But that depends on how much electricity they use in the day, how much they pay for electricity and how much they earn with their feed-in tariff.
Interestingly, feed-in tariffs in some parts of the country are going up as electricity becomes more expensive, but in other parts of the country they're going down. So, it depends where you live. But most of the savings from solar are usually from self-consumption. That's when it offsets the electricity used your home. So, the more electricity you use during the day, the bigger savings from solar.
Andy Park : Yeah. I should say in regional Queensland, I think the feed-in tariff is now 41%, which is incredible. Would you expect that in other states and jurisdictions?
Finn Peacock: Yeah. In regional Queensland it will go up from 6.60 cents to 9.30 cents per kilowatt-hour. That's a 41% increase. Interestingly in Victoria, the minimum mandated feed-in tariff is actually going to drop from 6.7 to 5.2. So it's up and down depending on where you live.
Common sense would tell you that as electricity gets more valuable, your solar should be more valuable, but complicating that is obviously solar is only generated during the day – and generally the least valuable electricity these days is daytime electricity because of all that solar.
Andy Park : Well, there you go. If you are hoping to get some solar panels on your roof, you've gotta wait at least three months, according to Finn. Thanks for your time tonight.
Finn Peacock: Thanks very much.
—- Transcript ends
ABC Radio National's RN Drive covers the day's top national and international stories and airs Monday – Friday, 6pm – 7.35pm.
Footnotes
Just to clarify – Andy is referring to the feed-in tariff, which is often confused with the "solar rebate"; the subsidy that can knock thousands of dollars off the up-front cost of installing a solar power system. ↩