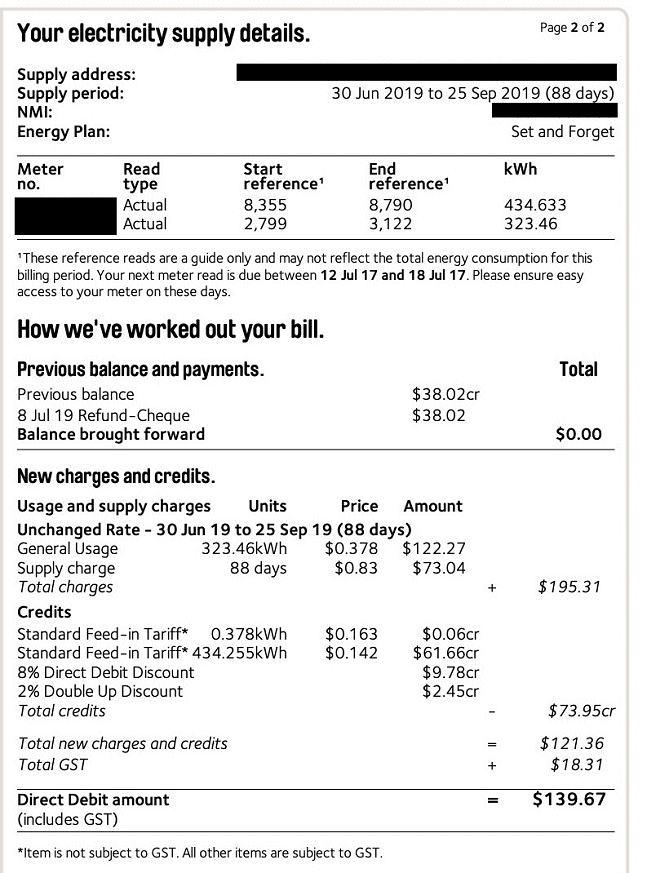 Analysis/Notes/Comments
AGL dropped my feed-in tariff from 16c to 14c this quarter. Grrrrr. I would change my retailer – but I'm locked into AGL for another 3 years because I got a very cheap Powerwall 2 from them ($3,800 fully installed compared to $16,000).
Compared to 2018's winter bill – this bill had a battery for the whole quarter. In 2018 I only had a battery for 1 month of the winter quarter.
But still, this bill is more expensive at $139 compared to last winter's $110.
So despite the battery my bill went up! Why? Looking at the analytics, I generated the same amount of solar energy (1,600 kWh), so the only explanation is my house used more electricity overall (including self consumed solar + battery). And that's exactly what happened. In winter 2018 my house used 1,150 kWh of electricity. In winter 2019, 1,470 kWh.
I used the same amount of kWh from the grid, but self consumed more solar, reducing my feed-in credit.
Why did I use 320 kWh more solar electricity to run the house? Because we went on holiday for 4 weeks in 2018!
4 days after this bill came in, on 29th September 2019, I acquired an electric car with a 75kWh battery – the next bill is going to be interesting….
26%More expensive than
Winter 2018