What Is The New Energy Tech Consumer Code (NETCC)?
The NETCC is a voluntary code of conduct designed to help protect Australian consumers buying 'new energy tech', such as solar power systems, battery storage and EV chargers.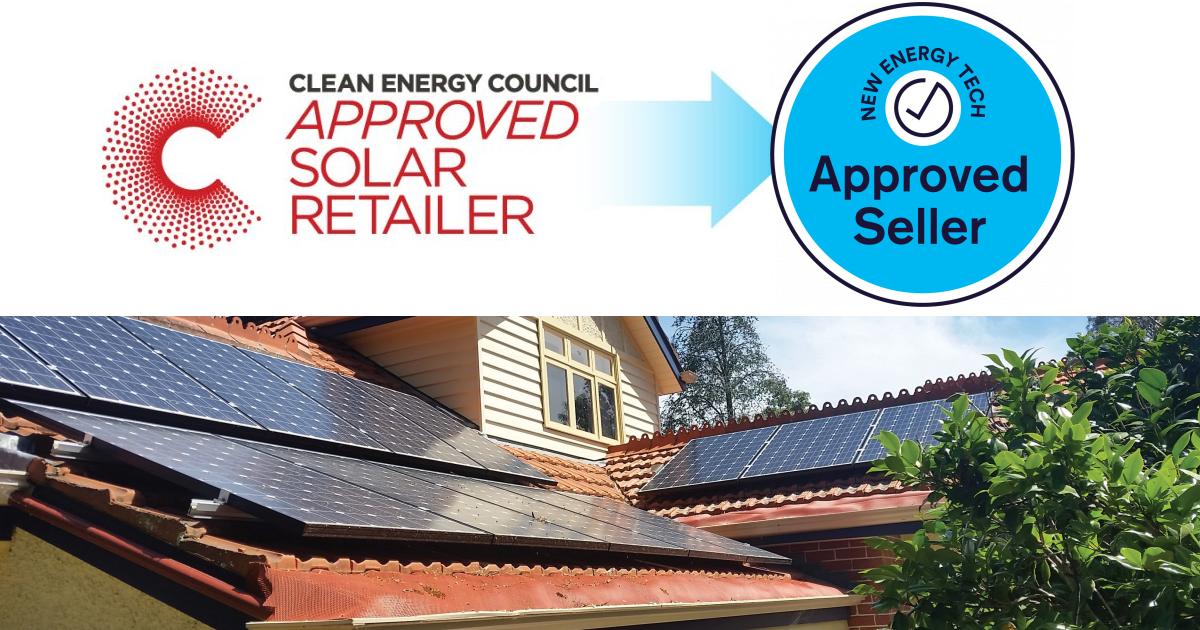 In effect since February 2023, the NETCC replaced the Clean Energy Council's Approved Solar Retailer (ASR) program, which had its share of issues. But for better or worse, all Approved Solar Retailers – the good and not-so-good – automatically became "New Energy Tech Approved Sellers" once the NETCC kicked in.
However, Approved Sellers need to ensure they meet NETCC requirements by August 1, 2023. Some of the key differences between the Solar Retailer Code of Conduct (used under the ASR program) and the New Energy Tech Consumer Code can be found here .
How Are Consumers Protected Under The NETCC?
Under the NETCC , standards cover various aspects of pre-sales, sales, installation and after-sales; including:
Honest, accurate sales practices. No high-pressure selling. Privacy guidelines must be observed.
The installed solution must work and do what was promised.
Quotes & contracts must be clear, comprehensive, with no hidden costs. Expected performance and any limitations must be on the quote.
Clear and complete information on payment options.
Systems delivered safely, on time and with clear instructions on how to use and maintain them.
High standard of support. Complaints dealt with promptly, issues fixed and warranties honoured.
Compliance with the Code and all relevant laws, regulations and standards.
When Things Go Wrong
Among its responsibilities, the Administrator of the Code (the Clean Energy Council) has the job of monitoring signatory compliance, which might include undertaking audits and reviews of Approved Sellers.
Where breaches of the Code are identified, they may be publicised and/or the signatory required to take remedial action. If the breach is serious, the signatory may be suspended or expelled, and the matter referred to the relevant regulator.
The Clean Energy Council is also responsible for investigating complaints made against Approved Sellers and will *attempt* to negotiate an outcome that is "fair" to both parties.
'NETCC Approved Seller' Is Not A Good Filter For Reputable Companies
It's important to understand the New Energy Tech Approved Seller program is voluntary. Many excellent installers will choose to not participate.
The biggest reason will likely be cost – it's an expensive scheme to join; typically costing thousands of dollars per year in membership. I'm guessing the next biggest reason will be many installers are frustrated with the Clean Energy Council, which administrates the scheme.
I've already seen one example of a company that I would avoid like the plague using their NETCC Approved Seller status to deceive. Their sales rep claimed a competitor's excellent quote must be borderline fraudulent because that smaller company chose not to be 'NETCC Approved'.
To be clear: Using an NETCC Approved Seller does not guarantee a good installation or customer experience.
When Things Go Very Wrong
So, what happens in a situation where, for example, a solar/battery system is installed by a New Energy Tech Approved Seller and soon after you've parted with your cash it fails – and the installer disappears, or refuses to take remedial action?
Under the New Energy Tech Approved Seller program there really isn't any recourse. You'll have to pursue a refund, compensation or fix through other channels and that could prove to be a very lengthy and frustrating process.
What's The Safest Way To Go Solar In Australia?
If the NETCC and New Energy Tech Approved Seller program have challenges, what's the safest way to go solar in Australia?
Here at SolarQuotes, I've developed and continually refined my own installer screening and monitoring processes over 14 years. I've used it to build a network of hundreds of installers I know and trust.
I have so much faith in the SolarQuotes process, my Good Installer Guarantee has your back when you use our quoting service to arrange an installation – whether the installer we've referred from that process is a New Energy Tech Approved Seller or not.