Parker Lane and SolarQuotes – Helping you find great solar finance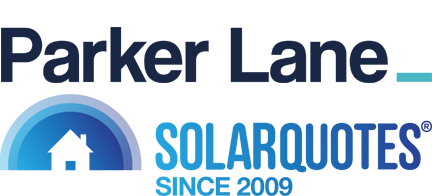 Parker Lane and SolarQuotes have teamed up to provide an easy way for our customers to find great solar finance options.
This partnership came about after Finn and Chris White, Director of Parker Lane, met by chance in 2014 and found that they shared similar views about rip off lending, the real cost of no-interest payment plans and what solar lending should look like.
It took Finn and Chris another 18 months to find and bring together the right lenders and product suites, but the result is a service that can help more people get a great solar system and start saving, whether it's purchased with cash or financed with Parker Lane.
Every time a solar customer requests 3 quotes through SolarQuotes, their request goes to up to 3 local solar installers via the SolarQuotes quoting engine.
If they also indicate on the quotes form that they are interested in finance, we forward their details to Parker Lane for an obligation-free chat about their solar finance options.
This helps to put them in the best position to negotiate a great final price for their solar system.
You can see third-party independent reviews of Parker Lane here.
Here are the details:
Once you fill out our quotes form (and have ticked the box for finance) we'll do our best to match your requirements with 3 pre-vetted solar installers who serve your area.
Before they then contact you individually to discuss what you need and provide a detailed quote, a solar lending specialist from Parker Lane will be in touch to discuss your needs and give some advice on how you can negotiate the best 'cash price' deal with your solar installer.
You can then study all 3 quotes at your leisure, and choose the best one for your requirements, although you are under no obligation to choose any of them.
If you need any help before, during or after buying solar, you can contact us at any time for free, personal help from a Chartered Electrical Engineer (Finn) or Robert, Finn's assistant.
Please note that this system may not find you the cheapest solar system, but we're confident it will help you find a really good quality one at a very good price. If our 9 years experience of the Aussie solar market has taught us one thing it is that the absolute cheapest systems are usually not the best choice. Those 'too good to be true offers' in the papers and on the telly are usually exactly that.