Our Adelaide urban straw house is open to everyone (including you!) for Sustainable House Day 2014.
We'd love to see you here!
It will be open Sunday 7th September. 10am – 4pm.
Sustainable house day explained:
(from http://sustainablehouseday.com/ )
Open the door to sustainable living by touring some of Australia's most environmentally progressive homes on show at Sustainable House Day.
On Sunday 7 and 14 September, you have the opportunity to tour an amazing array of everyday Australian homes all built and created around the ideal of reducing their footprint on the earth.
By partaking in Sustainable House Day you can tap into local knowledge to learn how to successfully integrate renewable energy, recycling, and other sustainable practices into your home and lifestyle.
This unique event is a valuable resource for anyone looking for inspiration, ideas and the key to sustainable living. Our homeowners, sponsors and local sustainable groups look forward to sharing their knowledge with you.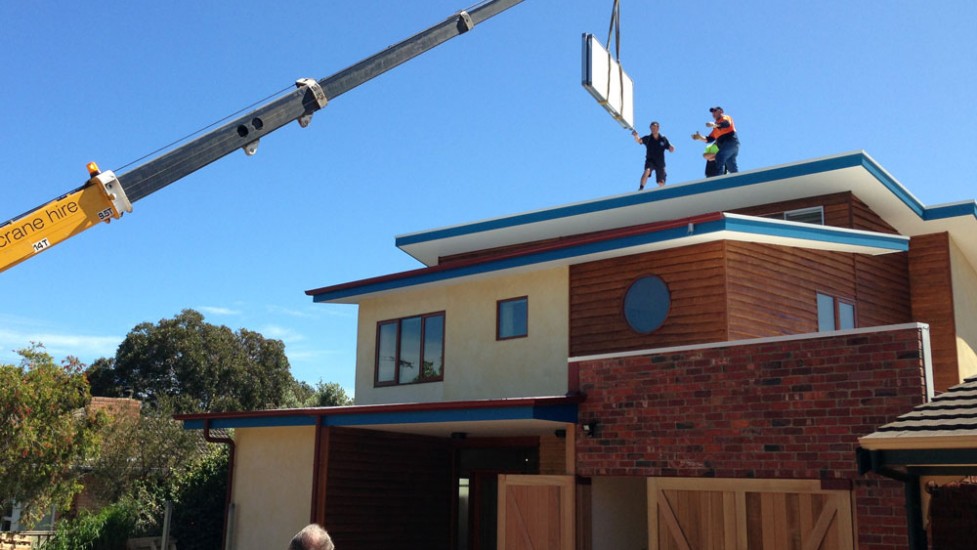 DAYS OPEN
Sunday Septhember 7th 2014 10am – 4pm
FEATURES
Made of Straw! Solar PV (microinverters) Solar Hot Water Solar Passive Design Edible Garden Chemical Free Cleaning Recycled Materials Rainwater Harvesting Cross Ventilation Energy saving appliances Home Office Garage Designed for bikes not cars. Hammock Urban 2 storey straw bale house with four bedrooms. Designed for a family of 2 adults and 3 kids, 1 car, 8 bikes, and HQ to the family business. Server room is under the stairs and 1 Gigabit Ethernet to every room except the master bedroom, so it is NBN ready if that ever happens!
Features passive solar design, no forced cooling, only a small wood burner for heating. High level louvres for cross ventilation. Double glazing and low e glass. Water harvesting, 6kW microinverter system, flat plate solar hot water system, 100% LED lighting.
Recycled materials include jarrah floorboards from the demolished house in cabinetry, recycled bricks and timber posts.
Over 6 months of spring/summer the house drew an average of 2.2kWh from the grid and exported about 0.5MWh per month to the grid.
Garden had vegie and herb beds, mostly native plants, hammock and 50 year old vines out the back have been kept with a new pergola to provide shade in summer and let the sun through in winter.
Designed by Bohdan Dorniak and the owners ( www.bdcoarchitects.com.au ) and hand-built with love in 10 months by Tom Mikulic Constructions.