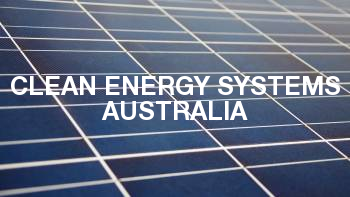 Clean Energy Systems Australia

Reviews
About
Clean Energy Systems Australia is a solar energy company with its main office in Surry Hills, NSW and offices in Canberra and Melbourne. The company says that it is CEC accredited, and that their products are all Clean Energy Council approved. They say that they can design a unique system structured for the customer's home; also that they will manage all contact with the energy companies and organise renewable energy certificate rebates. Clean Energy Systems also say that they use German solar panels manufactured in China under German management and supervision. These are covered by performance warranties of 90% performance up to 10 years and 80% performance up to 25 years.
Customer reviews for Clean Energy Systems Australia are available, and include the following:
" Office did not bother to to advise me of cancelled appointment (rain). Took two unreturned calls before an excellent installation team did come and worked throughout late evening to install. The install team did their very best and finished the job. No complaints so far."
" It was surprisingly easy to do; comparative information was easy to obtain and to understand, especially information specific to the ACT. Contract was comprehensive and easy to understand, once the print was a size I could read."
Two customers reviewed Clean Energy Systems Australia and rated the company highly for system quality and installation; and fairly highly for value for money and customer service.
Panels, inverter and battery brands
The views expressed by reviewers are theirs' alone, and do not necessarily reflect those of Peacock Media Group, which makes no representations as to the accuracy of the reviews. For our full disclaimer and further information, see our Terms of Use and our Review Guidelines.
Clean Energy Systems Australia Reviews (
4

)

Show Most Recent reviews from All time  across Australia
5 star

0
4 star

2
3 star

2
2 star

0
1 star

0
View Timeline