What Solar Panel And Inverter Brands Can You Trust?
By Finn Peacock – Chartered Electrical Engineer, Ex-CSIRO, Founder of SolarQuotes.com.au
In this article:
The solar panel and inverter brands that Finn Peacock, a chartered electrical engineer with over a decade of experience in the solar industry, trusts.
The two questions you need to ask yourself to be confident that you're getting a great solar power system for a fair price.
Learn how to get quotes from quality, pre-vetted solar installers.
In the 14 years I've been running SolarQuotes, one of the most common questions I get from people considering solar power for their home or business goes something like this:
"Hi Finn – I've done a bit of research on solar brands and spoken to some installers, and everyone seems to be spruiking their product as the best and trashing everyone else. How can I really know what brands are good and what brands are bad? What do YOU recommend?"
Great question. It does make it difficult to be confident you're choosing the right quote when everyone thinks the product they're selling is the only way to go.
The average Australian would have no idea what makes a solar panel (or inverter) brand good or bad. And why should they?
This is why I threw my hat into the ring 14 years ago when I started SolarQuotes. I wanted to be an independent, unbiased source of information helping homeowners make a good decision when it comes to installing solar power.
So – the simplest way for me to answer the question above is to refer to the following two charts I've made of brands of solar panels and inverters that I'd be comfortable having on my own roof.
Brands Of Solar Panels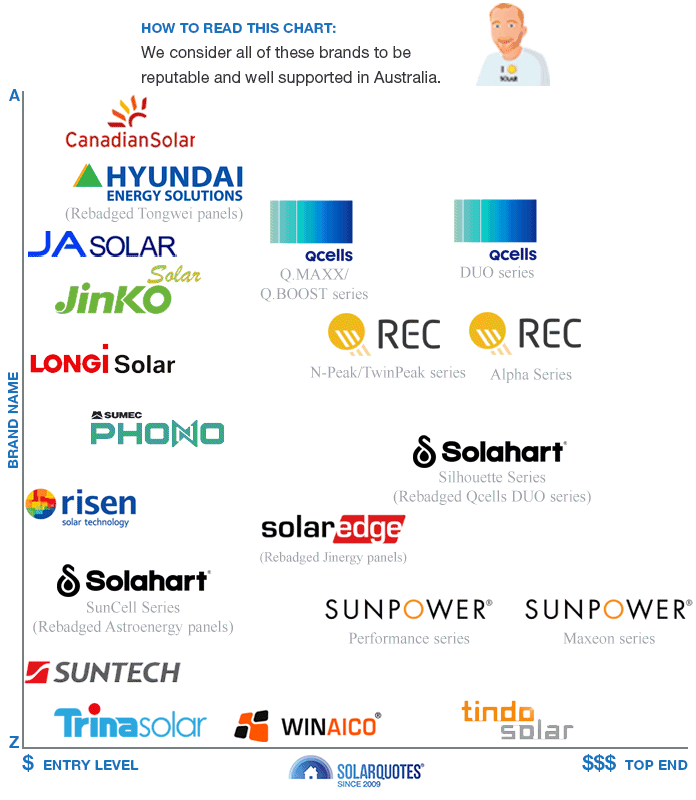 Brands Of Solar Inverters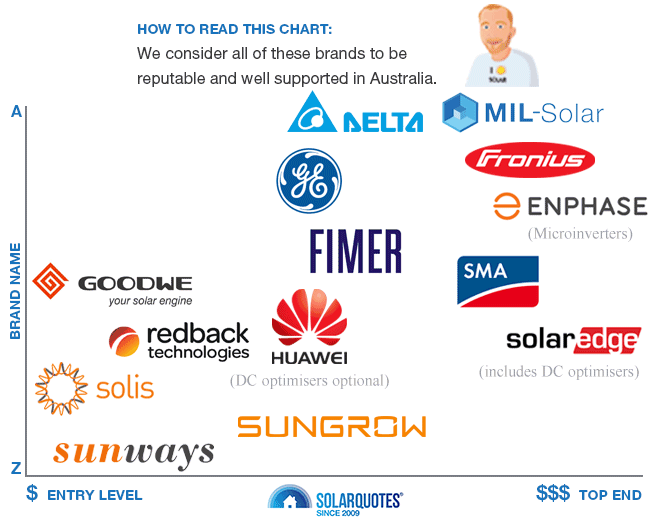 I'll point out that the brands on the above charts are ranked by price and not by quality (there's a strong argument that price and quality are correlated, but price alone doesn't inherently make a premium end solar panel or inverter better than a midrange one).
When it comes to inverters – you can read about the difference between optimisers, micro inverters, and string systems in this guide.
The best way to use the charts above is to ask yourself two questions:
1) Do my quotes include any of the brands referenced on these charts? If not – am I comfortable going with either:
a relatively obscure brand with little history in Australia
a brand that is well known but is not personally recommended
As an example, two inverter brands that have never been recommended on this chart have been 'un-approved' for use in Australia due to safety concerns. Be careful what you buy. Aside from potential safety issues, new installations using these brands will not be eligible for Australia's major solar subsidy
2) Does the price of my quote correlate with the ranking of the brands? 
(You can see why it would be a problem if someone quoted you premium-end prices for budget-end brands!)
If you can answer "yes" to both questions, then there's a very strong chance you're on your way to identifying and buying a solid quality, fairly-priced solar power system.
(If you don't yet have quotes, you can use my free service here to get quotes from accredited installers I trust)
But what about "Tier 1" panels and inverters? Shouldn't I be going with those?
Nope. Tier ranking (where 1 is the 'best' and 3 is the 'worst') is based on the "bankability" of a solar panel brand (aka how financially stable a manufacturer is), not its quality. 
And – tier ranking doesn't exist for solar inverters, only panels. Run far away from anyone who tries to sell you a "tier 1" inverter!
As with price, there is a correlation between how financially stable a brand is and whether they deliver quality products – but not always! There are a few tier 1 brands that I personally do not have confidence in. 
To drive my point home further, the brand of panels that I have on my own roof – Tindo – are not technically tier 1. 
So don't stress about getting a "tier 1" solar panel brand. If you stick to the chart above, you'll be fine.
What kind of prices should I be paying for solar in 2023?
As at October  2023, approximate prices for solar panel systems in Australia (Tier 1 panels + quality string inverter), fully installed, are:
1.5kW (approx. 4 panels): $2,500 – $4,000
2kW (approx. 5 panels): $3,000 – $4,500
3kW (approx. 7 panels): $3,500 – $5,000
4kW (approx. 10 panels): $4,000 – $6,000
5kW (approx. 12 panels): $4,500 – $8,000
6.6kW (approx. 16 panels): $5,500 – $9,000
7kW (approx. 17 panels): $6,500 – $10,000
8kW (approx. 19 panels): $7,500 – $11,000
10kW (approx. 24 panels): $8,000 – $13,000
15kW (approx. 36 panels): $13,000 – $18,000
Note that these prices include the point-of-sale discount from the federal 'solar rebate'.
However, for those of you in Victoria, the above prices do not include the state-level rebate offered by the Victorian government (which gives a further rebate of up to $1,400).
Also note that costs can increase if you need a switchboard upgrade or other electrical work to make your home suitable for solar power, or if the design of your home makes the system installation more difficult.
The next step
This article should hopefully leave you feeling a little bit more confident in being able to choose a quality solar panel and inverter brand.
For full disclosure – my website works by referring people to up to 3 installers that I've personally pre-vetted. The rule is – if I wouldn't recommend a solar installer to my grandmother, I won't recommend them through SolarQuotes.
Because my website makes money through referrals, people have asked whether that means I have a financial stake in recommending one quote (or panel/inverter brands within a quote) over another.
Let me be clear – SolarQuotes generates revenue by referring customers to solar installers. We do not take any kind of commission on sale – so we get paid whether you choose an installer that we've recommended or not. 
If you're considering installing solar panels for your home or business, SolarQuotes can help you get quotes from high-quality installers quickly and easily: