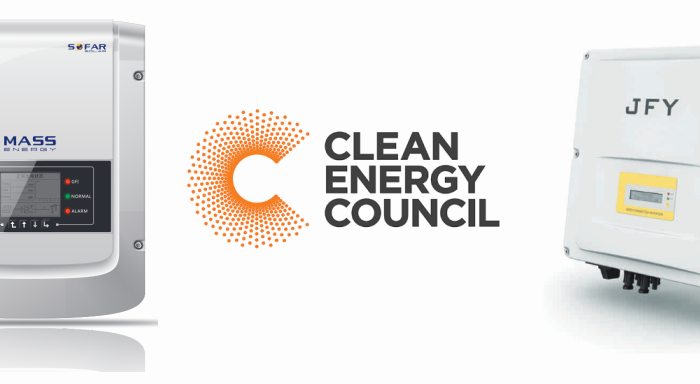 The Clean Energy Council has announced de-listing of two inverter brands from its Approved Products List – Shenzhen Sofarsolar (Mass Energy) and Shenzhen JingFuYuan Tech (JFY).
Shenzhen Sofarsolar (Mass Energy) Inverters
A Shenzhen Sofarsolar Co Ltd inverter model, Sofar 3000TL, failed CEC testing  for compliance with AS 4777-2, a standard that specifies requirements and tests for low voltage inverters for the export of electricity to the grid.
Due this model failing the Passive Anti-islanding test, the Active Anti-islanding test and other issues, and it being impractical for the CEC to test all Sofarsolar inverter models, the CEC has taken the results as representative of other models until demonstrated otherwise. Consequently, all inverters from Shenzhen Sofarsolar were de-listed last Wednesday, 21 February 2018.
The CEC says the issues with the Sofar 3000TL pose a potential safety threat as the inverter may not shut down under some grid failure conditions.
Concerned owners of Shenzhen Sofarsolar inverters should contact their installer/supplier for advice and further information.
Shenzhen JingFuYuan Tech (JFY) Inverters
A Shenzhen JingFuYuan Tech Co Ltd inverter model (Sunleaf 3000TL) has also failed testing against AS 4777-2 (Passive Anti-islanding test and other issues) and all inverters from JFY will be de-listed from March 2 (this Friday).
As with the case of Shenzhen Sofarsolar, it isn't practical for the CEC to test all JFY inverters, so the Sunleaf 3000TL's failure is being considered indicative of other Shenzhen JingFuYuan Tech models until proven otherwise.
The CEC advises the issues identified could lead to the inverter not shutting down under some conditions where grid failure has occurred. Installers with stock on hand should not install the inverters and those that have are advised to contact their supplier and await advice from JFY or electrical safety authorities on actions to be taken.
De-listing And Australia's Solar Subsidy
In order to be eligible for Australia's "solar rebate", solar panels and inverters used in an installation must be approved by the Clean Energy Council, which is the peak body for the nation's clean energy industry. Small-scale Technology Certificates (STCs), on which the subsidy is based, can only be created once a system is installed.
Australians with upcoming solar power system installations should check documentation to ensure neither of these solar inverter brands will be part of their installation.
As part of due diligence prior to buying a solar power system, it's always wise to check solar panels and inverters on a quote are listed as being approved – the CEC Approved Products Lists can be found here (solar panels) and here (solar inverters).
Tightening Of Quality And Compliance Standards
Standards for solar equipment used in Australia have been continually evolving – and the pace has accelerated in the last couple of years.
In other recent compliance related news from the CEC, earlier this month the Council stated  the total number of CEC-listed PV modules has been reduced by more than 85 per cent since March 2016. There were 88 listed solar panel suppliers with a listed product range of just under three thousand makes, models and power ratings as at February 5.
Related: How To Choose A Good Solar Inverter