VIC Feed In Tariff Information
All electricity retailers in Victoria with more than 5,000 customers must offer a minimum solar feed in tariff rate. There are two types available – single and time-varying. Retailers can choose to offer one or both.
Single Rate
This applies to electricity exported at any time of the day and is the most common type of offer available.
On July 1, 2021, the VIC feed in tariff  single rate was set to 6.7 cents per kilowatt hour minimum, but some retailers may offer a more generous buyback rate. You can view current rates using the SolarQuotes electricity retailer comparison tool.
Note: on February 24, 2022, Victoria's Essential Services Commission published its final decision on the minimum feed-in tariff rates from 1 July 2022. The single rate minimum in 2022–23 will be 5.2 cents per kilowatt- hour.
Time Varying Rate
A "time-varying" payment option is also able to be offered by electricity retailers in Victoria. Under this option, different rates can be paid based on the time of the day that solar electricity is exported.
The following table indicates the time-varying rates for 2020/21 and 2021/22
Period
Weekday
Weekend
2020/21
c/kWh
2021/22
c/kWh
Off peak
10pm – 7am
10pm – 7am
9.1c
6.7c
Shoulder
7am – 3pm
9pm -10pm
7am – 10pm
9.8c
6.1c
Peak
3pm – 9pm
n/a
12.5c
10.9c
… of course, it would have to be a pretty special solar power system that exports electricity at some of the late hours noted!
The minimum time-varying rates and periods for 2022/23 are as follows:
Rate
Time applicable
Cents per kWh
Day
Weekdays: 7 am – 3 pm, 9–10 pm
Weekends: 7 am – 10pm
5.0 cents
Early evening
Weekdays: 3 pm – 9 pm
Weekends: n/a
6.9 cents
Overnight
10 pm – 7 am all days
7.1 cents
So which is the better option in Victoria – the single rate or time varying? Learn more here, but note that VIC electricity retailers aren't obliged to offer the time varying rates at this point – some may choose to only offer the single rate.
From the 1st of July 2018, a component reflecting the network benefits provided by rooftop solar was included. Victoria was the first state to explicitly include a portion of the environmental and network benefits of rooftop solar in its feed-in tariff.
It's important to understand power retailer plans with higher feed-in tariffs won't necessarily reduce electricity bills. While this this article does not look at Victorian retail plans specifically, it does show that electricity plans with the highest FiT's aren't necessarily the most cost-effective, so it's very important to shop around – and our comparison tool is a great way to research plans.
The minimum VIC FiT may be mandatory, but retailers may offer different packages and terms and conditions – so be sure to check the fine print.
Find Feed-In Tariffs & Compare Electricity Retailers
To find current solar feed-in tariffs in Victoria offered by retailers in your specific area, you can enter your postcode into our handy retailer comparison tool: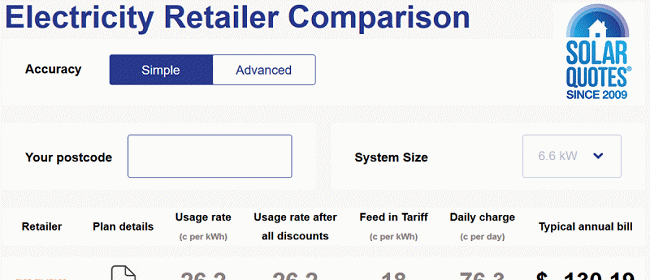 Victoria's Older & Higher Feed-In Tariffs
Victorians who applied to install rooftop solar power systems from late 2009 to the end of 2011 could lock in a high feed-in tariff of 60 cents a kilowatt-hour until late 2024.
Households and businesses in Victoria that applied to install solar panels in 2012 received a transitional feed-in tariff of 25 cents; which ended on the 31st of December 2016.
From 1 January 2017, customers who came off the VIC Transitional and Standard Feed-in Tariff schemes have been able to access the same buyback rate offers available to other solar customers.
Keeping The High Feed-In Tariff
Those in Victoria with a high feed-in tariff are allowed to replace solar inverters and panels provided they do not increase the capacity of either by doing so. If the home is renovated or demolished, the high FiT can be kept, provided the capacity of the inverter and panels, whether it is the old system or a new one, does not increase.
You cannot take the high VIC solar feed-in tariff with you when you move. It stays with the house when sold and transfers to the new owner.