A new type of solar feed-in tariff is now available in Victoria.  It's called a time varying tariff and the amount of money it pays for solar electricity depends on the time of day it's sent into the grid.  It is worth less during off-peak periods, more during shoulder periods, and the most during peak periods.
Before anyone feels stressed, panics, or starts firing guns into the air, I'll point out this change is entirely voluntary and it's not even clear at the moment which electricity retailers will be offering it as an option.  If you are not interested you are free to stick with the single rate tariff that pays the same amount for every kilowatt-hour exported to the grid.  But if you have a choice, I say you should get the time varying tariff.  I'll explain why in this article.  Eventually.  But first I have to give you a few paragraphs of filler.
Feed-In Tariffs Heading Down
Solar feed-in tariffs are on their way down across Australia thanks to lower wholesale electricity prices, mainly due to increasing renewable generating capacity including rooftop solar.  This is something I wrote about a while back.  Victoria's minimum single rate feed-in tariff, which is unique in Australia because it takes more into account than just the cost of generating and distributing electricity, dropped from 11.3 cents to 9.9 cents on Sunday.  That's a fall of 12%.  But the good news is, if you can get the time varying tariff it should average over 10.3 cents per kilowatt-hour and may average higher than the old 11.3 cent tariff.
Time Varying Feed-In Tariff Rates
In order to show you what the time varying rates will be I have stolen this table from Victoria's Essential Services Commission:
The off-peak rate isn't that great at only 7.1 cents, but it only applies before 7am and the amount of solar electricity that will be exported before then won't be much.  In Melbourne the sun doesn't even rise until after 7:00am from the start of May till past the middle of August.
The bulk of exported solar electricity will receive the shoulder rate of 10.3 cents, while some will get the impressive peak rate of 29 cents on weekdays after 3:00 pm.  Since this is clearly better than the 9.9 cents of single rate tariff, the time varying tariff is the best choice for Victorian solar households.  A possible exception is if all your solar panels are on a ridiculously steep section of east facing roof.
These are minimum rates and electricity retailers could offer more if they wanted to.  But so far the largest electricity retailers in Victoria have only offered the minimum rate, so I'll assume that's what households are being paid for the rest of the article.
An important note about the time periods in the table above is they are in Australian Eastern Standard Time (AEST) and don't change with daylight savings — just to make things a little more confusing1.
A Graph Of Solar Electricity Output
Here is a graph I stole from the Australian Photovoltaic Institute and then defaced.  It shows the output of Victorian rooftop solar systems on a clear day close to the autumn equinox, which is when day and night are of equal length.  I have coloured in the off-peak period before 7:00 am and the weekday peak period after 3:00 pm and altered the times to AEST: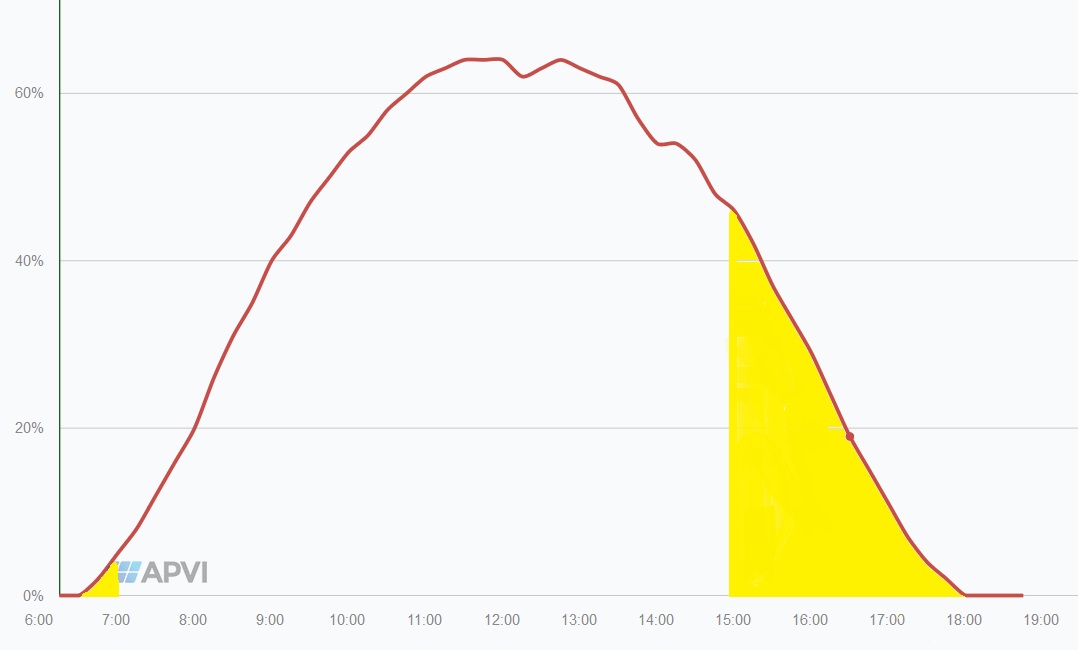 As you can see, on this day the off-peak energy produced is puny, while a reasonable amount of peak energy is provided; but because the peak period is only available on weekdays the average won't be as good.
Melbourne Estimates
I am going to attempt to estimate the average amount of solar energy that will be generated during the different payment periods for a Melbourne household.  I am not going to very precise because I don't have the detailed information required to do that.  But my estimates should be close enough to see whether or not getting a time varying tariff is a good idea.
I am using Melbourne because that's where three quarters of Victorians live.   If you are not in Melbourne, the figures I give should still be approximately correct because you can't get that far from Melbourne and still be in Victoria.  After all, it is the smallest mainland state.  It's not as if it has South Australia's 900,000 square kilometers of radical awesomeness.
The average day length from sunup till sundown in Melbourne is 12 hours2.  This because the world is round3 and, unlike Radelaide, Melbourne is not out of this world.
If a home's solar panels were mounted on a tracker that not only followed the sun but also magically made their output constant through the day, they would produce approximately 13% of their electricity during off-peak periods, 68% during shoulder periods, and 19% during peak periods.  But because the amount of solar electricity produced by normal fixed rooftop panels is much lower early in the morning and late in the afternoon, the portion of electrical energy produced during shoulder periods is considerably higher.
Your Electricity Consumption Will Affect Results
Your electricity consumption habits will affect how much feed-in tariff you receive.  The reason why the feed-in tariff is worth more during peak periods is because people are using more electricity then, so the chances are you will be consuming more solar electricity yourself during these times and exporting less.  If you are on a time-of-use tariff then you will be paying a high amount for electricity during peak periods, so this isn't a problem.  But most solar households are better off with a standard tariff.
The high 29 cent per kilowatt-hour payment for solar electricity during the peak period increases the incentive for households to shift electricity consumption to before 3pm on weekdays.
Visual Aid
I was going to draw you some diagrams to display how much solar output homes produce during different payment periods.  However, I decided against it because I haven't drawn anything since around the 14th century, which is when people who can draw better than me were invented.  Then it occurred to me that I have children.  And since I have children, I have plenty of toys hidden away where they can't get to them.  So took my Lego out from where I hide it from my children and made this: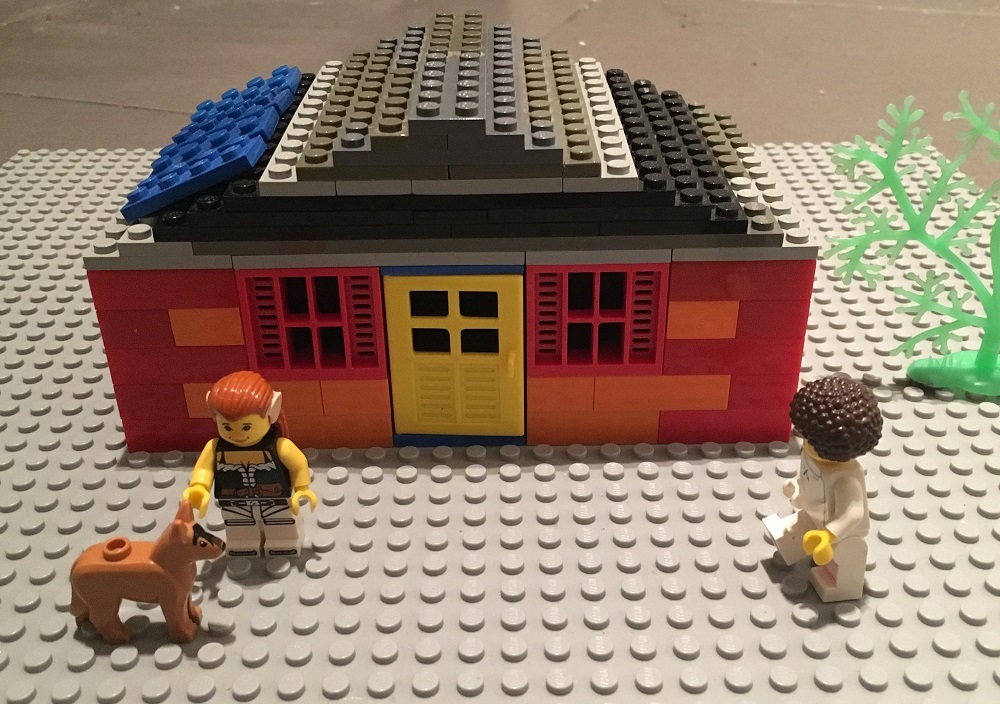 This is exactly what the average house in Melbourne looks like.  And this…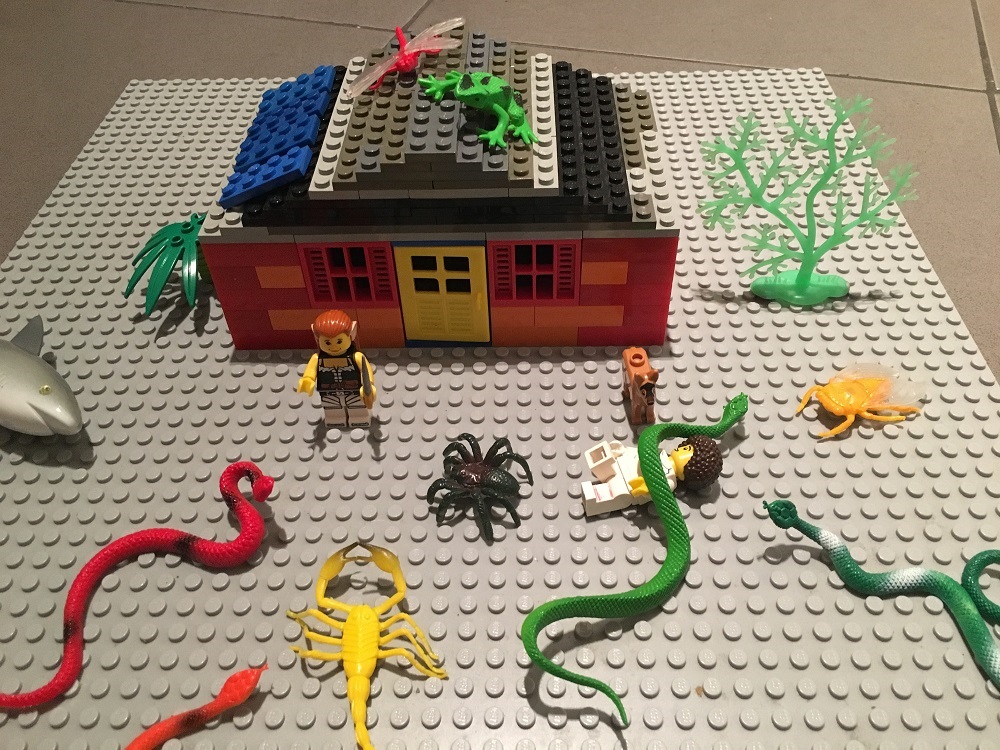 …is what the average house in Queensland looks like.
North Facing Solar Panels
The daily average number of hours the sun will spend in the sky for the three pay periods is:
Off-Peak:  1.5 hours
Shoulder:  8.2 hours
Peak:  2.3 hours
For north facing panels the sun is only going to be at an average angle of around 11 degrees during the off-peak period.  If Sydney-siders are correct when they say Melbourne has no atmosphere, at that angle only about one eighth as much sunlight energy will hit solar panels  than at noon when the sun is directly overhead.  But assuming Melbourne does have an atmosphere, things are even worse because when the sun is low in the sky its light has to pass through more air; meaning more will be absorbed or reflected before reaching the solar panels, further reducing their output.  The only advantage is the panels will usually be cool early in the morning and so will lose little efficiency due to heat.  In total, only about 3% or less of the solar system's average output will be produced during the off-peak period.
The shoulder period, which lasts from 7:00 am to 3:00 pm or for the rest of the day on weekends, includes the whole middle of the day which is the most productive time for solar generation.  For a north facing system almost 90% of output will occur during the shoulder period.
While the afternoon peak period lasts longer than the morning off-peak period, it is only available 5 days a week.  Also, higher temperatures in the afternoon will slightly reduce output.  This means that over the course of a year only around 8% of solar electricity is likely to be generated during the peak period.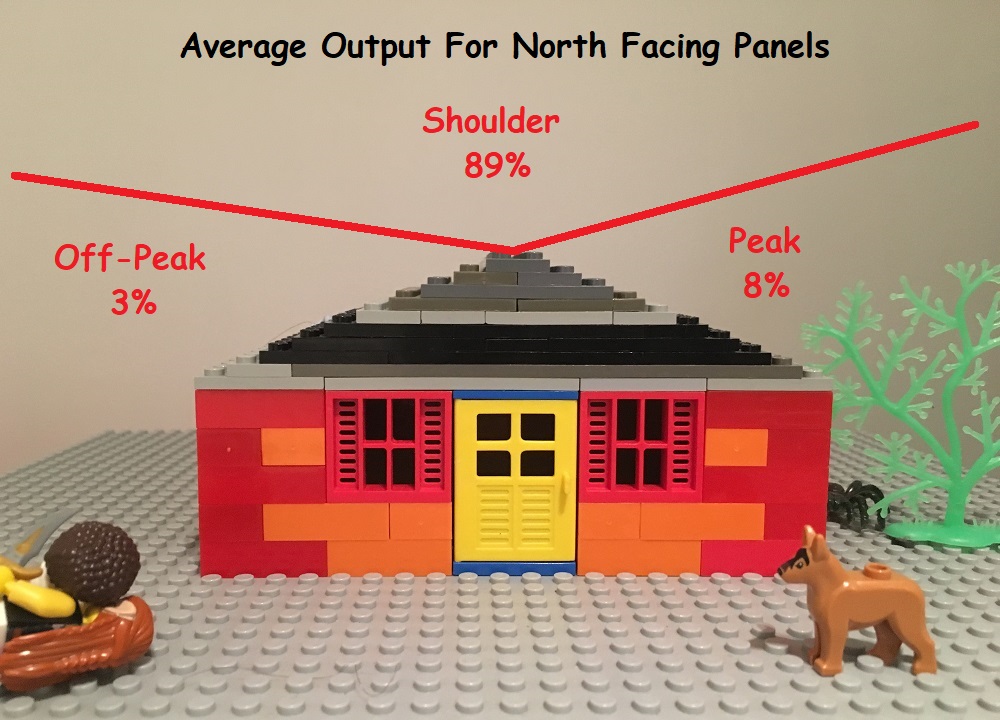 If we ignore household self consumption of solar energy, which is likely to be higher during peak periods, then the average feed-in tariff  for north facing solar comes to around 11.7 cents.  This is better than the 9.9 cents of the minimum single rate tariff..
East Facing Panels
Panels that face east will produce more kilowatt-hours during the off-peak period and less during the peak period.  The exact amount will depend on the tilt of the east facing roof.  While there are steeper ones, most modern roofs are pitched at either 15 or 22.5 degrees.  I'll use a figure of 20 degrees as that is reasonably close to both.  This gives the following results: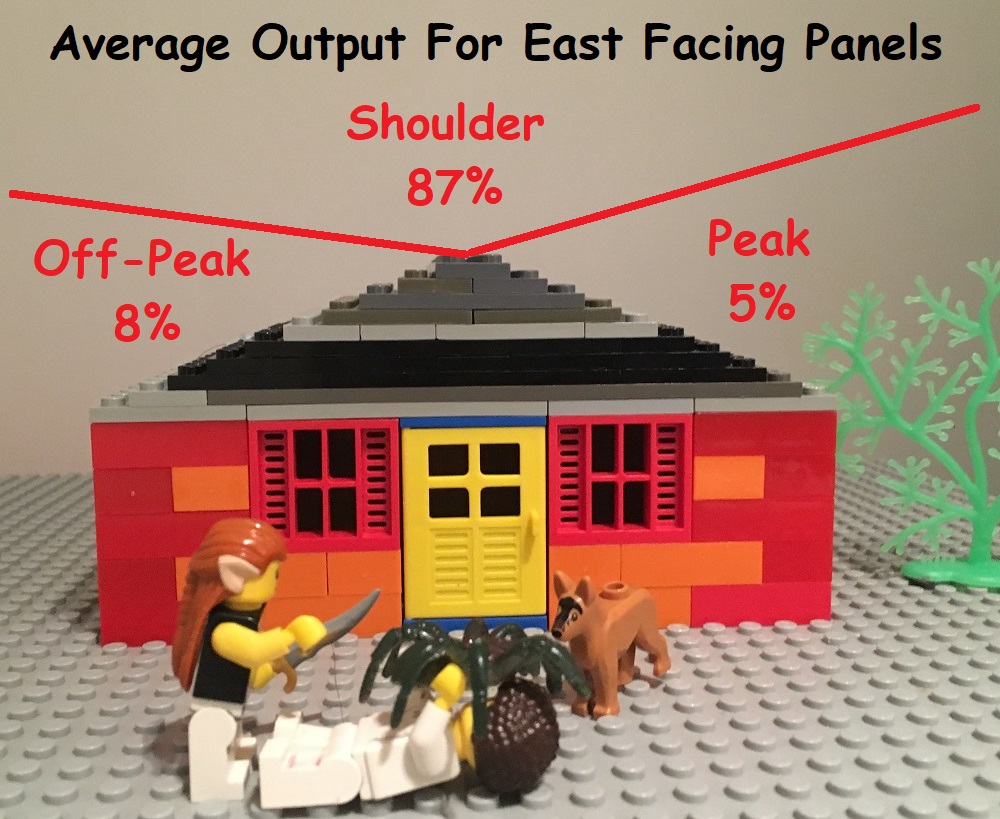 This results in an average of approximately 11 cents for the time varying tariff.  That's considerably more than the 9.9 cents of the single tariff rate.  If a household's self consumption of solar power is particularly high during the peak period, this can drop down towards 10 cents but will still beat the single tariff.
West Facing Solar Panels
West facing panels cut off-peak production down to nearly nothing while boosting peak production in the afternoon: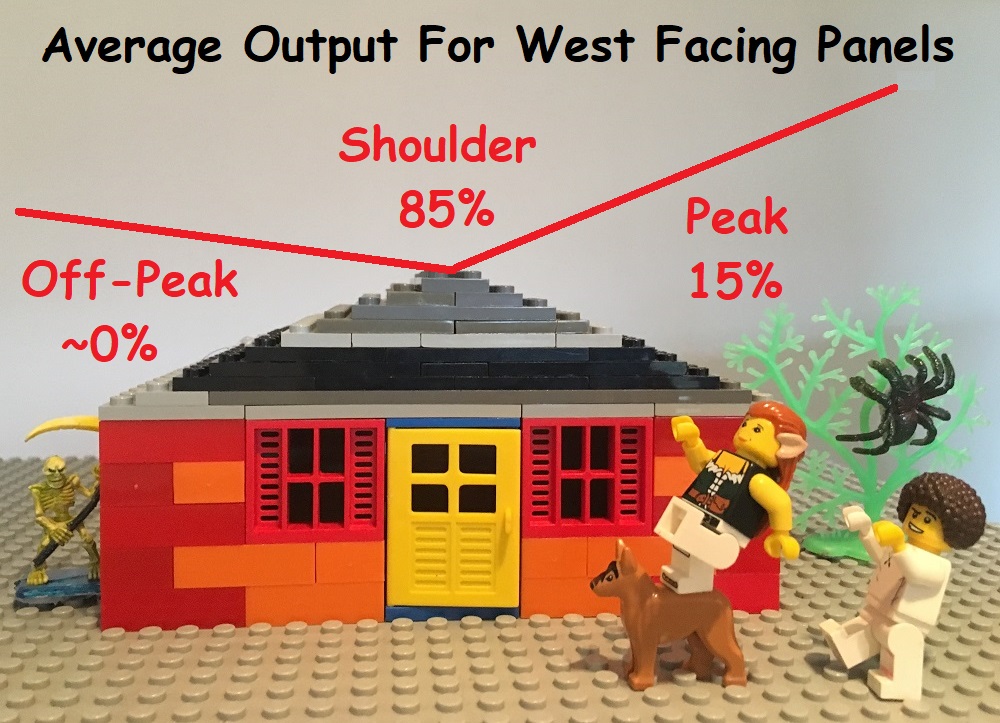 Over a year and ignoring the effects of self consumption, this should cause the time varying tariff to average around 13.1 cents.
Face West Young Panel
When installing new solar panels, it now makes economic sense to install as many panels as you can can facing west — provided you are confident you can get a time varying tariff.  In the past I would have suggested facing them north to maximize total output, especially in Melbourne where air conditioners are used much less than in other mainland states.
But, if you want the maximum environmental benefit, solar panels facing north is better as it will maximize the total amount of electricity generated and reduce fossil fuel use to a greater extent.  In Melbourne a north facing panel will generate about 12% more than an east facing panel and around 15% than a west facing one.  But you could always face the panels west and then use the extra money saved to pay for more solar capacity.
Solar Panels On West Facing Walls Can Pay
If you have a sunny section of west facing wall, the high peak period rate on a variable tariff means panels installed on that wall can pay for itself.  While panels on a west facing wall will only produce around 48% as many kilowatt-hours as north facing rooftop panels, a large portion of their output will be produced during the peak period.  Unfortunately, installing solar panels on walls isn't necessarily easy.  But it is something people installing commercial scale solar should consider, especially for new construction, as the western side of the building could be designed to support solar panels.
It Won't Let Batteries Pay For Themselves — But It Can Help
Time varying tariffs won't be enough to make batteries pay for themselves.  But it can help by allowing battery systems that have more energy stored than the household will use through the rest of the night to send it into the grid in return for the high 29 cent peak rate.
Who Will Offer Time Varying Tariffs?
It's still not clear just who will be offering time varying tariffs.  I rang the three largest electricity retailers in Australia and received the following information:
Origin Energy told me that while it's not confirmed, they are unlikely to offer a time varying tariff.
AGL said they are likely to put together a time varying tariff plan and offer it sometime in the next few days.
The person I spoke to at Energy Australia said they currently did not have any information that they would offer a time varying tariff but it was a possibility.
These Are Times Of Change
While time varying tariffs give a good incentive at the moment to install west facing solar panels, as more is installed it will result in feed-in tariffs changing again.  A likely result is the peak time will start later in the day.  So while it is a good idea to take advantage of the new feed-in tariff, it's not a good idea to rely on it always remaining the same.
Footnotes
Or possibly less confusing.  I'm so confused I can't tell which. ↩
This isn't exactly correct since the atmosphere refracts light, which makes the day about 4 minutes longer.  If this worries you, please feel free to provide your own, much better, calculation in the comments.  I promise it won't accidentally get eaten by my dog. ↩
An idea first proposed by Christopher Columbus.  Mind you, he proposed it when he traveled back in time 2,000 years to visit Pythagoras — shortly before attempting to steal all of his gold, silver, and syphilis. ↩