Increasing renewables will reduce wholesale electricity prices. Unfortunately that means feed in tariffs will probably fall too.
Solar feed-in tariffs – the payment households receive for surplus solar electricity they send into the grid – are likely to fall within the next three years along with wholesale electricity prices.
The bad news: a fall in both feed-in tariffs and grid electricity prices will reduce the returns from rooftop solar.
The not so bad news: solar's value as an investment will fall from amazingly amazing all the way down to merely amazing.
I expect feed-in tariffs will drop by 2020 because I expect daytime wholesale electricity prices to fall by then. Wholesale electricity prices are the largest contributor to feed-in tariffs.  But it's not a sure thing.  If rooftop solar received fairer compensation for all its benefits then feed-in tariffs would rise.  But this is unlikely to happen so I'm predicting they will decline. Come back here in 2020 and tell me if I was right.
Wholesale Electricity Prices Are Way High
We used to have some of the lowest wholesale electricity prices in the world.  While we couldn't beat places like Norway with its huge hydroelectric resources, we could beat almost everyone else who didn't have so much dam power.  Electricity was cheap to generate because of our oversupply of coal power stations, low natural gas prices, and plentiful hydroelectric power.  Direct investment in coal power and hydro by government also helped.
But Australia's long run of low wholesale prices have come to an end.  So far this year spot prices for have averaged 8.3 cents per kilowatt-hour in the Eastern states.  This is more than twice the average in 2015. They are the highest they've been since we kicked off the National Electricity Market, or NEM, in late 1998.
There are three main reasons the cost of generation has soared:
Domestic gas prices more than doubled after gas export facilities were built pushing prices towards international levels.
We've started closing old, clapped out, coal power stations.
Building new renewables has been retarded by the Coalition Government.
Expensive Natural Gas Means Expensive Electricity
Australia's natural gas used to be the cheapest in the world, outside of some oil rich nations where it was considered a waste product of oil production and simply flared off.
Our natural gas was cheap because it was a stranded resource, there was no way to export it. Its low price led to Australia becoming a world leader in natural gas buses and LPG1 powered cars.
But then a Liquefied Natural Gas (LNG) export terminal was built in Gladstone. Our gas could be sold overseas pushing its price towards international levels. Despite gas only powering 9% of electricity generation, gas generators often set wholesale electricity prices
The world economy is picking up, which could push gas prices even higher. But Malcolm Turnbull seems determined to reduce gas prices by fiddling with the domestic gas market, so I expect the cost of domestic natural gas to fall.
Coal Power Is On Its Way Out
From 1960 to 2000 electricity demand in Australia grew by an average of 6% a year.  Growth was expected to continue in the 21st century, but it slowed to a halt in 2009, then fell for 5 straight years, despite Australia's growing population.  This caught the electricity sector by surprise and we ended up with excess generating capacity that, until recently, helped keep wholesale prices low.
Because of the oversupply, Australia's last coal power station was completed at Kogan Creek in 2007 and will be the last coal power station built in this country. The cost of new coal generators simply cannot compete with renewable energy.  The average age of Australia's coal power stations is now 33 years and they are increasingly unreliable.
Wholesale prices stayed low despite lots of coal capacity closing. But then the huge Hazelwood brown coal power station in Victoria was finally put out of our misery after 53 years of filling the air with fumes and and the lungs of its workers with asbestos fibers.  This large cut in supply was enough to drive prices up and, combined with high gas prices, has caused Victorian wholesale electricity prices to more than double.
The Coalition Has Blocked Renewables
You won't be surprised to hear the Coalition doesn't like renewable energy.  They have serious issues when it comes to accepting the reality of climate change and the cost effectiveness of renewables.  They love coal so much the next postal vote will be to decide if the definition of marriage should include politicians and coal seams.  Their devotion to the coal industry would be touching if global warming wasn't touching off forest fires around the world.  They've always dragged their feet on renewables, but starting from the time Tony Abbott became party leader they have bent over backwards to discourage investment in renewable energy by creating sovereign risk.
To be clear, sovereign risk does not involve Queen Elizabeth playing a board game.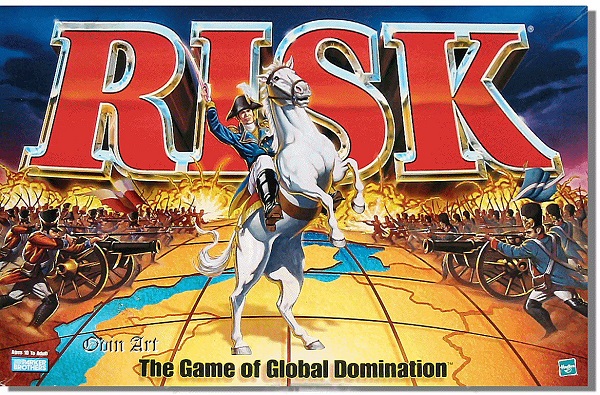 Nor is it the risk that Tony Abbott will send the Queen around to hit you with her handbag.  Rather, it was the Coalition threatening to remove support for renewable energy discouraging new private investment.  The threat was credible because the Abbott Government axed Australia's carbon price and slashed our Renewable Energy Target by one-third.  This cut renewable development and increased wholesale electricity prices.
Fortunately, Coalition recalcitrance has been overcome – for now – and there is a mini-boom in renewable construction.  But Coalition policy has made it clear there will be no support for large scale renewable energy beyond 2020 when the the large scale Renewable Energy Target will be met2.
Zero Fuel Cost Lowers Wholesale Prices
Because solar and wind power have no fuel cost, they supply all their generation to the grid, even if the wholesale price approaches zero3.
This helps lower average wholesale prices because natural gas and hydroelectricity have fuel costs4 and will always charge at least enough to cover them.  The same applies for coal power, but because coal power stations are inflexible they will only shut down if they expect an extended period of low wholesale prices.
Renewables Reduce The Market Influence Of Gas
As more solar and wind is built, renewable energy will meet total electricity demand more often. Costly gas will set wholesale electricity prices less often and average wholesale prices will fall.
In South Australia when wind and solar production is high enough to meet state demand and when no more electricity can be squeezed down the interconnector to Victoria, wholesale electricity prices crash.  Or at least they used to before the state government started shutting down cheap wind power so it could pay expensive gas generators to keep operating, but that's a story for another time5.
In other states, the periods in which renewables meet all demand will be brief at first, but grow increasingly common as solar and wind capacity grow.
The Clapped Out Coal Roller Coaster
Solar and wind power particularly harm the economics of coal.  The Coalition knows this and that's why they oppose them so much.
Actually, I take that back.  There are people in the coal industry who know solar and wind power harm the economics of coal and they tell the Coalition what to do.
I have no confidence the Coalition actually understands what they are doing or why.
As solar and wind capacity expand there will be increasing periods where they force the wholesale price of electricity down to zero or close to it6.  Natural gas and hydro can easily shut down during these periods of low prices, but Australia's ageing and inflexible coal power stations can't and often will be forced to operate at a loss.  This eventually leads to a coal power station cutting its losses and shutting down for good.  This reduces the supply of electricity, which pushes wholesale prices up, which encourages more renewable construction, which lowers electricity prices and starts the whole cycle again.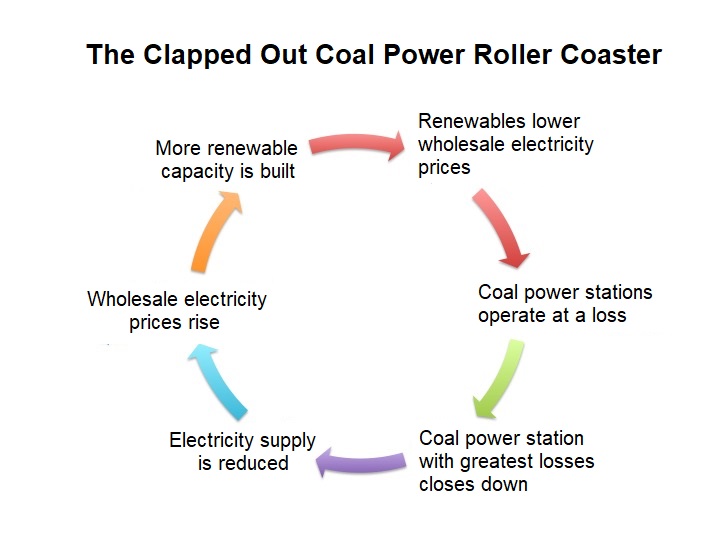 We're already riding the clapped out coal power roller coaster.  It was responsible for the shutdown of South Australia's two coal power stations and contributed to the closure of Hazelwood.  The neat thing is, as renewable capacity expands, the process accelerates leading to the faster elimination of coal power7.
Daytime Wholesale Prices Will Fall The Most
Rooftop solar is by far the most cost effective source of renewable energy in Australia.  This is because it competes with the retail price of electricity rather than wholesale prices and saves on transmission and distribution costs.  With this year's increases in electricity prices and feed-in tariffs, rooftop solar is expanding rapidly as homes and businesses take advantage of its economic effectiveness.  Plenty of large scale solar farms are now being built too.
All this new solar capacity will lower the average wholesale price of electricity during the day.  In the past we have seen renewables push the daytime price of electricity down to zero at times in South Australia and this will start to happen in other states.  First on Sundays and public holidays, but soon on normal sunny days during the week.
There are some factors that will mitigate this.  If solar farms can't make enough money to turn a profit they will stop being built.  Also, new storage capacity, whether pumped hydro, electric cars, or stationary battery storage will help boost prices in the middle of the day.  But the average wholesale price of electricity produced by rooftop solar is likely to fall to a low level as the cost of solar continues to fall in price and its capacity expands.
Upside Risks
Upside risk is a silly name for the chance of something good happening.  Since it's really the opposite of risk, surely a better term would be anti-risk or possibly ksir?8  The upside risk in this case is that solar feed-in tariffs won't fall.  This could happen if I am utterly wrong about the general direction of wholesale electricity prices, but a better reason would be if solar households start being more fairly compensated for the benefits rooftop solar provides society.
In Australian politics, reducing greenhouse gas emissions is often a case of two steps forward and one step back.  Actually, I think the only time the Coalition takes two steps forwards is when they're winding up to kick someone in the arse who is trying to do the right thing on emissions.  But the grip of the coal industry on Canberra is weakening.  While Australia's fossil fuel farce has gone one much longer than I thought it would, when it does finally fall apart my guess is it will happen very quickly.  So while I am certain daytime wholesale electricity prices will fall, its effect on feed-in tariffs may be negated by fairer compensation for the other benefits rooftop solar provides.
But it is certainly possible we will see a reduction in both electricity prices and feed-in tariffs within a few years.  My personal feeling is political opposition to renewables is rapidly approaching its used by date and so any reduction in feed-in tariffs won't be significant.
But I could be wrong about this, so when working out the return on your solar system, I suggest taking into account the the possibility that both solar feed-in tariffs and electricity prices may fall by a modest amount in the fairly near future.
Footnotes
Natural gas is mostly methane while LPG is mostly propane and butane.  LPG is easier to use as car fuel because it is more energy dense and more easily compressed into a liquid than natural gas. ↩
Currently, the Coalition has not revealed plans to hasten the gradual phase out of support for rooftop solar that is already occurring. ↩
Currently large scale wind and solar generation will supply electricity even if the cost falls below zero in order to generate LGCs or Large-scale Generation Certificates as part of the Renewable Energy Target. ↩
The water stored in hydroelectric dams can be thought of as its fuel, even though it doesn't burn like petrol does.  That only happens near Queensland coal seam gas sites. ↩
A horror story with no perfect solutions for anyone involved.  A tragedy of stupidity. ↩
Or potentially below zero. ↩
To replace coal power dispatchable power capacity is also required.  Dispatchable power includes includes gas, hydroelectricity, pumped hydro storage, thermal storage, and battery storage.  But solar and wind plus dispatchable power will still out compete coal. ↩
If anyone asks you who came up with this word, tell them it was Slekarb Dlanor. ↩