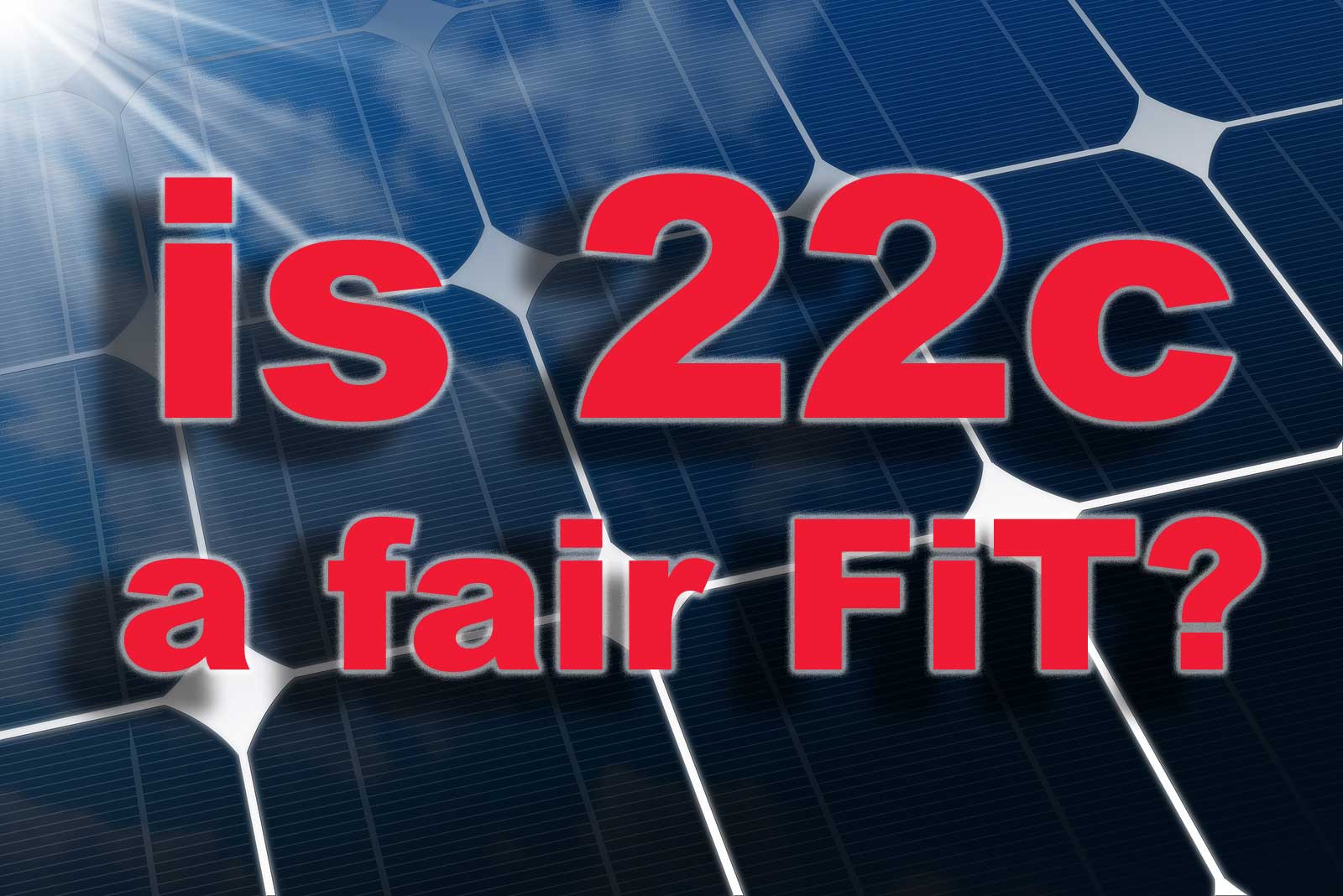 Solar Feed-In Tariffs Should Be Higher Than They Are — But Not As High As Some Believe
In my not at all humble opinion, Australian solar feed-in tariffs are too damn low!  People aren't receiving a fair deal for the clean solar energy they export to the grid.  This is bad for our nation and the world because with a fairer price we would see more rooftop solar installed which would reduce the damage to our health and our environment from burning fossil fuels.
But before I am voted leader of the revolution for higher feed-in tariffs and march my armies on Canberra — or maybe somewhere that's actually nice to go — I should point out that, unlike some people, I don't think solar feed-in tariffs should equal the retail cost of electricity.  While feed-in tariffs  should be higher than they are now, a "fair" price is likely to still be less than what most of us are are normally charged for grid electricity.
As a result, this article will probably end up a successful attempt at making the maximum number of people possible disagree with me.
The reason why I believe feed-in tariffs should be higher is because, while they usually take into account the daytime wholesale price of electricity, current solar feed-in tariffs generally don't include the value of other benefits rooftop solar provides such as:
Avoided transmission and distribution costs.
Ancillary services that help stabilize the grid.
Health costs avoided by reducing coal pollution, and…
Environmental damage avoided by reducing greenhouse gas emissions.
Victoria has taken a step in the right direction by including a payment for avoided carbon emissions in their solar feed-in tariff, but I don't think they go nearly far enough.
This Is Not For People With Old Timey High Feed-in Tariffs!
If you are sitting in Queensland reading this and you have an older solar system that is getting a 44 cent feed-in tariff, I'm not fighting for higher or lower feed-in tariffs for you.  And if you are one of the small set of Victorians getting a 60 cent1 feed-in tariff, then this article isn't about you either.  You can just sit back and relax and enjoy your sweet feed-in tariff money rolling in.  If you have a 1.5 kilowatt solar system, as most of you do, you could easily be saving over $1.50 a day.  That's enough to pay for two cheap tubs of ice cream a week.
Those who are beneficiaries of ancient high feed-in tariffs can just wait until everyone else is finished reading this.  And no sneaking off to use a mirror to shine extra light onto your solar panels.  While technically not illegal, that would be against the spirit of your feed-in tariff agreement.  Also, you could fry your system.  Not to mention fall off the roof.  And you'd look pretty silly standing up there with a mirror anyway.
Current High Feed-In Tariffs Are Mostly Con Jobs
While it may appear that people in South Australia, Victoria, NSW, and GoldCoastBristopia are free to shop around for a higher feed-in tariff if they're not happy with what they're getting, this isn't really the case.  The problem is, high feed-in tariffs offered by electricity retailers are mostly bullshit.
Plans with high feed-in tariffs normally make up for them with higher costs elsewhere on the bill.  These can include higher charges per kilowatt-hour, increased daily supply charges, lower than average discounts, or a combination of all three.
It's all part of the illusion that has been created to make it appear there is effective competition in the retail electricity market.  It works like this:
Convince politicians that competition will reduce electricity prices.
Introduce confusing electricity plans that prevents retail competition from working properly.
Raise electricity prices to cover the cost of managing all this fake competition.
While retail plans are intentionally confusing, some are better than others, so it is possible to benefit from a plan with a higher than average feed-in tariff, particularly if you export a lot of solar electricity.  But a while back when I looked at all the electricity plans available at the time in Adelaide and Sydney, those that had average feed-in tariffs were often better for solar households than ones with high feed-in tariffs.  Plans with high feed-in tariffs are frequently simply con jobs since households won't see genuine savings on their electricity bills.
To help you avoid rip-off merchants we have an electricity plan comparison tool that allows you to enter details from your bills, including how much solar electricity you export, to help you work out which is genuinely the best retail plan for you.
Victoria Moves In The Right Direction
Victoria has taken an important step by including a payment for "value of avoided social cost of carbon" in their minimum feed in tariff.  It's shown in the table below, which I took from a report you can download here:

While 2.5 cents is infinitely better than zero cents, in my opinion the value of avoided carbon emissions is far higher.
Also, they didn't include a component for the health benefits of avoided pollution because working it out was apparently too difficult for their poor little brains.  As the report states…

So because they couldn't be certain of the amount, they decided not to include it at all.  They weren't even willing to take a wild stab in the dark — which would probably still be less of a health threat than breathing coal fumes for thirty years.
I've found this excuse come up a lot when reading reports on solar feed-in tariff recommendations.  It is pathetic.  They could at least estimate a reasonable minimum value and refine it later as more information becomes available, but they couldn't even manage to do that.
I wonder how things would go if I started using this "too difficult" excuse in my life?  Do you think my bank would be okay with it if I told them the fees and interest on my loan were really hard to work out so I'll just pay them what's easy to determine and forget about the rest?
Wholesale Electricity Prices
Many solar households receive feed-in tariffs that only cover the wholesale cost of electricity or less in some cases.  Average wholesale electricity spot prices have been high over the past year and so far this year, when weighted for population, average 8.3 cents a kilowatt-hour in the National Electricity Market (NEM)2.  High prices are expected to last for around two or three more years.  Spot prices aren't the actual cost of wholesale electricity.  The real cost is secret.  But while spot prices should average a little higher, they are reasonably close to the real price.
Rather than the average wholesale price, this portion of the solar feed-in tariff should equal the average daytime wholesale price, weighted by the average output of rooftop solar through the day.  While solar is pushing down prices during daylight hours, it still produces a considerable amount of electricity on hot summer afternoons when prices are often sky high, so the average wholesale price of daytime electricity isn't low yet.  Although it probably will be in the future.
Because transmission losses from exported solar electricity are extremely low, as it is almost all consumed close to where it's produced, the wholesale price component of solar feed-in tariffs should be adjusted upwards to account for this.  Currently Victoria increases their feed-in tariff by around 0.6 cents to allow for this.
Tasmania's Feed-In Tariff Has Been Way Low
Back when Tasmania was in crisis because drought had caused hydroelectric dams to run low and the Basslink interconnector to Victoria broke, state wholesale electricity prices went through the roof3.  But was this increase reflected in an increased feed-in tariff for solar?  Nope!  It remained a constant 6.05 cents throughout the crisis.
If the state government had used the resulting windfall from solar households not being paid the market price for their exported electricity to instead provide a bonus for installing new solar capacity immediately, that could be understandable, since they needed as much additional generating capacity as they could get as quickly as possible, but they weren't interested in that either.  They just let solar households subsidize the entire state grid and help pay for things such as importing generators from the Philippines on account of how people in less rich countries don't need electricity as much as Australians do4.
Fortunately, their solar feed-in tariff increased to 8.9 cents on the first of July.  While this is a little higher than their current cost of wholesale electricity, it doesn't come close to pricing in the other benefits of rooftop solar, and they need all the help they can get in Tasmania because it's not at all a sunny place by Australian standards.
Avoided Long Distance Transmission Costs
A portion of electricity bills is the cost of rapidly wriggling electrons through high voltage power lines that connect Australia's mostly coal fired power stations to towns and suburbs.  At the moment, rooftop solar generally doesn't use long distance transmission lines at all, so that cost is avoided and should add a couple of cents to solar feed-in tariffs, though the amount will vary by state.
This detailed graph from Energy Networks Australia shows a breakdown of residential electricity bills in Victoria: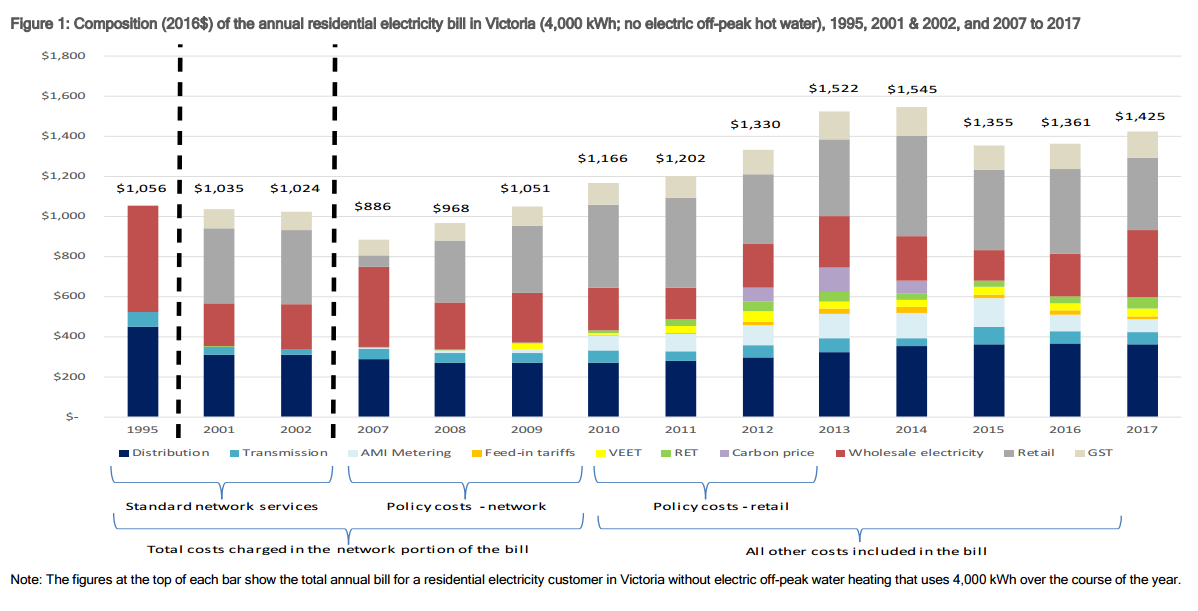 As you can see, provided you have eyes capable of resolving individual pixels, transmission costs are 5% of residential electricity bills, which comes to about 1 cent per kilowatt-hour of grid electricity consumed5.  As Victoria is a compact and heavily populated state by Australian standards, this figure is below average.
Avoided Distribution Costs
Exported solar power uses local distribution infrastructure and does add some costs to local distribution.  But it doesn't require the same amount of infrastructure and costs as distributing power from large scale generators.  Unfortunately, just how much rooftop solar is likely to save on distribution costs is beyond my poor little brain's ability to calculate at this time.
Avoided Transmission And Distribution Infrastructure Costs
Transmission lines need enough capacity to meet peak demand, which happens on hot summer afternoons during heatwaves.  Because rooftop solar is always producing electricity at these times right where it's needed, it reduces the amount of transmission infrastructure that has to be built.
In Australia there's already enough rooftop solar installed to provide most of this benefit.  It could also be argued that this is what the high feed-in tariffs available in the past were helping to pay for.  But additional rooftop solar capacity is still useful for helping meet peak demand and this should be reflected in feed-in tariffs, even if its value turns out to be very small after the numbers are crunched.
Avoided Ancillary Services
Modern solar inverters do some pretty sophisticated work to help keep the grid stable by contributing to both frequency and voltage regulation and this is completely uncompensated.  Victoria does have a payment 0.1 cents per kilowatt-hour included in its minimum feed-in tariff, but this is for ancillary service fees electricity retailers avoid by accepting a customer's exported solar electricity.
What the total value for ancillary services both provided and avoided would be, I don't know, but for now I'll just go with Victoria's figure of 0.1 cents, since they rounded it up.
Avoided Health Costs
Each kilowatt-hour of solar electricity exported to the grid will reduce fossil fuel generation by around one kilowatt-hour.  Generally, because most of our power comes from coal and because of the way coal power stations operate, it is coal use that will be reduced and that is the most dangerous of fossil fuels when it comes to pollution.
One estimate of the health cost of coal generation in Victoria — not including coal mine fires — is 0.8 cents a kilowatt-hour.  While coal power in other states tends to be less deadly, electricity generated by rooftop solar that isn't exported also reduces coal generation and should be accounted for in the feed-in tariff6.  This means we should probably be adding at least 0.8 cents to solar feed-in tariffs.  Possibly much more if that estimate doesn't fully capture the heath costs of coal.
Avoided Greenhouse Gas Emissions
The amount of additional carbon dioxide the atmosphere can safety tolerate is zero.  Because of this, carbon emissions avoided by rooftop solar should be compensated at the rate it would cost to remove those emissions from the atmosphere if they had been released.  This is because I believe a company makes a mess should pay the full cost of cleaning it up.
The lowest estimate for removing large quantities of CO2 from the atmosphere I am aware of is 7 cents per kilogram7.  Because each kilowatt-hour of rooftop solar electricity exported reduces CO2 emissions by around one kilogram, at least 7 cents should be added to solar feed-in tariffs to reflect this.
But because self consumption of electricity from rooftop solar also reduces emissions, this should be taken into account.  If Australian solar households self consume an average of 30% of the solar electricity they generate, then solar feed-in tariffs should be raised by at least 9.1 cents to cover the cost of avoided greenhouse gas emissions.
Fossil Fuels Should Directly Pay For Health & Environmental Costs
In an ideal world, instead of increasing solar feed-in tariffs to compensate for avoided health and environmental costs, fossil fuel generation would directly pay for them.  But because coal appears to hold a special, privileged position in our society, the current government refuses to make it pay for even a portion of the costs it imposes on society.
This is ridiculous.  If I started a nuclear waste disposal business and began burning low level radioactive waste in an incinerator and let mildly radioactive smoke drift across the landscape, I would be considered a criminal, even if I could show the total harm to human health was less than that of one small coal power station.  I find this really annoying because I am running out of room in my shed for low level radioactive waste.
Until we decide to make fossil fuels pay the full cost of the harm they cause, we should use the next best solution, which is to compensate renewable energy for reducing fossil fuel generation, so we should include the value of avoided health costs and carbon emissions in solar feed-in tariffs.
The Total Comes To Around 22 Cents Per Kilowatt-Hour
If I add together the estimates for what I believe the major components of a solar feed-in tariff should be:
9 cents for the cost of wholesale electricity.
2 cents for avoided long distance transmission costs.
0.8 cents for avoided health costs.
9.1 cents for avoided greenhouse gas emissions.
It gives a total of 20.9 cents.  If it is assumed the value of other benefits only add about one cent to that then a fair solar feed-in tariff is roughly 22 cents.
This figure could go up or down if time and effort was put in to refining the estimates.  I know there are people out there who will disagree with the value I used for avoided greenhouse gas emissions, on account of how they like the idea of Australia having an inland sea or something, but I do think I used a reasonably low estimate.
This 22 cent figure for a fair solar feed-in tariff won't remain constant forever.  It will go down when wholesale electricity prices fall, which they eventually will, and it will also decrease once coal power is mostly eliminated from the grid and the emissions avoided by rooftop solar power declines.  Unfortunately, if our current government has their way, it may be a long time before we reach that point.
So let's try to not let them have their way.
Footnotes
60 cents premium tariff plus at least Victoria's 11.3 cent minimum feed-in tariff. ↩
Prices tend to be high in December as temperatures rise, so the average for the year is likely to be a little higher than this. ↩
Contrary to popular belief, Tasmanians have now had roofs for over 30 glorious years. ↩
Hello Philippines!  Because you are all lovely people (except for, you know, the death squads) I'll explain that was sarcasm.  This is a cultural defect that stems from having been a British colony. ↩
This is for a typical household that doesn't have an electric hot water system on a controlled load.  Because controlled loads can be extremely cheap in Victoria they can throw this figure off, but most Victorians use gas for hot water heating. ↩
Alternatively, this could be directly paid to households that have smart meters that record household self consumption of solar electricity. ↩
This involves sequestering carbon in agricultural waste, which Australia would be capable of doing on a moderately large scale.  Reforestation and afforestation (the growing of forests where there weren't any in the past) may potentially reduce remove CO2 from the atmosphere at a lower cost, but may not be able to so rapidly enough and on a large enough scale, particularly when their habit of burning is taken into account. ↩