When it comes to buying rooftop solar and batteries, people have a wide range of motivations.  Some want to save money, most are environmentally concerned, there are tech-heads interested in the technology, while others just want to be trendy.  Then there are confused people who ordered a battery thinking they were buying artillery or possibly a chicken.
But one motivation that pervades our society is love.  Love for free stuff.  In this case, free electricity.  Most people I know would love to have $0 electricity bills or better yet, be paid for providing clean solar electricity to the grid.
If $0 bills are what you want, it's okay to admit it.  You're among friends here.
But people sometimes make mistakes in their pursuit of free electricity.  For some reason the idea of free stuff seems to short circuit our brains.  It can have such a hold on people's minds they don't care how much money they have to spend to get it.  To help you avoid making mistakes and short circuiting your bank account, I am going to lay out your options for getting your electricity bills down to $0.
Three Options For $0 Electricity Bills
There are several ways to set things up so you'll never have to pay for electricity again.  One of the ways makes excellent sense both financially and environmentally and simply involves installing a large solar power system.  It can not only pay for itself, but is the best investment most Australian households can make.  While it's often not practical to install a system large enough to achieve $0 bills, it still pays to get as close to that goal as reasonably possible.
And then there are a couple of other ways that don't make financial sense at the moment and they involve buying home batteries.  They may make sense in the future.  In fact, they bloody well should.  But if your goal is to save money then you won't be doing that if you buy batteries now.
The three main ways for getting your electricity bills down to an average of $0 over a year that don't involve sitting in the dark are:
Install enough rooftop solar so the feed-in tariffs received from exporting surplus electricity will reduce your bills to nothing.
Install rooftop solar and a battery on-grid.
Install rooftop solar, multimode inverters1, a generator, and enough battery power to let you kiss the grid goodbye.
The first option is the easiest and unlike the other two will make you money.  But to get your electricity bills all the way down to zero you'll either need to be a modest user of electricity, or failing that, have a really big roof and preferably 3 phase power.
The second option of installing a battery while staying on the grid can give you $0 bills, but no battery system available now will pay for itself for any remotely normal household.  Once the cost of capital is accounted for you won't come out ahead.  It can help you reduce the number of solar panels you need reduce your electricity bills to zero, but it's not going to help your wallet.
Finally, there is going off-grid for good.  Unfortunately this will cost a small fortune if you want the kind of convenience being on-grid provides.  But even if your home is fully capable of going off-grid without a problem — maybe you won a free off-grid system in a pub raffle — it can still make financial sense to stay because the value of feed-in tariffs received from exporting surplus solar electricity can easily exceed the cost of grid supply charges.
Using Solar Power Alone To Gain $0 Electricity Bills
Using rooftop solar to get your electricity bills down to zero is pretty straight forward.  Put plenty of solar panels on your roof and make enough money in feed-in tariffs so you don't have to pay a cent on your electricity bills, or better yet, get paid for the electricity you provide.  Unfortunately, there there is a pretty big problem in most people's way.  The majority of Australian homes have single phase power which limits them to installing a maximum of 6.66 kilowatts of solar panels.
This limit makes it very difficult for for typical households with average electricity consumption to get their bills down to nothing.  A typical household only has 2 people in it, as that's the most common household size2.  This graph shows the average annual electricity consumption of two person households by state and territory: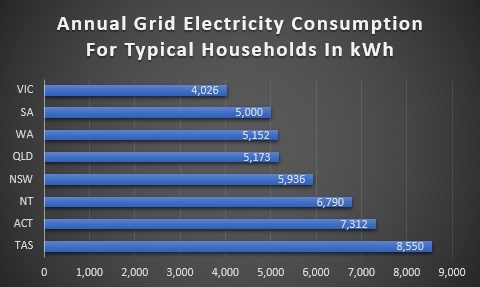 As you can see there is a considerable amount of variation, with Tasmanians consuming more than twice as much as Victorians.  The difference is due to most Victorians using gas for hot water and home heating while Tasmanians generally use electricity for everything, including heating, and it gets bloody cold in Australia's full stop3.  Victoria's mild climate also means they use little electricity for air conditioning in summer.
$0 Bills With Single Phase Power In South Australia
South Australia is a state with low electricity consumption and the highest average feed-in tariffs, so if a typical household can get $0 bills with single phase power then this should be the place.  According to PVWatts, a household that installs 6.5 kilowatts of north facing solar panels at a 20 degree angle in Adelaide will generate 9,800 kilowatt-hours of solar electricity a year.
If this home uses the typical two person annual average of 5,000 kilowatt-hours and it is evenly split between grid electricity and rooftop solar power, then it will produce a surplus of 7,300 kilowatt-hours of solar electricity that will be sent into the grid for a feed-in tariff.
Using our price comparison tool the most effective retail electricity plan I can see has a 17 cent feed-in tariff.   After taking into account the kilowatt-hour charge for grid electricity, supply charges, discounts, GST, and the total amount of feed-in tariff earned, the household's annual electricity bill comes to negative $50.  This means they'll be earning almost a whole dollar a week from selling electricity.  While that's not a lot, it's infinitely better than nothing.
This is for a new system with almost ideal output, so this result won't be easy to replicate under real life conditions, but it is possible for a typical South Australian household with single phase power to at least break even and have $0 electricity bills.  Adelaide is the only capital where this can happen apart from Darwin, which is a special case, as they still have a very high feed in tariff that is equal to what they are charged per kilowatt-hour for grid electricity.
Of course, not everyone's electricity consumption is typical and for efficient or frugal households, 6.5 kilowatts of solar panels may be more than enough for them to make money from their electricity bills.
Export Limiting May Allow Larger Systems With Single Phase Power
Households with single phase power may be able to get permission to install systems with an inverter larger than 5 kilowatts and solar panel capacity greater than 6.66 kilowatts, if the system is export limited so it can never send more than 5 kilowatts of surplus solar power into the grid.  This has the disadvantage that the export limiting equipment has to be paid for and some clean solar electricity may go to waste, but it can still be a cheaper way of getting $0 electricity bills than buying a battery.
Three Phase Power Will Often Be Required
Because households are generally permitted to install 5 kilowatts of inverter capacity per phase and three phase power has — surprise, surprise — three phases, this means homes with it can have up to 15 kilowatts of solar inverter capacity.  Solar panel capacity can be up to one-third larger than inverter capacity, so three phase homes generally can have up to 20 kilowatts of solar panels.
But even with high efficiency panels, most roofs are going to have difficulty fitting 10 kilowatts worth.  That much requires a big house.  Or possibly a small house wearing a giant hat.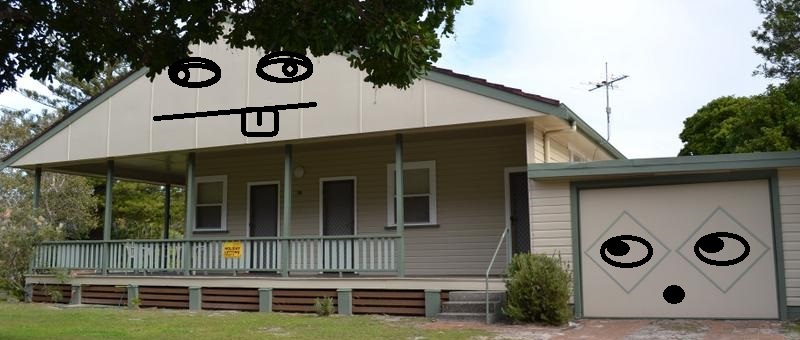 Upgrading from single phase to three phase power is expense.  I've heard of it costing only $2,000 to $3,000 but it can easily cost over $5,000.  That's in a town or city.  If you live in a rural area it can cost more than paying for hairdressers during a shearer's strike.  So you'd want to be certain it's worthwhile for your situation before shelling out that much.
Minimum Solar Power System Size For $0 Bills By Capital
If, as in the Adelaide example above, a household uses 5,000 kilowatt-hours a year, evenly split between grid and solar electricity, then the minimum amount of solar panel capacity required for a home to have $0 electricity bills in the state and territory capitals when using the best retail electricity plan available would be: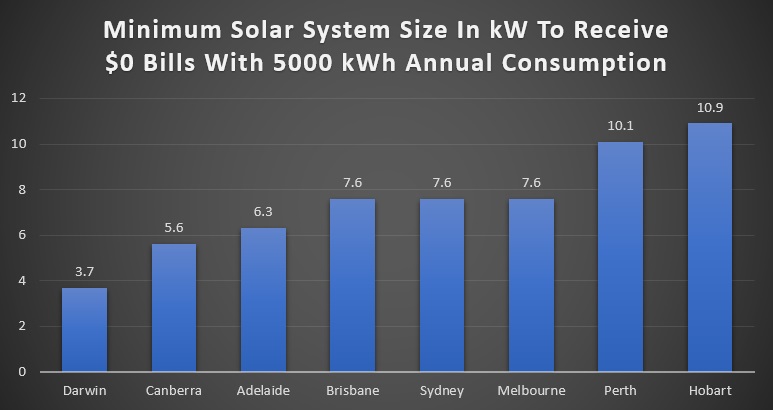 In this comparison Canberra does well because it has the lowest electricity prices in Australia while Perth performs poorly, despite high levels of sunshine, thanks to its low feed-in tariff of only 7.1 cents per kilowatt-hour.  While Tasmania's 9 cent feed-in tariff isn't quite as bad, it is still low and Australia's shoe heel is a shady place by our standards.
Update 9th December:  Unfortunately, for households in Western Australia that want large solar energy systems, they are normally not permitted to install more than 5 kilowatts of inverter capacity even if they have three phase power and they're not allowed to work around this limit through export limiting either. 
If you consume more than 5,000 kilowatt-hours a year then you'll either need a larger solar power system or work on getting your electricity consumption down through energy efficiency measures such as improved insulation, LED lighting, efficient appliances, and for winter: cross breeding a kangaroo with a sheep to make a woolly jumper.
Batteries Can Allow $0 Bills With Smaller Solar Power Systems
If I use one kilowatt-hour of grid electricity that costs 34 cents and my feed-in tariff is 17 cents, then I'll need to export 2 kilowatt-hours of solar electricity just to break even.  But, after allowing for charge and discharge losses, I might only have to store 1.2 kilowatt-hours of solar electricity in a battery to avoid using one kilowatt-hour of grid electricity.  Because of this, home batteries can reduce the amount of solar panel capacity required to get $0 bills.  But at their current cost this is only a good idea if you are determined to get $0 bills and don't care about saving money.  This is because batteries do not pay for themselves yet.
One year ago I wrote about how the Powerwall 2 won't save households money and this is still the case.  It's actually worse now than what I calculated then, as the total price appears to be higher and its efficiency lower than the figures I used.  What has improved is they are now actually being installed, which is infinitely better than what was happening last December.
Because the Powerwall 2 leads on cost per kilowatt-hour of storage, if it can't pay for itself then neither can other battery systems.  While electricity prices increased over the past year, for most Australians higher feed-in tariffs either resulted in either no change in the economics of batteries or made them worse.
So if you want $0 bills a battery can help you achieve that, but it's not a smart moves as far as your wallet is concerned.  You'd be better off using the money to make a house payment or investing it in a term deposit.  You also won't be helping the environment because, at this time, energy losses from battery storage results in less reduction in fossil fuel emissions than simply exporting electricity to the grid.  In the future this may not be the case, but it is the case now.
Going Off-Grid Won't Save Money
Supply charges are fees we are hit with for the glory of being connected to the grid, regardless of how much or how little of its electricity we actually use.  The average is approaching $1 a day with a typical annual total being around $330.  Going off-grid means never paying this again, but it also means never receiving a feed-in tariff.
In order to get through winter and periods of bad weather, off-grid homes normally produce much more solar electricity than they consume over a year.  So even if it cost nothing to go off-grid, it would still make financial sense for many homes to remain so they could continue to receive feed-in tariffs.
But rather than being free, the cost of going off-grid is extremely high.  To provide even modest users of electricity with convenience approaching that of being on-grid can cost $30,000 or more.  This is not a once off cost but represents batteries and inverters that will eventually need to be replaced.  While their cost should fall in the future, they are unlikely to be free any time soon.
Backup Power Provides Only A Small Benefit
One advantage of many, but not all, battery systems is the ability to provide backup power during a blackout.  This varies from only being able to provide energy currently stored in the battery and then becoming useless until grid power is restored, to being able to charge off solar during the day and provide power at night independently of the grid for years.
This feature is definitely useful but its value is not very high for most Australians.  This is because in most regions blackouts are rare and so it can be cheaper to simply tolerate them when they occur than go to the expense of installing batteries.  And where people decide it is worthwhile to have a backup source of electricity, a generator can be a cheaper option.
Personally I tend to look forward to blackouts as they are the perfect excuse to eat everything in the fridge.  Sometimes, if I move fast, 5 minutes worth of blackout is all I need.
Do What You Wanna Do, Be What You Wanna Be…
The more things change, the more things don't stay the same.  I can't be certain what will happen in the future with electricity prices, feed-in tariffs, battery prices or even how much solar households will be allowed to install.  What I can be sure of is things won't stay the same and maybe next December this article telling people batteries don't pay for themselves will seem quaint.
I also can't account for individuals' taste, so by all means buy batteries if that is what you want to do.
What I do know is solar can definitely pay for itself.  So if you want to get your electricity bills down to zero, filling your roof with solar panels and skipping batteries for now is the way to go.  A few years down the track, you'll happily end up with more money than you started with, rather than less.
Footnotes
Multimode inverters are also known as hybrid inverters.  If you want the sort of reliability the grid provides in populated regions of Australia, then you'll probably want to have two of them. ↩
I know this seems to suggest Australians aren't terribly gregarious people, but shrinking household size is a trend in every country as it grows richer.  I used to wonder if, once the old social structures had finished unraveling, this process would reverse itself, but I now realize it won't due to recent advances in artificial intelligence that will stop anyone from ever being lonely. ↩
Tasmanians using twice as much electricity has nothing at all to do with them having two heads. ↩