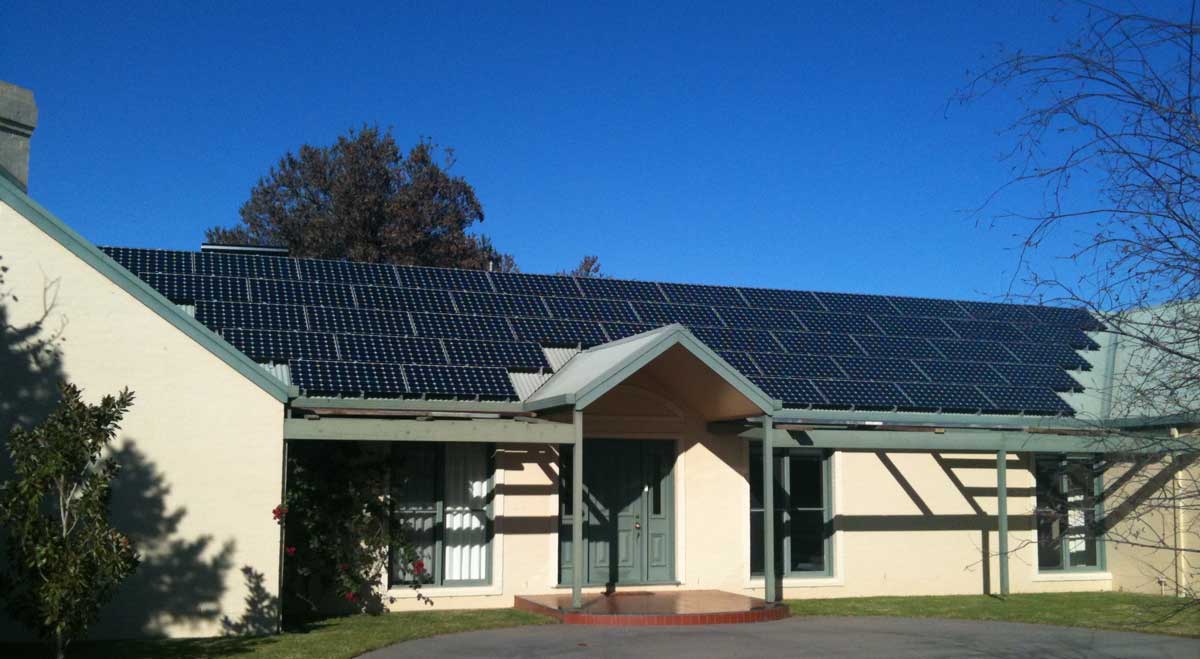 Q. How much solar should you install on your roof?
A. As much as you reasonably can.

In the past, working out just how many solar panels should go on a roof was a difficult job.  But now it's as easy as 3.141591…
…thanks to three developments:
The falling cost of rooftop solar.
The increasing price of electricity.
Higher feed-in tariffs.
It now makes sense for most people in mainland Australia to install as much solar as possible, within the following two limits:
The amount your Distributed Network Service Provider (DNSP) allows you to install.
The amount that is practical to fit on your roof2
For many homes this will be around 6.5 kilowatts of panels, either because they have single phase power and that's close to the maximum they are usually allowed to install, or because that's all they can easily fit on their roofs.  But people who have large rooftops and three phase power or potentially have single phase power and are willing to export limit their systems, can go much larger.
The reason why it now makes sense to go so large is because these systems can now pay for themselves regardless of your energy consumption habits, so feel free to go big and fill your goddamn roof.
Electricity Prices have Risen And Are Heading Higher
Victorians had a hefty 10% increase in electricity prices at the start of the year and almost everyone else in the country suffered a hefty hike up the electric invoice on the first of July.  West Australians, despite a $169 a year increase in every residential electricity bill, are the only ones who haven't had an increase in the incentive to install solar because of the darstardly way it was done.
Not only have this year's increases made solar more attractive for most Australians, we are also heading for further price increases over the next two years.  This alone wouldn't be enough for me to tell everyone to go big on solar but on top of that, solar feed-in tariffs are up as well.
Solar Feed-In Tariffs Are Up
Australians have already had huge increases in grid electricity prices over the past several years, but Feed in Tariffs have stayed low.


This is because the price rises up to 2016 (as shown above) were not driven by the wholesale cost of electricity, they were mostly about the 'network gold plating'.
But the increase in electricity prices occurring now is due to an increase in generating costs.  Wholesale electricity prices have soared and this has been reflected in feed-in tariffs, which are now much higher for most Australians.
Because households typically export 70-80% of the electricity a 6.5 kilowatt solar system produces, this finally makes going big on solar worthwhile.
Many households with large solar systems will obtain more savings from their feed-in tariff than from their own consumption of solar electricity.
Feed-in-tariffs vary by retailer. If you want to see what kind of feed-in tariffs are available in your area you can use the SolarQuotes electricity plan comparison tool.
Update 6th Oct: If you are going big on solar, one thing to watch out for is limitations on how many kilowatt-hours of feed-in tariffs you can receive.  In South Australia SA Power Networks limits feed-in tariff payments to the first 45 kilowatt-hours of solar exported to the grid per day, averaged over the billing period.  As a result, it is possible people who go over 10 kilowatts of solar panels may miss out on payment for some exported solar electricity when output is high and self consumption is low.  
DNSPs Often Allow 5 kW Of Inverter Capacity Per Phase
Distributed Network Service Providers, or DNSPs, are in charge of the local distribution of grid power and make the rules for connecting solar to the grid.  The default position is generally to allow 5 kilowatts of inverter capacity per phase3.
Most homes in Australia have single phase power which means they can install 5 kilowatts of solar inverter capacity.  As panel capacity can be one third greater than inverter capacity, you are allowed up to 6.66 kilowatts of panels.
In practice it will have to be less than this, as the only way to get exactly 6.66 kilowatts is to have your system installed by the Devil4.
An increasing number of homes have 3 phase power which means they can install up to 15 kilowatts of inverter capacity and up to 20 kilowatts of solar panels.  That is, if they can find room for 74 or so average panels it would take.  Unless a home is massive it's usually difficult to find room for more than 10 kilowatts of panels.
But while allowing 5 kilowatts per phase is fairly standard, there is considerable variation between DNSPs.  In some locations there are no set limits to the amount of solar capacity a property can have, but they can limit the amount of solar power exported to the grid.  Export limiting requires additional expense to set up5.
The Annual Return From A 6.5 Kilowatt Queensland System
Update 22 Sept:  I have improved upon the sloppy comparisons I originally made below by including a comparison of Internal rates of return (IRR). 
To provide a quick example of what kind of return can be obtained by installing the largest solar system that is generally practical for a household with single phase power, I will use a home in Brisbane.  To determine what they pay for grid electricity and the feed in tariff they receive, I will use the SolarQuotes electricity plan comparison tool and use the first plan that appears6 after I enter how much electricity the household exports to the grid.
The example system has the following characteristics:
A 5 kilowatt inverter with 6.5 kilowatts of north facing panels.
A cost of $7,000
9,400 kilowatt-hours of solar output per year
A solar self consumption rate of 20%
A grid electricity price of 22.1 cents per kilowatt-hour
A solar feed-in tariff of 11 cents per kilowatt-hour
A yearly average of $150 is spent on maintenance and repairs
A lifespan of 25 years
This system will reduce household electricity bills by $1,243 a year. After subtracting the yearly average of $150 for maintenance and repairs the household will be ahead by $1,093 a year. By putting this figure into Excel I can determine its Internal Rate of Return or IRR, which is a common performance measure for investments.  The result Excel gives me is 18.2%.
IRR percentages are used to compare investments to see which is best. So the question is, what investment should rooftop solar be compared to?
I think comparing it to the IRR of money invested at 5% is reasonable.  This is because when people have rooftop solar installed they never buy it for their landlord.  They put it on a home they own.  Almost half own their homes outright, while the rest are paying it off.
Home loans interest rates are currently around 4%. So if the IRR of rooftop solar can beat that of money invested at 5% households should be better off using any excess money they scrape together to purchase solar rather than make an extra house payment.
People with homes can also access home equity. My third ex-wife can borrow money at 5% any time she wants using the value locked up in our – I mean her – home.  This means if the IRR of solar beats money earning 5% interest it should make sense to borrow money to invest in rooftop solar.
After using Excel to work out the IRR of investing the cost of a solar system at 5% for 25 years I get 8.6%. This is clearly far below the IRR of 18.2% for the example solar system, so investing in large solar should definitely make sense for a typical household in Brisbane.
Return Over A Shorter Time Is Still Worthwhile
In the example above I assumed the system would have a 25 year lifespan.  As many people won't stay in one place for that long they may not consider it worthwhile.  But even if you own a solar system for only 10 years and it is worth nothing to you at the end of that time, it can still be a cost effective investment.
If you buy a quality system that will require no significant repairs over the 10 years and only requires an average of $40 a year for maintenance, then provided everything else is the same as in the example for Brisbane above, its IRR will be 14.7%.  That is well above the IRR of 7.1% for instead investing the money at 5% over 10 years.
Even if you only owned your solar system for 5 years before you sold your house, provided it added only $1,500 to the value of your home, then with an IRR of 8.2% it will still best the the IRR of 7.1% for money invested at 5% over 5 years.
No Self Consumption?  No Worries!
In the example I assumed the household would consume 20% of the solar electricity themselves, which is around the average most households with a system of that size can expect to.  But even if the household consumes much less, the return can still be worthwhile.  For the Brisbane example above, in the very unlikely event the household self consumed none of the solar electricity, then over a 25 year period the IRR would still be 13.9%.
Annual Returns For 25 And 10 Year Lifespans In Australian Capitals
As conditions vary across the country, I will use the same process as I did for the Brisbane example to estimate the IRRs for solar systems with a lifespan of 25 years and a lifespan of 10 years in Australian Capitals.  It is pessimistically assumed a system will have no value at the end of its life.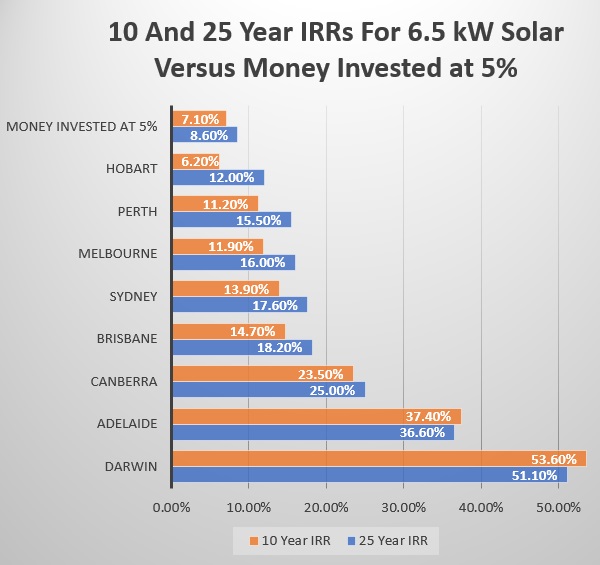 As you can see, over a 25 year period the IRR of a 6.5 kilowatt solar system beats that of money invested at 5% everywhere in Australia, with Darwin well ahead of everywhere else thanks to the highest feed-in tariff in the country.
Over a 10 year period, Hobart is the only capital where households are better off using their money to pay off their mortgages faster or where they will save money by not borrowing at 5% to invest in rooftop solar.  But everywhere else in Australia a large rooftop solar system is worthwhile.
Larger Solar Systems Are Cheaper Per Watt
One of the reasons going large makes sense is because, as the size of solar systems goes up, their cost per watt comes down.  This can offset the effect of a decreasing self consumption percentage and make very large systems provide a solid return.
Lower costs per watt for larger systems is especially true for those with conventional string inverters.  These are used in the majority of installations.  A 5 kilowatt string inverter will typically be 20-25% cheaper per watt than a 3 kilowatt inverter of the same brand.
Unfortunately, as one microinverter or DC optimizer is typically used per panel7, their cost per kilowatt of panels remains constant and does not fall as a system increases in size.  So if your goal is to build a large system while keeping costs low, you may need to avoid them.
It Pays To Max Out Your Panel Capacity
Solar panels are cheap.  I'm not just saying that because they have fallen a long way in price from what they used to be, solar panels are also effectively cheap for households because the STCs that lower the cost of solar depend on solar panel capacity and not inverter capacity.  As a result, there may be only a small difference in cost between a system with a 5 kilowatt inverter and 5 kilowatts of panels and a system with a 5 kilowatt inverter and 6.5 kilowatts of panels.  The extra STCs mean the panels can pretty much pay for themselves.  For this reason, as long as there is room for them, it always makes sense to install as close to the maximum panel capacity permitted, which is one-third larger than the inverter capacity.
Going Big By Export Limiting
Single phase homes are often limited to 5 kilowatts of inverter capacity8.  But it can be possible to install more inverter capacity by export limiting the system to prevent it from sending more than 5 kilowatts of solar electricity into the grid.  Queensland specifically allows this but Western Australia does not permit it.  In other places it will probably be okay.
Risks
Large rooftop solar systems are now a good investment for most people with unshaded roofs throughout mainland Australia.  But there are some risk factors than can damage its future profitability.
Firstly, electricity prices are likely to fall at some point.  If our politicians get their act together then with a little pen ink they could drop electricity prices by around one-third almost overnight9.  But, as hard as it may be to believe, our politicians may not actually get their act together soon.
Electricity prices are predicted to increase for the next two years, but after that they may fall.  I'll let you decide for yourselves how likely that is to happen.
As the amount of solar capacity on rooftops and in solar farms increases the wholesale price of electricity during the day will decline.  This will put downward pressure on feed-in tariffs, as in most states they only represent the wholesale price of electricity during the day.  But it is possible payments for environmental and grid benefits provided by rooftop solar will be added to feed-in tariffs, as they have been in Victoria and this may offset the decline in the portion of feed-in tariffs that represents daytime wholesale electricity prices.
But the largest risk to the profitability of installing a large rooftop solar system is electricity retailers being dicks.  If you estimate your large rooftop system will put your bill significantly into credit at times, then you will need to find a retailer who will actually give you that credit and not just take it and steal your feed-in tariff from you by refusing to lower your electricity bill below zero.
You will need to be particularly aware of electricity retailers who claim feed-in tariffs can only reduce the grid electricity usage portion of electricity bills and not the daily supply charge.
I fully intend to look into this and write an article on just who the dickiest retailers are, but until then, don't let them stop you filling your roof.