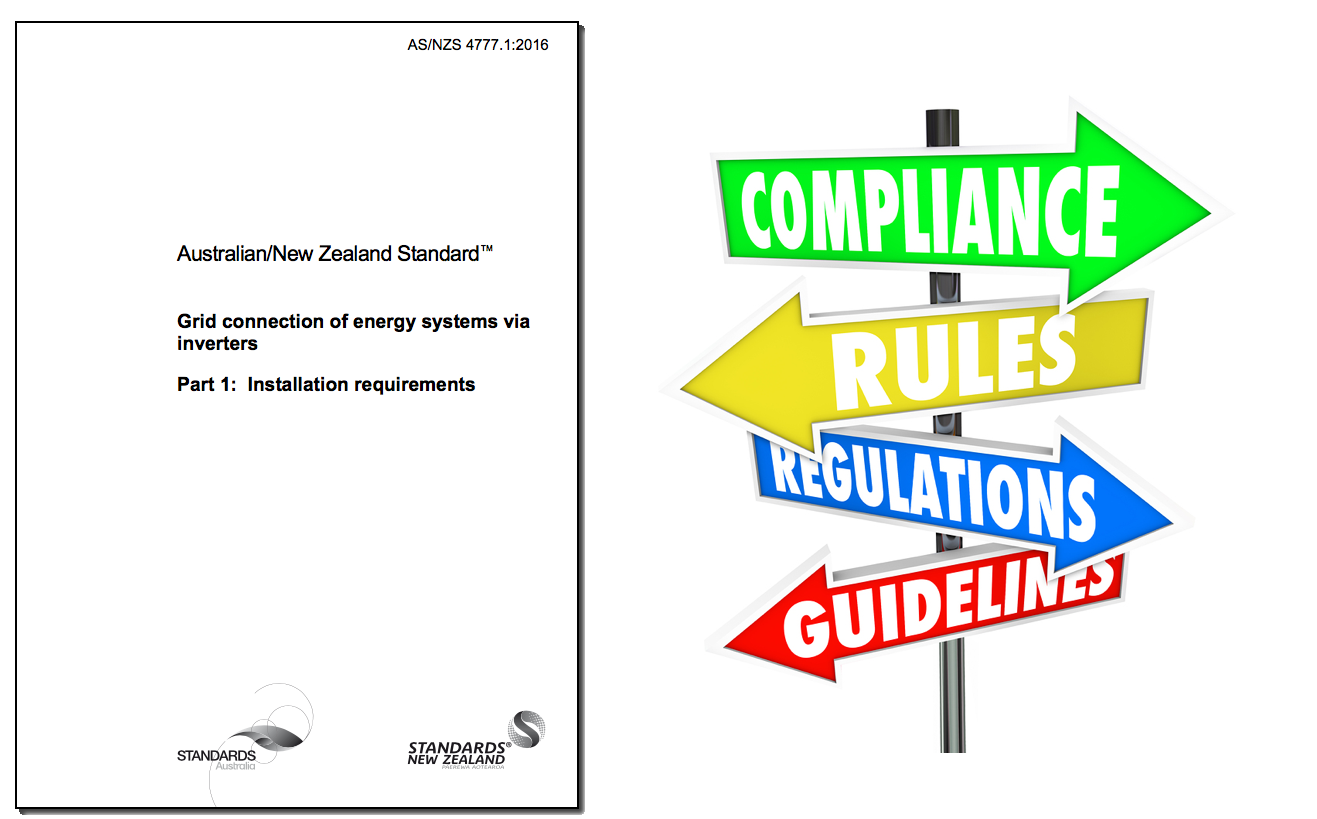 Unless your local electricity network provides a local variation to a new Australian Standard that becomes mandatory on Thursday, it may be illegal to install a Powerwall 2 plus solar on a single phase.
[Note: Someone has contacted me to say that their interpretation of the standard is that a 5kW battery inverter and a 5kW solar inverter equates to a 'rating limit' of 5kW for the entire (IES) system. If that is correct then you would be able to AC couple a Powerwall 2 (or other battery) with a 5kW solar inverter on a single phase and not violate the new standard. I don't agree with that interpretation. My interpretation is that the 'rating limit' is the sum of all the inverter ratings in the IES. I'm happy to be proved wrong on this.]
[Note 2: Someone else has suggested that a battery inverter that monitors the solar inverter's output could be controlled in a way such that the total output of both inverters never exceeds 5kW. Technically this is feasible, although it would limit the ability of the whole system to provide self consumption. In practice I still think the 'rating limit' would be calculated as the sum of both inverter ratings, unless the manufacturer of the battery inverter could convince the DNSP otherwise.]
When is the s#!* gonna hit the fan?
This Thursday (30th March 2017) a new Australian Standard becomes mandatory. That standard is AS/NZS 4777.1:2016 or 'Grid connection of energy systems via inverters, Part 1: Installation requirements' to its friends.
What is AS 4777.1?
It is the Australian Standard that mandates how solar and battery (and wind) inverters are connected to the grid. It was released on 30th September 2016 with a 6 month grace period. That grace period ends on 30 March 2017. So all solar and battery systems that are installed from this Thursday must comply.
Why Is This A Problem?
The second paragraph of Section 2.3 of AS/NZS 477.1:2016 states:
Unless specifically stated by the electricity distributor, the rating limit for a single-phase IES in an individual installation shall be equal to 5 kVA,
'IES' is defined in the standard as:
Inverter Energy System (IES) :  A system comprising one or more inverters together with one or more energy sources (which may include batteries for energy storage) and controls where the inverter(s) satisfies the requirements of AS/NZS 4777.2
'Inverter' is defined as
Inverter: A device that uses semiconductor devices to transfer power between a d.c. source(s) or load and an a.c. source(s) or load.
My interpretation of that clause is this:
Unless your local DNSP (Distribution Network Service Provider) publishes a local exception, the total amount of inverter capacity on a single phase system (when you add all the battery and solar inverter capacities together) cannot exceed 5kW1
For reference, this table shows you your local DNSP.
Why is this a problem?
Imagine you have a single phase home (as most Australians do) and you have a 5kW solar system on the roof. Now imagine that Elon Musk has charmed you into ordering one of his Powerwall 2 batteries.
Tesla has promised installations will begin in April, after the new standard comes into force.
But since Tesla decided to suddenly drop the DC version of the PW2 in Australia, you are forced to get the AC coupled version.
The AC coupled version has an inbuilt 5kW inverter, that converts the battery's DC power to AC, so that it can be AC coupled.
So if you install this battery on your house you would have a 5kW battery inverter plus a 5kW solar inverter on a single phase and that appears to violate AS 4777.1 because the 'rating limit' of your IES is now 10kW.
As far as I can see, the only way you will be able to install a PW2 (or any other AC battery) together with 5kW of solar, legally on a single phase will be if your local DNSP creates a local exception.
Which DNSPs have announced local exceptions ?
I can't find any formal announcement that any DNSP in Australia has a local exception that will allow battery inverters to be treated differently to solar inverters.
I've anecdotally heard that Energy Queensland will allow 5kW of Solar plus 5kW of battery inverter on a single phase – but I've seen nothing in writing.
I've anecdotally heard that different people at SA Power Networks have said they both will and will not allow 5kW of battery inverter2. So God only knows what SAPN's position is.
Update: 3 commenters have kindly advised that Ausgrid, Essential Energy and ActewAGL are all approving up to 10kW per phase – it would be nice to see this in writing from these DNSPs
I've literally been through every DNSP website and used their internal search to find references to '4777', 'Battery' and'Storage' and scoured the results to see what their rules are – but they all simply say that AS4777 must be obeyed (if they say anything at all3 ).
I'm totally open to the fact that I may have missed a webpage, or not got an installer bulletin that has the answers for a particular DNSP. If anyone reading this can provide a link to something in writing from any DNSP please let me know and I'll update this post right away.
How do you get around the new rules?
If your DNSP has not provided an exception to the 5kW limit and you have a single phase supply, a solar system and want a battery, then to comply with AS4777.1 as it stands right now, I believe you need a DC Coupled system that uses a Hybrid (AKA Multimode) Inverter that has a capacity of 5kW or less. A hybrid inverter only has one inverter for both the solar and the battery, so it will comply.
These diagrams I knocked up show the problem and solution quite clearly:
AC coupling requires 2 inverters
 DC coupling achieves the same outcome with one inverter
And if you need a DC coupled system, that means you can't have a Tesla Powerwall 2. Or an Enphase AC battery or any all-in-one unit that is AC coupled.
Batteries that can be DC coupled include LG Chem, Z-Cell, GCL, Ampetus and many others which you can find on our regularly updated battery comparison table.
Hopefully most of the DNSPs will provide exceptions before Thursday comes, but if they don't Tesla may have to either reconsider its decision to drop the DC Powerwall or lobby each DNSP to make an exception – if they want to actually sell any single phase Powerwalls in Australia.
Footnotes
2 and 3 phase systems are a different kettle of fish, but to keep things simple this post will only look at the options for people on single phase ↩
But my experience of SAPN is that they are deeply culturally opposed to anything that helps small scale solar ↩
Essential Energy (DNSP for rural NSW) literally has no results for the term 'battery' across their entire site. ↩