On the first of July electricity prices increased in Western Australia.  This was not a surprise as the state government had announced prices would be increasing over the next three years.  The surprise was they increased them in the worst possible way.
Rather than increase what is charged per kilowatt-hour, the most common standard tariff, Home Plan A1, was unchanged at 26.5 cents.  Instead, the daily supply charge was doubled from 48.6 cents a day to 94.9 cents1.  This means every household, whether rich or poor, will be hit with a straight $169 dollar increase in their electricity bills per year.
This is bad for a number of reasons.  A major one, which is important for people who want to live or who want other people to live, is: it's bad for the environment.
This is because increasing the supply charge:
Does nothing to encourage energy efficiency, and…
Does nothing to encourage rooftop solar.
But what will probably most upset Western Australians is a household supported by a person working as a casual kitchen hand will have exactly the same amount added to their electricity bill as demi-billionaire Chris Ellison living in his $58 million Mosman Park mansion.
This means a household that only uses an average of 7 kilowatt-hours a day, either because they are careful with their electricity use or that's all they can afford, will have their electricity bills increase by 20% while Perth's billionaires will have perhaps a 1% increase in their mansions' electricity bills.
Solar households, because they use less grid electricity and receive a feed-in tariff for electricity they export, will also see their electricity bills soar.  Generally by 10-20% for people with 3 kilowatt or larger systems, but potentially more.
There are no good economic reasons for having supply charges on electricity bills in the first place, but the doubling is blatantly unfair to the poor, unfair to those who have made the effort to cut their grid electricity use, bad for environment, and I am personally disgusted by this gouging of the poor for the benefit of the rich.  I feel shame for my country that Western Australia has allowed this to come to pass.  Unless WA's millionaires and billionaires want to become known as parasites, they should rise up and demand the state government find less obvious ways to rip off the poor for their benefit.
How The Doubling Of Supply Charges Hits Families
The doubling of supply charges means the less grid electricity a household uses, the greater the proportional increase in their electricity bills and the more they will pay in total for each kilowatt-hour of grid electricity.
So if there is some poor bugger getting by on just one kilowatt-hour of grid electricity a day, then before the first of July she would have been paying a total of 75 cents per kilowatt-hour and after she'd be paying $1.21.  That's a 61% increase.  If the reason she is only using 1 kilowatt-hour of grid electricity a day is because she has rooftop solar, then it would be possible for her electricity bills to increase by 300% or more, depending on the size of her system.
But some rich bugger living in a mansion and using 120 kilowatt-hours a day would have paid 26.9 cents per kilowatt-hour before the increase and now pays 27.3 cents.  That is a 1% increase.
To make the inequity of it all perfectly clear, I will make a graph showing the percentage increase in electricity bills for the following households:
One poor bugger getting by on one kilowatt-hour of grid electricity per day.
A household without solar with an average consumption of 7 kilowatt-hours a day, which is half the average for a two person Perth home2.
A household with 3 kilowatts of rooftop solar3 that averages 14.1 kilowatt-hours of total electricity use a day — the average for a two person Perth home.
A household with 5 kilowatts of rooftop solar4 that uses an average of 22.9 kilowatt-hours a day in total — the average for a 5 person Perth home.
A household without solar that consumes 14.1 kilowatt-hours a day — the average for a 2 person Perth home.
A household without solar that consumes 22.9 kilowatt-hours a day — the average for a 5 person Perth home.
A rich bugger who uses 120 kilowatt-hours a day.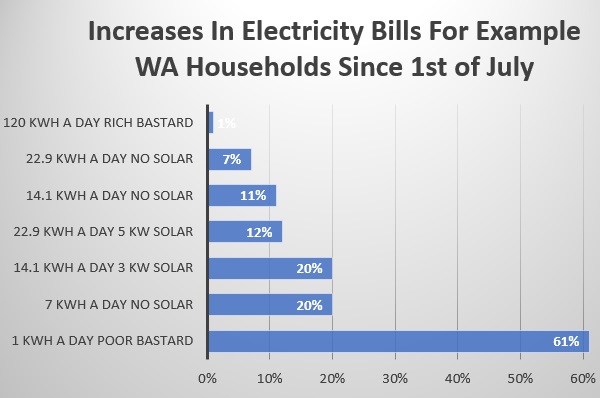 I also made this graph showing how much each of the households pay in total for each kilowatt-hour of grid electricity5.  It shows the cents per kilowatt-hour before and after the doubling of supply charges: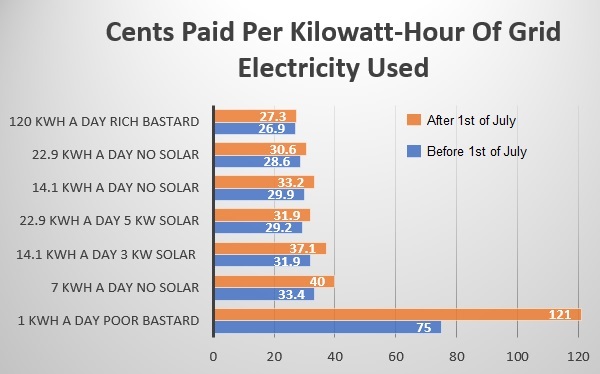 This is clearly not a fair situation.
The Alternative Is To Increase The Charge Per Kilowatt-Hour
If doubling supply charges places an unfair burden on poorer households but electricity prices need to increase, then the solution is to raise the charge per kilowatt-hour.  Charging people for each kilowatt-hour of grid electricity they use is reasonable.  After all, it costs money to generate and distribute electricity, somebody has got to pay for it and, when you think it through, it is probably actually fair for the people who use it to pay for it.
But there is no good reason, either moral or economic, for making poor people, or those who have rooftop solar, or are simply careful with their electricity use, pay more per kilowatt-hour of grid electricity than large residential consumers of electricity, who are usually rich or at least well off6.
Supply Charges Don't Pay For The Grid
Some people think the charge per kilowatt-hour covers the cost of generating electricity while the supply charge pays for the cost of the grid.  But that's not the way it works.  On the first of July the West Australian grid didn't suddenly undergo binary fission, doubling its capacity and making it twice as expensive to run.  Daily supply charges and charges per kilowatt-hour used aren't earmarked for specific purposes.  It's all just revenue that goes towards paying for generation, transmission, distribution, and retailing as required.
Charging Per Kilowatt-Hour More Fairly Distributes Grid Costs
Some people are under the impression that each household is responsible for an equal share of grid costs and the best way to pay for that is through supply charges that are identical for each home.  But households don't result in identical costs to the grid, and even if they did daily supply charges would not necessarily be the best way to pay for them.
The main reason why grids aren't cheap is because they need enough capacity to meet demand during summer heatwaves when almost every air conditioner is operating at full power7.  Under these circumstances it is going to be the $58 million dollar mansion with the huge ducted air conditioning system that will be using the most power and putting the most strain on the grid.  It certainly is not going to be the single room air conditioner of a modest 2 person home and it sure as hell is not going to be the guy who is getting by using a fan and a damp cloth because that's all he can afford.
So it doesn't make sense for each household to be charged the same fixed costs when the mansion is using far more grid assets to power itself than the modest home or the poor guy with a wet rag.  This means increasing the cost per kilowatt-hour and not increasing supply charges will more fairly distribute grid costs.  It's not a perfect way to distribute them, but it is better than increasing supply charges.
Supply Charges Exist To Discourage Energy Efficiency
You may be wondering why we have supply charges in the first place, since they result in such an unfair distribution of costs.  Well the answer to that is easy.  They exist to discourage energy efficiency.
The higher the cost of grid electricity per kilowatt-hour, the more incentive people have to be efficient with their electricity use, and the more efficient people are the less grid electricity get sold.  To counter this, supply charges are used to lower the cost of electricity per kilowatt-hour consumed and reduce the amount of savings from cutting consumption.
As the large majority of Western Australia's electricity is generated from burning fossil fuels and the pollution and greenhouse gases they release kill people, using supply charges to increase the amount of electricity sold is evil and no nation that uses a significant amount of fossil fuels to generate electricity should use them.
Reducing Supply Charges Encourages Rooftop Solar
Lowering supply charges and increasing the charge per kilowatt-hour encourages people to be efficient with grid electricity and encourages them to install rooftop solar, which is the only cost effective method of generating electricity available to on-grid homes.  As rooftop solar is very clean and doesn't kill people the way using fossil fuels do, the more rooftop solar installed the better.
Western Australia's doubling of supply charges appears to be an attempt to protect current fossil fuel generators from electricity price increases encouraging people to install solar.  This may backfire as battery prices come down and high supply charges make it more economical for people to drop off the grid.  But battery prices still need to fall a long way in price before this will make economic sense8, so they are probably safe from this for now.
A Fairer Deal For Renters
One way Australians have been dealing with rising electricity prices is by installing rooftop solar.  But this is next to impossible for those living in rental properties.  Unless they can somehow convince their landlord to install rooftop solar they are stuck with only using grid electricity.  This means supply charges place an unfair burden on renters and they should be eliminated.  And just in case you are a Nazi who has trouble with context, it is the supply charges that should be eliminated and not the renters.
On average renters have considerably lower incomes and total wealth than home owners and should not be forced to pay more per kilowatt-hour of electricity than large residential users of electricity.
The WA Government Should Be Ashamed
I don't know what the West Australian government was thinking by allowing supply charges to be doubled.  Well, they probably weren't thinking.  Politicians seem to be very easily influenced by whoever was the last person to buy them dinner.
But Western Australia has a Labor government.  You would think there would be at least a few people in the state organization who could keep their daft politicians on track long enough to not screw over their base.
Ben Wyatt, the WA Minister for Energy, should be ashamed of himself.  As should the Premier and anyone who had anything to do with this travesty.  For the sake of their souls I hope they didn't realize they were potentially forcing Grandma to decide between keeping the electricity on or eating her cat.