Researchers at ANU say 22,000+ potential pumped hydro sites they have identified across Australia represent storage capacity of 67,000 gigawatt-hours (GWh), far more than the nation requires to support a reliable 100% renewable energy based electricity system.
Only a very small amount of this potential would be needed to be used according to lead researcher Professor Andrew Blakers from ANU's Research School of Engineering.
"Australia needs only a tiny fraction of these sites for pumped hydro storage – about 450 GWh of storage – to support a 100 per cent renewable electricity system," said Professor Blakers.
This translates to only the best 0.1% of the sites being required.
The tally has grown dramatically since ANU announced 5,000 potential sites in an earlier report on its preliminary findings.
Professor Blakers says developing a small number of the most promising sites by 2022 could address challenges posed by the closure of Liddell Power Station and other coal-fired generators.
Pumped hydro storage involves using surplus, off-peak electricity or renewables based generation to pump water from a lower reservoir to a higher one. When electricity is needed, water from the top reservoir is released, runs through turbines to generate electricity and is discharged into the lower reservoir.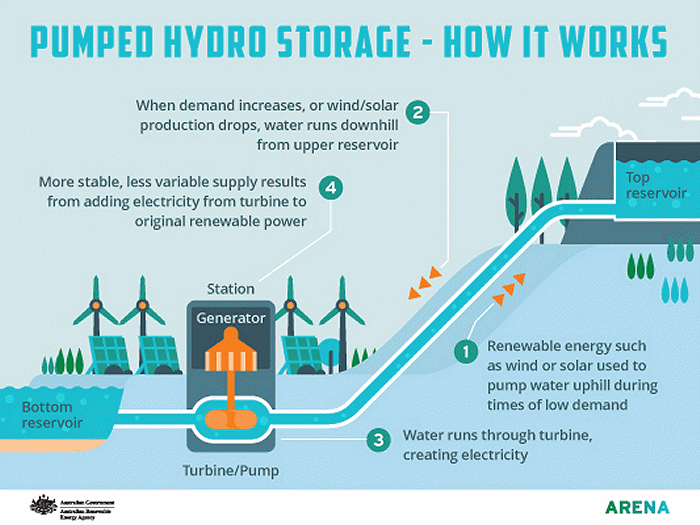 The following table indicates resource estimates in each state/territory:
Sites
Energy storage
(GWh)
NSW/ACT
8,600
29,000
Victoria
4,400
11,000
Tasmania
2,050
6,000
Queensland
1,770
7,000
South Australia
185
500
Western Australia
3,800
9,000
Northern Territory
1,550
5,000
TOTAL
22,000
67,000
Detailed maps showing the location of the potential short-term off-river pumped hydro energy storage (STORES) sites can be viewed here.
The research involved searching for sites where pairs of dams with an altitudinal difference of more than 250 metres could be established. It excluded residential areas, national parks and other locations considered sensitive. Each site identified has between 1 gigawatt-hour and 300GWh of storage potential.
In an article published on the Australian Renewable Energy Agency's (ARENA's) web site, Professor Blakers said pumped hydro could help support the approximately 3 gigawatts of wind energy and solar power capacity currently being installed per year in Australia.
"If this continued until 2030 it would be enough to supply half of Australia's electricity consumption. If this rate is doubled, then Australia will reach 100% renewable electricity in about 2033," stated the Professor.
The ANU's research was  supported by ARENA.
In February this year, ARENA and the Clean Energy Finance Corporation announced they would be prioritising financial support for flexible capacity and large-scale energy storage research and development..