Millions of Australians have installed rooftop solar to help the environment and save money.
Many are hoping home battery storage will soon let them do the same.
The cost of home energy storage is falling rapidly and it may not be long before it pays for itself.  But at its current price it will not save money, even under favourable circumstances, when used on-grid.  Despite this, there have been hundreds, or possibly thousands, of people who have installed home battery systems because they want to help the environment.
Have these people  made a horrible mistake?
In Australia, with one main exception, on-grid home energy storage does not reduce greenhouse gas emissions but instead contributes to them.  While battery storage is likely to reduce emissions in the future, systems installed now are almost certain to only contribute to global warming over their entire lifespan.  Early adopters would have helped rather than harm the environment if they had instead spent their money on installing larger solar systems or on improving energy efficiency.
Manufacturing And Using Batteries Results In CO2 Emissions
Home battery storage contributes to increased emissions in two ways.  Firstly, manufacturing batteries results in CO2 being released.  And secondly, home storage results in clean solar energy being lost because no battery is 100% efficient at storing electricity.  More electrical energy has to be put in than can be taken out.  If that energy had been sent directly into the grid it would have decreased fossil fuel generation.
Embodied Energy Of Batteries
The world is still heavily dependent on fossil fuels and almost everything you buy has a significant carbon footprint from CO2 emitted during its production and transportation.  Batteries are no exception. Emissions from manufacturing will decline as the world uses more renewable energy and recycled material, but currently making batteries  releases considerable CO2. This is often referred to as a battery's embodied energy.
How much CO2 is released manufacturing a typical battery system is difficult to determine, as it depends on the type of battery, the materials used, how they were produced, how far they were transported, and how much recycled material was used.
One very simple rule of thumb is that the average manufactured good, containing an average amount of recycled material, will have a carbon footprint of around 2.  That is, for every kilogram of an item's weight, 2 kilograms of CO2 were emitted producing it.  This is only an approximation, but is surprisingly accurate for a wide range of manufactured goods.
However, for one of the most common type of new batteries, lithium-ion, the carbon footprint may be much higher.  One study found the carbon footprint to be 173kg per kilowatt-hour of storage.  For the battery pack they looked at, 18kg of CO2 were emitted per kilogram of weight.
That study was from 2013.  Because battery technology is advancing so quickly I expect the carbon footprint of lithium-ion batteries to be considerably lower now.  But because I don't have any solid information, I will simply guess it has fallen by 13% to give a nice, round number: 150kg of CO2 per kilowatt-hour of lithium-ion battery storage. Although I suspect the decrease would actually be greater than this.
Powerwall, LG Chem RESU, And ZCell Carbon Footprints
The most famous home battery system is the Tesla Powerwall which weighs 100kg.  The less well known, but well regarded, LG Chem Resu weighs 60kg.  They are both lithium-ion battery systems with 6.4 kilowatt-hours of storage.  Because the LG Chem RESU weighs less, presumably less emissions were released in creating it, but for the sake of simplicity I will assume each kilowatt-hour of lithium-ion storage releases 150kg of CO2 for a total of 960kg each.
A battery that uses a completely different chemistry is a zinc bromide flow battery.  The Australian designed Redflow ZCell is of this type.  Its storage capacity is 10 kilowatt-hours and with its 50kg enclosure weighs 290kg.  Because I have no information on the carbon footprint of these these sorts of batteries I will simply use the rule of thumb that emissions from manufacture equal 2kg of CO2 per kg of weight.  Since around 100kg of the ZCell's weight is distilled water which has a low carbon footprint, that means around 39kg of CO2 would be released for each kilowatt-hour of storage or 390kg in total.
Just estimating the CO2 emissions per kilowatt-hour of battery systems isn't very useful as the total amount of electricity they can store over their lifespans can very considerably.  A better measurement would be CO2 emissions from manufacturing per stored kilowatt-hour over their lifetime.
Fortunately, it is not difficult to determine how many kilowatt-hours a battery system is warrantied to store if it is cycled once per day, as most are likely to be. For the Tesla Powerwall, going by its old warranty, it comes to 16,000 kilowatt-hours. For the LG Chem RESU it is 17,192 kilowatt-hours. And for the Redflow ZCell it is 30,000 kilowatt-hours.
But that is only what they are warrantied for.  Their actual total output should be better as they are unlikely to die as soon as their warranty is up.  I would say a reasonable estimate for the average lifetime stored energy of these systems would be 120% of what they are warrantied for.  I hope this estimate is low, but battery systems do degrade and can't be expected to operate too far beyond what their manufacturers promise.
So by taking the rough estimate of emissions resulting from their manufacture and dividing it by the estimate of their lifetime storage we get the following:
Tesla Powerwall: 50 grams of CO2 per kilowatt-hour
LG Chem Resu: 47 grams of CO2 per kilowatt-hour
Redflow ZCell: 11 grams of CO2 per kilowatt-hour
A total of 50 g/kWh for the Tesla Powerwall is not a huge amount, so if you installed one on-grid thinking it would help the environment you shouldn't beat yourself up over it.  You can wait until I've explained about the emissions from charge and discharge losses before you beat yourself up.
Every Time You Charge And Discharge Your Batteries You'll Lose Clean Solar Energy
Rooftop solar without battery storage sends any surplus solar electricity into the grid. A home with batteries can instead store it to use in the evening. Each kilowatt-hour of electricity sent into the grid or discharged from a battery will reduce electricity generated from fossil fuels by around 1 kilowatt-hour. But because energy is lost when charging and discharging batteries more than 1 kilowatt-hour needs to be put into them to get 1 kilowatt-hour out. This means storing using stored solar electricity will reduce emissions by less than if it was instead sent into the grid.
Round Trip Efficiency
When you charge and discharge a battery, energy is lost. The percentage of electrical energy that can be taken out compared to what is put in is called the round trip efficiency. The figures for the 3 systems are:
Tesla Powerwall 92.5%
LG Chem RESU 95%
Redflow ZCell 80%
The efficiency of batteries can decrease over time.  Just how great the decline will be is difficult to know because manufacturers rarely mention this information. Because of the uncertainty I will be kind to the batteries and not attempt to adjust their efficiency for the effects of ageing.
AC Coupling Causes Additional Losses
Batteries can be charged directly from DC power generated by solar panels. This is called DC coupling and is the most energy efficient way to install batteries. It requires a hybrid inverter compatible with the batteries and these currently cost more than standard grid connect inverters. Solar panels with micro inverters cannot be DC coupled.
Many grid connect battery systems are installed using AC coupling, which requires a separate battery-inverter.  This can be an easy way to add battery storage to a rooftop solar system, but the battery inverter results in additional energy being lost.
A quality battery-inverter such as the Sunny Boy Storage can have an average efficiency of 96.5%. Not all battery-inverters are this efficient, but I will use this figure.  It applies both when batteries are charged and when they are discharged.
So if the battery systems are AC coupled and the battery-inverter efficiency is applied to both charging and discharging batteries, the overall round trip efficiency of the 3 battery systems will be:
Tesla Powerwall 86.1%
LG Chem RESU 88.5%
Redflow ZCell 74.5%
Solar Power Displaces Fossil Fuel Generation
Wherever you are in Australia, supplying solar energy to the grid will reduce fossil fuel generation. Even in clean, green South Australia where wind power sometimes generates more power than the state can use, the excess is exported and reduces Victoria's fossil fuel usage.
Fossil fuel generation releases the equivalent of approximately 950 grams of CO2 into the atmosphere per kilowatt-hour. So if a battery system has a round trip efficiency of 90%, each kilowatt-hour of stored electricity a household uses will result in the emission of 95 grams of CO2.
When considering the round trip efficiencies of the battery systems alone, their emissions from charge and discharge losses will be:
Tesla Powerwall 71 grams of CO2 per stored kilowatt-hour
LG Chem RESU 48 grams of CO2 per stored kilowatt-hour
Redflow ZCell 190 grams of CO2 per stored kilowatt-hour
When AC coupled with 96.5% efficient battery-inverters emissions will be:
Tesla Powerwall 132 grams of CO2 per stored kilowatt-hour
LG Chem RESU 109 grams of CO2 per stored kilowatt-hour
Redflow ZCell 242 grams of CO2 per stored kilowatt-hour
Putting It All Together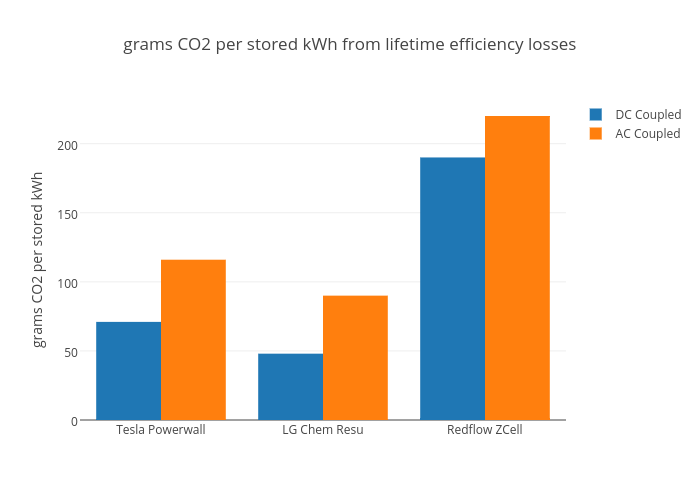 Adding the emissions from the battery system's manufacture, the emissions per stored kilowatt-hour when AC coupled with 96.5% efficient battery-inverters will be:
Tesla Powerwall 182 grams of CO2 per stored kilowatt-hour
LG Chem RESU 156 grams of CO2 per stored kilowatt-hour
Redflow ZCell 253 grams of CO2 per stored kilowatt-hour
Over their expected lifetimes these AC coupled battery systems will emit:
Tesla Powerwall 3.49 tonnes of CO2
LG Chem RESU 3.22 tonnes of CO2
Redflow ZCell 9.11 tonnes of CO2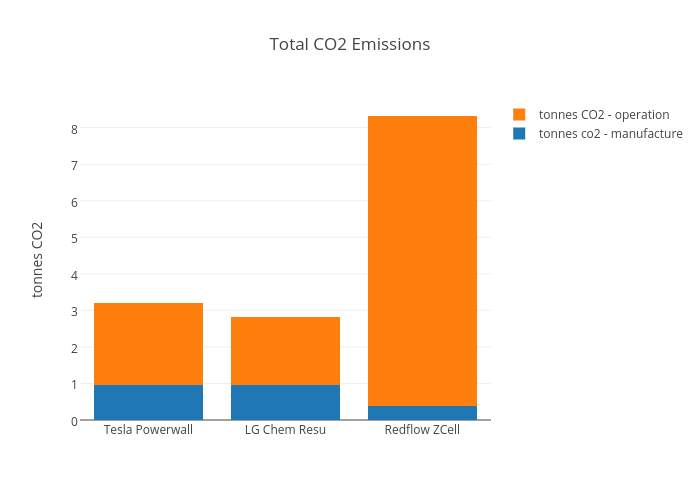 Batteries Can Reduce Emissions But Don't
Home battery storage can reduce emissions in 3 main ways:
providing ancillary services
improving the average efficiency of grid generation
storing surplus renewable energy
Only the first now applies in Australia.  In the future batteries storing clean renewable energy may allow fossil fuels use to be eliminated, but right now they do not.
Providing Ancillary Services Can Reduce Emissions
Home batteries can cut emissions by reducing the amount of fossil fuels used to provide ancillary services that keep the grid stable. These services include maintaining power at its correct frequency and providing spinning reserve.  But when batteries are used it is called non-spinning reserve. If your batteries start spinning then something is going drastically wrong.
By storing surplus solar energy and drawing on it when needed, household battery storage can reduce the need for ancillary services by smoothing out the home's grid electricity consumption.  But this will have a very small effect on emissions from ancillary services. The main requirement for ancillary services is when the largest generator on a grid suddenly trips, rather than coping with variation in grid demand.
Home Battery Storage Can Provide Ancillary Services Directly
In order to effectively provide ancillary services home batteries need an internet connection and software that allows them to supply electricity or store it, as required. It is possible to be paid for providing these services, but currently the pay is considerably less than what fossil fuel generators get for doing the same job. As only a very small portion of the electricity stored in home batteries is ever likely to be used to provide ancillary services in normal use, even when able to provide these services, home batteries are not likely to provide nearly enough ancillary services to offset the emissions they cause.
Batteries Can Improve The Efficiency Of Grid Generation
By storing solar electricity during the day or off-peak grid electricity, battery storage can reduce or even eliminate the need to use peak generators during times of high demand and this can potentially reduce emissions. But in Australia the large majority of our electricity is produced from coal and our peak gas generators tend to have lower emissions per kilowatt-hour than our coal generators. This means battery storage in Australia could increase the average emissions per kilowatt-hour of grid electricity, as a smoother demand allows more of it to be generated from the lumbering coal plants.
Batteries Can Eliminate Fossil Fuels From Electricity Generation
With enough renewable generating capacity battery storage could allow fossil fuel generation to be eliminated. Excess renewable electricity could be stored in batteries for use when there wasn't sufficient solar, wind, or other renewable power to meet electricity demand.
But Australia is nowhere near the point where battery storage can help us eliminate burning coal and natural gas. Once we reach the point where more renewable energy production regularly exceeds demand then battery storage will be extremely helpful in cutting emissions. Australia would need to generate around 50% or more of its electricity from renewables for us to reach this point.  Unfortunately that is still years away for Australia, despite our wealth of renewable resources.
Export Limited Solar With Batteries Can Reduce Emissions
While Australia as a whole is a long way from producing so much renewable power it will go to waste without some form of storage, there are homes in this situation. Some homes are limited in how much power they can export to the grid. These export limited households are most common in rural areas, especially in Queensland.
Because it is possible for them to produce more electricity from rooftop solar than they can use themselves or export, if these households install battery storage it can definitely reduce emissions by storing clean energy during the day that otherwise would have gone to waste.
Assuming around 50 grams of CO2 emissions from battery manufacture, each kilowatt-hour of stored electricity used in the evening, that otherwise would have been wasted, will reduce emissions by around 900 grams. This is the one clear example where on-grid battery storage can reduce emissions in Australia.
Battery Storage Probably Doesn't Need Your Support To Succeed
While most on-grid battery storage won't save money or cut emissions now, some people may be happy to buy it for the warm feeling they get from knowing they have contributed to the development of a technology that could greatly cut emissions in the future.
But at the current rate of price declines in battery systems it won't be long before battery storage pays for itself even though it won't reduce emissions. Once it reaches that point huge numbers of people are likely to install it because it will save them money and this will result in increased production and further cost declines. As a result, battery storage is not likely to need your help.
There Are Better Ways To Help The Environment
Rather than spending money on batteries which will lose you money and increase emissions, if you want to help the environment I would recommend spending money in a way that will cut emissions and save you money.
One way is to install additional solar panels, or perhaps a completely new solar system, in addition to one that is already on your roof. If installing more solar isn't practical, if you are wealthy enough you could consider helping family members get solar or donate a system to charity.
Other money saving steps that can reduce emissions include improving the thermal envelope of your home, getting a heat pump or solar hot water system, installing LED lighting, and buying an electric bicycle and using it instead of driving.
My Recommendation
People buy batteries for lots of reasons. If you want batteries because you love new technology, or because your solar exports are limited by your local network, or because you really want a white shield with 'TESLA' written on it in your garage, then go for it.
But if you want to save the environment or save money, then I have a duty to tell you that battery storage increases greenhouse gas emissions and will cost you money instead of saving it.  If you want to help the environment or save money there are much better ways to spend your money.
If you don't buy batteries for on-grid storage that is not going to halt their development. Plenty of battery systems will still be bought by cashed up early adopters and for off grid systems.  And battery development is occurring at a frenetic pace to supply the growing electric vehicle industry.
If you do buy batteries then please consider a system with a high round trip efficiency and install enough solar panels or make enough efficiency improvements to compensate for the extra emissions. Hopefully before your first system reaches the end of its life battery storage will no longer increase emissions, but instead reduce them by enabling almost 100% renewable generation across Australia.
Updated on 6th of September 2016 to decrease the efficiency of using AC coupled battery storage to closer match reality.