Tesla has announced the impending arrival of the Powerwall 2 at a promised price point that, on the surface, looks very compelling: $10,150 fully installed1, or  23c per warranted kWh.
It seems particularly impressive when you consider that in Sydney and Perth, time-of-use tariffs can go to 50c per kWh during peak periods.
That's 23c for electricity from a battery vs. 50c for grid electricity. Surely that makes the Powerwall 2 a no-brainer investment for people on such a tariff?
I decided to look a little deeper into the economics of using Australia's cheapest battery2, on Australia's highest grid tariffs.  Unfortunately I found that high peak rates are not nearly as good for the economics of the Powerwall 2 as they seem.
Read on to discover why.
Where are the highest electricity prices in Australia?
The highest per-kWh electricity rates in Australian capitals are time-of-use tariffs in Sydney and Perth:
Or for those of you that prefer charts: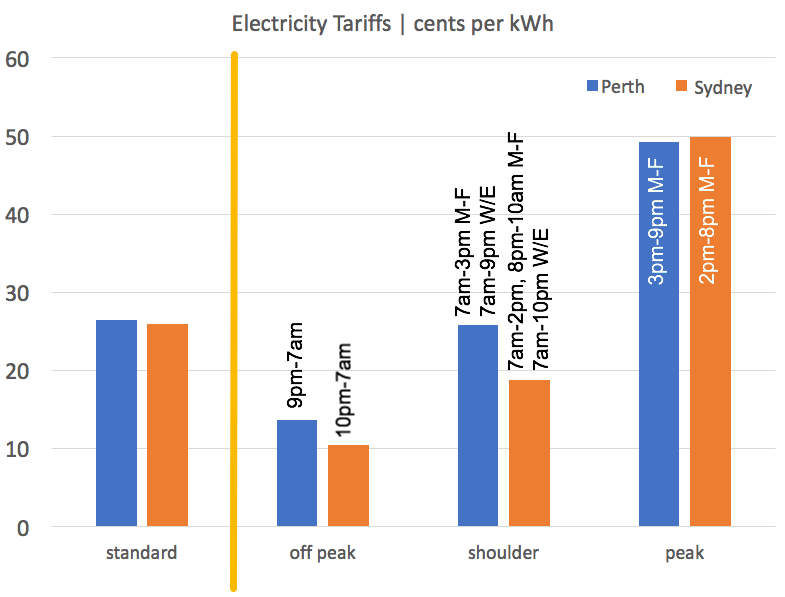 As you can see, the peak rate in both cities is almost the same.
It Has To Beat A Term Deposit
If I had $10,150 to invest I could put it in a term deposit in the bank and let it earn interest. At 1.5% after inflation, then after 13.5 years I would have $12,430 in today's money.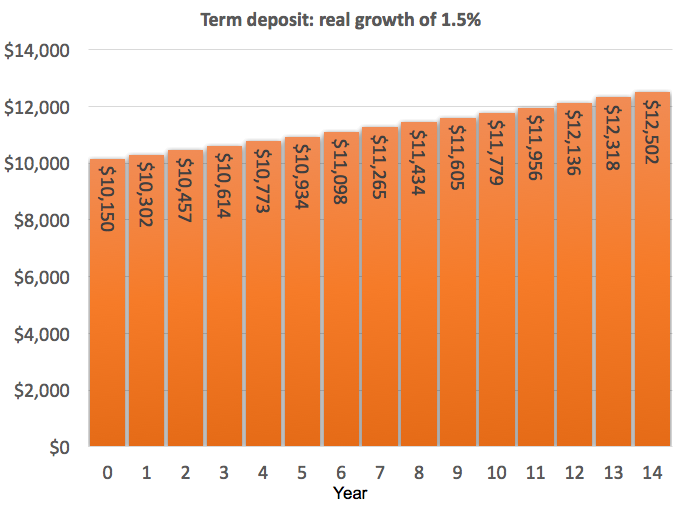 Or I could invest it in a Powerwall 2…
and then put the money it saves me on my electricity bills in a term deposit.
Most people are going to require the return on a Powerwall 2 to be a lot better than the return on a term deposit to be worth the cost and the risk.   But being better than a term deposit is the lowest bar it has to clear to be economically worthwhile for anyone at all.
But it turns out it has trouble even clearing that.
In order to estimate how much money a Powerwall 2 might save I have made the following assumptions:
 The total installed cost of a Powerwall 2 is $10,150.
It is fully cycled once per day.
Over its lifetime it will provide 50% more stored electricity than it is warranted for.
Its operates for a total of 13.5 years before dying.
Current electricity prices and feed-in tariffs remain constant in real terms.
Perth's feed-in tariff remains at its current rate of 7.1 cents while Sydney's is assumed to be 6 cents.
On average the Powerwall 2 is charged with 75% solar electricity and 25% off-peak electricity.
The round trip efficiency of the Powerwall 2 is 89%.
Interest on a term deposit is 2.8%.
Inflation is 1.3%.
Powerwall vs. Term Deposit Returns: Very Optimistic Scenario
Using these assumptions, after 13.5 years I can save around $23,790 on electricity bills in Sydney and $22,370 in Perth with a Powerwall 2.
But because my initial $10,150 investment in the Powerwall 2 is now worthless I would actually only be about $13,640 ahead in Sydney and $12,220 ahead in Perth.
But, to make a fair comparison, I should also put all the savings from electricity bills into a term deposit.  When this is done the total savings of a Powerwall 2 owner in Sydney would be $15,950 and in Perth they would be $14,600 ahead, which puts the Powerwall 2 clearly ahead of a term deposit in both cities.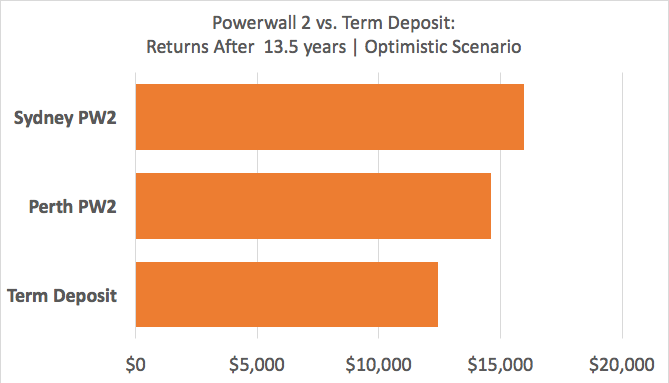 Case closed? Unfortunately not. There are several reasons why the savings from using a Powerwall 2 on a time-of-use tariff are unlikely to be this good.
Why Powerwall 2 Savings Will Be Less
In practice, the savings I've just calculated will be lower for the following reasons:
Reason #1 You Must Compare With A Standard Tariff
For households with large solar systems and no battery storage it is usually cheaper to be on a standard tariff, but if a Powerwall 2 is installed the best tariff in Sydney or Perth will change to a time-of-use one.
So the amount of money saved with a battery is the difference between the new time-of-use bill and the old standard tariff bill.  Comparing time-of-use-without-batteries with time-of-use-with-batteries is the wrong comparison.
The correct comparison is:
Money saved = Standard tariff bill without batteries – Time-of-use tariff bill with batteries
What is totally wrong is:
Money saved = Time-of-use tariff bill without batteries – Time-of-use tariff bill with batteries
After taking into account feed-in tariffs and efficiency losses, using one kilowatt-hour of stored electricity would reduce a time-of-use tariff electricity bill by around 42 cents in Sydney or 39 cents in Perth.  But the real saving might only be 32 cents or 29 cents.  The exact amount will depend on the household's electricity consumption and the only way to know how much you are saving is to take your electricity bill and work out how much you would have paid if you had been on a standard tariff without batteries and use that as your comparison.
There may be some people with large rooftop solar systems who would have been better off with a time-of-use tariff before they got batteries and so this will make no difference to them.  But these people are probably very rare.
Reason #2 There Are No Peak Periods On Weekends
Time-of-use peak periods are only available on weekdays.  The lack of weekend peak periods means people are faced with the choice of whether or not to use their Powerwall 2s on Saturdays and Sundays.  Doing so will result in the same amount of wear and tear per kilowatt-hour as using them in a peak period, but for much less return.
With an 89% efficient AC coupled Powerwall 2 and Perth's 7.1 cent a feed-in tariff, replacing peak consumption with one kilowatt-hour of stored electricity will reduce a household's electricity bill by 41.3 cents, but using it to replace cheaper shoulder consumption will save less than half that at 17.8 cents.
In Sydney, with a 6 cent feed-in tariff and an identical Powerwall 2, replacing peak consumption with one kilowatt-hour of stored electricity will save around 43 cents, but replacing shoulder consumption will save less than a third that at around 12 cents.
Reason #3 Peak Periods Are Short And Often Sunny
In Sydney weekday peak periods are from 2pm to 8pm and in Perth they are from 3pm to 9pm.  At six hours long this may seem like plenty of time for a large household to use all the energy stored in a new Powerwall 2, as its average output would only have to be 2.25 kilowatts and it can manage a continuous 5 kilowatts.
But because peak periods start while the sun is still shining, any household with enough rooftop solar to regularly fully charge a Powerwall 2 will normally still be producing a considerable amount of solar electricity until late in the afternoon.  This limits the amount of time during a peak period a home will need to draw upon battery storage.
The earliest the sun ever sets in Sydney is around 4:53.  If we assume rooftop solar production falls off enough for a household to start drawing on battery power once the afternoon is two-thirds over that will only leave 4 hours and 46 minutes in which to use a Powerwall 2's stored energy.
In the middle of summer in Sydney the sun doesn't set until the peak period is finished for over a month and a half.  If battery power is drawn on once the afternoon is two-thirds over, there will only be 2 hours and 13 minutes to use all the Powerwall 2's stored energy on the longest day of the year.  This would require an average power output of 6.1 kilowatts which is 1.1 kilowatts above its continuous output.  This might be possible on account of how its average power output should be higher than its continuous power output, but the number of households that would regularly draw that much power while their solar system is still providing a portion of their electricity use would be extremely small.  Possibly even non-existent.
The situation is a little better in Perth.  If they start using stored energy once the afternoon is two-thirds over, on the day with the earliest sunset of the year they will have 5 hours and 22 minutes of peak period to draw from their Powerwall 2.  And on the day with the latest sunset they will have 3 hours and 20 minutes.  This makes for an average of around 4 hours and 20 minutes each weekday, with the advantage the sun will always set before the peak period ends.
The short amount of time available to to use stored energy during peak periods means anyone installing a Powerwall 2 whose electricity consumption is even remotely normal, will have to be resigned to only using a portion of its capacity during peak periods and the rest during shoulder periods if they want to use it at high capacity.  If they only use stored energy during peak periods then they will have to use it at low capacity and will hope it operates for an extremely long time past its maximum warranty period in order to pay for itself.
Reason #4 Tariff Arbitrage Will Get Harder Over Time
The cost of battery storage is rapidly falling so it should not be long before it becomes commonplace.  And if electric cars become popular they will add a huge amount of storage to the grid.
But if battery storage increases, people will use less peak and more off-peak electricity and this will the cause the price difference between the two to decrease and harm the economics of battery storage using Sydney and Perth's time-of-use tariffs.
So if you think battery storage and electric cars are going to take off over the next few years and you are also counting on peak prices remaining at around 50 cents a kilowatt-hour over the next 15 years to pay off your Powerwall 2, then you have some cognitive dissonance issues to deal with.
Powerwall vs. Term Deposit Returns: More Realistic3 Scenario
Because it will be so difficult to use all its stored energy during peak periods, I think a household that cycles its Powerwall 2 daily would be doing very well to drain it 50% during peak periods and the remaining 50% during shoulder periods.
I can calculate just how much in today's money they would have if they invested $10,150 in a Powerwall 2.  The results are:
Term Deposit Only:  $12,430

Powerwall 2 In Sydney:  $6,390

Powerwall 2 in Perth: $7,260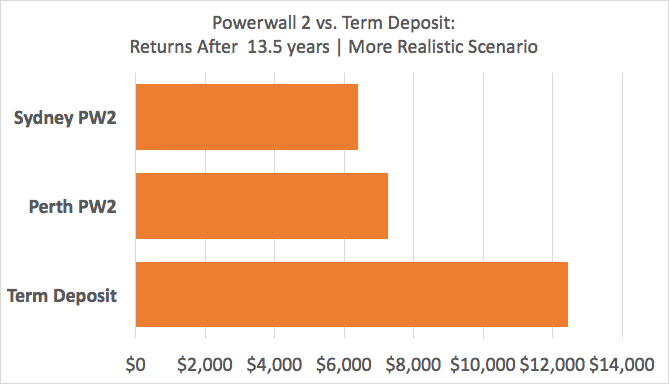 As you can see, the results are horrible.  In Sydney a Powerwall 2 leaves households around $6,000 worse off than just putting the money in a term deposit.  Perth does a little better because of their higher shoulder tariff, but they are still around $5,200 worse off.
And those calculations are comparing time-of-use tariffs before and after. If the household would have been better off on a standard tariff before the Powerwall 2 was installed, which is likely, then the outcome would be even crappier.  So under real world conditions, it looks very unlikely that a typical home cycling a Powerwall 2 once per day will beat a term deposit.
It Is Possible To Save Money With A Powerwall 2 – But The Stars Have To Align
It is difficult to beat the return on a term deposit by installing a Powerwall 2 using my assumptions, but it can be done provided a household's electricity consumption is extremely unusual and time-of-use tariffs remain as high as they are now.  Even if you are confident you can use most of a Powerwall 2's output during peak periods, you will still be at the mercy of changes in electricity prices that are out of your control.  So you will not only have to be unusual, you will also have to be lucky.
Footnotes
Grid connected – no backup ↩
Per warranted kWh, cycled once per day, assuming Tesla keep their word, they have a long record of not delivering on promises. ↩
But still optimistic ↩