All electrical and electronic device create electromagnetic fields or EMF around them when used and also emit electromagnetic radiation or EMR.  This includes solar panels and solar inverters.  So is it possible for the electromagnetic fields or radiation from your rooftop solar system to harm you or your family?
Normally these type of questions have two answers — a short one and a long one.  But today I'll give you two short answers and then a long one.
Short Answer 1:  Not at night.
Short Answer 2:  Not in the day either.
Long Answer:  Nooooooooooooooooooooooooooooooooooooooooooooooooooo.
Or, as my first wife always used to say to me:
How can I be so confident?  Well, my reasons are:
Australia has standards with a wide margin of safety for EMR emissions by electrical equipment and these apply to solar panels and inverters.
There is no good evidence from experiments using animals or observational studies of the humans1 that EMR exposure at permitted levels is harmful.
When I say there is no good evidence, I mean we can be confident beyond any reasonable doubt that EMR from rooftop solar and other household electrical devices is either not harmful or the negative effects are so small they are likely to be insignificant.
Now you might say, "Isn't it reasonable to limit out exposure to EMR from electrical devices, just to be on the safe side?"  And I would say, "No."
While I think the people in charge of setting standards should make sure we aren't exposed to unnecessary EMR, in our personal lives it is counter productive to worry about it.  This is because we would be much better off putting our time and energy into avoiding things we know are bad for us, such as fast food, tiger snakes, and polka music.
If I've convinced you there's no reason to worry you can stop reading now.  But if you're still concerned I'll give a looooonger explanation below where I'll throw in a few links to back me up.  If after that you're still not convinced at the end I'll give some hints on how you can reduce your exposure to electromagnetic radiation.  But I can't tell you how to completely eliminate it, since that stuff is everywhere.
Oh my god!  It's coming through the walls!
What Is EMF And EMR?
Every particle with an electric charge creates an electromagnetic field or EMF.  Since electrons and protons have charges, this means every atom in your body creates an EMF.  Sure, there are also neutrons that are electrically neutral, but nobody likes them.
This means your body is no stranger to EMF.  This force is inside all living things.  It surrounds us and penetrates us and it doesn't bind the galaxy together — so you can't always believe what desert hobos tell you:
But what people are generally concerned about is electromagnetic radiation (EMR).  This ranges from extremely low frequencies, or ELF, which includes radio waves that can be tens of thousands of kilometers long, to some extremely rare, ultra high energy, cosmic rays which can have the energy of a bullet and wavelengths so short they need to use a step ladder to comb their hair.
Starting from longer and less energetic wavelengths and going to shorter, more energetic ones, EMR includes:
Radio waves:  These allow you to listen to Justin Bieber in your car.  Whether this is good or evil, only you can decide2.
Microwaves:  Used for cooking and communications.
Infrared:  Used by bar heaters to warm you up and by run of the mill remote controls to change the channel.
Visible light:  Used by eyeballs for seeing.
Ultraviolet:  Used by bees for seeing and our skin for synthesizing vitamin D and getting cancer.
X-rays:  Used by doctors to see stuff inside you.  Hopefully stuff that's meant to be there.
Gamma rays:  High energy radiation used for sterilizing — as in destroying bacteria.  It will also do the other sort of sterilizing, but I don't recommend it.
Cosmic rays:  Extremely high energy radiation from space because space doesn't like us.
So can these different types of EMR harm us?
Hell yes.
But we're not talking about sunbathing in the Simpson Desert for 12 hours, becoming a contortionist and curling up inside a microwave oven, or traveling to Mars with only Elon Musk as radiation shielding.  The type and amount of EMR emitted by our electrical devices is not enough to be harmful.  At least not as far as we can tell.
EMR From Electrical Devices Is Non-Ionizing
I think the main reason people are concerned about electromagnetic radiation is they hear the "radiation" part and assume it is the same as the ionizing radiation released when a reactor core tried to leap through the roof in Chernobyl or when reactors in Fukushima got overly emotional and had a meltdown.
But EMR given off by solar panels and inverters is non-ionizing.  This is also true for the little microwave emitter called a mobile phone that you probably regularly press against your brain bucket.
Non-ionizing radiation does not have enough energy to damage atoms and molecules by breaking them or stripping away their electrons.  For example, visible light is non-ionizing radiation and chances are it is currently not killing you at the moment.  If it is, then what's probably happening is you are actually being shot with a "laser".
If this is the case, the important thing to note as you die is, if the laser is visible light it's not ionizing you, it's mostly just burning you.  I hope this knowledge provides you with some solace in your final moments.
For ionizing radiation there may be no minimum amount that is completely harmless for humans.  But when it comes to non-ionizing radiation, as long as you take care not to cook yourself or get exposed to massive amounts, as far as we can tell it causes no harm.  This is good news because we are exposed to a lot of non-ionizing radiation from natural sources all the time, such as the sun and atmospheric effects like lightning.  That is, distant lightning.  If lightning comes into actual contact with your body then you may suffer some ionization.
Australian Standards Limit EMR
Australia has standards for the emission of EMR by electrical devices.  You can read about limits for mobile phones here and the lower frequency EMR emitted by electrical devices in general here.  And if you are really keen you can download the Radiation Protection Standard for Maximum Exposure levels to Radiofrequency Fields — 3 kHz to 300 GHz.
The standards are designed to ensure Australians are not exposed to EMR at levels that could be dangerous and have a considerable margin for safety.
There Is No Good Evidence Of Health Effects From Normal EMR Exposure
While it is definitely possible for EMR to be harmful there is no good evidence that exposure within the limits set by Australian standards poses a health risk.  The International Commission On Non-Ionizing Radiation's guidelines can be read here.  While the language they use is cautious, they conclude that exposure within the limits they set is safe.  You are not likely to be exposed to more than that in your normal life unless warming yourself up in front of a microwave communications dish is your idea of normal.
If you want to read an 83 page report on "Health Effects of Exposure to EMF" by the European Commission's Scientific Committee on Emerging and Newly Identified Health Risks, you can check it out here.  While they recommend more research, they cannot conclude normal exposure to EMF and EMR affects health.
If you'd rather read something much shorter, the wikipedia article on extra low frequency radiation sums up the possible health effects and concludes:
"In summary, when all of the studies are evaluated together, the evidence suggesting that EMFs may contribute to an increased risk of cancer is very weak."
The conclusion also mentions there may be a link between occupational exposure to EMR at levels higher than average and Alzheimer's disease, but again, the evidence is not very strong.
Just because we don't have good evidence that normal levels of EMR from electrical devices are harmful doesn't mean it is completely harmless.  But if the health effects were severe we would definitely have noticed by now, so we can be quite sure it's mostly harmless.
It's definitely not a health risk like smoking which raises the chance of heart disease by 40% and lung cancer by 2,700%.
So while it makes sense for those setting standards to limit unnecessary exposure as a precaution, it doesn't make sense for people to try to limit exposure in their day to day lives because we know it's either harmless or mostly harmless and we'd be far better off putting our time and energy into avoiding things we know are harmful such as eating junk food, smoking, not exercising, and friending people on facebook who have a dagger tattooed on any part of their body3.
Rooftop Solar Should Expose You To Less EMR Than Other Devices
Are you reading this on a laptop or a mobile phone?  Well you are almost certainly being exposed to more EMR from the device than your rooftop solar system.  Lights, TVs, refrigerators… everything electrical in your home exposes you to EMR when it's on.  Even if you switch off everything in your house live electrical cables will still be emitting some EMR.  It's everywhere and the only way to completely avoid it from artificial sources is to do without electrical items and in that case you won't be needing rooftop solar.
Your other appliances are likely to expose you to much more EMR because you probably spend far more time close to them than you do hugging your inverter.  You aren't likely to receive much EMR from Solar panels because, while the electrons in AC cabling are constantly wriggling back and forth 50 times a second and creating EMR at a frequency of 50 hertz, DC current doesn't do this and instead forms a static electric field at 0 Hertz and so should produce very little EMR.  Sure, you'll still be walking through this static field, but the device you are reading this on also produces one, so unless you are willing to fling it away because you don't want to take the tiny risk it will harm you, I wouldn't worry too much about it.
One Example Of Solar Panel EMR Causing A Problem
I can only think of one example of EMR from solar panels causing a problem and it was not with people's health.  The first generation of Maxim panel string optimized solar panels interfered with some people's television reception.  Generally it was only when the signal was weak to begin with.  Maxim's second generation technology should be available early next year and apparently fixes the problem.
How To Limit Exposure To EMR
Let's say I've failed to convince you that your solar system is likely to expose you to less EMR than other electrical devices in your house and you want to take precautions.  Well don't worry.  KFC has you covered with their finger licking good Faraday cage: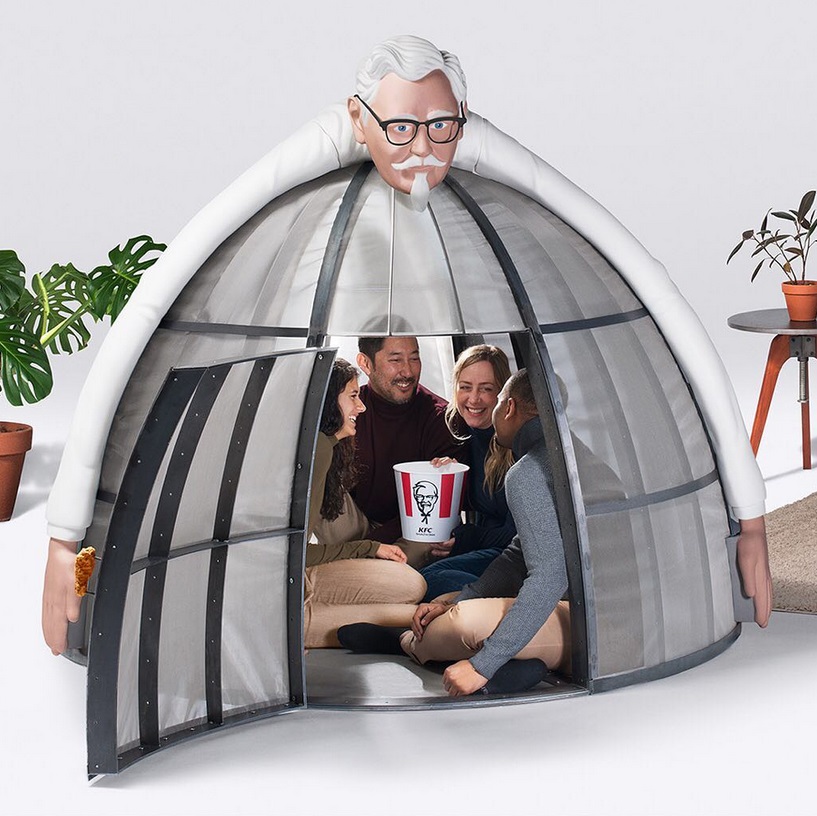 For just $10,000 US you can install your solar inverter in the Colonel's internet proof enclosure where he will watch over it, unsleeping, for eternity.  Of course, if you want to monitor your inverter performance online, you'll have to open the door.
This chicken coop for humans works by blocking EMR from getting in or out.  If you look carefully you'll see its walls are made of metal mesh and if you look at the door of your microwave oven you'll see there is also metal mesh on that4.  Microwaves and longer wavelength EMR simply cannot fit through the small holes and so are blocked.
Of course, it's not actually necessary to pay for a $10,000 Slenderman killing enclosure.  You can use a metal cabinet or any fine mesh.  Using mesh with holes wide enough to let your inverter internet connection work but small enough to block longer wavelengths is an option.  But whatever you use, you will have to make sure it is adequately ventilated so your inverter doesn't overheat.
A static electrical field from DC power is actually harder to stop.  But your roof may already have aluminium sarking that could limit it.  If your home doesn't have this, you could try putting down a layer of aluminium foil in your roof space, but it's probably easier to just make a nice little hat from it.
Footnotes
I too, also am human.  We must get together sometime and do human things like metabolize pyruvate.  This is one of my favorite human things to do. ↩
I lied when I said only you can decide.  It's evil. ↩
I would gladly be your friend on facebook except I have almost reached the maximum number allowed.  There is only room for one more person in the list of friends on the right hand side of my screen. ↩
Whatever you do, don't look at the door handle of the Colonel's cage for greasy millennials.  It will destroy your mind. ↩