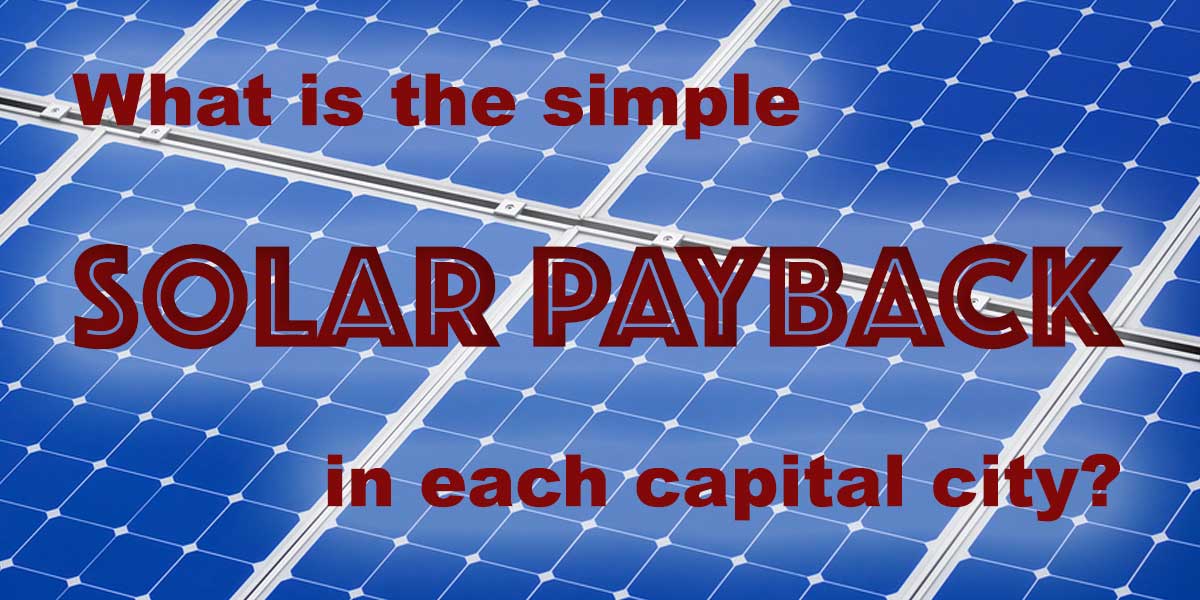 The cost of rooftop solar continues to fall despite the fact that the Australian dollar has been falling too.  It has been a while since I've harped on about how cost effective rooftop solar is, so I stayed up all night to make beautiful graphs of the simple solar payback time in every capital city.  In other words I will show you how many years it will take the savings on your electricity bills to cover the cost of your solar power system.
You'll have to wait until towards the end of the article to see just how beautiful my graph turned out1, but using what I consider reasonable assumptions I got some interesting results.  One of them is that in Adelaide a 5 kilowatt solar system has a simple payback period of only 4 years.
Why Simple Payback?
I decided to calculate simple payback periods rather than other methods of examining cost, mainly because it's simple.  The basic idea is very easy to grasp — after X amount of time the money saved on electricity bills will equal the cost of your solar power system.  This leaves some things out such as the cost of capital, so the real payback time will actually be slightly longer, but including that complicates things as the cost of capital varies between people.  The cost of having systems inspected or maintained is also ignored, but the simple payback time can be so short this won't be an issue.
What's Needed To Determine Solar Payback Time
To calculate the simple payback period I need to:
Decide on the size of the solar power system.
Decide its cost.
Determine a reasonable price for grid electricity in every capital.
Decide on an appropriate solar feed-in tariff for every capital.
Decide how much solar electricity a household will self consume.
Work out how many kilowatt-hours of electricity the system will generate in each capital.
System Size Is 5 Kilowatts
I will use a system size of 5 kilowatts of solar panel capacity for my graph.  Usually I recommend installing more than 5 kilowatts of panels if there's room on your roof.  With a 5 kilowatt solar inverter you can install up to 6.66 kilowatts of panels so I consider it a good idea to get around 6.5 kilowatts of panels if you can.  But 5 kilowatts is a nice round figure, it's not too far off the average size of solar systems, and it has been used for these sort of estimates in the past, so I'll stick with it.
5 Kilowatts For $6,500
I have decided the the 5 kilowatt system will cost $6,500.  This is not an unusual price for a 5 kilowatt system these days.  You can pay more for higher quality, but I'll assume this is for someone who is budget conscious.  I would be wary of paying too much below this price unless you know the installer is reliable and does good work because of the potentially high cost of cheap solar.
This is a one price fits all capitals deal.  This assumption is a little unrealistic as households in Melbourne and Hobart receive fewer STCs that lower the cost of rooftop solar than in other capitals, but I am keeping the price the same everywhere to allow easy comparisons.
Homes in Darwin get more STCs than in other capitals, but solar tends to be expensive there.  There are a couple of reasons why and one of them is it costs more to make systems cyclone resistant.
Cost Of Grid Electricity
Perth, Hobart, and Darwin all have fixed electricity prices and solar feed-in tariffs, which makes things simple for those capitals.  For Adelaide, Brisbane, Canberra, Sydney and Melbourne I simply used Origin Energy's Solar Boost retail electricity plan.  I did this because Origin is Australia's largest electricity retailer and so a lot of people will already be on this plan.  I also chose it because it has high solar feed-in tariffs.  But there are a couple of warnings about it I feel I need to give:
It is the Solar Boost plan and not Solar Boost Plus which gives higher feed-in tariffs, but only for 12 months and only for people who have bought a solar power system from Origin.
After 12 months on Solar Boost they will dump you to a lower feed-in tariff.  At the moment it appears you can just call them up and get them to put you back on Solar Boost, but it is annoying and I almost used a competitor of theirs instead because of this. But then I realized they may not be any better as this sort of behavior is very common among electricity retailers.
I used a standard tariff which means a flat-rate is paid rate per kilowatt-hour of electricity used.  This makes sense because households with solar are usually better off on a standard tariff than a time-of-use one.  This can change if a household gets batteries, but they don't pay for themselves yet, so I won't worry about that.
The prices of electricity in cents per kilowatt-hour after any discounts are applied are: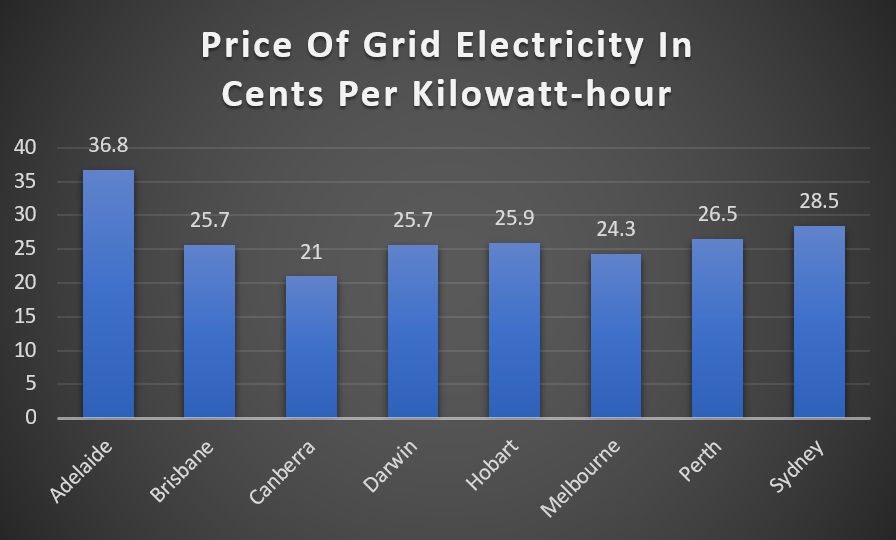 Adelaide is clearly the champion of high prices here while Canberra has the cheapest grid electricity of all.
Solar Feed-In Tariffs
Solar feed-in tariffs, either fixed or from Origin's Solar Boost plans are: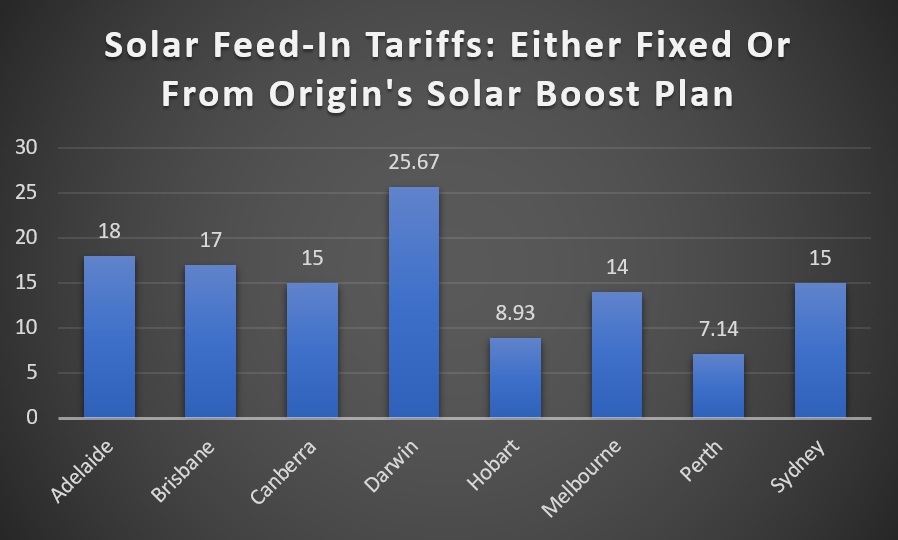 As you can see, Darwin really stands out as their feed-in tariff is equal to the cost of their grid electricity.  It's the only high feed-in tariff still available in the country – with the potential2 exception of rural and remote areas in Western Australia.
Solar Self Consumption
I have decided households will self consume 25% of the solar electricity they generate.  This is around the average for a home with a 5 kilowatt system.  The higher the rate of self consumption, the faster a solar panel system will pay for itself because not using one kilowatt-hour of grid electricity lowers electricity bills by more than sending one kilowatt-hour of electricity into the grid.  Except in Darwin.  There the rate of self consumption doesn't matter as the feed-in tariff and the price of grid electricity are the same.
Solar Energy Generation
For the amount of solar electricity generated in each capital I have used 95% of the figure given by the PVWatts site for north facing solar.  I have used 95% rather than 100% because not every system may perform as well as PVWatts expects and because not every home can set all their panels facing directly north.
The figures PVWatts gives for each capital in kilowatt-hours per year, less 5%, are: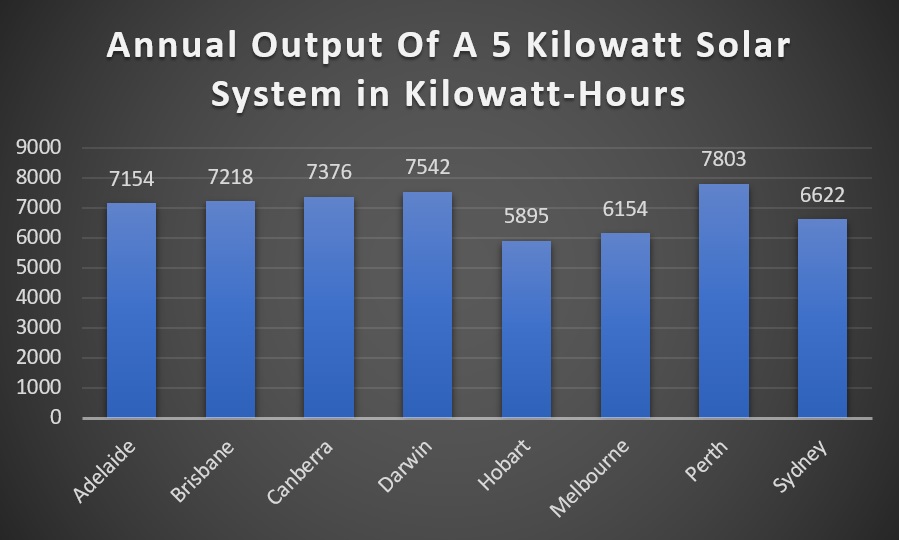 Money Saved Per Year
Using the information I've gathered and the assumptions I've settled upon, I can calculate how much money a 5 kilowatt system will save per year in each capital: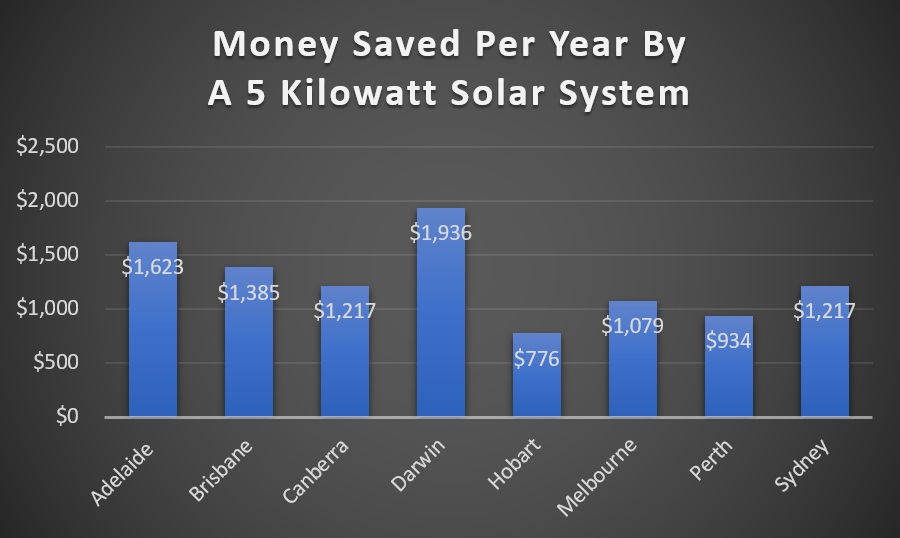 My Beautiful Graph Of Simple Solar Payback Times
Using the figures for money saved per year I'm finally I'm able to construct my beautiful graph of simple payback time calculations: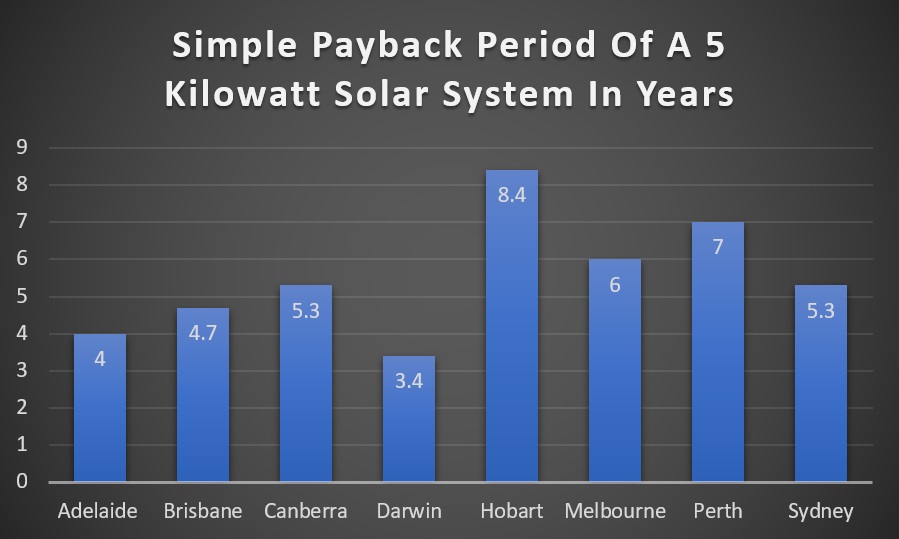 As you can see, Adelaide is the state capital with the fastest payback time thanks to the highest grid electricity prices in the country, but Darwin is the clear winner thanks to their high feed-in tariff.  Hobart has the worst result, which isn't surprising given that solar in Tasmania has the lowest output in the country and their feed-in tariff is not high.  Melbourne actually does well considering it is the mainland capital with the least sunshine.  Unfortunately, this is due to electricity price hikes rather than Mister Blue Sky deciding to spend more time there.  Increased feed-in tariffs have also helped.
A surprising result is, despite having the highest solar output, Perth has the longest simple payback period on the mainland.  This is due to their mediocre electricity price and the lowest feed-in tariff in the country.
It's Possible To Do Better
The simplest way to improve payback times is to increase self consumption of solar electricity (except in Darwin).  This is particularly effective in places like Perth where the feed-in tariff is very low.  Smaller solar systems can result in a shorter payback time by increasing self consumption.  But this may not be a good idea economically because even if a 5 kilowatt solar power system has a 7 year simple payback period it may still be better than any other investment the household can make.
A Moment Frozen In Time
These simple payback periods are calculated based upon conditions as they are now.  As electricity prices and feed-in tariffs change so will they.  Electricity prices are set to rise in Western Australia while they are expected to fall in other states along with feed-in tariffs.  While they are only a snapshot and not set in stone, they can still be a useful guide and you can bump them up or down depending on how pessimistic or optimistic you are feeling.
What The Future May Bring
While the rate at which solar power hardware falls in price will eventually slow, I'm confident we'll see at least a decade more of impressive price falls.  But note the fall in solar panels from 60 cents a watt to 30 cents a watt will feel less impressive than when they fell from $6 a watt to $3.  Given how cheap solar panels and inverters already are, there is no benefit in waiting for their price to fall further before getting solar installed.  You will always lose more in electricity savings than you will gain by waiting for a lower price in the future.
Footnotes
Oh go ahead and skip towards the end and have a look.  If you can't contain yourself I consider it to be flattery. ↩
Potential because it can be very hard to get permission to install solar as the local transformers are often apparently full up and they don't allow export limiting to get around this in WA. ↩