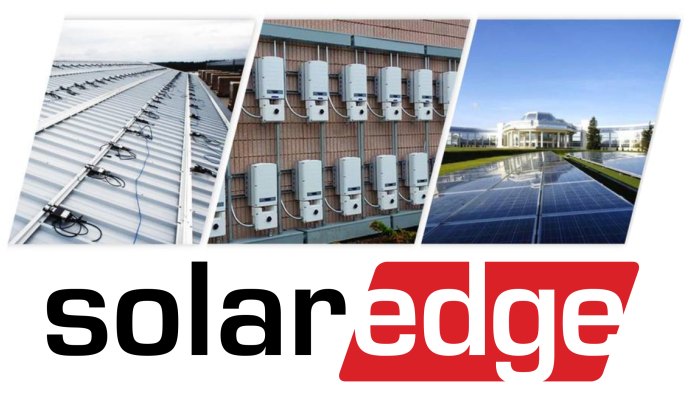 SolarEdge has announced it achieved record revenues and profitability in the first quarter of this year and is expanding and diversifying its business.
Founded in 2006, Israel-headquartered SolarEdge manufactures solar inverters, power optimizers and provides module-level monitoring services.
The company's first quarter 2018 results indicate revenue reached USD $209.9 million, up 11% from $189.3 million in Q4 2017 and up 82% from $115.1 million year over year.
As for shipments, the following graphs tell a positive story.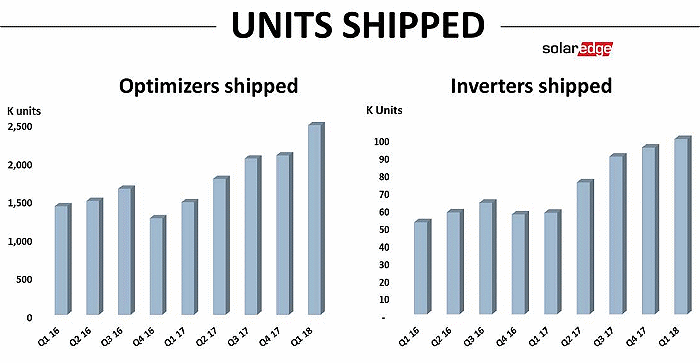 The company says during Q1, 100,000 SolarEdge inverters (800MW AC) and 2,500,00 power optimizers were shipped. 
The SolarEdge power optimizer is a small box of electronics added to or integrated into a solar panel. The device optimises energy output by continually tracking the maximum power point (MPPT) of each solar panel, provides module-level monitoring and a safety feature to shut down panel output in the situation of an inverter or grid power failing. Optimizers also enable flexible installation design.
SolarEdge's guidance for the second quarter ending June 30, 2018 indicates revenues are expected to be within the range of $220 million to $230 million.
"We are pleased to announce strong first quarter results with record revenues and record profitability, despite the traditional seasonal slowdown and continued industry wide components shortages," said Guy Sella , Founder, Chairman and CEO of SolarEdge .
Stepping Outside the Solar Arena
In other recent news from the company, yesterday SolarEdge announced it had entered into an asset purchase agreement with Gamatronic Electronic Industries. Gamatronic is a manufacturer of Uninterruptible Power Supply (UPS) systems, telecom power supplies, control and management systems that was established in 1970.
"The multi-billion dollar UPS market is expected to undergo significant changes in the coming years and we believe that combining SolarEdge's innovation, operational excellence and business leadership with Gamatronic's technology and extensive experience in this field will allow us to become a UPS market leader," stated Mr. Sella.
SolarEdge is purchasing most of Gamatronic's assets; including its intellectual property, brand, and tangible assets. 100 of its workers will be rehired as SolarEdge employees
The agreement, assuming customary closing conditions are met, is expected to be finalised by the end of the second quarter of 2018.
Virtual Power Plants
Early this month, the company also announced it was getting into the grid services and virtual power plant game. The following recently released video from SolarEdge (eventually) introduces its new venture.
".. our grid services enable the aggregation and synchronisation of multiple PV systems to create a distributed network. This is an important milestone in making solar energy ubiquitous," said SolarEdge's Lior Handelsman.
.. and as we mentioned last month, SolarEdge was named the gold winner in the renewable energy category of the 2018 Edison Awards for its HD-Wave inverter technology.
So, a busy and very positive quarter for the company – and it looks like an interesting road ahead.