It's An Itsy Bitsy, Teeny Weeny, SolarEdge, HD Wave String Inverter…
SolarEdge, an Israeli company, has produced the HD Wave — the world's smallest string inverter.  By size, this little cracker takes more DC than any inverter out there.  Not only that, but it grabs DC, uses its funky HD wave technology on it, and spurts out the AC our homes use with greater efficiency than any thing else on the market.  And it's now available in Australia, starting from a couple of weeks ago.
In fact, if you really want the low down on this inverter, you can't go past this review Mark Cavanagh at MC Electrical wrote.  He scored himself one of the few HD Wave inverters in Australia, pulled its cover off and checked out its guts, made it fight a Fronius inverter to see who would win1, and even took pictures of it with his special ghost detecting infrared camera  — presumably to make sure the spirits of our ancestors aren't bound to spend eternity transforming electricity on the AC/DC High Way To Hell.
Also, SolarQuotes own Michael Bloch recently wrote about how a combined HD wave inverter/charger will shove its DC right into your car.  Provided of course, your car is electric.  EVs2 are all about the DC.
With all this great material about the HD Wave already on the internet, you may be wondering why I am bothering to write about it.  Well, I am uniquely qualified to address certain aspects of the HD Wave that others have not yet touched upon.  For example, how cute it is.
Sure, I'm not talking about a Japanese child wearing a koala shirt, with koala hair clips, wearing a koala backpack, and holding an actual koala levels of cuteness, but I think its small size means it has to take second place behind the Hello Kitty solar inverter.  (While I've never actually seen a Hello Kitty inverter, I assume there is one, because there is a Hello Kitty everything.)
And since I have started writing about it, I may as well give you all the information I have.
HD Wave Inverter Is A Great Name — Pity It's Not Called That
The inverter uses funky new HD wave technology to decrease its size and increase its efficiency, so you'd probably think HD Wave would be a great name for it.  But that's not what it's called at all.  All SolarEdge did was take the old name of their inverter and stick a H in it.  The new HD wave version of its old 5 kilowatt SE5000A inverter is now simply SE5000H.  That's a very humble approach to take.
Thank god I'm not humble.  I'm calling it HD Wave all the way, baby!
HD Wave Technical Specs
Here is a somewhat boring table from the HD Wave's datasheet I smooshed together a little so people using smartphones will have a chance of being able to read it:
It's Fun Size — But Not Quite That Much Fun
If the combined resolution of your eyeballs and screen are high enough, you may be able to make out the dimensions of the HD Wave above.  They are 280 x 370 x 142 mm.  Or for those of us who aren't quite so precise, that's 28 x 37 x 14 cm, which is around the height and width of a microwave oven and a little less than half the depth.
Except this isn't really true.
Rather than looking like this: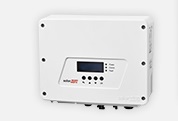 It has a bloody big DC isolator switch stuck on its arse that will increase its size by one-third:
So while it is small, it's not quite as small as some pictures suggest.  Without including DC isolator switches it is around half the size of more conventional inverters of similar capacity and just a little more than half the weight.
SolarEdge Inverters Are Made For Use With Optimizers
Like all SolarEdge inverters, the HD Wave is made for use with DC optimizers.  These are electronic devices that are attached beneath solar panels and optimize their output so each one will always perform at its overall best without affecting the output of other panels.  This gives several advantages which include increased output, particularly for systems that suffer from shade, and the ability to monitor individual panels.  It also allows panels to be shut down in case of a fault as a safety feature.
The disadvantage of optimizers is they need to be paid for and, unless smart panels that have them built in are used, the labour involved in attaching them to panels increases the cost of installation.  It will be interesting to see if SolarEdge moves away from using optimizers to using panels with Maximum Integrated style panel string optimization, now they are so competitively priced3.
HD Wave Technology
Here is a diagram of the HD Wave with its cover off, brazenly displaying its electronics to the world: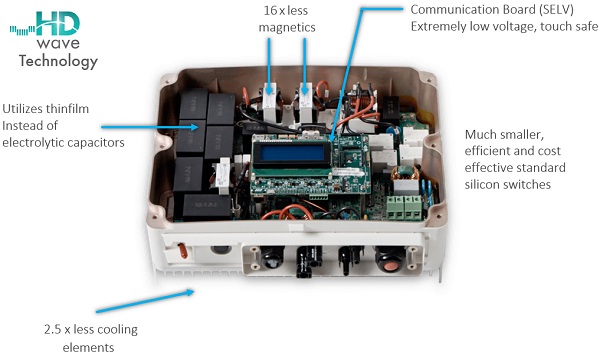 One reason it is so much smaller than other inverters is because it uses thin-film capacitors instead of larger electrolytic ones.  Besides being less bulky, SolarEdge says the thin-film ones are more reliable.  This is not an unreasonable claim and I certainly hope they are correct, but we'll have to wait and see.
SolarEdge also says it has 16 times less magnetics.  Inverters take non-wavy DC power and turn it into wavy AC power.  To get the waves right, inverters use magnetics, which are big copper coils, to smooth it out.  The HD Wave gets away with less because its electronics are able to make a pretty good wave to begin with, and not a crappy one, as they seem to suggest everyone else is doing in the diagram below: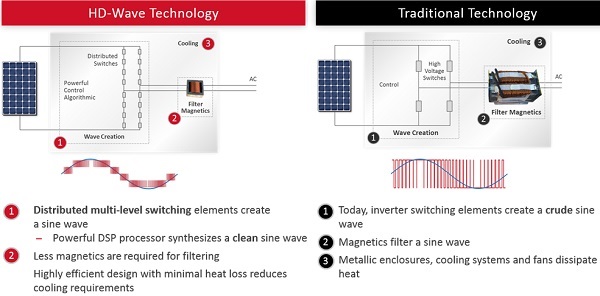 Its Efficiency Is The Best
The SolarEdge HD Wave has the highest efficiency of any inverter available.  It's datasheet says its European weighted efficiency is 98.3% for the smallest 2.2 kilowatt one, 98.8% for the 3 to 4 kilowatt ones, and 99% for those that are 5 and 6 kilowatts.  In comparison with two other top of the line inverters, the same figure for the 5 kilowatt SMA Sunny Boy 5000TL is 96.5% and the 4.6 kilowatt Fronius Primo 4.6-1 is 96.3%.
It's high efficiency means that, all else equal, it will produce roughly 2-3% more electricity than most other new inverters.  This is clearly an advantage for those who want to get the most out of their system.  But note that maxing out your solar panel capacity in relation to your inverter capacity, so it is as close to being one-third larger than the inverter's capacity as possible, is usually the most cost effective step for increasing a system's overall energy production.
High Efficiency Means Less Heat
The higher an inverter's efficiency the less waste heat it produces and the HD Wave produces less than one-third as much heat per kilowatt-hour of AC electricity output than the competition.  All else equal, this means the HD Wave should operate at a lower temperature than other inverters.
But all else is not equal.
Only counting the actual inverter and not the DC isolator switch stuck at the bottom, the HD Wave is roughly half the size of comparable inverters, which means the heat it does produce is packed inside half the space.  Also, unlike some inverters, it doesn't have fans to provide active cooling.  So while I expect it to run a little cooler than other inverters, I don't expect too much of a difference.
It Has A 12 Year Warranty
SolarEdge inverters have a 12 year warranty, which is the longest of any in Australia I am aware of.  But it is a limited warranty and if SolarEdge decides to replace an inverter they will only provide the replacement and won't cover the cost of installation:
In my personal opinion, neither the customer or installer should be out of pocket if a new SolarEdge inverter fails, and while I am no lawyer, I believe Australian consumer law agrees with me.  Australians can seek compensation for consequential losses resulting from a problem with a product and this includes the cost of installation for a replacement.  If you have a problem with being compensated by SolarEdge, this page says what you can do.  Consumer organizations in your state should also be able to assist.
Fortunately, provided you chose a professional installer, they should handle any inverter problems you have during its warranty period, free of charge.  They are not permitted to just fob you off onto SolarEdge and make you sort it out with them.  Other good news is you should be unlikely to need to use their warranty.  But the HD Wave is new technology and there is always the risk it won't be as reliable as expected.
SolarEdge's DC optimizers, which are fitted to each solar panel, are warranted for 25 years.
The Wave Of The Future
The SolarEdge HD Wave is an impressive piece of technology and sets the standard for other inverters to meet.  I suspect many manufacturers will begin to use HD Wave technology in the future.  Unfortunately, it doesn't have a full replacement warranty, but hopefully SolarEdge will fix that.  With record breaking efficiency and panel level DC optimization and monitoring, it will appeal to anyone looking for a high end inverter solution.
But, on the down side, it's bulky DC isolator switch means it's not quite as cute as it could be.