SolarEdge has shown off its electric vehicle charger integrated inverter at Intersolar North America early today, a product the company says is a world-first.
The charger is embedded into SolarEdge's HD-Wave inverter and makes use of a "solar boost" mode that utilises grid electricity and solar input simultaneously to charge at 9.6kW (40 Amps). If solar power input is not available, it will operate on grid power only at 7.6kW (32 Amps).
SolarEdge says the Level 2 EV charger offers charging up to six times faster than a standard Level 1 charger ( plugging an EV into a standard household outlet).
Other features of the system include "smart-scheduling" for use when mains electricity rates are lower and remote operation via an app – the charger can be toggled directly from a smartphone. Fully integrated with the SolarEdge monitoring platform, the app also enables monitoring of PV, EV, and grid consumption.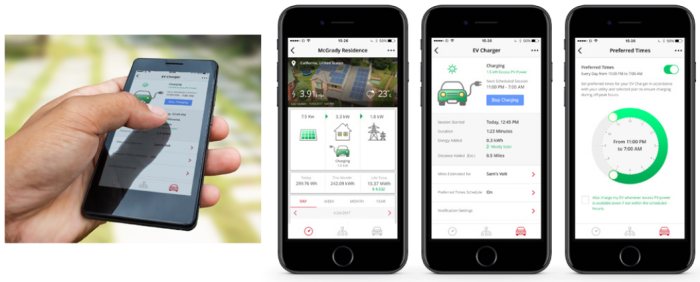 Among other benefits, the company states the new product will reduces workload and costs of installing a standalone electric vehicle charger and a solar inverter.
"Adding EV charging to our growing-range of products further enables system owners to easily manage their energy needs," said CEO and Chairman of SolarEdge, Guy Sella.
The inverter-integrated EV charger is accompanied by a 12-year warranty that can be extended to as long as 20 years. The SE7600H-US is expected to be available in North America by the end of this year. Pricing and availability details of a product for Australia weren't available on the SolarEdge site at the time of publishing.
Further details and a datasheet on the SE7600H-US can be viewed here (PDF).
Last year, SolarEdge won an Intersolar Award in the Photovoltaics category for its HD-Wave technology inverter; which uses technology that significantly decreases inverter size and weight, while achieving a weighted efficiency of 99%.
The EV charger integrated HD-Wave product has dimensions of 450 x 370 x 174mm  and weighs 11.9kg without the cable.
SolarEdge manufactures a range of inverters, power optimizers and energy storage solutions for residential, commercial and small utility-scale solar installations. The company says it has shipped approximately 4.7 Gigawatts of its DC- optimized inverter systems and products to 100 countries.
Headquartered in the USA, the company also has a physical presence in Australia (Melbourne) – check out SolarEdge inverter reviews from Australian customers.