I want you to know I have a great investment for you.  Believe me, it's great.  I have all the best investments.  Trust me — it's yuge!  If you invest in the Ronald Trump fund you will get an average return of over 4%.  I guarantee it!1  Just hand over your money and you'll start making money!
What's that?  You want me to actually explain what I will do with your money?  Trust me, you don't want to worry your pretty little head about that!
What?  You do want to worry your pretty little head about that?  Alright then, what I will do is take your money and invest it in the Australian stock market.  Then each year I will take all the dividends and all the capital gains and I will reinvest half and I will take the other half in the form of $50 notes and burn them.  It will be great!  In 10 years you can have over a 50% return!
Wait a minute!  Calm down!  You say you don't want me to burn half the money your investment makes?  I don't understand why you are complaining.  You will still come out ahead!
If someone seriously tried to make you the above deal, you'd have no trouble at all telling them to go and make love to a cactus.  But unfortunately for Australian households, including many who may not have much money to spare, there are unscrupulous salespeople more cunning and more convincing than Ronald Trump, who are ripping people off in a similar way by blending the high return from rooftop solar with the zero to negative return from batteries to make it look as though batteries can now pay for themselves.  And it's resulting in a good portion of people's money going up in smoke.
I have no problem with people buying batteries that won't save them money if that is what they want to do, but I am totally against deceiving people into blowing money by buying batteries they would never have bought if they knew they would be losing money on them.
At the moment no battery pays for itself, not for normal on-grid households, so if you see payback claims advertised for solar and batteries, make sure they also disclose what return you can expect from each independently.  If the company can't or won't tell you, then you'll know you are dealing with someone dodgy.
Batteries Don't Pay For Themselves Yet
Every time I write about batteries I am unfortunately forced to remind people they don't pay for themselves yet.  Not for anyone whose electricity consumption is remotely normal, even in the most favorable locations in Australia.
I should explain what I mean when I say they don't pay for themselves.  It's not enough for a $10,000 battery system to save $10,001 on electricity bills in today's money by the end of its life to be worthwile.  It will also have to save at least as much value as the next best use of that $10,000 would have provided.  For some people, the next best use may be a term deposit.  For others it could be paying off the house, investing in shares, or paying off credit cards.
In an earlier article I examined if a Powerwall 2 could clear the lowest hurdle of performing better than putting the money into a term deposit and it could not.  This was the case even though I used the $10,150 figure for full installation provided by Tesla and not the $11,000 to $13,000 it is likely to cost in the real world.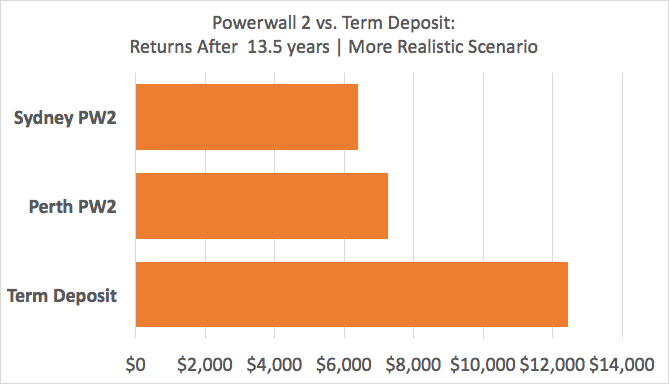 The Tesla Powerwall 2 is very likely to be the cheapest battery system available per installed kilowatt-hour2 over the short term at least.  This means any salesperson who tells you buying batteries now will save you money is almost certainly wrong3.
Grid electricity prices are, once again, rising.  While this will only improve the payback time of rooftop solar it is unlikely to improve the payback time of batteries because solar feed-in tariffs are expected to rise by around the same amount.  It is possible the combined price hikes and feed-in tariff increases will make the economics of batteries worse, as I  explained here.
Rooftop Solar Has The Fastest Payback Of Any Normal Investment
While home batteries don't pay for themselves yet, rooftop solar sure as hell does.  It is the best investment most  home owners can make.  Not only does it save money, it also saves the planet!
Alternatively, for those whose hearts aren't filled to the brim with unbridled capitalism — Not only does it save the planet, it also saves money!
Here in Adelaide, a household that consumes half the electricity produced by a 5 kilowatt system that costs $7,000 can have a payback time of under 5 years.  In other words, it can take less than 5 years for the savings on electricity bills to total $7,000.
If the household instead only consumed 30% of the solar electricity generated, then with a 10 cent feed-in tariff, which is easily available, it can have a payback time of 6 years.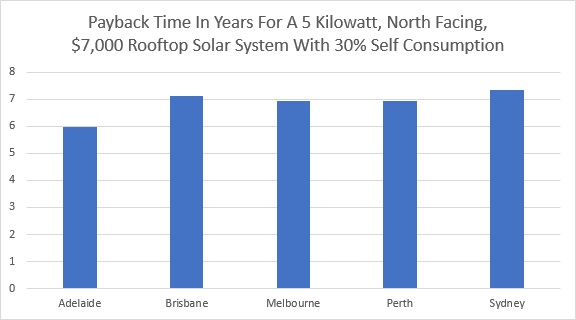 Since electricity prices are about to go up in July in every state except Victoria, which had an increase at the start of the year, payback times will only improve and rooftop solar will become an even better investment.
Blending Solar And Battery Payback Makes No Sense (If You're Ethical)
Because batteries don't yet pay for themselves and currently don't provide an environmental benefit4, no one who is interested in saving money is going to buy them unless they are deceived.  Good salespeople, as in ethically good and not just good at shifting product, understand this and focus on selling batteries to early adopters who are interested in the technology and don't mind if it doesn't save them money.
Bad salespeople, as in ethically bad puppy kickers, use blended payback to lie to people and imply batteries will save money.  They know batteries won't pay for themselves, but intentionally hide this fact by blending the payback time of rooftop solar and batteries together to make a sale.
And this just isn't good enough.  Sure, provided they are careful with what they say they may not technically be doing anything illegal, but you don't have to be a criminal to be an arse.
There are people in Australia who are struggling to get by — people raising kids, pensioners on fixed incomes, those who are trying to pay off their homes  — who are looking to save money on their electricity bills and hopefully do the right thing by the environment.  They don't deserve to be ripped off by unscrupulous salespeople.  Even the people who have plenty of money don't deserve to be ripped off.
As costs fall, home battery storage is likely to become a huge business in Australia.  When people can save money by installing batteries the market will boom.  But the battery industry is only going to be make things hard for themselves if they allow people to become convinced the industry is full of crooks.  One ripped off customer now will cost who-knows-how-many sales in the future.  Rather than building up a good reputation that will pay off later when the battery boom begins, current players may be handing the market on a platter to late entrants who haven't burdened themselves with a bad reputation.  These days the internet makes it much harder to sweep a bad rep under the rug and sell to new rubes.  This makes it even more important to build a good reputation from day one.
Australian Consumer Law Protects You
Under Australian Consumer Law you are protected by consumer guarantees.  These apply no matter what the written warranty may say or what salespeople tell you.  One of them is:
Products must be fit for the purpose the business told you it would be fit for and for any purpose that you made known to the business before purchasing.
This means a product must do what the seller said it would.  If you were told a battery system will save you money and it does not then you are protected by your consumer guarantees and entitled to a remedy, which in this case would be a refund, as a repair or replacement will not solve the problem.  It also means if you tell them you want to buy a battery system to save money, then they can only sell you a battery system that will save you money.
I'm no lawyer, but I do think companies that hide the fact batteries don't save money by blending their payback with that of rooftop solar are on thin ice.  Australian consumer law is based on what a reasonable person would conclude and I don't think any reasonable person looking to save money would buy a bundled solar and battery system, if they knew the battery part was only likely to lose them money.
The Final Bad Joke
So my final word is, never buy bundled solar and batteries from someone who won't give you an honest independent breakdown of their payback separate from each other.
It's not ethical for salespeople to give pensioners, like my grandmother, who are looking to save a bit of money and leave a better world to their grand kids, blended paybacks for solar and batteries that imply batteries will save them money when they will do no such thing.  It's no more ethical than a surgeon who performs a life saving operation, takes out a kidney while he's at it, sells it on the black market, and justifies it by saying the patient has come out ahead overall.