Note from Finn: People have asked me if I would recommend buying a 'super capacitor' over a conventional battery. My short answer is no. Personally I think the technology is too new to consider it in a residential application. As Ronald says at the end of the post: "…they are a new thing and sometimes new things have problems that aren't apparent at first."  Buyer beware.
Australian company Arvio is now selling a supercapacitor energy storage module.  If you go to their site you can see the Kilowatt Labs Sirius module that stores 3.55 kilowatt-hours of electricity on sale for $4,950 including GST – here's how it looks:

But GST may not be an issue because at the Smart Energy Conference in Sydney last month, Peter Wilson of Arvio said it would only be sold to trade, which means only to installers and wholesalers.  So if you want to buy one retail you may have to look elsewhere.
The supercapacitor cells are manufactured in China and the module is assembled in Dubai.  Arvio says the supercapacitor modules can be used as drop-in replacements for batteries and will work with any battery or hybrid inverter1.  Three inverter brands specifically mentioned by name were Selectronic, SolaX, and Victron.
The modules have a full 10 year warranty that promises they will suffer no decline in capacity in that time and allows for unlimited cycles.  This is far superior to the warranty of any battery on the market that I know of.
The Arvio Independence Day
As well as individual Kilowatt Labs Sirius modules, Arvio can provide an all-in-one supercapacitor storage system for use on or off-grid.  They call it the Arvio Independence Day.  In the United States, Independence Day is either about making tea in a harbour or aliens blowing up the White House.  I'm not sure which.  But here it is a large metal cabinet containing a Selectronic inverter, a charge controller, monitoring equipment, and generally two Kilowatt Labs Sirius supercapacitor modules for 7.1 kilowatt-hours of storage. More storage modules can be added if desired or you can have just one.
It's capable of providing 7 kilowatts of continuous power and can provide more for brief periods.  If there is a blackout it will take 20 milliseconds to switch over to off-grid use.  It can be located indoors or outdoors, so presumably the final version won't have the holes in the top you can see the picture above.  The whole system comes with a full 10 year, unlimited cycles warranty with no decrease in storage capacity.  It covers everything including the inverter, charge controller, supercapacitors, and the cabinet and its connections and electronics.
It's not cheap.
With 7.1 kilowatt-hours of supercapacitor storage it will set back a homeowner roughly $25,000 including GST.  But one of its features is if you move you can take it with you, so you don't have to leave your investment behind.
Advantages Of Supercapacitors
Supercapacitors have a number of advantages over batteries when it comes to energy storage.  These include extremely rapid charge and discharge times and the ability to be cycled a vast number of times without degrading.  Arvio says the Kilowatt Labs Sirius supercapacitor module has the following characteristics:
Can be discharged 100% without problem.
Fully charges or discharges in 30 minutes.
Has an operating temperature from -30 to 85 degrees Celsius.
96% round trip efficiency from DC power into the module to DC power out.
No chance of thermal runaway, which is a technical term for, "Oh my God!  The battery's set itself on fire!"
A 10 year warranty that covers 100% of the module's original capacity with unlimited cycles.
The warranty is far better than any battery I know of.  It's impressive even for a supercapacitor, which can be expected to fall to around 80% of its original capacity after 10 years of heavy use.  But as heavy use for supercapacitors involves almost constant charging and discharging, which is not how home battery storage is used, Arvio may be confident there will be no deterioration in capacity over 10 years.
The claim that it fully charges or discharges in 30 minutes is interesting as its tech specs below say its maximum continuous charge and discharge rate is 100 amperes and its voltage range is 44 to 54 volts.  This means it should take over 45 minutes, but the tech specs also say it can be charged or discharged at 300 amperes for short periods, so that may account for it.  This is similar to a battery rather than the extremely rapid charging and discharging I would expect from a typical supercapacitor.
Technical Specifications
Arvio sent me a sheet of technical specifications for the Sirius energy storage module and I have taken a screenshot of most of it and shoved it below: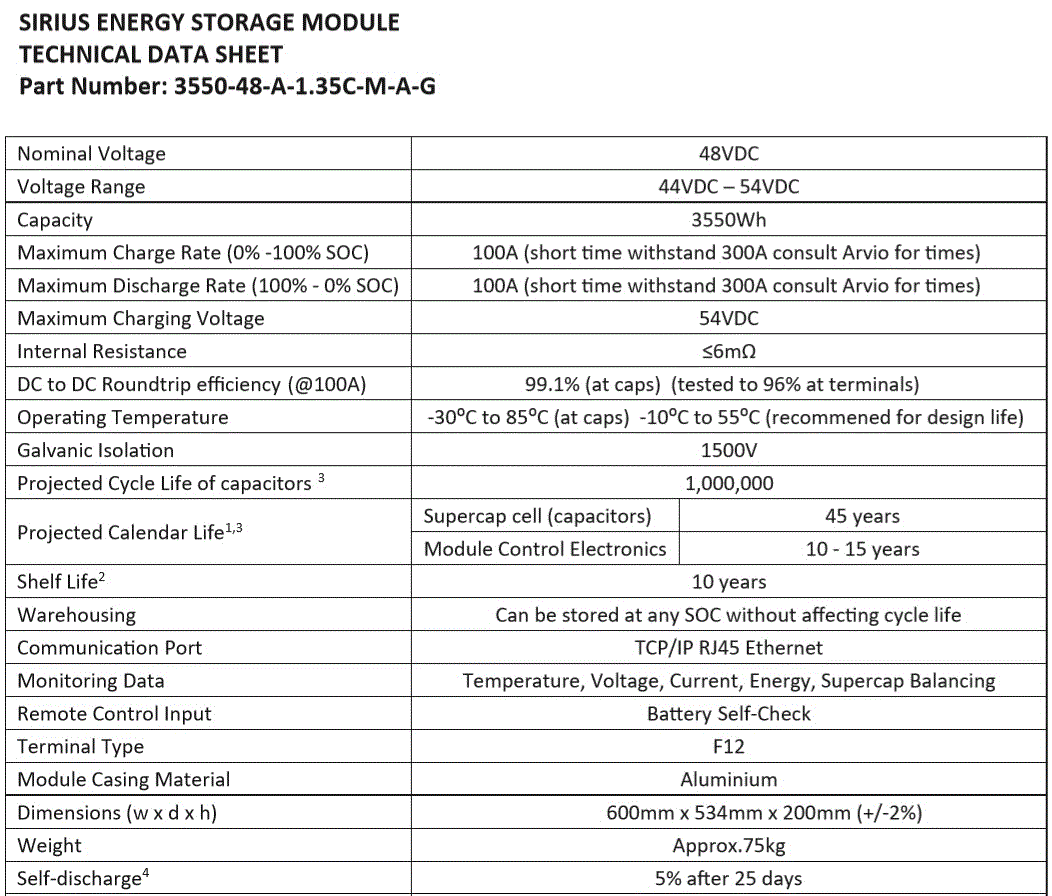 The self discharge rate of 5% over 25 days is excellent as I'd expect a normal supercapacitor to lose about half its charge over that time.
High Specific Energy For A Supercapacitor
With 3.55 kilowatt-hours of energy storage and a weight of 75 kilograms, the Kilowatt Labs Sirius supercapacitor module has a specific energy2 of 47 watt-hours per kilogram.  But if we just look at the cells, Arvio states they have an energy density of 70 watt-hours per kilogram.  This is more than 10 times better than a typical supercapacitor.  Arvio says this is possible because their supercapacitors use graphene, which is a sheet of carbon one atom thick.  The graphene is all scrunched up inside the layers of the supercapacitor, giving a huge area for storing charge.
I decided to check if the energy per kilogram Arvio claims is possible for a graphene supercapacitor and soon found this paper published in 2010.  Here's it's abstract: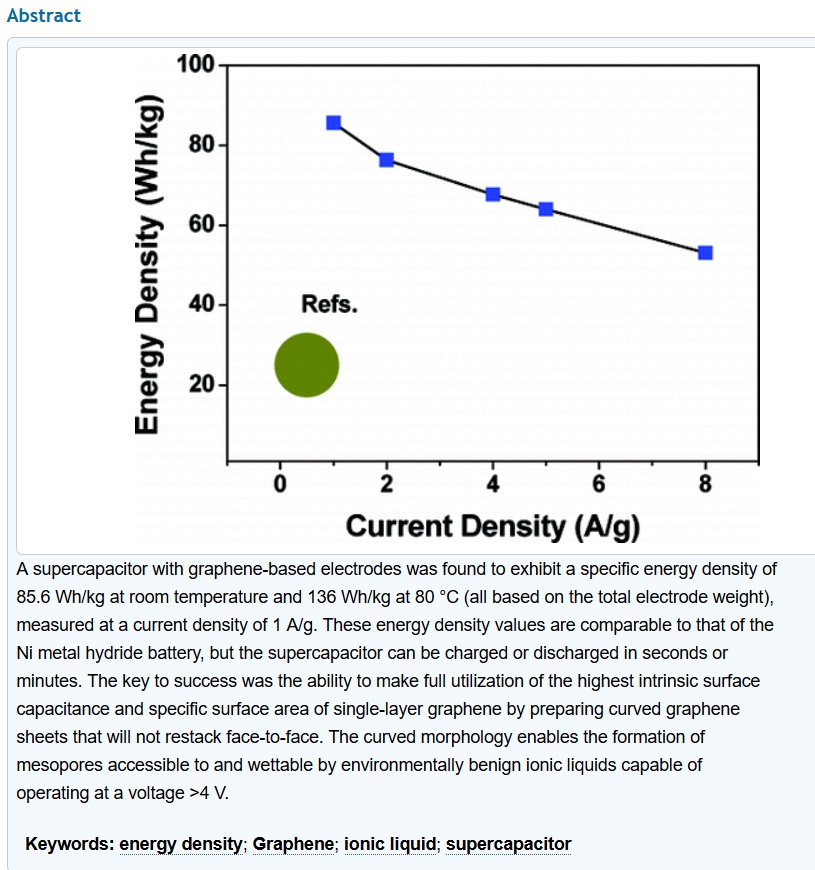 And here is an article written on it.  According to the paper, the claimed energy density is definitely possible and they managed it 8 years ago, which is not an unusual amount of time for technology to get from the lab to the marketplace.  Further improvements have been made since then as this paper from October last year says graphene supercapacitors were made that stored 148.75 watt-hours per kilogram. But note the abstract to this paper does not state this specific energy was obtained at room temperature, so it may not be as good as it seems.
Australia has also been working on graphene supercapacitors at Swinburne University in Melbourne.
While Arvio's stated 46 watt-hours of energy per kilogram is excellent for a supercapacitor, it's still not much better than a typical lead-acid battery and a module of lithium battery cells can store more than 3 times as much per kilogram.  But when it comes to stationary energy storage weight and size are less of a concern because most homes can spare the required space and have strong enough floors.
Kilowatt Labs Supercapacitors – Poor Energy Efficiency When Fast Charged
Arvio have put out some videos on the supercapacitor and I found this one surprising:
They charge a 3 watt-hour supercapacitor cell in about 3 minutes and 40 seconds and say they have lost one watt-hour as heat.  That means its charging efficiency is only about 75% which I would personally consider to be horrible for a supercapacitor.  If it is the same when discharged, its round trip efficiency would be around 56%, which is terrible.  I would expect a typical supercapacitor to have a round-trip efficiency of perhaps 95% if charged and discharged over one minute.
Unfortunately this poor efficiency isn't only the case when it is rapidly charged in under 4 minutes.  In this video they charge a cell over 15 minutes and I've taken a screenshot of their results at the end: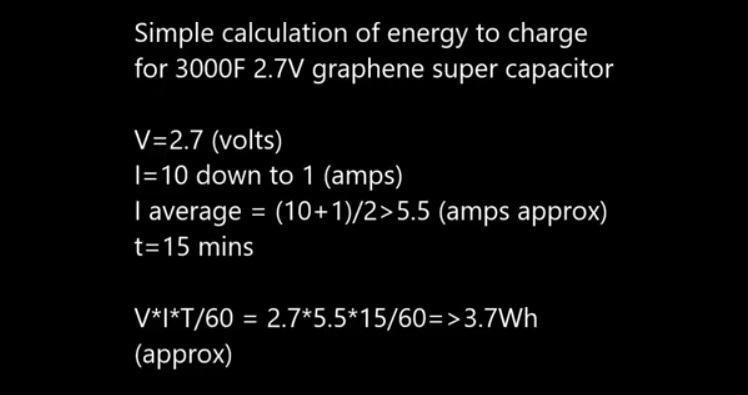 This means they needed 3.7 watt-hours to charge a 3 watt-hour supercapacitor cell.  That's a one way charge efficiency of 81%.  Actually, it's slightly worse than that as they didn't wait for it to stop charging, which supercapacitors do by themselves when they are full.  If discharge is similar we are looking at a round trip efficiency of around 66%.
Because the supercapacitor performs so poorly when charged over 15 minutes, I didn't understand why Arvio gives its DC to DC round trip efficiency as 96%.  So I sent Paul Wilson of Arvio an email asking about the RTE, or Round Trip Efficiency, and he replied:
"The 96% RTE on the unit itself is an actual test that we have done when running the turnkey unit at about a 1 hour charge and 1 hour discharge rate. This is more load than most applications would require. Very little heat is generated in this cycling test and the average over 24 hours was about 96%. We expect that we can get this to about 97% soon with some recent upgrades just introduced."
So it seems that while the cells don't act like I'd expect supercapacitors to when fast charged, they do appear to act like some lithium batteries when charged or discharged over an hour.
If we put the estimated round trip efficiencies along with Arvio's figure on a graph you can see the large jump in efficiency when charged over an hour3: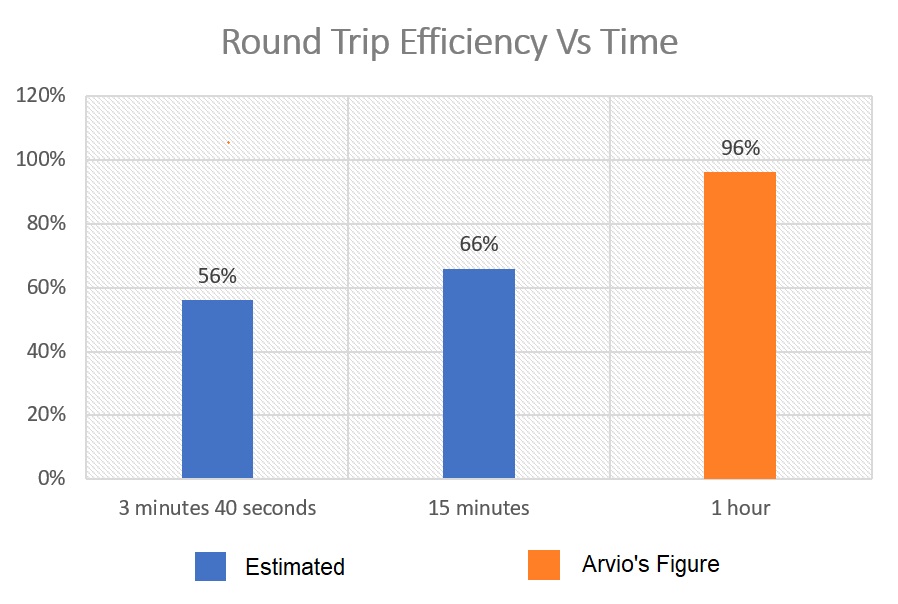 As one hour is 4 times longer than 15 minutes, which is close to 4 times longer than 3 minutes 40 seconds, it allows for a good comparison between time periods.
Determining battery round trip efficiency by charging for an hour and discharging for an hour is normal procedure.  And when used for home energy storage, the supercapacitors will often be charged at an average of less than this rate, though it will depend on the size of the solar system and household electricity consumption.
But no matter how Arvio determined their 96% figure, what they definitely need to do is change the 99% figure they give on the page where they are selling the Kilowatt Labs Sirius module.  That is not correct according to according to Arvio's own testing:
Kilowatt Labs
As the supercapacitor is assembled from Chinese-made cells by Kilowatt Labs in Dubai, I decided to check out the Kilowatt Labs website to see what they had to say about the supercapacitor module or just capacitor module, as it says on the front:

They had some interesting things to say in the second half of this video from 2:43 onward:
It can be charged in 30 seconds, which as we've seen above, would not be a good idea, especially with the huge amount of waste heat that would be created.
It has a round trip efficiency of 99.1%.
Its operating temperature is -25 to 80 degrees which is slightly different from the figure Arvio gives.
It made me wonder if they were even talking about the same supercapacitor module.  It was difficult to tell because nowhere on the Kilowatt Labs site is there a picture of it.  Fortunately, I was able to find Kilowatt Labs videos showing the supercapacitor module.  Here's a screenshot from one called, "The making of Kilowatt Labs Supercap Module," that clearly shows the same labeling as the module Arvio is selling.

According to the video, it's apparently made by having all the pieces magically fly into place.
It Is A Pseudobattery
I have mentioned the cells don't charge how typical supercapacitors do and how the module's efficiency when charged over an hour is similar to some lithium batteries.  Overall its performance characteristics are much closer to a battery than a supercapacitor and, after giving it some thought, I realized this is to be expected.
The basic difference between batteries and supercapacitors is supposed to be that batteries store energy as a chemical reaction and supercapacitors store it as a static charge.  But this isn't exactly true.  Batteries can store charge like supercapacitors and supercapacitors can store energy in chemical reactions.  Both battery and supercapacitor cells are faced with similar bottlenecks getting energy in or out. Once supercapacitors start storing energy on structures similar in scale to the molecules that store energy in batteries their performance is going to become similar to that of batteries.  The graphene that's said to be used in these super capacitors is a sheet of carbon a single atom thick, so the scale is pretty small.
Because of their battery-like performance, some people have suggested that what Arvio has is actually a battery and not a supercapacitor, but I'll extend Arvio the courtesy of assuming they aren't dumb enough to buy a box of batteries and mistake them for supercapacitors.
Kilowatt Labs, in their video above, refers to their supercapacitors as a pseudobattery and that is as good a name as any.  It's not a battery but it behaves like one as far as the user is concerned, except it is a hell of a lot more durable.  Or at least we hope it is a hell of a lot more durable, since that's its main selling point.
Future Developments
Provided it performs as promised, Arvio's offering is an impressive piece of technology.  While it is pricey at the moment, its 10 year unlimited cycle warranty is bloody good.  I'd say it's a safe bet the technology will improve and the price will fall in the future.  Ideally they will give batteries a run for their money when it comes to stationary energy storage.  They may even improve in specific energy enough to become suitable for use in electric vehicles.  But even if they don't, stationary supercapacitors can be used to charge electric cars with stored solar energy overnight.  It's normally not economically practical to do this with home-batteries because it the cost of degrading the battery is generally not worth it compared to charging with off-peak electricity, but with supercapacitors this should not be a problem.
Another interesting application Arvio is investigating is using home supercapacitors to provide ancillary services to the grid that help keep it stable.  Due to its apparent ability to supply these services continuously without degrading, if households are paid at the same rate for ancillary services as large generators, then Paul Wilson of Arvio says the supercapacitor modules will rapidly pay for themselves.
But I personally wouldn't be in a big hurry to grab a supercapacitor module or two just at the moment.  This is because they are a new thing and sometimes new things have problems that aren't apparent at first.  Personally, I would wait until the results of independent tests are published and I would also check out the reports of early adopters.  Arvio has said they have had no problem with getting pre-orders, so there will soon be a considerable number of people out there with them.  I am definitely looking forward to hearing how they perform.
Footnotes
Specific energy is simply a fancy term that means energy per kilogram.  Sometimes people use the term energy density for this, but that's actually energy per liter. ↩
Arvio's figure is for an entire module rather than a single cell which should drag its efficiency down ↩