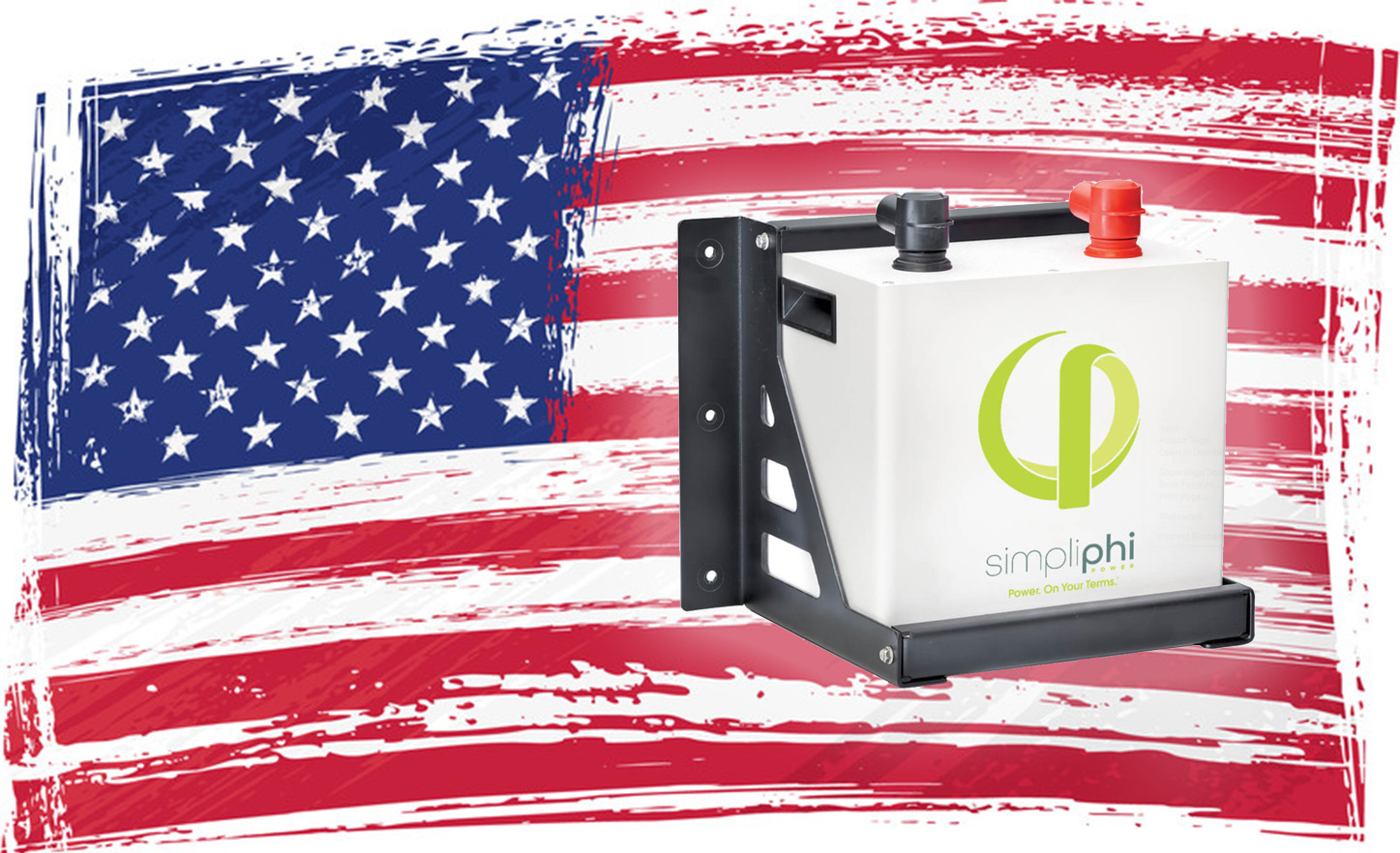 It is currently popular for all the cool kids to be down on the chances of the United States remaining a driving force in world history.  People are saying it has lost its way and only faces turmoil now Batman has passed away and Seinfeld has refused to hug Kesha.
But I have faith in the land that gave us Jim Henson and Ben & Jerry's Chunky Monkey ice cream.  I think America still has plenty to offer the world.  Sure, maybe nothing as good as Muppets and Chunky Monkey, but still some pretty neat stuff. For example, SimpliPhi batteries.
SimpliPhi makes a range of batteries, but what Australians are most likely to be interested in are the two most suited for household storage — the Phi 2.6 Smart-Tech battery with 2.6 kilowatt-hours of nominal capacity and the Phi 3.4 Smart-Tech battery with 3.4 kilowatt-hours of nominal capacity.  Both have 24 and 48 volt versions.
These batteries are lithium Iron Phosphate (LiFePO4)1 which is the safest and most durable lithium battery chemistry.
SimpliPhi says their batteries are non-toxic.  The US Federal Aviation Administration (FAA) rates them as safe to be carried on planes and they are used by the US military.
These batteries are proudly 100% American made.  Except for the actual battery cells themselves.  My guess is they're made in China.  But that almost goes without saying these days.
The Phi 3.4 Smart-Tech battery costs around $5,150 uninstalled.  When fully cycled once per day to a 100% depth of discharge, the cost per warranted kilowatt-hour comes to 46.1 cents.
Technical Specs for the PHI Smart-Tech 2.6 And 3.4
Here are the technical specifications for the Smart-Tech batteries.  The most popular one is likely to be the 48 volt Phi 3.4 which is on the far right.  Note that if you want to keep their written warranty, apart from charging the 48 volt Phi 2.6, you won't be able to charge and discharge them at their maximum rates.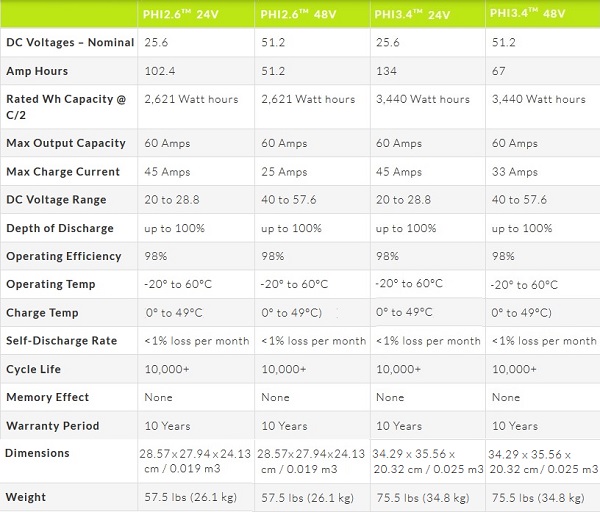 The SimpliPhi Company
SimpliPhi is an American battery maker headquartered in Ojai California which is between Los Padres (The Parents) National Forest and Mira Monte (Look!  A Mountain!).
However, despite being in California, they are actually a Delaware company.  Strangely enough, no matter where they are actually located, most American companies are incorporated in Delaware.  I assume this is to commemorate the spirit of their warrior ancestor, George Washington, who crossed the Delaware River on Christmas Day, wearing a set of false choppers made from slaves' teeth, to drive out the Redcoats.  So I can only guess he was some kind of reverse Santa Claus or possibly tooth fairy.
Or maybe American companies are incorporated in Delaware as a tax thing.  Either one.
SimpliPhi got its start in 2001 after its founder, Stuart Lennox, got an e-bike company to make lightweight battery packs to power cameras and lighting for the TV and movie industries.  They worked so well he founded the LibertyPak company in 2002 to meet demand for them.  LibertyPak became SimpliPhi in 2009.
In order to cut the amount of heat camera operators were exposed to by their battery belt packs, they changed to the safer and more efficient lithium iron phosphate batteries SimpliPhi uses today.  Their battery packs are now very popular in the film industry, and here is a video showing the glowing costumes they powered in the movie Tron Legacy:
Of course, the tragedy of that movie was they didn't also give the job of writing the script to SimpliPhi.
In addition to the movie industry, SimpliPhi batteries are also used by the US military as a lighter, longer lasting, and safer alternative to lead-acid batteries.
Smart-Tech Battery Capacity
The nominal capacity of Smart-Tech batteries is pretty straight forward.  It is 2.6 kilowatt-hours for the Phi 2.6 and 3.4 kilowatt-hours for the Phi 3.4.  If you want their warranty to last for the first of 10 years or 10,000 cycles you can only use 80% of that capacity.
But no one using the batteries for normal home storage is going to come anywhere near to cycling them 10,000 times.  It's almost impossible.  Most people will cycle home batteries 0.8 times a day or less.  As a result, there is no reason not to use the warranty condition that covers the first of 10 years or 5,000 cycles and which allows them to be used at their full capacity.  This lets them be cycled an average of up to 1.37 times a day and maintain their warranty for its maximum length of 10 years.  It's very unlikely a household would cycle them more than that, and if they do, they are probably doing something wrong, such as using an undersized rooftop solar system.
So for home battery use, unless your needs are really weird, they can be used at their full capacity and still have a 10 year warranty.
Smart-Tech Battery Power
When the words America and power come together in the same sentence, Australians of a certain age automatically think of one thing — Austrian body builder Arnold Schwarzenegger.
Arnold Schwarzenegger embodies all that is best about the United States.  Their willingness to take in people from other countries no matter how bizarre they look, how strange they sound, or how evil their home country's government used to be.
From his humble beginnings as a steroid abusing exercise freak, Schwarzenegger went on to become one of the most powerful men in the country.  And then gave it all up to become governor of California.
But when it comes to solar battery systems, we're not talking about muscular power, star power, or political power.  Instead we are talking about how many kilowatts of electrical power they can give.
According to their technical specs, the maximum output capacity is 3 kilowatts for the 48 volt Smart-Tech batteries and 1.5 kilowatts for the 24 volt ones2.
But if you want to maintain their written warranty, they can only give half that power.  That's 1.5 kilowatts for each 48 volt battery and 0.75 kilowatts for each 24 volt battery.  That's a little disappointing, but for the 48 volt ones it's still more power per kilowatt-hour of storage than the Powerwall 2.
If you wish to stay within the warranty conditions, the charge rate also has to be the same as the discharge rate.
Operating Temperature
According to the technical specs, the operating temperature of Smart-Tech batteries is from -20 to 60 degrees Celsius.
But there is something very important you have to remember about this operating temperature range, and that is you can't necessarily use the battery within it.  The warranty quite clearly states:

Now you might think that clears things up and the operating temperature is really 0 to 43 degrees for a 10,000 cycle warranty and -5 to 49 degrees for a 5,000 cycle warranty.  But it's not that simple.  The warranty also says:

So if you have a 5,000 cycle warranty you can charge the battery at -5 to 0 degrees, just so long as you don't charge it at below zero degrees because that will void the warranty?  Who wrote this warranty?  Kafka?
The good news is, unless you live in an unusual place, the temperature of the battery is never likely to go below zero in Australia.  Especially since they are indoor batteries.  Even if the air temperature dips below freezing, the battery's thermal mass means it probably won't.  Because the 5,000 cycle warranty is suitable for home storage, its maximum temperature of 49 degrees is not likely to be a problem, provided the batteries aren't in direct sunlight.
Size, Weight, And Where You Can Stick It
The SimpliPhi Smart-Tech batteries are fairly compact.  At 34 cm wide, 36 cm high, and 20 cm deep, the Phi 3.4 is about as wide as the cruddy old laptop I am typing this on and not as deep.  It has a bracket that can be used to mount it on a wall.  It's not light at 35 kilograms, but you are not meant to lug it around with you.  SimpliPhi makes other stuff for that:
The Phi 2.6 Smart-Tech battery is three-quarters the size and three-quarters the weight.
The batteries will need to be installed inside.  Their enclosure rating is IP32, which means they need to be kept away from water and dusty environments.
Efficiency Is A High 98%
The Smart-Tech battery's efficiency when charged and discharged at the maximum rate their warranty allows, is around 98%.  This is about as good as you are likely to get from a battery and means they produce very little waste heat.  Unfortunately, the inverter they are attached to will result in more losses.  This will vary, but may be around another 5%.
The fact they produce so little waste heat means cats are much less likely to develop the habit of draping themselves across them, which is an extra safety feature I don't think anyone else has mentioned.
The Warranty Is For 10,000 Cycles — Or 5,000
The Smart-Tech battery warranty is extremely good, provided nothing ever goes wrong with the battery.
While the written warranty doesn't make this crystal clear, I have double checked with SimpliPhi and there are two warranty conditions:
The first of 10 years or 10,000 full cycles with 80% depth of discharge.
The first of 10 years or 5,000 full cycles with 100% depth of discharge.
Under both conditions the batteries are guaranteed to maintain at least 80% of their original nominal capacity.
A warranty that lasts a full 10 years under normal use is excellent for household batteries and one more bit of evidence that lithium iron batteries are likely to dominate in the home energy storage market.
SimpliPhi says the batteries will still be useful once they have fallen below 70% of their original capacity, but once they go below 65% they'll be on their last legs.
Battery Capacity No Longer Needs To Be Twice Inverter Capacity
Until Friday, the Smart-Tech batteries' warranty required the battery capacity to be at least twice that of the inverter it was attached to.  Presumably to make sure the batteries would never be charged or discharged too rapidly.  I asked SimpliPhi about this requirement and pointed out it kind of sucked.  They responded by changing their warranty so it's no longer necessary. Getting companies to change their warranties is just one of my superpowers3.
That was a pleasant surprise.  It's refreshing to see a company that's flexible enough to rapidly respond to fix a problem that's pointed out to them.  (Some companies never change.  No matter how many times I point out they're being daft.)
This means, as far as batteries go, SimpliPhi's Smart-Tech ones are fairly ideal for households that want to use a small amount of battery storage at high capacity.
If The Battery Has A Problem, You May Have A Problem
I expect SimpliPhi batteries to be reliable.  They are used by the film industry and by the US military, and let me tell you, they don't muck around.  If a camera operator has a battery failure, the director will not stop short of making a scathing remark.  She may even resort to sarcasm.  Clearly only the most reliable of batteries will suffice in that situation.  My understanding is the US armed forces also have high standards.
So I don't think it's likely you will have a problem with a Smart-Tech battery, but if something does go wrong, then you may have a problem.  The warranty says SimpliPhi will send someone to try to solve the problem on site, and if that doesn't work, SimpliPhi will provide you with a "Return Material Authorization" number or RMA.  Then, according to the warranty, you must do the following:

In other words, if their product fails to operate as promised, you have to pay to ship it to them.  This is not good enough.  If you have paid to have a SimpliPhi battery installed, then you made an agreement with the installer for them to provide you with a working battery.  If it stops working within the period it is warranted for, or before a period it could reasonably be expected to operate for has passed4, then they have a responsibility to provide you with a repair, replacement, or refund without charging you money.
I asked SimpliPhi about this.  My exact words were:
"If a smart-tech battery has a problem that can't be fixed on site, will anyone in Australia be required to pay to freight it to a designated location?"
And their exact reply was:
"If a battery cannot be fixed on site and it is confirmed as a warranty issue a replacement will be arranged and the faulty unit to be shipped to the manufacturer for analysis."
It's great that they'll provide a replacement, but they still didn't make it clear if they expect you to pay to have it freighted to them.
SimpliPhi Is Reducing Emissions — A Bit
SimpliPhi and its partners, are doing their bit to reduce emissions and they say so on their homepage.  In fact, they may even be reducing emissions by more than my parents are!  Beneath a teeny tiny picture of the planet earth, they state the following: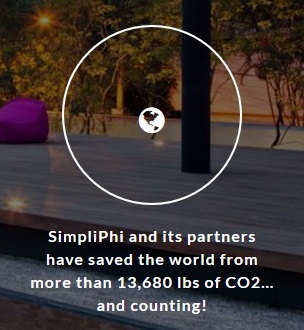 Wow, 13,680 pounds!  That's over 6.2 tonnes!  It would take 5 kilowatts of north facing solar in Brisbane around a whole year to do that!
It's a little disappointing SimpliPhi required partners to help them cut emissions by as much as one fairly typical sized rooftop solar system in Australia, but the important thing is they cut emissions rather than increased them.  This is because batteries don't decrease emissions in most of the world at the moment, but do the opposite.  This will change in the future, but it is currently the case in Australia5.  I'm glad SimpliPhi has reduced emissions rather than increased them, but I have no idea how they reached this figure.
SimpliPhi Batteries Appear Extremely Reliable
Smart-Tech batteries are lithium iron phosphate which gives them an edge in both safety and reliability over other types of lithium battery chemistries, including those used in the Tesla Powerwall 2 and LG Chem RESUs.  Their years of use by the film industry and by the US military suggest they are a very reliable battery.  Given the information I have, if reliability is what you are looking for in a lithium battery, then SimpliPhi Smart-Tech batteries should definitely be a good choice.
Just don't let them make you pay for any goddamn postage6.