On the 30th of April the AEMO or — as it's known by the long-winded — Australian Energy Market Operator, published a significant report called Renewable Integration Study 1.  A few people read the summary and then wrote articles on how the grid wants to take control of people's solar inverters; switching them on and off as they desire.
Some of the stories made it sound downright sinister.  As a result, I've had one person tell me they've changed their mind about getting solar installed because "the government" will take control of their system and stop them from saving money – and I'm sure there are more people like him out there.
AEMO Report Appendix A: The Grid Only Wants To Control Your Home A Little Bit
But having read through all 54 pages of Appendix A — the part that focuses on rooftop solar,  I can assure you that our grid overlords only want to take control of our solar inverters for good and not evil.  Here are five reasons why there's no need to panic:
Solar inverters will only be remotely shut down during grid emergencies to preserve its stability.
The overall loss of solar energy generation from remote shutdowns will be trivial.
It may be a cheaper way to provide grid stability than other options, saving money overall.
It may never happen, as it's only under consideration at the moment.
If it does happen, we are still years away from requiring new residential solar inverters to have remote shutdown capability.
Even if you regard my above reassurances as being mere blandishments and still fear the thought of your inverter falling under the thrall of your local Distributed Network Service Provider1, you have no cause for concern yet, as no solar inverter currently on the market can be remotely shut down by them.  (Some inverter manufacturers can control them remotely, but no one seems to care about that.)
In this article I will quickly cover:
How distributed solar power is rapidly expanding and why this is a problem for the grid.
Helpful changes for new solar inverters that don't involve remote control.
Why a mandatory remote shutdown function is likely to benefit solar owners.
You'll also discover that our evil grid overlords aren't intending to prevent all rooftop solar from exporting electricity to the grid.  Well, some of them are, but hopefully, they are outnumbered, and the less evil grid overlords will prevail.
The Grid Struggles To Keep Up With Solar
New approaches are required if we are to avoid throttling how much solar energy can be exported to the grid on new installations or even cutting exports all the way to zero. Up to now, local grids have been running a Red Queen race where they have to run as fast as they can just to stay where they are, but some are slipping behind.
Rooftop solar power is expanding fast, for good reasons:
It's an excellent investment for nearly every home with an unshaded roof.
Its price continues to drop — solar panels have never been cheaper than now.2
It reduces fossil fuel use, cutting pollution and damage to the environment.3
This graph from AEMO's Appendix 1 shows actual rooftop solar capacity up to late 2019 and two projections out to 2030 for the National Electricity Market or NEM, which consists of the ACT and all states except Western Australia.  Because rooftop solar is "Distributed PV" the graph calls it DPV for short: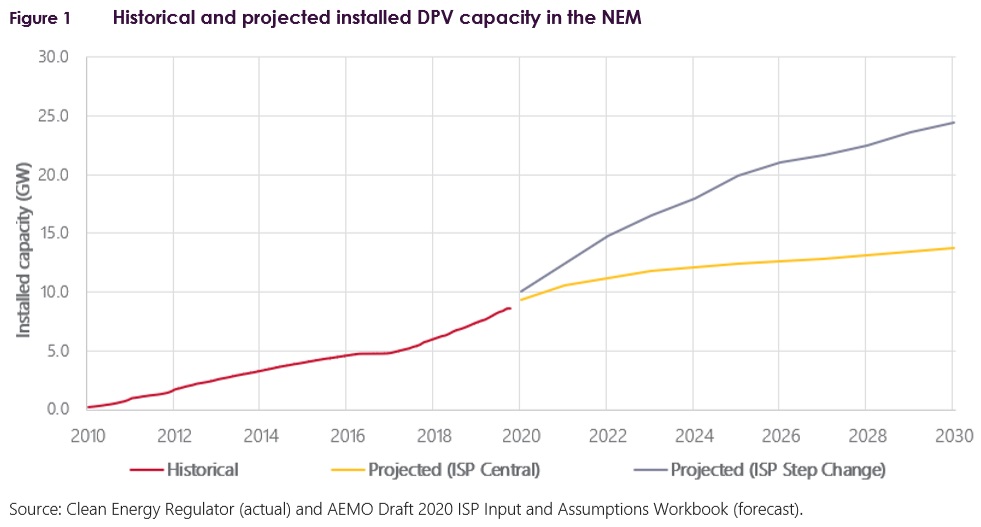 My well-educated guess is the higher forecast is more likely to be correct due to:
But this only applies if the grid manages to stay one step ahead of — or perhaps only one step behind — the rate of installation and allows households to continue to export their surplus solar electricity to the grid.  If the grid can't keep pace and starts preventing new systems from exporting, it will significantly reduce the number and size of systems installed.
Operating the grid smoothly becomes more difficult as the amount of distributed solar increases.4  This table shows the maximum percentage of total electric power consumption met by rooftop solar panels in the eastern states in 2019 and two projections for what it may reach by 2025: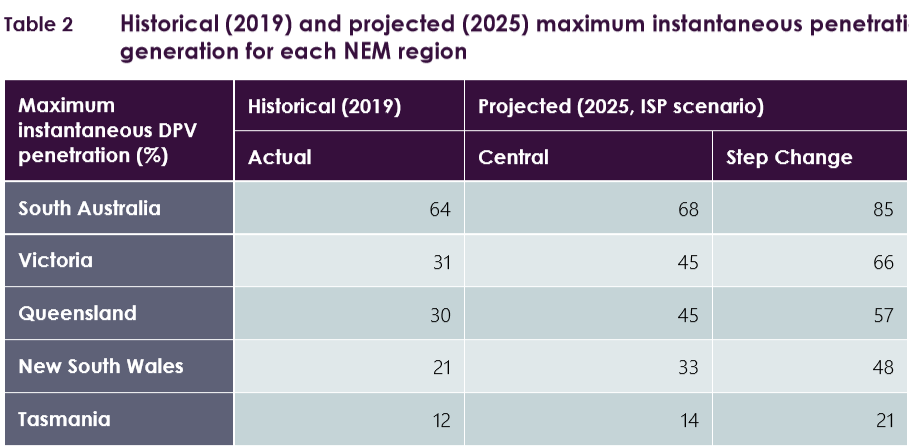 The Australian PV Institute's information indicates that in South Australia rooftop solar met 68% of total electric power consumption this year on Monday the 9th of March, meeting the central prediction out to 2025 already5: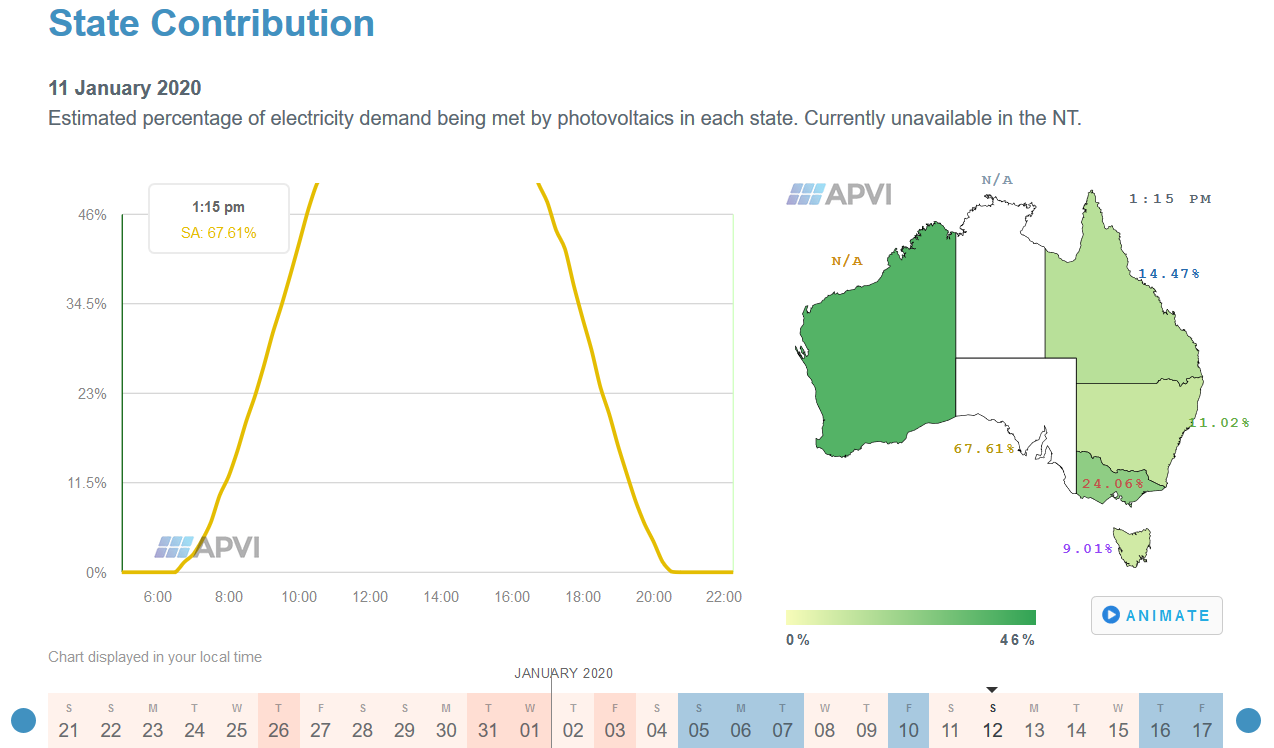 Unseen & Uncontrolled
The report describes rooftop solar as both "invisible" and "uncontrolled".  Depending on the type of person you are, you may regard this as either:
Very bad, or…
Totally awesome.
The reality is between those extremes.
Invisible means grid operators can't directly monitor the output of rooftop solar power systems.  Since they can't see it, they say it's invisible.  By that standard, I could claim to have an invisible car just by parking it behind a shrubbery.
When they say rooftop solar is uncontrolled it means, just as they can't directly see what the systems are doing, they can't directly control them either.6
Instead of using the word "uncontrolled" the AEMO report also uses a technical term with the same meaning.  That term is "passive".  If you are discombobulated by the fact the words "uncontrolled" and "passive" have the same meaning, then you'll understand why these reports can be difficult to get through.7
Despite being "uncontrolled", solar inverters are very polite and will shut down to protect the grid if they detect a problem.  Unfortunately, if there is a lot of rooftop solar, this creates a situation where a relatively minor grid disturbance can shut down a large number of solar systems at once.
It has been estimated a grid disturbance in Adelaide at the wrong time could simultaneously knock out 400 megawatts of rooftop solar power: up to one-third of the city's electricity consumption. It would be equivalent to a major power station suddenly going offline.  It has the potential to turn what could have been a minor problem into widespread blackouts.
While grid disturbances have previously resulted in considerable amounts of rooftop solar suddenly shutting down, these events haven't caused severe issues so far.  But it's only a matter of time before a significant event happens at a time of high solar energy generation and causes widespread blackouts.  This would be inconvenient for two reasons:
Being blacked out is annoying for households and expensive for businesses.
Fossil fools would go on about it for weeks, despite most of Australia's generation related blackouts being the result of unreliable, old coal power stations breaking down.
Triggering events could be the result of lightning strikes, transmission failures, a fault in a conventional power station, a problem in a substation, or an actor mistaking a real fuse box for a movie prop.
New "Ride-Through" Capabilities For Solar Inverters
AEMO does not want tens of thousands of rooftop solar systems suddenly shutting down and causing widespread blackouts. So they want new solar inverters to have "short-duration voltage disturbance ride-through" capabilities. And they want them in SA and WA fast, as they are most at risk.  Here are two action recommendations from the report:

These changes to inverters will not allow their control by outside forces.  The solar inverter will achieve the ride-through capabilities itself using its firmware.
But if local grids require the upgrading of existing solar inverters, then I'm sure some people will get their knickers into a twist.  The good news here is it's only likely to involve older inverters installed before October 2016. That's when the most recent version of the inverter standard (AS4777.2) kicked in.
Provided there is an incentive to upgrade old inverters or replace old systems with new ones, that's fine with me.  It's when sticks are used instead of carrots and bully boys with lightning bolts on their lapels go around telling pensioners to shut down their old solar systems, or they'll be kicked off the grid — that's when I get upset.
The Power Of Money
The AEMO report says most of the changes required to keep the grid stable are possible with market incentives.  If electricity costs less when solar energy output is high, then people will use more, and those with batteries will store more during those periods, helping grid stability.  The power of market forces to solve these kinds of problems is often overlooked, especially by politicians.
But in an emergency market forces can't always act quickly enough to stabilise the grid and so it is necessary to have other methods in place.8
Remote Control For Solar Inverters
One method to help keep the grid under control is to allow its operators to remotely shut down solar inverters if required.  This is called "load shedding" and is something all conventional power stations must do when required to protect grid stability.  But before you declare the grid can only have control over your solar inverter when they pry it from your cold, stiff fingers — I want to make it clear that:
This would only be in emergencies.
The total loss in annual solar energy generation would be trivial.
While relatively easy to do for commercial solar this is still years away for residential PV.
It may not be considered necessary and so never be required for households.
At the moment they are only investigating the idea, and there are no solid plans to proceed.  All they have at the moment is four bullet points:

While they appear to be strongly leaning in the direction of being able to shut down solar inverters remotely, it still may not happen. And if it does, the requirement that new inverters must have the ability to be remotely shut down is still likely to be years away.  No inverter on the market now has remote shutdown capability9. So if you are paranoid about losing control over your solar power system, you have nothing to worry about for a long time.  You can install solar panels while being confident that if the grid shuts your solar inverter down it will be because of overvoltage or another grid problem that got out of hand and not because they did it directly.
Some Concerns
We want to keep the grid stable and distributed solar power to continue to export surplus electricity into the grid for others to use.  Improving the ability of solar inverters to "ride-through" grid disruptions and making them able to be remotely shut down during grid emergencies are likely to be low-cost methods that help do this.
However, some issues need to be addressed.  Remote shutdown must only be used in emergencies to keep the grid stable and not when someone's crony needs to make a few extra bucks from their coal power station.  While this isn't an issue at the moment, vigilance is necessary to make sure this kind of thing doesn't become a problem.
One issue we definitely need to deal with is security.  People will not tolerate security flaws allowing unauthorised interference with their solar inverters.  Despite the fact they are okay with authorised persons in other countries — inverter manufacturers — having the ability to screw around with much of our solar generating capacity should they decide to do so.
At SolarQuotes we have heard tales of cheap Australian battery inverters being controlled from the manufacturer's HQ in Shanghai without the owner's consent – albeit to try and troubleshoot a technical issue.
Hopefully remote control of solar or batteries for less honourable reasons will not happen, as inverter manufacturers make their money from exporting expertise. Backstabbing their customers wouldn't just be shooting themselves in the foot, they'd also be shooting themselves in the wallet.  But I still think we should have an emergency plan just in case.  We should also keep this in mind when working out how any remote shutdown signalling will work in practice.