Some people in Australia can't export solar electricity to the grid.  This is because their local Distributed Network Service Provider (DNSP) has export limited their home to zero kilowatts.  While this isn't common — yet — it is a tragedy wrapped in personal economic pain. It's economically painful because households can't get a feed-in tariff for their surplus solar electricity.  The tragedy is because — when a large number of homes are considered — it's going to kill people.  When clean solar electricity sent into the grid displaces fossil fuel use, it reduces the amount of pollution we breathe.
There are good reasons not to allow more solar exports onto a local grid that can't handle it. Still, it's nuts not to devote adequate resources to fixing the problem and instead simply prevent homes in towns and cities from exporting clean electricity.  It's this kind of penny-pinching stupidity that ends up causing fatalities, and after our disastrous bushfire season, we don't need any more of that.
But I won't go on a loooonnng rant about the stupidity of wasting clean electricity to the benefit of lung-damaging coal power — at a time when healthy lungs are at a premium. I won't harp on about how global warming contributes to bushfires, damages agriculture, and contributes to flooding.
I'll instead restrain myself and concentrate on the question of whether or not it makes sense for people to still get solar if they can't export their surplus PV-generated electricity. For most households, the answer is — yes.
The financially optimal size of a zero-export solar power system depends on how much electricity you use during the day.  The optimal size will be smaller than for a non-export-limited system.
Batteries are more likely to pay from themselves if a home is zero export limited. However, outside of South Australia with its high electricity prices and hefty battery subsidy, they are still unlikely to make economic sense for a typical home.  A significant reason is that zero export homes can't join Virtual Power Plants (VPPs) and VPPs improve battery economics.  But because the cost of battery systems will continue to fall, in the future they are likely to be a standard feature of zero export homes.
Rant [Redacted]
This section you are currently reading used to contain a rant about how stupid it was for…
Economics
The environment, and…
Both good and evil1
…to allow clean solar electricity from rooftops to go to waste while not restricting emissions from coal power stations.  Other countries, such as California, welcome it.  (Technically California isn't a country, but things are looking a lot more Snow Crashy than they have for a long time.)
But when I got to around the 12,000 word mark, I decided that it was probably distracting from the main point of the article.  Maybe I'll turn the rant into a separate article later.  Possibly after cutting it down to 6 or 7 thousand words.
Solar Self Consumption Is Key
If a home doesn't have batteries and is export limited to zero kilowatts, then a solar power system only provides a benefit if the home directly uses solar electricity at the same time it is generated.  This means a household with people at home during the day will typically get far more financial benefit than if there is hardly ever anyone at home during daylight hours.  However, it's still possible for a home that's mostly empty through the day to make solar panels pay, if they have appliances such as refrigerators and pool pumps pulling power while no one's present.
Solar self-consumption is the portion of solar energy a household consumes itself.  It depends on electricity consumption patterns and the size of the solar system.  The average figure varies according to location due to differing electricity consumption patterns and climate.  Fortunately, I can get the average figures for total electricity consumption and solar self-consumption from the SolarQuotes Solar & Battery Calculator.2  Below I've put the annual electricity consumption figures and solar self-consumption figures for homes with 6.6 kilowatt solar systems in each capital.  This information is from Solar Analytics and annual consumption includes both grid and solar self-consumption 3:
Adelaide: 7,512 kilowatt-hours,  21% solar self consumption
Brisbane:  4,201 kilowatt-hours,  20% solar self consumption
Canberra:  4,558 kilowatt-hours,  22% solar self consumption
Darwin:  5,408 kilowatt-hours,  25% solar self consumption
Hobart:  5,092 kilowatt-hours,  30% solar self consumption
Melbourne:  5,321 kilowatt-hours,  28% solar self consumption
Perth:  9,398 kilowatt-hours,  23% solar self consumption
Sydney:  3,877 kilowatt-hours,  20% solar self consumption
For households that are zero export limited, the simple rule of thumb is…
Halving the rate of solar self consumption doubles the time rooftop solar power takes to pay for itself, while doubling solar energy self consumption halves the time.
If it takes ten years for a zero-kW export limited system to pay for itself with 20% self-consumption, then this simple graph shows what happens when the rate is changed: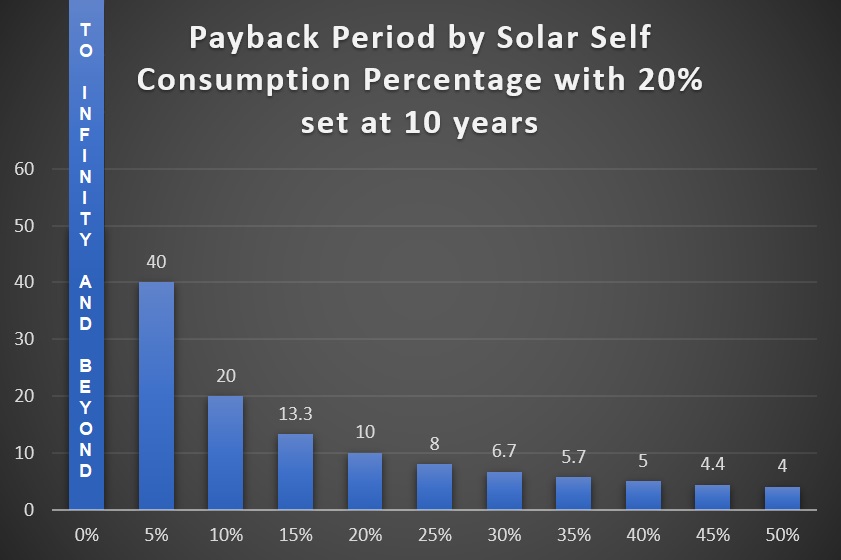 Few homes that install a 6.6 kilowatt solar power system will have a self-consumption rate under 10%. Still, if there is rarely anyone at home during the day and no effort is made to use timers to run appliances in the middle of the day, then the payback time is not going to be what almost anyone would consider acceptable. Because most of the clean energy it produces will be going to waste — it will provide little environmental benefit.
Zero Export Can Quintuple The Average Payback Period For 6.6 KW Solar
For roofs that don't suffer from significant shading, solar power is normally an excellent investment provided excess solar electricity can receive a feed-in tariff.  Depending on your location, a 6.6 kilowatt system without an export limit can have a simple payback period of under three years.  The simple payback period is how long it will take for the savings (or credit) on your electricity bills to equal the cost of the solar system.  If a home is zero export limited, that time can quintuple.
I'll give you a graph of the simple payback times for a 6.6 kilowatt solar system in capital cities for a typical household and one with a zero export limit.  The times will be those given by the SolarQuotes Solar & Battery Calculator using the following assumptions:
It's for a 6.6 kilowatt system.
The system costs $6,600 fully installed.
The home has the average 6.6 kilowatt solar system self-consumption rate for its location.
For capitals with retailer choice — Adelaide, Brisbane, Canberra, Melbourne, and Sydney — the lowest cost standard tariff electricity plan available was used.  This can differ from the bes tariff for a solar home without export limiting.
I use new, low feed-in tariff of around 8 cents for Darwin.
The rate of electricity price inflation is 0%.4
With these assumptions, we get the following simple payback periods: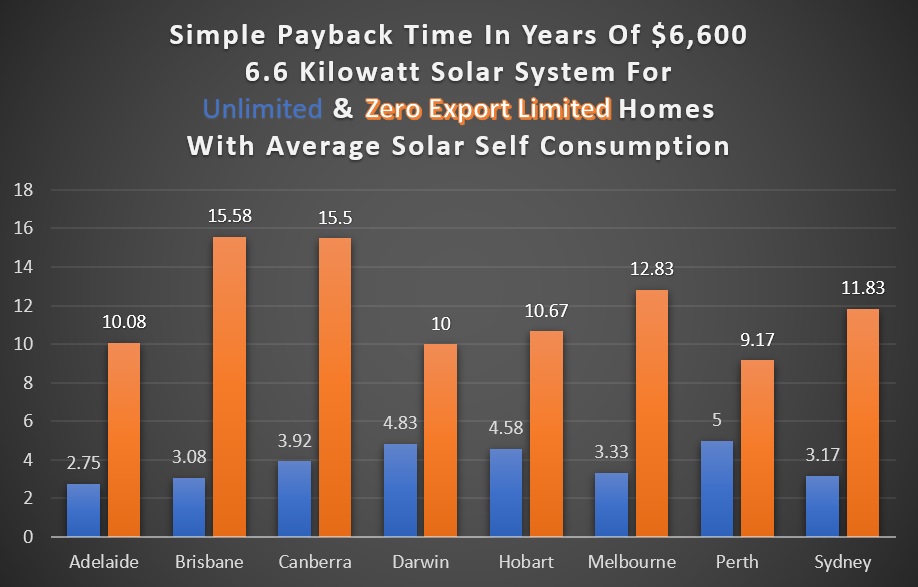 The worst affected location is Brisbane, where the simple payback period is five times longer.  This is mostly thanks to their relatively low grid electricity prices, which are falling thanks to their rapidly increasing solar capacity.  The least affected capital is Perth, mainly due to a high grid electricity price combined with their low current solar feed-in tariff.  But in all places apart from Perth, the simple payback period is more than doubled by zero export limiting.
This graph doesn't show the effect of the current Victorian Solar Homes rebate of $1,888.  If this is included the simple payback times in Melbourne become:
Without export limiting: 2.4 years
With a zero export limit: 8.7 years
Smaller Solar Systems Reduce Payback Periods
Generally speaking, the smaller the solar power system, the higher the self-consumption.  This graph5 shows the average self-consumption figures in Sydney for solar systems of various sizes: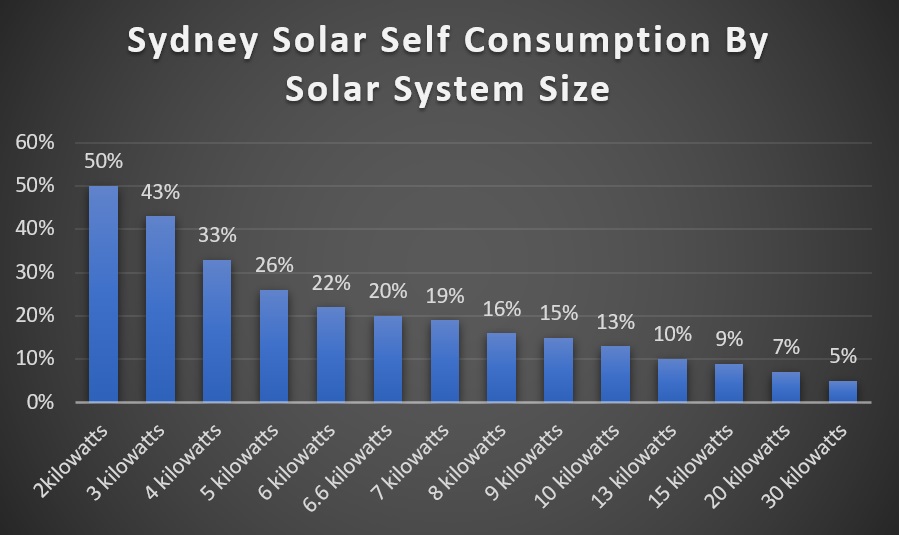 As you can see, the smaller the solar system, the higher the average self-consumption.  Because doubling solar self-consumption halves the simple payback time for zero export homes, this makes it look like the answer is to install a small solar power system, but if the system is too small the home will miss out on potential savings.  This is easy to show using a reductio ad absurdum6 that takes buying a small solar system to a ridiculous extreme.
If we install 1 watt of solar for $1 in a zero export Sydney home, then with 100% self-consumption its simple payback period will only be two years and eight months.  The drawback is, after two years and eight months it will only have saved $1.  If we'd instead installed a 3 kilowatt system instead, with an average 43% solar energy self-consumption percentage for a system that size we'd save nearly $1,500 over that time.
So the answer is not to install a system that is of small size, but rather one that is the right size.
The Right Size System For Zero Export Households
The perfect size for a solar system, from a financial point of view, is one that provides a return that is a tiny bit higher than the next best investment a household could make.  This is easy to say, but difficult to work out.  To keep things simple, I am just going to calculate the largest solar power system a zero export home can install in each capital that will have a simple payback period of ten years.
The reason I'm picking a ten year simple payback period is that you are very unlikely to have any problems with your system in that time, provided it comprised of reliable components and installed by an installer who does quality work.  The parts can be under warranty for the entire period.  Solar panels have a minimum product warranty of ten years, and it's not difficult to get an inverter with a ten-year warranty or extend a five year warranty to that long.
What About Capital And Maintenance Costs?
Because the simple payback time is simple, it ignores other factors such as the cost of capital.  If you buy a system with a ten year simple payback and borrow money at 6% to pay for it and inflation averages out to around 2%, that will add about five years to the payback time.  Also, if you get the system inspected every five years as recommended/required the cost of a couple of them may add another year.
While I could dive into the nitty-gritty details and do some complex calculations that factor in capital and other costs, I'm not going to do this for several reasons.
Firstly, it's not unreasonable to expect good quality solar to last 15 or more years without a problem.
The cost of capital has never been lower than at the moment.  The best term deposit rate I could find at the moment is 1.35%.  If the inflation rate is higher than that, which seems likely, it will make stashing money in the bank a losing proposition.
But the main reason I'm not bothering to go into more detail is:
It's hard work and hurts my brain.
System Size With 10 Year Simple Payback
If I keep the same assumptions I've used so far while also assuming:
Solar costs $1,000 per kilowatt.
The solar energy self-consumption rate is average for a system's size and location.
Then the system size with a ten year payback in each capital will be:
Even with a zero export limit, the size of a solar system that has a simple payback period that many people should find reasonable given how long they can last,7 can be quite large.  In Adelaide, it's 8 kilowatts due to high electricity prices while in Melbourne the current Victorian Solar Homes rebate of $1,888 can boost it from 6 kilowatts to 8.  But in Brisbane and Canberra low electricity prices make the system size reasonably small by today's standards at only 4 kilowatts.
Unfortunately, the above graph is not perfect and has several drawbacks:
It assumes the cost of solar is a constant $1,000 per kilowatt and ignores the fact that larger systems tend to cost less per kilowatt and smaller ones tend to cost more.
It overlooks that budget-conscious people can usually find systems for under $1,000 per kilowatt from quality installers in state capitals.  These systems won't have the highest quality panels available, but will still be reliable.
It ignores price differences between capitals, with Perth having the cheapest solar and Hobart and Darwin the most expensive.
I can make rough and ready but still reasonable guesses to adjust for this by assuming the following:
Systems costs $800 per kilowatt with each kilowatt of capacity under 6.6 raising the price by 10%.9
Systems cost 10% less in Perth, 10% more in Hobart, and 20% more in Darwin.
Electricity prices average, in real terms, 10% less per kilowatt-hour than now.  They were expected to fall before the coronavirus crisis, and they'll fall even more after the 1st of July because of it.10
With these adjustments, the system size that will give a ten year simple payback period for homes with average solar self-consumption will be: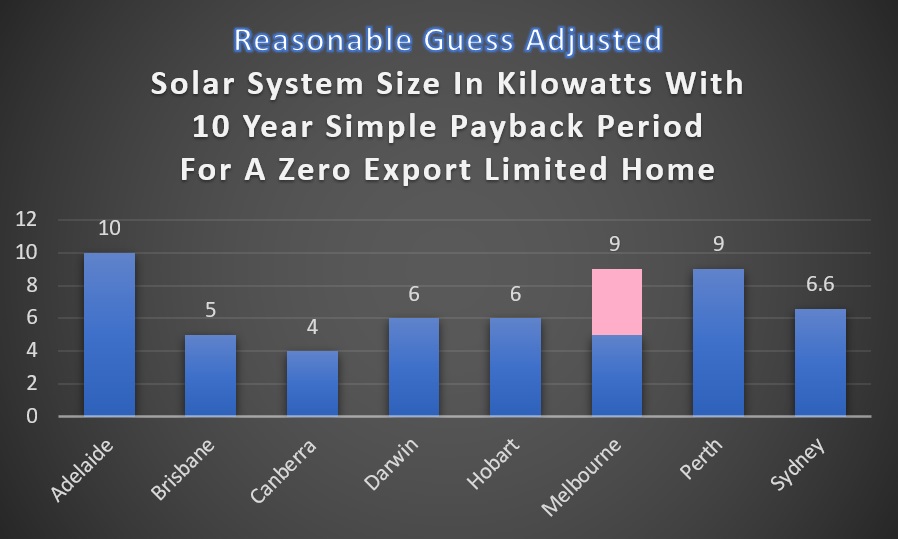 The adjustments result in system size increases in Adelaide, Brisbane, Perth and Sydney thanks to the lower cost of larger systems.  The lower cost of electricity decreases system size in Darwin. Also, it decreases it in Melbourne unless the $1,888 Victorian Solar Homes rebate is used, which boosts the system size up to 9 kilowatts.
Adjusted Simple Payback Time Of A 6.6 Kilowatt System
What do these adjusted figures do to the simple payback time of the most common 6.6 kilowatt system?
I've shown it in the graph below for the three capitals where solar power provides the most benefit for zero export limited homes: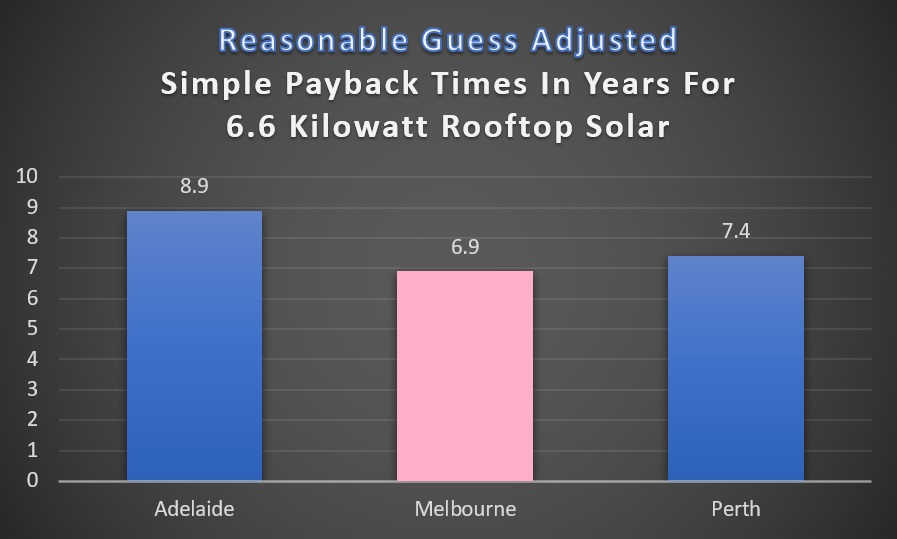 The bar for Melbourne is pink to indicate that it's the Victorian Solar Homes rebate.
Provided solar continues to fall in price, which seems likely,11 then getting solar panels despite having a zero export limit will become worthwhile even for impatient people who want short payback periods.
Batteries Don't Make Sense For The Typical Zero Export Home Outside SA
As I've mentioned once or twice in the past, batteries don't make financial sense for normal households, yet.  The good news is this will change as they fall in price, and it becomes possible to join Virtual Power Plants (VPPs) that provide fair returns.
I thought zero export homes would provide batteries with a chance to shine and show they can be a good investment.  Unfortunately, I found — for a typical household — batteries still don't make economic sense even with a zero export limit, and can't pay for themselves except in South Australia that has the country's highest electricity prices and a hefty state battery subsidy of up to $4,000.  Since zero export homes can't join VPPs they can't help payback.12
Using our Solar & Battery Calculator, I took a typical South Australian home with a 6.6 kilowatt solar system and 21% solar energy self-consumption and worked out the simple payback period for a 10 kilowatt-hour battery that costs $10,000 fully installed before subsidy and $6,000 after.  Its simple payback period was eight years with the current price of electricity:

That's within the ten year warranty period that's the usual maximum for home battery systems.  In other states, the same battery has a simple payback period of around 15 years at best for a typical zero export household.  While I don't think it's unreasonable to expect a home battery to last a few years longer than its warranty, I wouldn't rely on one to survive 15 years because batteries degrade over time and with use in ways that solar panels and inverters don't.
But just because, outside of SA, batteries won't pay for themselves in most zero-export homes, it doesn't mean they won't pay for themselves in your home.  If your electricity consumption patterns are battery-friendly, they can make sense.  But I won't go into the details of what makes zero-export-plus-batteries a good investment.  I'd rather wait until the advanced version of our Solar & Battery Calculator is ready. It will make the task a lot easier.
The Final Grumble
While not being able to export solar electricity is a pain, not to mention stupid in a world suffering the effects of global warming, installing solar panels can still make sense for zero-export homes.  While in some locations the optimal size of zero-export systems will be small, as the cost of solar falls that optimal size will increase.
If electricity prices fall, as I expect them to, this will have the opposite effect, but — on the bright side — if you have a zero export limited home your solar feed-in tariff isn't going to get any lower.