A solar powered ferry project for Far North Queensland's Daintree River may be in doubt.
Situated around 50 kilometres from Port Douglas, the existing ferry service connects sealed-road access to the northern section of the Daintree National Park, Cape Tribulation and enables travellers to go on to Cape York via the Bloomfield Track. It's the only cable ferry operating within tropical Australia.
It's usually a busy operation – according to statistics from Council, 98,994 tickets were sold for ferrying cars and utes in 2018-19, and 8,586 for coaches. Local company Sirron Enterprises Pty Ltd has been operating the ferry service since 2006.
Last December, Douglas Shire Council announced a hybrid solar-powered vehicle ferry with a greater carrying capacity was to be added to the Daintree River Ferry Crossing fleet under the next contract.
Council's Chief Executive Officer was to finalise contractual negotiations with Sirron Enterprises for the new vessel, which would be able to carry 36 vehicles – 9 more than the current ferry. Here's an artist's impression of the new Daintree Ferry, which would operate on solar power most of the time.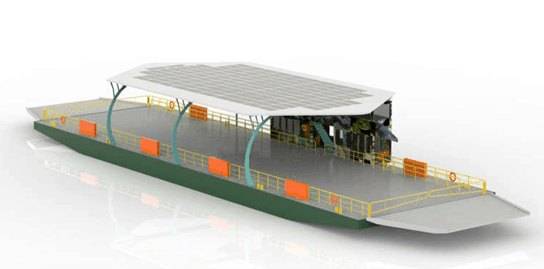 Aside from that, there wasn't much detail about the vessel, but at that point Council seemed fairly confident about the project going ahead.
"Council is excited to continue improving the iconic Daintree River crossing with our contractors, who have committed to rolling out online ticketing, camera technology, a dedicated website and alleviating peak season queueing issues through a two-ferry solution," said Douglas Shire Council Mayor Julia Leu back in December.
Trouble In Paradise?
Nearly 5 months have passed since Council made its resolution, and a spanner may be about to be thrown into the works.   When commencement of the caretaker period for the local government elections came into force, Council officers were still thrashing out details of the contract.
At Council's meeting today it will be moved that the contract negotiations be suspended while options for a bridge be explored and further community consultation carried out.
While a bridge is the most cost-effective solution in the long term and the most efficient, it was previously decided it wouldn't provide the best tourist experience; and there were environmental considerations. The second least expensive option was the two ferry solution.
"While it is possible that the two-ferry solution remains the most effective overall means for crossing the Daintree River, it is reasonable to pause the current negotiations so that all options including a bridge can be properly assessed. Further, the community needs to be able to have a say based on all options," states the Mayoral Minutes in today's meeting agenda.