I'm really excited to have this opportunity to tell you about Virtual Power Plants.  I'm virtually beside myself with excitement.  That's not just a horrible joke.  I've actually written little bits of this post in a variety of houses and used t'internet to store each file in the cloud.  Once I'm done pasting them all together I'm sure you won't be able to tell the difference between this and an article that was centrally generated.
A Virtual Power Plant — or VPP for short —  enables many separate battery systems to act as one.
This allows the high-level VPP operator to run them as though they were one large power plant.  A VPP can:
Sell stored solar power to the grid.
Get paid for helping keep the grid stable.
Suck up grid power when it's cheap and sell it later for a profit.
These are three things a home battery normally can't do1 and so has the potential to make an unsubsidised home battery systems go from being a waste of money to possibly paying for themselves.
In South Australia, which now has a big fat solar battery subsidy, all systems that want to receive it must be capable of joining a Virtual Power Plant.  The subsidy is large enough to have a major effect on the entire Australian market and means most home battery systems  will soon be VPP capable no matter what state they are sold in.  Once the electronics for this sort of thing becomes standardized it should be very cheap.
As an example of what I mean, I have a toy that has more computing power than a 1980s supercomputer. Don't be fooled by the trendy, fake, retro patina.
I've already written about the Tesla VPP that's being trialed in Adelaide and the Sonnen Flat VPP.  Later I'll write about the AGL one but I'll probably get someone else to write about Simply Energy's S.M.A.R.T. Virtual Power Plant because I'll probably be sick of it by then.  In this article I'll cover:
The two broad types of VPP — privately owned and company owned.
How VPPs help home batteries pay for themselves.
Why we can expect electricity retailer VPPs to try to rip us off.
Battery wear and tear.
How VPPs could become redundant.
VPP Potential
It remains to be seen how important VPPs become, but they may become standard for these reasons:
They may be the only way households can obtain benefits VPPs provide.
Electricity retailers may ensure they stay the only way household can get these benefits so they can profit from VPPs.
I hope the second point above transpires as far too cynical.2
Virtual Power Plants have the potential to become major players in the nation's power supply.  The South Australian government is subsidizing 40,000 home battery systems, all of which must be VPP capable3.  If they all become part of a virtual power plant and are able to output an average of 4 kilowatts of power each, that would be equivalent to a 160 megawatt peak power plant.  It could provide around 5% of the state's highest ever grid demand.4
Maybe we'll eventually install far more than 40,000 battery systems.  If one in five South Australian homes installs a system that can offer an average 4 kilowatts of power and they all join a VPP it would be able to provide 533 megawatts.  That would effectively make it the second largest power plant in the state and able to supply close to 16% of South Australia's highest ever grid demand.  And if every house had a battery system that was part of a Virtual Power Plant we could shut down most of our power stations.
VPPs will only be able to give their maximum power output for two hours or so, but that's still enough to make a huge difference.
Privately Owned Vs. Company Owned Battery Systems
VPPs come in two basic types:
Company owned:  A company such as Tesla owns the battery system and installs in your home for free.
Private ownership:  You pay for a battery system and opt into joining a VPP in return for some form of compensation.  For current trials this is often a reduced battery price.
Company Owned Battery Systems
Tesla is trialing a VPP in Adelaide where they install a Powerwall 2 along with rooftop solar in housing commission homes.  The tenants pay nothing for this and receive electricity bills that are around 30% less than what they were paying before.  Tesla owns the electricity generated and controls the use of the battery to maximise the amount of money they can make from their VPP.
The fairly recently elected SA Liberals have said the initial trial is going ahead but I have doubts it will go further than that.  The new state government is subsidising 40,000 VPP capable battery systems and that has got to hurt what Tesla's VPP will earn.  I think the SA government will be happy to let the Tesla VPP wither on the vine — which is an appropriate metaphor for the wine state.  But maybe Tesla will still manage to pull it off despite the extra competition.  They have achieved great things in the past.  It's just these great things achieved in the past all happened in the future relative to when they promised them.  Tesla may switch to a privately owned Virtual Power Plant model to take advantage of the SA battery subsidy, but their recent Powerwall price increase won't help sales.
Privately Owned Battery Systems
At the moment if you want to join a VPP it is likely you'll have to do it by buying your own battery.  Right now you can get a Sonnen battery and join Sonnen Flat5 or you can take part in a VPP trial which — as far as I am aware — are only available at the moment in and around Adelaide.  But I suspect trials will either be carried out in other parts of Australia or electricity retailers will have gained so much experience that fully formed VPPs will spring forth like Athena from the head of Zeus.6
With private ownership you buy the battery and receive a financial incentive to join a Virtual Power Plant.  For those able to join Sonnen Flat the advantage is you will have all your electricity use — up to a limit — supplied for a flat rate.  Depending on your circumstances this can be much better than paying for grid electricity normally.  In current trials electricity retailers will heavily subsidise the battery system cost in return for occasionally controlling it.  I know one person who is part of the AGL VPP trial and he says they never use his battery.  But it is a trial so it's possible he's part of a control group.
SA Battery Subsidy + VPP Trial Subsidy = Dirt Cheap Batteries
The South Australian battery subsidy can apply to batteries that are already subsidized as part of VPP trials and so it may be possible to get them dirt cheap in January when battery systems other than Sonnen can receive the subsidy.  I'll look into this and let you know what kind of deals are available.
Spoiler From Finn: If AGL's LG Chem + SolarEdge offer gets approval for the SA subsidy and they have any left come January – it should be free. If the Powerwall 2 is added as an approved battery under the SA subsidy, then you should be able to get one fully installed from Simply Energy for $1,299 from January. That's a pretty good bloody amazing deal.
3 Ways VPPs Can Make Money
Companies would not be spending resources trialing VPPs if they didn't think they could make money from them.  It's not like in 1492 when an Italian loony could rock up to the King and Queen of Spain, declare he thought the planet earth was the size of mars, and get three ships to sail to India.  These days it has to be clear there is profit to be made before money gets put into projects.
There are three main ways Virtual Power Plants can make money:
Electricity arbitrage:  This is buying electricity when the price is low and selling when it's high.
Ancillary Services: Virtual Power Plants can be paid to provide services that stabilize the grid.
Ripping you off:  An electricity retailer isn't going to hand over all the savings your battery provides them unless they have no choice.
It's Arbitrage!
Arbitrage is simply buying low and selling high, which is far more effective at making money than vice-versa.  This graph shows the wholesale price of electricity in South Australia yesterday: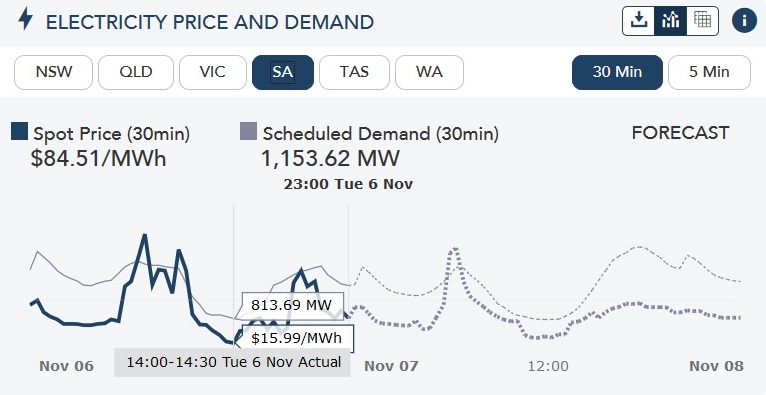 The lowest price is highlighted and came to $15.99 per megawatt-hour, which is 1.599 cents per kilowatt-hour.
This is the same graph but with the highest wholesale price of electricity in the evening highlighted: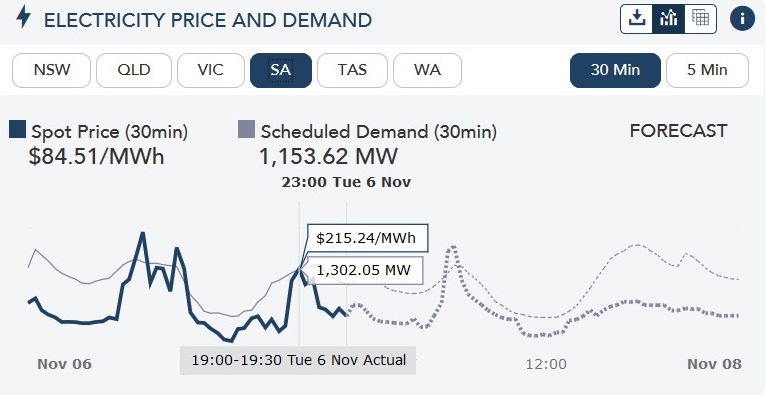 It was 21.5 cents per kilowatt-hour.  As a household in South Australia is likely to be paying around 37 cents per kilowatt-hour for grid electricity, they'd probably prefer to use that stored energy themselves than send it into the grid.  But yesterday was a pleasant spring day.  At times, especially on hot summer days, the wholesale price of electricity can go over $14 per kilowatt-hour.  If you are a skilled math guy like me you'll know that $14 is at least 3 times more than 37 cents.  So a VPP can tell households, "Most of the time the energy stored in your battery is all for you.  We just want to discharge it for maybe 50 hours a year."  If in that 50 hours they discharge 250 kilowatt-hours at an average wholesale price of $5 they will receive $1,250 in payment from the electricity market.
Important detail: One good thing about selling electricity to the wholesale market is the sold electricity will reduce the household's grid electricity consumption first and then the surplus will go out into the grid.  The VPP still gets paid for all the electricity it discharges from its batteries as the market doesn't care if you use that energy or your neighbor does because it will still cut the demand for grid electricity.
Ancillary Services
VPPs can receive payment for providing ancillary services that improve grid stability.  Rather than go into a long spiel about ancillary services I'll just briefly cover Frequency Control Ancillary Services or FCAS.
In Australia, Europe, and all sensible countries the grid frequency is 50 hertz.  Japan is only half sensible so only half the country is on 50 Hertz.  The United States' grid is on 60 hertz on account of George Washington having six fingers on each hand.  Australia tries to keep its grid frequency between 49.9 and 50.1 hertz.  But when the demand for grid electricity suddenly rises the frequency decreases.  By supplying battery power VPPs can prevent this.  There is also a payment for consuming power when the demand suddenly drops.  This payment is tiny compared to providing power, but can still be useful.
This graph shows how much FCAS earns and how most of the payment is for response in the first 5 minutes:
While an individual household may already be discharging their battery at its full power when FCAS is required, on average there will always be many batteries in a Virtual Power Plant operating below full capacity and so it will always be able to give a good, hard, 5 minute FCAS.  Because a 5 minute discharge will hardly be noticed, this service has little cost to the household while providing revenue for the VPP.
Diminishing Returns
While ancillary services can currently provide a significant amount of revenue, the amount of battery storage in South Australia is already decreasing FCAS earnings.  It may not be long at all before the FCAS market is completely FCASed up from the point of view of people trying to make money from it.
The same applies for electricity arbitrage.  The more storage capacity installed the less money batteries will be able to make on the wholesale market.  And batteries aren't just competing with each other but with other forms of energy storage such as pumped hydro and solar thermal.
Because of these diminishing returns we can expect fairly continuous downward pressure on VPP compensation.  As batteries will continue to fall in price installed capacity should still increase, but currently installed systems that looked like they would pay for themselves, thanks to being part of a VPP, may end up being money losers.
Ripping You Off
If your battery saves an electricity retailer a net $1,000 a year by being part of their VPP then maybe the retailer will pay you $1,000 a year in compensation.
Or, more likely, they will try to keep as much of that $1,000 for themselves as possible.  Competition between retailers may limit how much they rip you off, but we've seen how confusing they make their electricity plans so I have zero confidence they will not do everything in their power to pay households as little as possible unless there is unusually effective regulation stopping them.
Wear And Tear On Your Battery
While a VPP only needs to spend a limited amount of time using your battery to make money, it will still contribute to wear and tear.  Some batteries are more resistant to deterioration than others.  Many, including the LG Chem RESU and Tesla Powerwall 2, only provide a limited number of kilowatt-hours before their warranty ends.  But lithium iron phosphate batteries may be warranted for the first of 10 years or 10,000 cycles and so should be very suitable for use in a Virtual Power Plant.  Before joining you should consider how much the extra wear and tear is likely to cost you.
VPP:  Service Providers Or Parasites?
Provided the amount you get ripped off isn't too bad it can make sense to join a VPP if you own a battery.  In most of Australia it is not possible for a household to independently sell battery power on the wholesale market.  Amber Electric is the only retailer I am aware that allows this.  Right now they are only available in South Australia and the Ausgrid network in NSW, but they say they intend to spread to the other eastern states.  Battery systems would have to be made capable of independently responding to price signals to take advantage of this, but that's something we know software can do these days.
While one home solar battery can't be relied on to always be able to provide ancillary services as a VPP can, it could receive a direct payment for being able to provide ancillary services most of the time.  So if all Australians had the option to sell electricity at wholesale prices and to also receive direct payments for the ancillary services they provide, it would not be necessary to join a Virtual Power Plant.  Battery systems would basically function if they were part of a VPP but there wouldn't be a middle man between them and the grid taking a cut. Wouldn't that be nice.
(Added January 16, 2020: Compare Virtual Power Plant offers with our new VPP comparison table)