Only 8 months after increasing the price of the Powerwall 2 in February, Tesla is about to bump it up again. This time by a much heftier amount.
Update 13 October 2018: At the moment the price of the Powerwall 2 is no longer on Tesla's Australian site. But Tesla has informed me the Australian price of the Powerwall 2 will be $12,350. That is $10,100 for the Powerwall 2 plus $2,250 for the other bits and pieces it requires to work. That's an increase of $2,750 or 29%, which is more than I expected1 Tesla also says the installation cost will be $1,450 to $4,400. If we take the middle figure from that range then an installed Powerwall 2 will set you back $15,275. Tesla says the price increase is global and not timed to take advantage of events in Australia. That would mean it's a coincidence the Powerwall 2 price rise is happening at the same time battery subsidies are being introduced in their number one market.

Tesla has confirmed Australians will have to pay more but are yet to reveal how high the retail price will go. Fortunately, I have a secret sauce (or two) who tell me the wholesale price will increase by between about $1,400 and $1,800 (Tesla seem to have told different customers different prices). After adding GST I expect the retail price will rise by at least $2,000, taking its cost before installation from $9,600 to $11,600 or more. This would be a 21% increase from the current price and a 29% increase from the start of the year.
Additionally, at some point in the last 5 months Tesla also raised their installation cost estimate from "$1,150 to $2,900" to "$1,450 to $4,400". If we compare the middle of those ranges that's an increase of $900. If the retail price of the Tesla Powerwall 2 turns out to be only $11,600 and we add the mid-range figure from Tesla's current installation estimate, the final installed cost will be around $14,500.
This is the opposite of what is supposed to happen to the cost of batteries. At the same time Tesla has been jacking up Powerwall prices, the cost to make their batteries has been declining. In June Elon Musk, the CEO of Tesla, said their battery cells2 should get down to $1413 per kilowatt-hour by the end of this year. As Tesla said their batteries were "under $268" in April 2016, that's close to a 50% decrease in under 3 years. As Powerwalls aren't available at the moment, this means by the time you get your hands on one the 14 kilowatt-hours of battery cells inside it will cost Tesla less than $2,000 for a system that is likely to cost over $14,500 installed.
Several explanations for the latest increase are being thrown around. Possibly to see which ones will stick. But I'm confident I know what the main reason is and it's not something that has been mentioned by Tesla. Explanations I find unconvincing include:
Battery cells are required for Tesla's electric cars.
The Australian dollar is down.
Lithium prices are up.
I'll explain why I think these explanations are either incorrect or don't justify the whole increase. My best guess for the reason behind the Powerwall price hike is that Tesla is taking advantage of the South Australian battery subsidy starting this month and the Victorian battery subsidy that may begin next year.
Prices On Tesla's Powerwall Page
Here is what Tesla had on their Australian Powerwall page in April: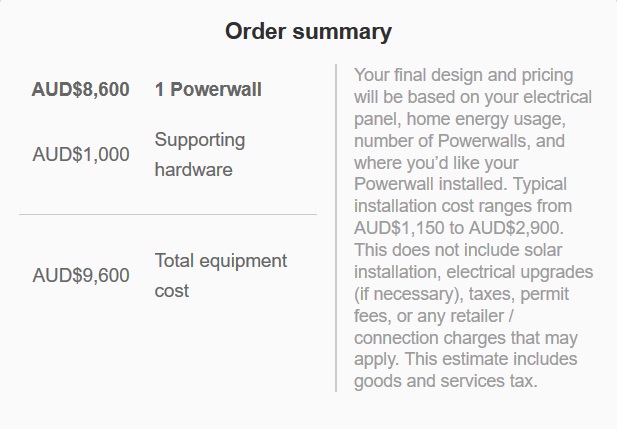 And here's what is on their site at the moment: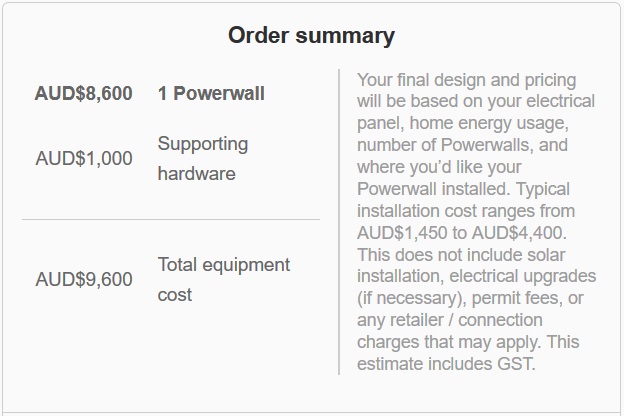 The latest price increase hasn't been added yet, but you can see Tesla substantially increased their estimated Powerwall installation price. If you want to give that a positive spin I suppose you could say rather than being a price increase they were merely adjusting their estimate to better reflect reality.
Because Tesla hasn't included the price increase on their page yet I decided to use my epic image manipulation skills to show you what it may look like in the future. I grant Tesla permission to use the following image since I doubt they'll be able to do any better: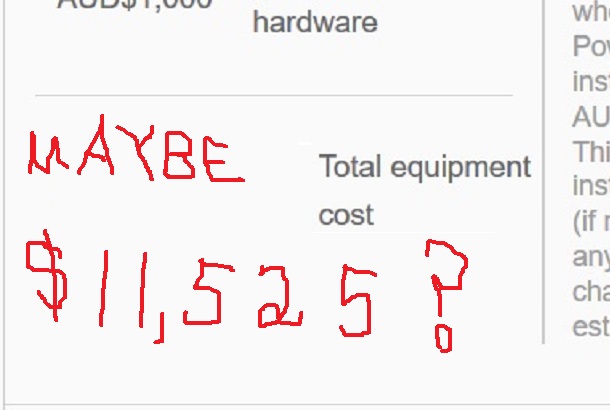 Battery Cells Needed Elsewhere?
One explanation I've seen given for the price increase is Tesla needs to put all their effort into producing their Model 3 electric car. To me this makes no sense at all. So far Tesla has produced around 100,000 fewer Model 3 cars than they originally said they would, so there should be no shortage of battery cells. Not unless they never had the ability to produce cells for that many cars.
But let's say that, for whatever reason, Tesla's supply of battery cells was constrained and they decided it was more important to put them in their cars than in Powerwalls. This in no way requires them to increase the price of the Powerwall 2. They could instead simply make Powerwalls unavailable until their cell production increases. They're already unavailable in Australia until at least early next year. If they instead decide to make Powerwalls available but at a higher price then that is a deliberate choice by the company to charge more money per unit and not something they are forced into doing by a lack of battery cells. After all, the cost of manufacturing the cells shouldn't have gone up.
The Australian Dollar Is Down?
Back in February when Tesla first hiked the cost of the Powerwall 2 for the first time this year the Australian dollar was worth around 79 US cents compared to 71 cents today. That's a decline of 10%4.
If the Tesla Powerwall 2 increases by the $1,800 one of my secret sources reported (plus GST), then its price will raise by 20%. So the fall in the Australian dollar explains half that price increase and currency fluctuations are something Telsa should have already been prepared for. After all, there's a reason why there are kangaroos on our dollar coin.
Lithium Prices Are Up?
Another excuse for the price increase is that lithium prices are up. This excuse was thrown at the wall and managed to bounce off and hurt my head because lithium prices are the opposite of up. They are down. I'm not saying lithium prices are so down they should be prescribed lithium to cheer them up, it's only a fall of around 8% since since the Tesla Powerwall's last price increase in February, but down is still infinitely less up than up.
Looking at the cost of cobalt, which is another element used in Tesla battery cells, I see it's also down since the February price increase:
While Tesla Powerwall battery cells require both lithium and cobalt, the cost of these elements only make up a tiny portion of the total cost of a Powerwall 2 and so their price fluctuations only have a minor effect on the cost of producing it.
I Talk To Tesla
Last Thursday I spoke to a Tesla representative at the All Energy Expo in Melbourne. He didn't seem aware of the upcoming price increase, or the estimated installation cost on their website, or that Tesla has said Powerwalls won't be available in Australia until "early next year". In his defence, he appeared to be about 16 years old and I blame his masters for not giving him correct information. But it is a worry when people wearing the Tesla T-shirt know so little about the price and availability of their company's products.
In an attempt to talk to someone who was at least 17, I called Tesla yesterday and spoke to some very helpful people. But I won't give their names to try to keep them out of trouble for talking to me5. From them I learned the following:
They confirmed the Powerwall price was going up but they didn't know by how much.
When I told them the price hadn't been increased on their website they were surprised but said they would honour the current price for anyone who puts down a deposit.
When asked about their estimated installation cost they said the lower end was inaccurate and would be adjusted. I'm pretty sure they meant adjusted upwards.
When I asked why the price was increasing I was told that the exchange rate was one reason and the company needed to stay in business was another.
When I asked when would be the earliest time Tesla Powerwall will be available again, I was told November. Given what Tesla has said previously and what various secret sauces have told me I think that is way too optimistic.
If you are absolutely certain you want to order a Tesla Powerwall 2 and are either not eligible or not interested in receiving a subsidy, do it now before the price increase goes through on their website. But if you're not 99.9% sure, my advice is not to rush into it. While the Powerwall price is going up the general trend is for the cost of batteries to fall so if you wait they will get cheaper.
If A Battery Price Goes Up Its Subsidy Should Go Down
I personally believe the main reason Tesla is raising the price of the Powerwall 2 is to take advantage of the battery subsidy offered by the South Australian Government and one that may be available in Victoria next year. I'm not a fan of battery subsidies because at the moment home battery storage increases greenhouse gas emissions. But if we are going to have them the subsidy money should be used to put batteries in people's homes and not put extra money in battery manufacturers' bank accounts. So I suggest the South Australian Government take action against any battery manufacturer that has raised their prices since the start of this financial year.
Battery manufacturers that increase their prices could be banned from receiving any subsidy, but this seems a little harsh to me. Instead the amount of subsidy received could be reduced by an amount equal to the price increase. This should discourage battery manufacturers from hiking prices unless they have no choice. Allowances can even be made for changes in exchange rates. Just so long as prices come down if the exchange rate improves. If the South Australian Government doesn't act, other battery manufacturers may raise their prices and eliminate much of the benefit of the subsidy for South Australians. But the real losers will be people in other states who will have to pay more for batteries without receiving the benefit of a subsidy.