Sorry I've been slow in reporting this, but back in February Tesla raised the price of a Powerwall 2 in the United States by 400 Mickey Mouse dollars; an increase from US$5,500 to US$5,900.  We've also copped it sweet here in Australia and the price has increased by $600 to $9,600 before installation.  The only mitigating circumstance I can see is that all Tesla Powerwall 2 battery systems now come with full backup capability.  It's no longer an optional feature.
—
UPDATE October 2018: There's been yet another Powerwall price increase since this article was published.
—–
This price increase is the exact opposite of what is supposed to be happening with the cost of home battery storage.   It may be the result of Tesla being too optimistic about how cheap they could make them, or it might be because the company is desperate to raise money due to the huge delays and quality control issues they are having with the production of their Model 3 electric car.
I'm a great believer in compromise, so I don't see why both reasons can't be right.  I'd even throw in a third reason of my own involving orders from the planet Mars if I thought anyone would fall for it.
A History Of Australian Powerwall 2 Prices
Prior to the Powerwall 2's official launch, Elon Musk made some rather optimistic remarks about its price but I will ignore them.  After all, when you get down to it, he is only the CEO of the 383rd largest company in the United States and so can't be expected to get things right.  CEOs can't be held responsible for their public statements.  That would be positively un-American.
When the Powerwall 2 battery first launched this price appeared on Tesla's Australian site: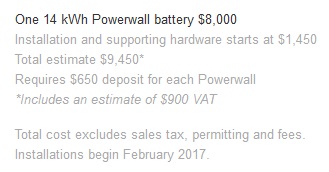 That's $8,000 Australian along with a claim that "Installation and supporting hardware starts at $1,450."  But it only took Tesla a couple of days to tell us they had made a mistake and that was the price without GST1.  This is what they replaced it with: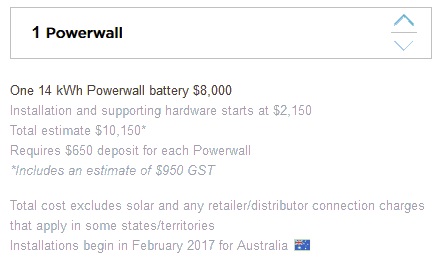 The $8,000 price remained the same, so apparently they didn't forget GST, but the cost for "Installation and supporting hardware" went up by $700 and started at $2,150 instead of $1,450.  Tesla stuck with this price for a little over a year and now they have this on their Australian site: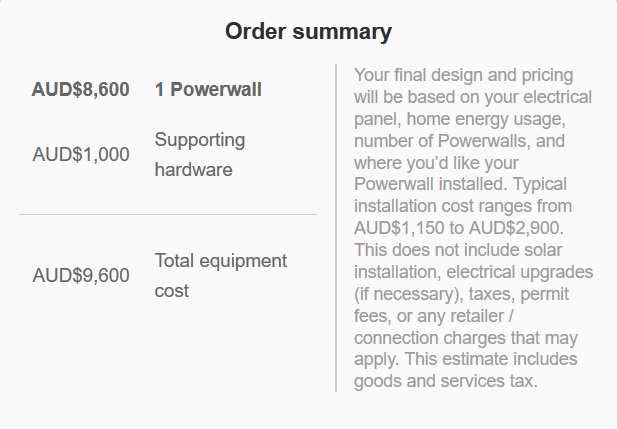 This shows a cost increase of $600.  They have improved the way the price is set out as it is now more clear there is an additional charge for "Supporting hardware".  But in my opinion, it's still clearly in breach of Australian Consumer Law on displaying prices.  One price including all components must be given, so the price of the Powerwall 2 is actually $9,600.  That "Supporting hardware" is not an optional extra.  Your Tesla Powerwall 2 won't work without it so it has to be included in a single price.
Tesla's Powerwall Installation Cost Claim
Tesla also says that, "Typical installation cost ranges from AUD$1,150 to AUD$2,900."  So using Tesla's figures an installed Powerwall 2 will cost you somewhere from $10,750 to $12,500.  Even the upper end of this does not leave much money for installers to make a living. So if anyone offers you an installed Powerwall 2 battery for less than this range you are either very very lucky or something strange is going on.  For example, if it's bundled in with a solar system then they've bumped up the solar power system's cost so they can try to distract you with what appears to be a great price for a battery.
Australian Price = US Price
One thing I have always admired about Tesla is they don't price discriminate when it comes to selling goods in Australia.  While other electric car manufacturers have charged far more here than they have in their home market, Tesla has always sold their cars in Australia for pretty much what Americans pay after adjusting for tax.  The same applies for their energy storage systems.  Currently Americans have to pay US$6,600 for a Powerwall 2 battery.  Using today's exchange rate of 76 cents to the US dollar and adding our GST that would come to AUD$9,550.  Almost the same as what we now have to pay here.
Why Up Instead Of Down?
The cost of batteries has been tumbling:
Tesla is doing considerably better than the graph above suggests and it is possible they are now only paying costs around $200 Australian per kilowatt-hour to make their battery packs.  I suspect they are actually paying more than that, but not much more.
So if batteries are falling rapidly in price, why the hell is Tesla charging more for Powerwall 2 instead of less?  My theory is it's because they want more money.  Oddly enough, this seems to be everyone else's theory as well.
Some say Tesla may have underestimated how much it costs to make a Powerwall 2 while others say they need money because of hold ups with their Model 3 car production.  I don't know if the first idea is true but I do know the second one is.  Here's a whole site dedicated to showing how far behind Tesla is with their Model 3 and here's a graph showing Tesla's predictions for cars produced per week and how incredibly far off they are in reality:
If Tesla had achieved their original target they'd now be selling around 10,000 Model 3 cars a week while raking in piles of money and keeping their investors happy.  But currently their investors are not happy and if things don't improve fast, eventually a group of them will say, "We'll lend you the money you need to not go bust, but we want some changes so we can be confident our investment is safe."  These changes will probably involve kicking Elon Musk out as CEO and either exiling him to Mars or making him Vice President In Charge Of Crazy Shit To Distract The Press From Bad News.  We know he's good at that.
Because Elon Musk would rather go to Mars on his own terms, as Commander rather than cargo, he's doing everything he can to raise money ranging from asking for a $66,000 deposit to reserve a new Tesla Roadster to raising the price of the Powerwall 2 battery.
Tesla Can Get Away With It — For Now
Tesla has no problem selling every Powerwall 2 it makes at the moment and the high demand for them means they may have been able to get away with increasing the price without losing sales.  So in the short term Tesla's management gets what they want — more money coming in and a slightly reduced chance of a major restructuring.
But in the longer run Tesla loses and the chance that home energy storage in the future will be dominated by an American company named after a Serbian founded by a South African grows smaller each day the price rise remains in effect.  Tesla's competitors are main beneficiaries of the price increase and they will expand their market share.  This means Tesla will be in a less secure position in the future when it's faced with high quality but low cost home battery systems coming out of China.
Footnotes
Or VAT as they seemed to think it was called here. ↩