Tesla has told me they can provide a fully installed Powerwall 2 in South Australia for $9,300 after the state's $6,000 battery subsidy. The three phase version will cost "a few hundred dollars more" and there is a 12 week waiting period.
I got this information from the Tesla stand in Radelaide's1 Rundle Mall. When Finn told about the stand's existence I immediately decided to check it out and began strutting towards Rundle Mall, confident my beard was now long enough to prevent mall security recognizing me. I was very excited because Rundle Mall is the best mall in all the land. It's got balls!
When I got to the ball mall I managed to walk right past the Tesla stand without noticing it. I admit I'm not the most observant person in the world, but I was expecting a Tesla stand to be a little more flashy and extroverted than the rather small thing I eventually found. I was expecting an electric car to be on display and perhaps a small marching band. I'm not saying Tesla should have had one of the living ex-Presidents there shaking hands — just putting one of the dead ex-Presidents on display would have been enough. I'd say my lousy observation was only 99% responsible for my not noticing it at first. The other 1% is all on Tesla for their lack of American excess.
When I found the place I used my ninja abilities to spy on a Canadian who was asking a Tesla representative all the right questions.2 Thanks to his investigative abilities I was able to confirm Tesla solar tiles aren't a thing that's available to anyone. They are being "tested" in the United States and cost around $110,000 Australian dollars per house. I was surprised Tesla was willing to admit anything they make is ridiculous, so good for them.
There was an empty Tesla Powerwall 2 display case.3 Unfortunately, there was no sign of the grey gateway box the Powerwall 2 requires to work, so people stopping by the stand won't be getting a realistic impression of what the system looks like when installed. There was also a solar panel on display but it was pretty lousy as it looked like something that might have come from a caravan and was not a full sized panel that gets installed on roofs.
The Tesla rep told us — the Canadian and I — that a fully installed Tesla Powerwall 2 in South Australia will cost $9,300. That's after the state's battery subsidy is applied. Because Powerwall 2 has 13.5 kilowatt-hours of usable storage capacity when new it qualifies for the maximum subsidy of $6,000. I guess this means if you are not in South Australia you can get one installed for around $15,300.4 This is very close to the middle of estimated range Tesla gave the last time they increased its price.
The Tesla representative told me Powerwall 2 installations would be done by Skynet, which is a bit of a worry.
However, I am pretty sure he actually meant Skybridge, which is kind of different. Or at least, I hope it is. To try to clear up the confusion I asked another Tesla guy but I couldn't get any names out of him. He said it would vary depending on the situation. He also told me there was a 12 week waiting period. Technically that's only 2.7598 months but Tesla have a reputation for not getting things done when they say they will.
A 3 Phase Powerwall Solution "For A Few Hundred Dollars More"
There is now a 3 phase version of the Powerwall 2.
This has a gateway box that is able to supply power from the Powerwall battery to all 3 phases. It will only be able to supply power to one phase during a blackout, but that's not a huge problem if you connect everything vital to that phase.5 I'd say you definitely want this if you are one of the minority who have 3 phase power. I wasn't given a precise figure, but was told it costs "a few hundred dollars more". So a 3 phase Powerwall 2 may cost $9,600 in South Australia. But if they were certain it would only cost $300 more they would have given me that figure, so don't be too shocked if it costs extra. They were unable to tell me if the 3 phase version of Powerwall 2 would have the same 12 week waiting period or would take even longer to be available.
Update 10th Jan 3:42: A large company has informed me it is not correct to say there is a 3 phase version of the Powerwall 2. Instead I should say the Backup Gateway 2 has the ability to work with three phase homes. I have acquired a picture of the new gateway box and it is super cute! Here it is next to a Powerwall 2: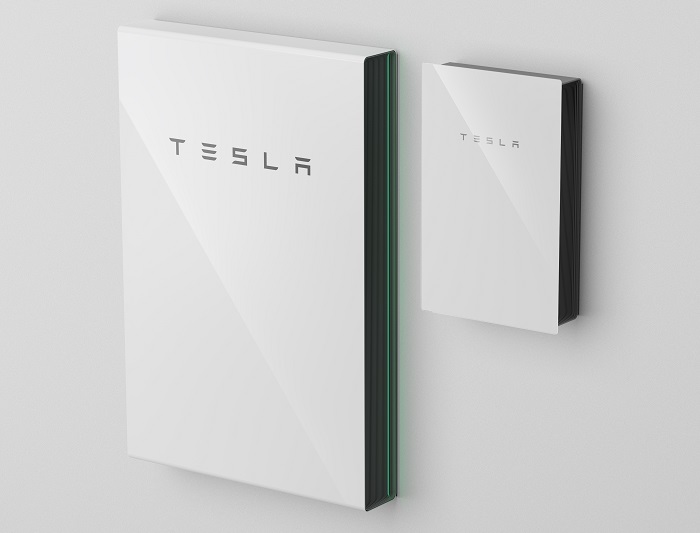 It's like a little baby!
Shopping Around May Help
Looking at the SA Government's Home Battery Scheme site I see there are currently 10 providers installing the Powerwall 2. If you shop around you may get a better deal, but I don't know what your chances are. It's also possible one of them has a Powerwall 2 in stock and could install it in less than 12 weeks, but I don't fancy the odds.
According to what I've heard the Powerwall 2 works well — Finn has one on his straw wall.6 I am concerned about its round trip efficiency and that's something I should probably look into. But if you are hoping to save money by getting one this is only likely to be possible in South Australia with their hefty $6,000 subsidy. Even then you have to take care to make sure it won't end up costing you money.