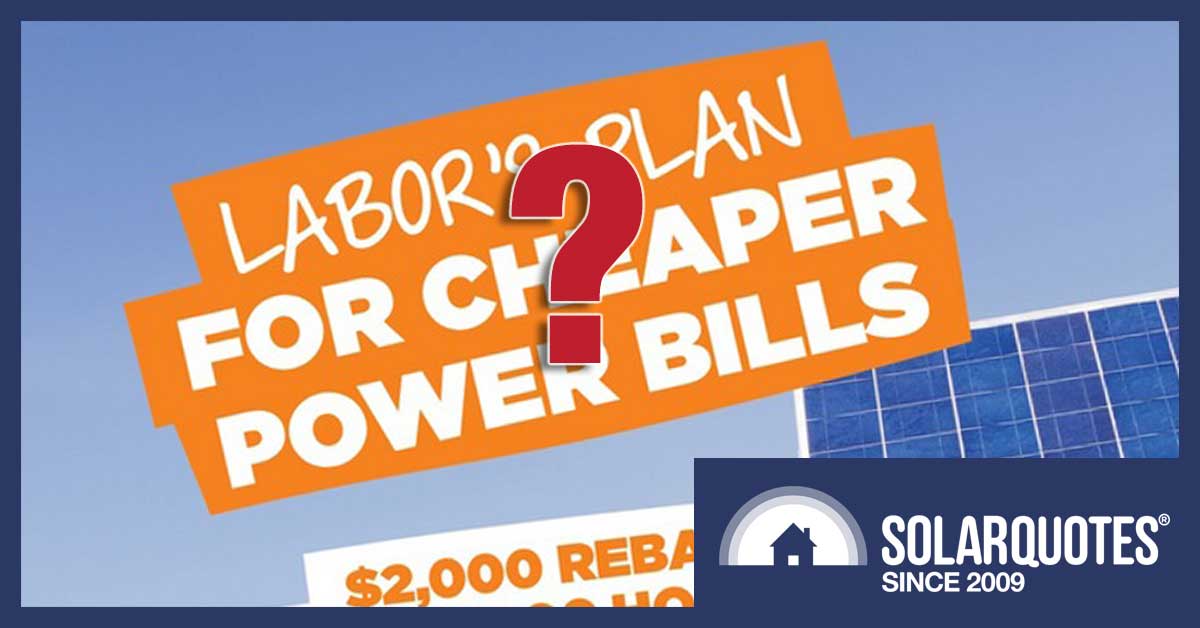 On Wednesday shadow Prime Minister, Bill Shorten, gave some details on the plans for energy Labor will throw into motion if they win the next election.  According to all the little people inside my TV, this election will occur within 6 months but it may be almost a year away.
Billy Shadow Shorten said Labor's goals include:
A 50% renewable electricity target by 2030.
A 45% reduction in Australia's emissions by 2030 from 2005 levels.  (The Coalition is only aiming for a 26% reduction.)1
Support for more transmission capacity, including a second interconnector between Tasmania and Victoria and one between South Australia and NSW.
Support for pumped hydroelectric storage including the large and expensive Snowy River 2.0 scheme.
Assistance for all who are unemployed through the closure of coal power stations and their associated mines.
$100 million in community funding that — among other things — will help renters get rooftop solar.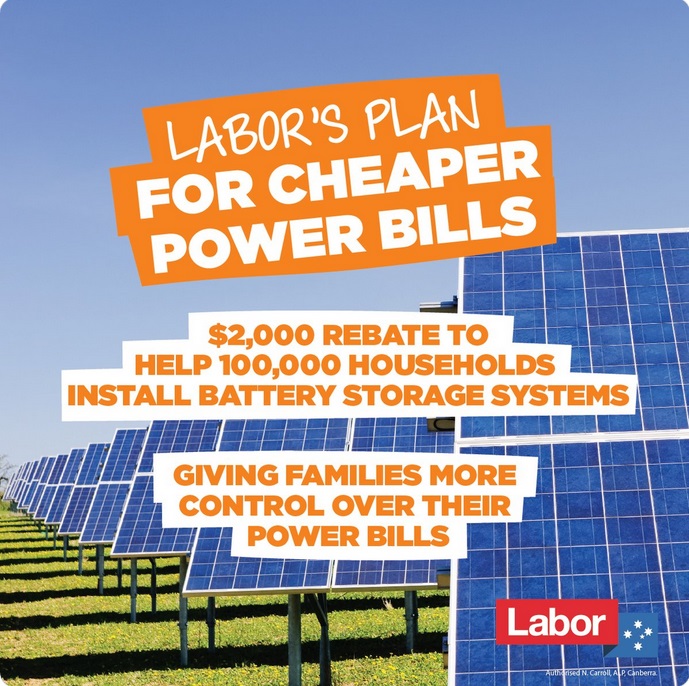 I'm not going to go into detail on these because the main point I want to pluck from our shadow leader's lips and then rip to shreds is Labor's plan to:
Provide a $2,000 battery subsidy for 100,000 Australian homes.
This is a bad idea and I will go into detail why.  But first I feel I should point out this scheme is only a waste of money and won't directly kill anyone.  While there are many better things we could do with the dosh, Australia is one of the richest countries in the world so it's not the disaster it would be for a poor country.  Overall it's just a drop in the bucket.2
While it's a shame Labor is making this mistake, senior members of the Coalition have stated they want to extend the operating life of coal power stations, use public funds to build new ones, subsidise new coal mines, and block the development of renewable generation.  This is far worse because not only will it waste money but it will result in more people dying from air pollution and the effects of climate change.
The Federal Battery Subsidy Scheme:  Main Points
If I had no choice other than to summarize Labor's battery subsidy scheme with bullet points, it would look something like this:
If Labor is elected, the battery subsidy will start on the 1st of January 2020 and be spread across four years.
The rebate will be $2,000.
It will be available to 100,000 households.
Only households with a combined annual income of $180,000 or less will be eligible.
There will be a maximum of one subsidy per household.
It won't be available to those who have received a state or territory battery subsidy.
Low cost financing will be made available for the remaining cost of a battery system.
Labor says their goal is to have one million home battery systems installed by 2025.  That would be 1 in 10 Australian households.
Instead Of Fixing A Problem The Subsidy Makes Two Worse
Global warming is a serious problem that has the potential to kill millions.3  Currently there are two main approaches to reducing its severity:
Carbon Prices:  These discourage the release of greenhouse gases into the atmosphere by charging people to emit them.
Subsidies:  These can lower the cost of renewable energy or other technologies that reduce emissions.4
Carbon prices are the most cost-effective way to reduce emissions but subsidies also work.  Australia used to have a carbon price but then Tony Abbott decided his personal conviction that humans weren't responsible for climate change made him more likely to be correct than climatologists.5
We currently have subsidies for large and small-scale renewable energy (e.g., the "solar rebate") as part of our Renewable Energy Target, which is being phased out — but only gradually in the case of the small-scale target that reduces the cost of rooftop solar.  These subsidies are designed to help solve two problems:
Greenhouse gas emissions damaging the environment.
Air pollution damaging our health.
But residential batteries don't solve these problems because at the moment installing them increases greenhouse gas emissions and air pollution over what they otherwise would have been.  Because of this, subsidising home batteries doesn't solve a problem, it makes two problems worse.
Right Now, Home Batteries Are Bad For The Environment
If a residential rooftop solar system produces more power than the home requires, the surplus gets exported to the grid for other people to use.  Each kilowatt-hour of clean solar energy sent into the grid reduces fossil fuel generation by around 1 kilowatt-hour.  But if the surplus solar electricity is instead used to charge a home battery system a portion of the energy is lost.  The amount varies but home battery systems are likely to supply less than 85% of the energy put into them.  This means that — all else equal — each kilowatt-hour of electricity used to charge a battery will result in 15% or more emissions than if it had instead been directly sent into the grid.
The manufacture of battery systems also results in emissions.  They should be considerably less than what they were just a few years ago, but are still a problem.
While it is possible for home batteries to store clean, renewable energy that would otherwise go to waste, outside of some special circumstances, we aren't close to them being able to save more energy than they lose at this time.  This is the case even in South Australia where solar and wind provide a higher portion of electricity production than anywhere else in the country.
Home Batteries Can Extend The Lifespans Of Coal Power Stations
Home batteries may also result in higher emissions through the effect they have on the electricity market.  At the moment the large majority of solar households don't have batteries and send all their surplus solar electricity into the grid.  This pushes down wholesale electricity prices, especially in the middle of the day. This is most noticeable in South Australia where up to 63% of total electricity consumption has been supplied at times by rooftop solar.  When wholesale electricity prices are low or zero gas generators can shut down to avoid operating at a loss but Australia's coal generators can't.  Because they were designed to run continuously shutting down is difficult and expensive and so they can be forced to lose money during these periods.  This can make them uneconomic and force them to shut down permanently.
But if households have batteries and store solar energy during the day instead of sending it into the grid it reduces the economic squeeze coal power stations suffer in the middle of sunny days and may result in them staying in operation longer than they otherwise would.
Batteries Don't Pay For Themselves Yet
At the moment unsubsidised home batteries won't pay for themselves.  I recently wrote about how this was the case even under favorable conditions.  In South Australia where there is a massive battery subsidy of up to $6,000 that will be available for a wider variety of systems starting next year, it will still be easy for a household to lose money buying one.
The Federal subsidy of $2,000 is small in comparison and it's not possible to combine it with South Australia's.  Because of this — at current battery system prices — it will be very difficult for households to save money by getting a battery with the federal subsidy.  This means there may be many homes that will use the subsidy and end up losing money overall, which is not a good situation for Labor to be in.
Batteries Will Pay For Themselves Soon
Without large falls in the price of electricity, which we are not at all likely to get, it's inevitable home batteries at some point in the near future will pay for themselves without subsidy.  Looking at the current cost of lithium battery cells and the required hardware, it's clear to me this is already baked into the cake.  These declines in battery prices are mostly being driven by the huge sums being spent on developing electric cars.
If we just wait it may not be long before unsubsidised battery systems can save households money.  Once this occurs uptake is likely to be rapid.  As home batteries are currently bad for the environment it makes no sense to subsidise them now.  Especially when their price will drop without our intervention and we can use the money saved to subsidise something that is of environmental benefit such as solar power, electric cars, double glazing or energy efficient appliances.
Why Does Labor Think This Is A Good Idea?
In a press conference on Wednesday, Bill Shorten said:
"Over the long term a battery pays for itself with the savings you make on your power bill."
Unfortunately, that's not the case right now.  It may be true once the benefits of being part of a Virtual Power Plant are included, but they are still being trialed and not something households can generally join.  It's possible Labor has been getting some bad advice, but I think it's more likely they are just going with something they assume is true without bothering to critically assess the facts first.
For decades fossil fuel interests and their troll minions have been complaining solar power doesn't work when the sun isn't shining.  And the simple comeback has always been, "Batteries!"  But batteries have never been required to allow solar or other renewables to lower emissions and pollution.  While they can be useful for providing dispatchable power when needed, there is already an existing mechanism in place for providing dispatchable power.  It called "paying people money to meet electricity demand".
So I think Labor is leaping to the conclusions that:
batteries can save money now when they are actually money losers for normal households and
they are necessary for the expansion of renewables when we are still a long way from that point.
They may be very useful for reducing emissions in the future, but subsidising them now when they increase emissions and are falling in price is the opposite of useful.6
What Labor Could Do Instead
If Labor wanted to trial subsidising batteries on a small-scale in places where they would be most cost-effective, such as where they could be used to avoid the need for expensive transmission upgrades, then I think that would be just great.  It would give us valuable experience that will let us be prepared for when unsubsidised batteries pay for themselves.  The money that's saved could be spent on something we know will decrease emissions rather than increase them.
It would also be worthwhile to carry out more trials of Virtual Power Plants or better yet, determine the best way for battery households to buy and sell electricity at wholesale prices and receive payments for providing ancillary services that help stabilise the grid without being part of an electricity retailer's Virtual Power Plant.  This is because the big electricity retailers have proven they will rort the system wherever possible to maximise profits.  Virtual Power Plants under their control would provide them with another chance to manipulate the market to their own advantage as those that run power stations do with conventional generation.
If Labor wants to incentivise the uptake of home batteries it can do so very simply without spending a cent.  All they have to do is eliminate, or at least reduce, fixed supply charges on electricity bills.  This would result in the price of grid electricity per kilowatt-hour increasing while overall electricity bills would stay the same — at least in the short term.  This would increase the return from both batteries and rooftop solar and encourage energy efficiency.  Also, it would lower average electricity bills for low income Australians while increasing them for the rich, which should be considered a feature rather than a bug by Labor.