On Sunday, rooftop solar provided 60% of all South Australian electricity demand in the middle of the day.  This makes SA the most solar powered state by far and puts it well past the point where we were told solar power would destroy the grid, cause your lamb roast to cost $100, and make your cows spin backwards.  It's a big increase from last year when the highest figure I heard was 48%.  Sunday's percentage was so high it was off the chart. 
Specifically this chart by the Australian PV Institute:
This shows the percentage of total electricity demand met in each state by rooftop solar power at 12:00pm South Australia time.  Because it has busted the chart you're not able to see that for at least 4.5 hours from 10:00am to 2:30 rooftop solar met over 50% of all electricity consumption.  The figures don't include output from large solar farms and as they were providing over 100 megawatts of power at noon, South Australia would have been around 75% solar powered.1
While the figures for last Sunday were good, on Sunday the 30th of September rooftop solar provided over 63% of all electricity use in the state at 11:30am. This graph shows on that day rooftop solar provided at least 50% of electricity demand for over five hours:
These two days were not freak events.  Over the past 100 days there were 4 on which solar met over 60% of demand and a total of 25 in which rooftop solar provided at least 50% of electricity demand for a period of time.
Rooftop Solar Capacity Is Up
In South Australia 32.1% of homes now have solar panels on their roofs.  SA no longer has the highest penetration in the nation as Queensland has pulled ahead with 32.6%.  But SA is still in front on rooftop solar capacity per person and thanks to Queenslanders using far more energy, the murder mystery state generates much more of its electricity from it.
South Australia's residential and small-scale commercial rooftop solar capacity is expanding rapidly and getting close to 1 gigawatt.  Add in large scale solar farms and the state has a total of around 1.3 gigawatts of solar panel capacity.  This is enough to provide around 13% of the state's electricity consumption.  This graph from the Australian PV institute gives a breakdown of the capacity figures:
The graph was last updated on the 25th of October, so the figures are a little higher now.
Minimum Demand Is Down
Rooftop solar reduces the amount of electricity the grid has to source from power stations.  On Sunday, the minimum power these stations supplied in South Australia was 705 megawatts: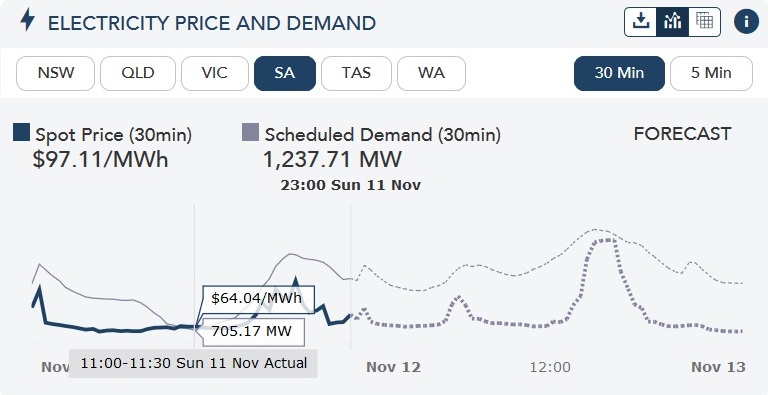 The table below shows it is considerably lower than the minimum in the second quarter of the year since South Australia became part of the National Electricity Market in 1999:
It was even lower at 595 megawatts on Sunday the 21st of October, which is close to the lowest figure for the past 20 years.
Typically, Australia's coal power stations can't lower their generation below 60% of their capacity and are unable to easily start or stop.  This means they cannot shut down to avoid low prices caused by solar power in the middle of sunny days, which makes it very effective for driving coal from the electricity market.
Spring, Autumn, And Weekends Best For Setting Records
Of the four days on which rooftop solar met over 60% of demand, three were Sundays and one was a Saturday.  Because electricity consumption is lower on weekends, records are more likely to be broken then.  Despite this, of the past 25 days when rooftop solar met over 50% of demand 11 were weekdays.
Spring and autumn are also good times for solar power to set records.  While longer days in summer means solar produces more kilowatt-hours, greater electricity consumption from air conditioners results in it meeting a smaller part of total demand.  High temperatures also cut the maximum output of solar panels by lowering their efficiency.
This Month's Figures May Be Increased
The Australian PV institute looks at how much solar capacity was installed each month and, if required, bump up their figures for the percentage of demand met by rooftop solar.  So this month's figures may be even better than they seem and rooftop solar power may have met over 50% of demand on more than 25 of the past 100 days.
Rooftop Solar Reducing Gas Use
Even when solar output is high, South Australia still generates a considerable amount of electricity from natural gas and at times large scale renewable generation is reduced to accommodate it.  This curtailing of renewable output occurs because a certain level of gas generation is deemed necessary to give grid stability.  Fortunately, this level will be reduced because batteries have demonstrated they can help support the grid and also because synchronous condensers will be built.  These are big spinny things that help stabilize the grid without needing to burn gas.2
While some gas capacity is required to be kept operating at all times in South Australia, expanding renewable capacity is reducing the total amount that is burned.
Records Will Continue To Be Broken
Installation rates for rooftop solar panels are high and costs are still dropping.  As a result, capacity will continue to expand and records will continue to be broken.  How quickly fossil fuel generation is replaced with clean solar power mostly depends on whether politicians and regulators remove existing barriers or if they erect new ones.  Tragically, my impression is far too many of them think their job is to protect the status quo rather than to protect us.
I'd describe our current situation this way — if you discover a lunatic is pumping poison into your town's water supply you should do everything you can to stop it as soon as possible.  What makes no sense at all is doing nothing while you discuss how slowly you can reduce the flow of poison so as not to damage the pump.