Home battery systems continue to fall in price — with an exception or two — and we are getting closer to the day when they will save a typical household money without subsidy or being part of a Virtual Power Plant.
But there is one thing that almost gets batteries to pay for themselves right now: the ridiculously expensive peak rates some time-of-use electricity tariffs charge.  But, without a subsidy, time-of-use tariffs and batteries will only save money for a few exceptional households.  This is the case in NSW where time-of-use tariffs are high and in Western Australia where they are the most favorable for batteries.
WA Has The Highest Time-Of-Use Tariffs
When I started researching this article I was confident NSW would still have the highest time-of-use electricity tariffs, but it turns out the winner of this dubious distinction is Western Australia.  The image below is from Western Australia's Synergy website and shows their time-of-use tariff in all its expensive glory:
This tariff is offered by Synergy in WA's South West Interconnected System.  This is the area shown in green on the map below that I stole from Infinite Energy's site:
Outside of the green area grid electricity is supplied by Horizon rather than Synergy and they don't offer time-of-use tariffs.
While there are time-of-use tariffs worse than Synergy's in NSW, you'd have to be crazy to use them as there are much cheaper ones available.  Here's a graph comparing an available Sydney time-of-use tariff with Synergy's.  I've also added in the solar feed-in tariff so you can see it's considerably better than what you get in WA.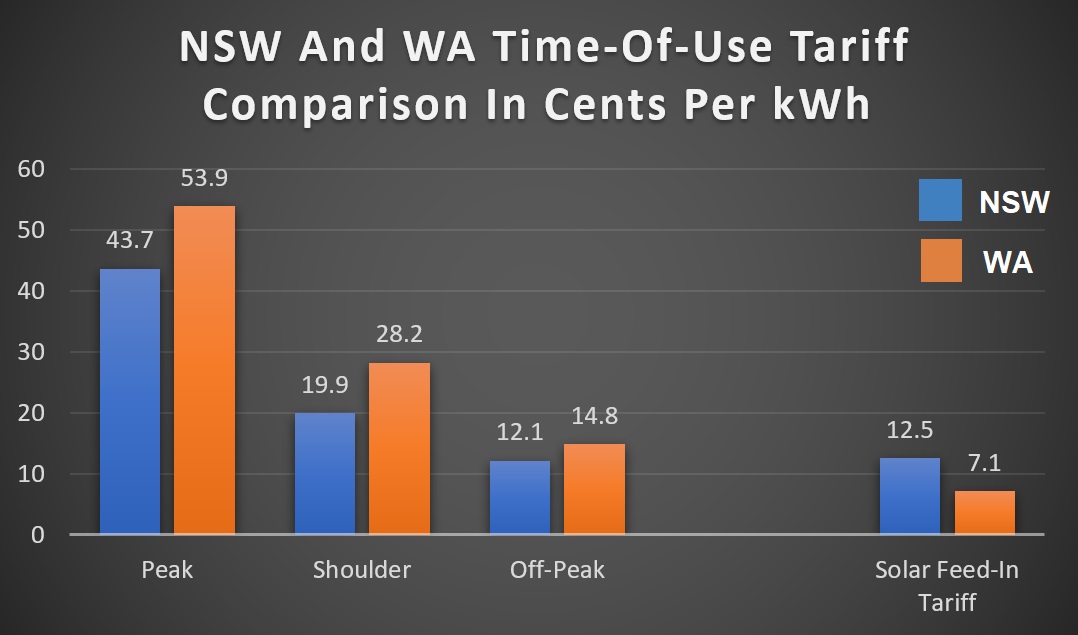 While this article is going to focus on Western Australia, the basic conclusions will hold true for NSW, except batteries will be even less likely to pay for themselves there.
My Hypothetical Household
Let's say I move to Perth and buy a house with a north facing 6.5 kilowatt solar system.  And let's also say my home uses an average of 18 kilowatt-hours of electricity a day from 3pm to 9pm, which is the weekday peak period.  This is well above average as the typical Perth home uses less than this in a full day.  I have no idea why my home consumes this much electricity.  Maybe I married a robot.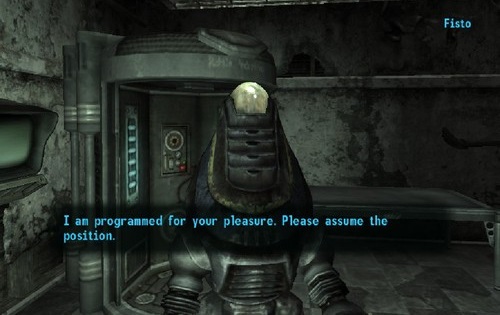 Also, because I'm so sexy, I'm going to assume I can get a great deal and have a solar battery system installed for only $1,000 per usable kilowatt-hour.  Because I like round figures I will spend $10,000 and get 10 kilowatt-hours of usable energy storage.  This battery has a 10 year warranty, which is typical, but I am going to assume it will last 13 years.  Because batteries degrade with use and time they can't be expected to last well beyond their warranties, as things like refrigerators and laptops generally do.
To sum up I have:
A 6.5 kilowatt solar system
An average daily electricity consumption from 3pm to 9pm of 18 kilowatt-hours.
A battery with 10 kilowatt-hours of usable storage that cost me $10,000.
A battery lifespan of 13 years.
A scary wife.
I'm also going to assume:
Electricity prices and feed-in tariffs remain constant in real terms1 for the life of my battery.  All dollar amounts are given in today's money.
Now I have an imaginary 10 kilowatt-hours of battery storage, can I use it all during a peak period every day to save 53.9 cents off my electricity bill per kilowatt-hour of storage used and save $2,000 a year and $26,000 over 13 years?
No, I can't.  It's impossible!  And there are plenty of reasons why.
Peak Periods Are Only On Weekdays
The first problem I have is peak periods only occur on weekdays.  This means if I fully discharge my battery from 3pm to 9pm every day I will only save an average of 46.5 cents per stored kilowatt-hour I use.   This results in my electricity bills savings over 13 years dropping to $22,000.
Storing Solar Energy Costs Me The Feed-In Tariff
If I store solar energy in my battery and use it in the evening I can't also receive a feed-in tariff for it.  In south west WA the feed-in tariff is 7.1 cents so I'll only save 39.4 cents per kilowatt-hour of stored energy I use.  This will make my savings over 13 years drop to $18,700.
Battery Losses Cost Me Money
No battery is 100% efficient.  I expect the round trip efficiency of a typical battery will be under 90% but I'll be reasonably optimistic and assume a figure of 90%.  This means I'll need to put 1.11 kilowatt-hours of solar electricity into the battery to get one kilowatt-hour out.  This increases the amount of feed-in tariff I lose and drops my savings per kilowatt-hour of storage used down to 38.6 cents per kilowatt-hour.  Savings over 13 years becomes $18,300.
Battery Capacity Will Decline
Almost all batteries degrade with use and often degrade over time even if not used.  Lithium batteries are the most common type used for home solar storage and they definitely deteriorate.  Some warranties allow for a 30% deterioration in capacity within 10 years while others allow for 40%.  I will assume my battery will have fallen to 70% of its original capacity by the end of its 13 year lifespan.  If its average usable capacity is 85% of its original amount then the savings per kilowatt-hour of stored energy used remain the same, but savings over its lifespan fall to $15,6002.
I Can't Fully Charge With Solar Every Day
Perth is a sunny place and my north facing 6.5 kilowatt solar system should produce an average of around 28 kilowatt-hours a day.  While this average is more than adequate for charging the battery, in practice there will be considerable variation in the amount of solar energy available for charging depending on the weather and how much solar electricity my home consumes during the day.
Perth has an average of 100 cloudy days a year where the skies are either overcast or at least 75% cloud covered.  If I optimistically assume I can fully charge the battery with solar power on the 265 days a year the skies are are either partially cloudy or clear and still manage to charge it an average of 30% on cloudy days, then then my savings over 13 years will fall to $12,600.
If it is known in advance the day is likely to be cloudy then it would be possible to charge or partially charge the battery with off-peak electricity early in the morning.  This is more costly than using solar power and it would be difficult to charge the battery with just the right amount of energy so no more is spent on off-peak electricity than is required.  If I assume half the battery capacity left unused due to cloudy days is charged with off-peak power, it raises my savings over 13 years to $12,700.
I Won't Always Drain The Battery
I've said my household uses an average of 18 kilowatt-hours during peak periods but this isn't going to be constant.  If we go on vacation or I go out searching for my wife after she has rampaged across the countryside, then the amount of battery storage used could be nothing or next to nothing.  This variation in consumption means not all the battery storage will be used during some peak periods.  If I assume that 5% of stored energy is used during shoulder periods rather than peak periods and 5% isn't used until the next evening, then savings over 13 years falls to $11,700.
The Sun Sets Late In Summer
In January the sun can set as late as 7:26pm in Perth.  This means the solar power system will still be producing electricity well into the peak period.  Because I've said my household's average electricity use is high and because solar output drops off rapidly late in the afternoon I will assume this will only have a minor effect and reduce my savings over over 13 years down to $11,600.  But the effect is likely to be larger for average households.
Batteries Don't Eliminate All Grid Electricity Use
Battery control systems are not perfect. They don't perfectly match the battery's discharge power to the house consumption. So even if your battery has enough stored energy and power to satisfy your home's demand at any point in time, some grid electricity will still sneak into your home and you will be charged for that. Some batteries are much better than others in their speed of response,  but I'll assume a little over 1% of my electricity use at night will sneak in from the grid, reducing my savings over 13 years to $11,500.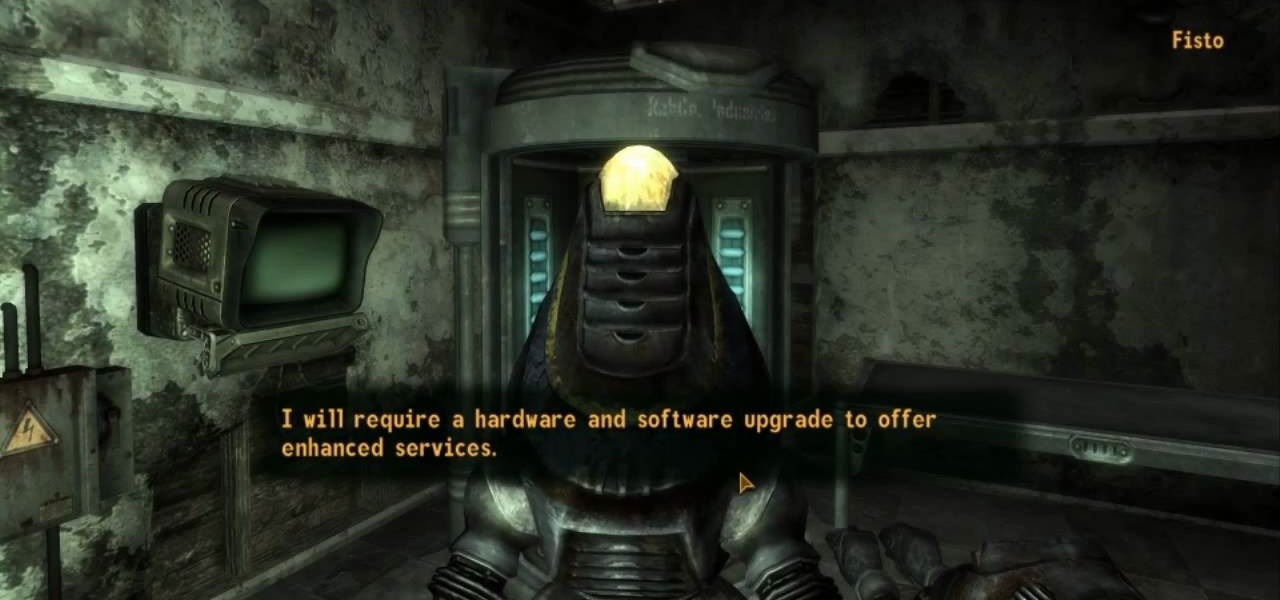 A Standard Tariff Will Often Be The Correct Benchmark
My imaginary Perth house had a 6.5 kilowatt solar system when my potentially imaginary robo-spouse and I moved in.  Because the solar power system would reduce grid electricity consumption during the day and because I've assumed we use a lot of electricity during the peak period, it is likely that before the battery we would have been better off on a standard tariff, not a time-of-use tariff.  Just how much better off would depend on our electricity consumption habits, but as long as our pre-battery bill would be less with a standard tariff then that figure is the correct one to use in any before/after comparison.  So if we would have been $200 a year better off on a standard tariff before the battery, then that reduces my savings over 13 years down to $11,300.
Cost Of Capital
So far my home battery is set to save $11,300 over 13 years.  Since this is all in today's money this will put me $1,300 ahead after I subtract the $10,000 cost of the investment.  But if I could have made more by investing that money elsewhere then I will have lost money by spending it on a battery.
If I put the $10,000 in a term deposit, after adjusting for inflation I would get a real return of around 1%.  But this is unrealistically low because most people have better things to do with their money.  Instead, I am going to assume I can get a real return of 2%3.
After 13 years at 2% real interest $10,000 would be worth $12,970 in today's money.
If I instead bought the battery system and invested all the savings it gave me at the same 2% real interest rate, then after 13 years I would have $12,820.
So under my optimistic set of assumptions I would lose out by about $150 bucks if I invested in a battery system.  About a 1% difference, so I'm okay with calling this a draw.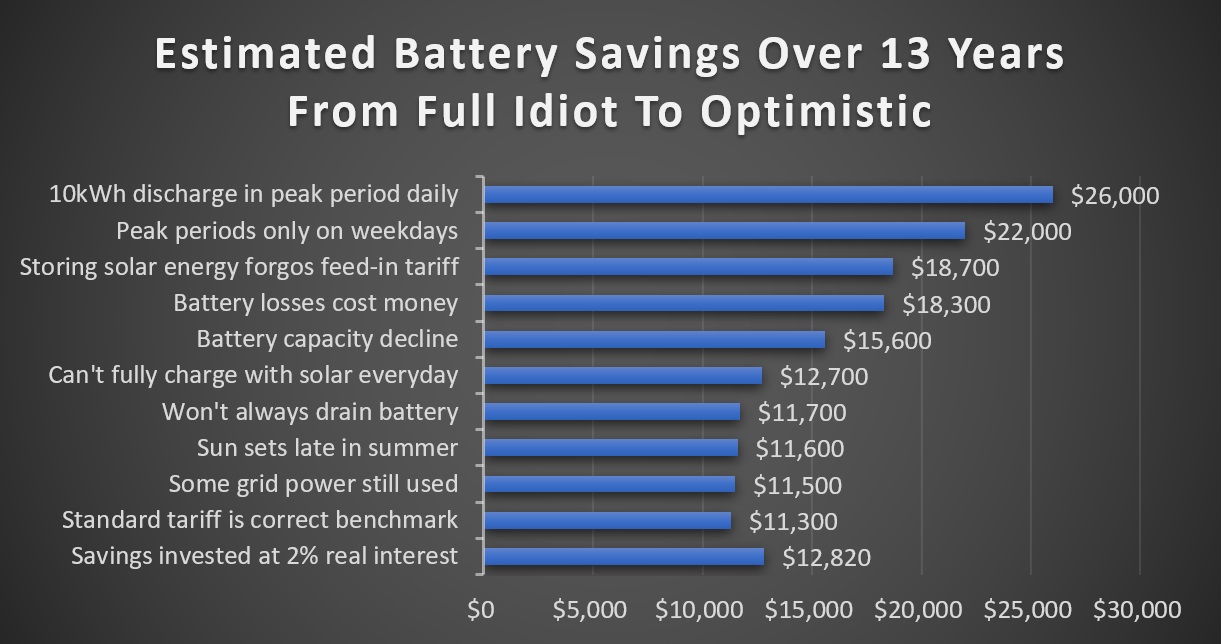 A Normal Household Isn't Likely To Save Money
You might be wondering, since I just showed it should possible to break even by buying a battery, why I didn't mention this in the title of the article?  The reason is I didn't want to be responsible for causing anyone financial hardship by prompting them to rush out and get a battery when it it's only likely to lose a normal household money.  The reason getting a battery is unlikely to be a remunerative activity is because most households use less electricity than my example.  Probably due to not marrying a robot.  At the moment it would also be difficult to get a battery that will be trouble-free for years past its warranty at an installed cost of only $1,000 per usable kilowatt-hour.  But battery systems will continue to fall in price so you may not have to wait long for this.
Two things that look like they could help the payback of batteries, but probably won't — at least in Western Australia — are:
Larger solar system sizes, and…
Smaller batteries
Surplus Solar Power Can & Will Be Stolen In WA
In Western Australia only solar systems that have an inverter of 5 kilowatts or less can receive a feed-in tariff, or REBS4 as they call it.  If you want a larger solar inverter you will need 3 phase power and special permission.  If you have both of them you may be allowed to install an inverter of up to 15 kilowatts.  But this will result in no feed-in tariff for the surplus solar electricity you send into the grid.  Personally, I think profiting by taking valuable stuff without paying for it looks like theft.  If you want to put a positive spin on it you can say you are subsidizing the cost of grid electricity for everyone else5
If you are not getting a feed in tariff then a battery will be more valuable to you, as you can store your surplus solar electricity instead of giving it away for nothing.
Smaller Batteries Cost More Per Kilowatt-Hour
If the battery I used in my example was smaller it would be much easier to fully charge it with solar energy and fully discharge it during a peak period.  Unfortunately, the smaller the battery the higher the unit cost.  A half sized battery system might cost 50% more per kilowatt-hour of capacity.  This is more than enough to eliminate all the advantages of being itty bitty.
Companies Can And Will Go Bust
Something that should be considered before buying a battery is the chance its manufacturer and/or installer will go bust.  When there are many companies providing new technology it's inevitable some of them will go bankrupt.  I think you should assume there will be at least a 5% chance your battery system will be written off as a result of companies folding and failing to provide support required to keep it operating.  You can lower your risk by buying from a very sound company or greatly increase it by choosing batteries on price.
Electricity Prices May Fall & Feed-In Tariffs Rise
Currently it appears there is no hope of Western Australians receiving any relief from their high electricity prices over the next year, but given the cost of solar panels is continuing to fall and how sunny Western Australia is, grid electricity prices seem certain to drop at some point.  If solar feed-in tariffs fall by a similar amount that will help prevent installed batteries become unprofitable but it is possible feed-in tariffs will instead increase.  But one thing is certain — as more battery capacity is installed they will do their job and the difference between peak and off-peak rates will diminish, reducing the benefit provided to batteries by time-of-use tariffs.
Sweetening The Deal
The good news is there are some things that improve the profitability of batteries.  A subsidy is an obvious one.  A few others are:
Charging with off-peak power to meet morning demand.  This is something I didn't include in my example because it's not necessarily a good idea.  With a 90% efficient battery it would reduce electricity bills by 11.7 cents for each kilowatt-hour of stored energy used.  For some batteries this may not be worth the resulting wear and tear and it would be more cost effective to limit the use of stored energy to peak periods.  But for batteries with a high cycle life this can provide a modest boost to their ability to pay for themselves.
Joining a Virtual Power Plant can improve the economics of a battery allowing electricity to be bought and sold at wholesale market rates and payments be received for providing grid stabilization services.
Some people greatly value the backup power some batteries can supply but you should consider if you'd be better off with a small generator instead.
A Few Could Benefit From Batteries Now In WA
If you're in Western Australia and your electricity consumption is high or your solar power system is too large to receive a feed-in tariff — or preferably both — then you may be able to come out ahead by installing a battery now, just so long as you don't mind taking on the risk that the company you buy from will go bust and your battery potentially turn into a very large brick.
But there is no point in buying a battery before you are certain it will save you money.  If you wait for the cost of battery systems to fall by another 20% then the chance they'll save you money will be significantly better, we'll have more of an idea which battery systems and companies are reliable, and we'll know more about what's happening with electricity prices.  Because home batteries at the moment don't have a clear environmental benefit like solar power, there's no need to rush.