When I first wrote about South Australia's battery subsidy not all the details were available to me.  But now the Home Battery Scheme website is up and running I still don't have all the details.  However — and this is the important point — I have more details than I had before.  For example, I now know the starting date.  It was on Monday the 29th of October.  This means if you live in South Australia you can now now get a hefty subsidy for any home battery system you like — provided you only like Sonnen batteries.  You'll have to wait until January if you want something else and remains to be seen which systems will be approved for subsidy.
If you are certain you want a subsidised Sonnen system right now, you can go to the Home Battery Scheme site and follow the follow the steps required to get one.  But if you'd like a little more little information first then in this article I'll go over the main points of the subsidy again – but I'll also delve into some of the new details that are available.
The Subsidy Amount Has Not Changed
The amount of the subsidy hasn't changed and for most households is:
$500 per kilowatt-hour of capacity up to a maximum of $6,000.
While for those who receive the SA energy concession, which includes pensioners and most people receiving Centrelink payments, the subsidy is:
$600 per kilowatt-hour up to a maximum of $6,000.
Details on who can receive the energy concession and how to get it are on this SA government page.  If you're in the market for a solar battery  system and think you may be eligible for the energy concession, obviously you should check first.  Unfortunately, what may not be obvious is how it will often be a bad idea for a low income family to get a battery.
Low Income Households Should Be Wary Of The Battery Subsidy
On one hand it's nice that the SA government is giving a higher subsidy per kilowatt-hour to lower income families.  But on the other hand it risks creating the impression that low income families are likely to save money by buying a battery.  Unfortunately, as I pointed out in this article, because low income households often have low electricity consumption they generally won't be able to save money with a battery even with the $600 per kilowatt-hour subsidy.  I recommend anyone thinking of buying a battery carefully consider:
Is my overnight electricity consumption regularly high enough and the subsidised battery cheap enough for me to save money?
Would it be cheaper to instead lower my overnight electricity consumption through improved efficiency or by shifting consumption to the day when solar power can be used?
It's not difficult for higher income families to also lose money by installing a subsidised battery, but at least the money they lose isn't as likely to cause them serious hardship.
Starting Date
Only batteries installed on or after the 29th of October are eligible for the subsidy and only if it is an approved battery system installed by an approved provider.  Why they said the scheme would start in October but then waited till the end of the month, I don't know.  I guess the state government is just a bit tardy.
Sonnen Only Until January
The only battery system that can receive a subsidy before January is Sonnen.  This is because the South Australian government is giving battery systems that are assembled — or will be assembled — in South Australia a 9 week head start.  Sonnen's Adelaide battery assembly plant isn't ready yet, but approved retailers say they can install a subsidised Sonnen battery system within two weeks.  However, the majority of them are offering the company's 8th generation systems rather than Sonnen's latest 9th generation battery. Personally, if I was paying all that money I'd demand the latest model.
On-Grid Only
The battery subsidy is only available to homes that are on-grid.  The ability to join a Virtual Power Plant or VPP is clearly important to the SA government and this is only possible for systems that are grid connected.
Eligibility
Eligibility for the subsidy has not changed.  Technically it covers almost every on-grid home in South Australia but in practice it's really only for people who own properties.  Here are the criteria lifted straight from a Home Battery Scheme document: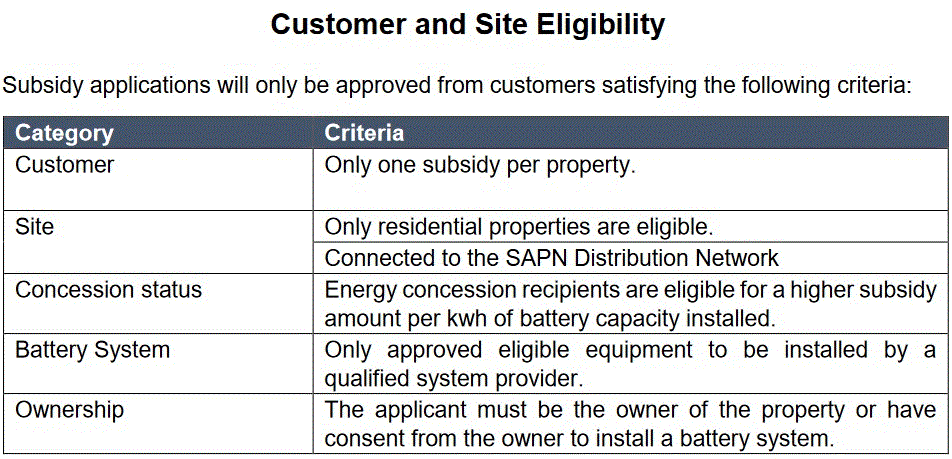 There is a limit of one subsidy per property so if you own a dozen rental properties you can put a subsidised battery in each one.  I have no idea how you'd make money from doing that but it may not be long before Virtual Power Plants enable landlords to make money from batteries.
You Can't Get Rid Of A Subsidised Battery
If you buy a subsidised battery you might think you would own it and do with it as you will, but there are conditions that limit your rights.  No subsidised battery is permitted to be removed from the premises where it is first installed without written permission of the SA government unless it is for repair, maintenance, safety, or disposal after all warranties have ended.  This creates a problem if you're selling your home and a potential buyer doesn't want the battery.
The Subsidy Is Not Good For Renters
While renters can get a subsidised battery system if they have their landlord's permission, I really can't recommend this lowly enough.  The Home Battery Scheme site specifically says it can't be moved, so when you leave I presume it will just become a gift to the landlord.

This is a problem as there is not much stopping a landlord from kicking a tenant out once their lease ends.  I don't know how ownership gets transferred to the landlord once the tenant moves out and I wonder if the tenant can even really own it in the first place despite paying for it.  I also also don't know what happens if the landlord doesn't want to be responsible for it.  I don't think the current rules that cover this sort of thing are adequate.
Hopefully there will be more information about this on the Home Battery Scheme site soon.  I suspect the only reason why renters are permitted to use the subsidy is to make it seem more inclusive.  In practice no renter with enough brain cells to rub together is likely to buy their landlord a battery system.
You Will Lose Your Old High Feed-In Tariff
If you have a high solar feed-in tariff locked in from ye olden days you will lose it if you increase the capacity of your solar power system or install a battery.
Virtual Batteries Subsidised Dirt Cheap
The subsidy can apply to batteries that are already reduced in price because they are being offered as part of a Virtual Power Plant trial.  While the subsidy can't be greater than the cost of the battery, this does mean that in January when systems other than Sonnen can receive the subsidy you may be able to get a VPP battery deal done dirt cheap.
There Is Little Information On Low Interest Loans
The SA government says low interest loans will be available for battery systems and also for solar systems purchased at the same time, but the Home Battery Scheme site provides very little information.  They make this statement:

And this one:

I'd prefer it if the site clearly stated how much people could borrow and at what interest rate.  Hopefully more information will be made available soon.  But since it is in their interest to know, approved providers of subsidised battery systems may have details.
No Ending Date
The SA government says battery subsidies will be lowered in the future but has given no indication of when or how many systems will need to be installed before the subsidy is reduced.  This is lousy.  The state government are not battery salespeople and shouldn't be trying to rush people into making what may be a money-losing decision by not making it clear how long the subsidies will last.  They should either state when the current subsidies will end or — if it depends on the number of systems installed or amount of subsidy money spent — they should have a website that counts down the amount.
It is possible there will be strong demand for battery systems and the state will rapidly approach the target of 40,000 installed systems.  But it is also possible demand will be subdued and the current hefty subsidy will be in place for some time.  Personally, I doubt anyone is likely to lose out by waiting for now.
Acceptable Battery Systems
In addition to meeting all the relevant Australian standards, to receive the subsidy a battery system must:
Have internet connectivity and be capable of becoming part of a Virtual Power Plant.
Meet minimum warranty standards.
Be installed by an approved provider.
It remains to be seen how many battery systems will meet these standards.
VPP Capable
Only batteries that can become part of a Virtual Power Plant are eligible for the subsidy.  This means they will have to be able to be controlled remotely over the internet.  Additionally, they also have to be resistant to be being controlled remotely over the internet by hackers.  Fingers crossed this all works out well.
Joining a VPP has the potential to significantly improve the profitability of batteries and appears to be how the SA government intends them to be used.  But VPPs are still being trialed and options are currently limited.  In the future when VPPs are out of the trial phase it is possible the subsidy will be changed so systems need to to be an active participant in a VPP.
Minimum Warranties
To be eligible for subsidy, battery systems must meet minimum warranty standards.  The battery component must have a warranty of at least 7 years "under daily cycling operation".  I could not find any reference to how much battery deterioration is permissible.  All other components such as inverters or enclosures must have a minimum 5 year warranty.  Additionally, workmanship — or workpersonship — must also have a 5 year minimum warranty.
Approved Providers
To be subsidised a battery system must be bought from an approved provider that has an office in South Australia and employs South Australian residents.  This is to protect us from Melbourne installers driving 8 hours to Adelaide and then sleeping underneath their trucks.  At this time there are 12 approved providers on the Home Battery Scheme website and they currently only offer Sonnen systems.
In addition, approved providers must:
Be financially sound.
Have a good reputation that includes no current legal disputes, good online reviews1, and not having adverse reports in the media2.
Have the necessary human and physical resources to competently install battery systems and meet requirements under Australian consumer law.
Installers Technically Don't Have To Be CEC Approved Retailers
Previously the SA government said approved companies would need to be Clean Energy Council (CEC) Approved Retailers.  A description of what a CEC approved retailer is can be found here.  This is technically no longer the case and the options are now:
Be a CEC Approved Retailer.
Commit to following the CEC Approved Retailer code of conduct and apply to become one.
Commit to an acceptable equivalent code of conduct that has been approved by the Australian Competition and Consumer Commission (ACCC).
Becoming an CEC approved retailer takes time and money and carries the potential to be kicked out for poor behavior, so I am wondering if some installers will want to make use of the third option.  I've emailed the ACCC and asked them to send me an equivalent code of conduct they have approved.
Providers Must Charge "Fair Market Value"
In the Systems Provider Terms document I found the following passage (Eligible Supply appears to means a subsidized battery system):

I presume this means a provider can't increase the price of a system to take advantage of the subsidy.  But I don't know how they would determine what the "fair market value" is.  It could mean they aren't charging more for the battery system in South Australia than elsewhere, but this may not work because the SA subsidy is large enough to distort the entire home battery market.
It's A Subsidy, Not A Rebate
For years people have talked about the "solar rebate" which is not actually a rebate.  In a probably futile attempt the get the terminology straight from the beginning, I'll point out that the Home Battery Scheme is not a rebate but a subsidy.  A rebate is when a portion of the purchase price is returned to the buyer.  But the battery subsidy is a fixed amount that doesn't go to the purchaser but to the installation company.  Households still pay a reduced price, but they don't pay the full amount and then get some back.
Now that I've cleared this up hopefully no one will ever call it a rebate again.
Why There Is A Battery Subsidy Is Still Unclear
What the Home Battery Scheme site doesn't do is provide a coherent explanation of why there is a state battery subsidy.  The site does point out people installing home batteries can help reduce the price of electricity for everyone, but doesn't go into why a battery subsidy was chosen when other alternatives such as putting solar on the roofs of rental properties would do the same at lower cost and with greater environmental and health benefit, rather than the overall negative environmental effect batteries currently have.
But I wasn't expecting an explanation.  For better or worse — mostly worse in my opinion — South Australia now has a hefty battery subsidy.  If you are thinking of taking advantage of it, I strongly recommend carefully checking to make sure a subsidised battery will actually save you money and not result in you ending up out of pocket.  If you're not certain it's a good deal then waiting is a sensible option.
Footnotes
I hope they ignore online reviews that come from places like Croatia.  I'm not saying it's impossible for 500 people in South Australia to have a battery system installed and then all provide a review about it while on holiday in Croatia in the same evening, I'm just saying they should be ignored. ↩
That's a scary condition.  Some people in the media are real dicks. ↩