Sonnen claim to be the first company to successfully market on-grid home battery systems.  Founded in Germany in 2010, they have sold systems to Australians for two years now.  Their 9th generation of home batteries — known as the sonnenBatterie Eco 9.43 — have been on sale in Oz since the 16th of August. 
Sonnen's a pretty big deal where I live here in Adelaide as they are planning to open an assembly plant that will employ an unbelievable number of people1.
Sonnen's battery systems are AC coupled so they are compatible with any existing solar inverter.  Features of their latest technology include:
Five different sizes with nominal capacities from 5 to 15 kilowatt-hours.  Usable capacity is 90% of this amount and ranges from 4.5 to 13.5 kilowatt-hours.
Backup power during a grid failure is now available by installing a sonnenBackup-Box which gives up to 1.8 kilowatts of backup power
The Sonnen battery is for indoor use but there is now an optional, large2 metal enclosure to allow outdoor installation.
It operates at an air temperature of up to 45 degrees which is fine for most Australian homes.  But for even higher temperature operation there is a small air conditioner unit that attaches to the metal outdoor enclosure.
I want to give you as much useful information as I can in this article on Sonnen's latest batteries for two reasons:
South Australia's hefty battery subsidy should start on the 18th of October and Sonnen's battery systems are the only ones I know of that can get the subsidy during its first 9 weeks.
At time of writing, information on their latest battery systems is not available on Sonnen's Australian website.
At the moment a Sonnen battery won't save a normal household money, even with the South Australian subsidy, unless it lasts beyond its 10 year warranty period.  But prices of battery systems are rapidly falling so it's hopefully not too long before it can pay for itself within 10 years — at least for South Australians.
Sonnen & South Australia's Battery Subsidy
South Australia is introducing a hefty battery subsidy that's likely to start on the 18th of October.  For most households this will give a subsidy of $500 for each kilowatt-hour of battery capacity, but pensioners and most who receive Centrelink payments get $600 per kilowatt-hour.  The maximum subsidy per system is $6,000.
For the first 9 weeks the subsidy applies to only a limited number of batteries.  Just what the criteria are for a battery join this exclusive group have not been made public.  Apparently only those that make the sweetest love to the state's economy are allowed.  At the moment Sonnen is the only system I know that has made the cut.  It remains to be seen if any other battery systems can make it, but it will be hard to top a battery assembly plant.  I happen to know all you need to do is whisper the words, "light manufacturing" in a state government's ear and they go all weak at the knees.
Nomenclature:  A sonnen Battery By Any Other Name Would Charge As Sweet…
The full name of Sonnen's 9th generation battery is sonnenBatterie eco 9.43 followed by a slash and a number to indicate its nominal battery capacity.  But I'm not going to call it that.  Firstly it's a bit of a mouthful and secondly "sonnenBatterie" looks weird in English.  It's like they couldn't afford a capital letter for the start of the word but still had enough money to pay for a capital B in the middle.  What's worse is the company isn't even called Sonnen.  It's actually sonnen with a small "s" at the front.  I told Germany to stop capitalizing every noun in their sentences otherwise they'd run out, but obviously they didn't listen.  Clearly their unhealthy Vanilla Ice addiction has deafened them.
Maybe in Germany it makes sense not to capitalize the word "sonnen", which basically means "to sunbathe". But since we are not in Germany and Australia is a rich and generous nation that is 22 times Germany's size and has at least 22 times as many capital letters, I'm going to give them a free capital S every time I write the word Sonnen.
Sonnen's Battery Chemistry
Sonnen's make their 2.5 kWh battery packs in China.  Sonnen procures them from two different sources so they can keep making their systems if one battery factory's production is disrupted by a fire, a meteorite strike, or a giant radioactive Winnie the Pooh.
The battery chemistry is lithium iron phosphate, which is the most rugged type of lithium battery and has a high cycle life.  It is also the safest lithium battery chemistry and extremely unlikely to burst into flame.  While any lithium battery system that meets Australian standards should be safe, if you want extra peace of mind you can go with Liffy Eye-o Fossy3.
9th Generation Technical Specifications
Here is a table of technical information I took straight off the datasheet for Sonnen's latest generation of batteries.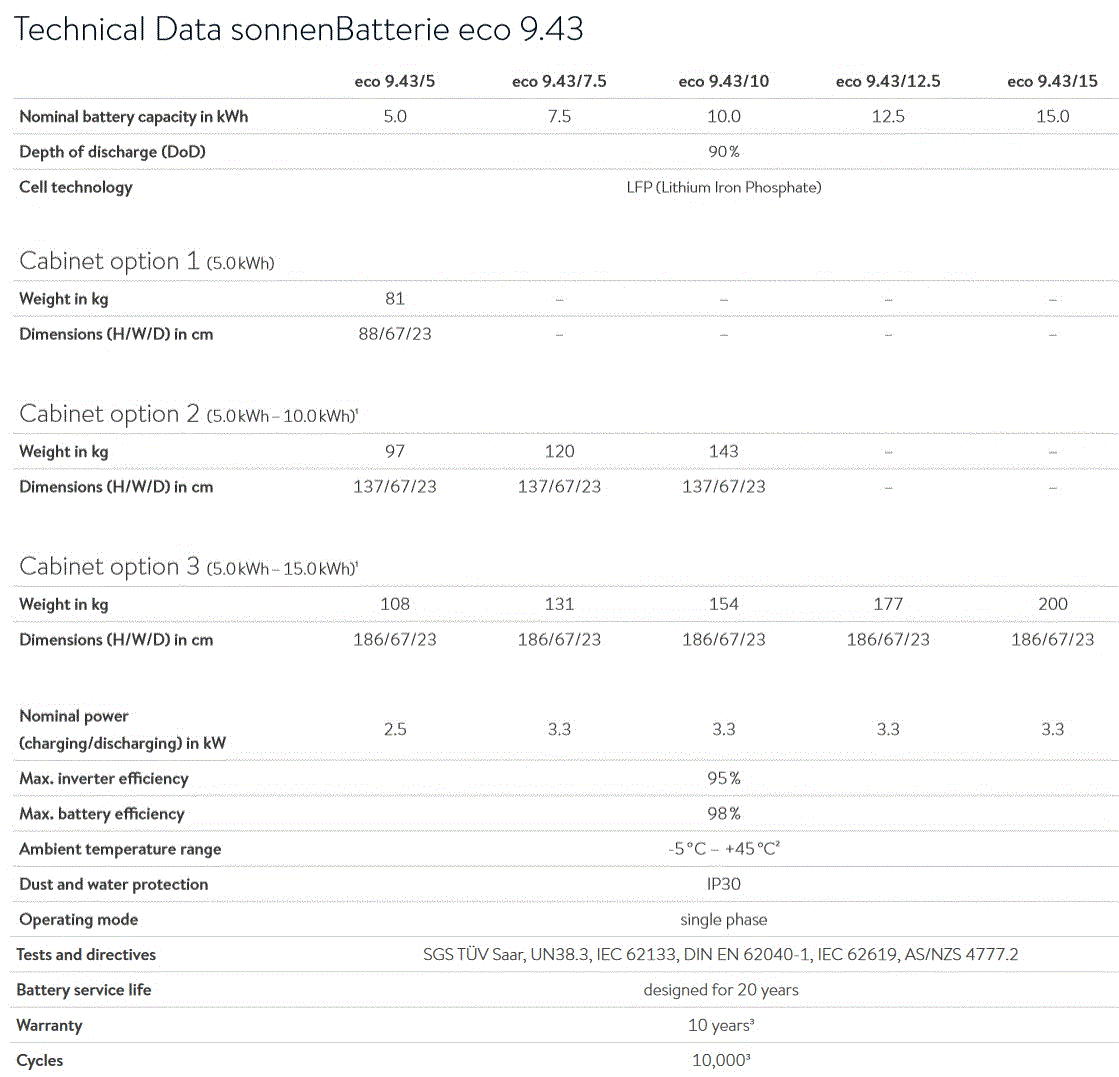 This information is not available on Sonnen's Australian site at time of writing.  Instead the information they offer is for their older battery systems.  I don't know why they don't have the latest information. Maybe they have some older units they want to shift?  As far as I know there is nothing wrong with their older models, but I would expect a discount for buying them.
Nominal & Usable Capacity
Sonnen battery systems now come in 5 different sizes starting at a nominal storage of 5 kilowatt-hours and increasing in 2.5 kilowatt-hour increments up to 15 kilowatt-hours.  The usable storage capacity is 90% of this.  The nominal and usable capacities of the 5 different battery sizes are:
Nominal Capacity 5 kilowatt-hours = Usable Capacity 4.5 kilowatt-hours
Nominal Capacity 7.5 kilowatt-hours = Usable Capacity 6.75 kilowatt-hours
Nominal Capacity 10 kilowatt-hours = Usable Capacity 9 kilowatt-hours
Nominal Capacity 12.5 kilowatt-hours = Usable Capacity 11.25 kilowatt-hours
Nominal Capacity 15 kilowatt-hours = Usable Capacity 13.5 kilowatt-hours
The reason the increments are in steps of 2.5 kilowatt-hours is because that's the size of the each battery module.
Power Out
The smallest battery system is 5 kilowatt-hours of storage with a continuous 2.5 kilowatts of power.  All the larger ones offer 3.3 kilowatts of continuous power.  A power output of 2.5 or 3.3 kilowatts is enough to cover most of a typical household's overnight consumption.  But there will be times when power draw goes over 2.5 or 3.3 kilowatts and grid electricity will have to make up the difference.  For example, when my father is cooking he can easily draw over 6 kilowatts4.  But for most households these periods won't last long and  they will be able to get most of their overnight consumption from it provided they have enough energy in the battery.
Power In
The battery system's maximum charging power is the same as its maximum discharging power.  This creates a problem for the larger systems as they will take a long time to fully charge.  A 15 kilowatt-hour system with 13.5 usable kilowatt-hours of storage will take over 4 hours to charge at a continuous 3.3 kilowatts of power.  This reduces the chances of being able to fully charge with solar power through the day, especially with scattered clouds, because there will be times when you are generating more solar power than the battery can take.  So even if your solar power system produced enough surplus kilowatt-hours to fully charge the battery it may not have been able to suck them all up.  This is something to consider if you are getting a larger battery and expecting to use it at a high capacity-factor to maximise your return on the investment.
Efficiency
The datasheet for the 9th generation Sonnen batteries gives the maximum inverter efficiency as 95%.  This is for the built-in battery inverter.  The maximum battery efficiency is given as 98%.  They don't say if these are round trip efficiencies so I'll assume they are one-way.  This means the maximum round trip efficiency for power in to power out is  87%.  The average round trip efficiency is likely less than this.  This means, at best, you'll need to put 1.15 kilowatt-hours of solar energy in to get one kilowatt-hour of stored energy out.
Size And Installation Location
Sonnen's 9th generation systems come in three different sizes as this graphic taken from their datasheet shows: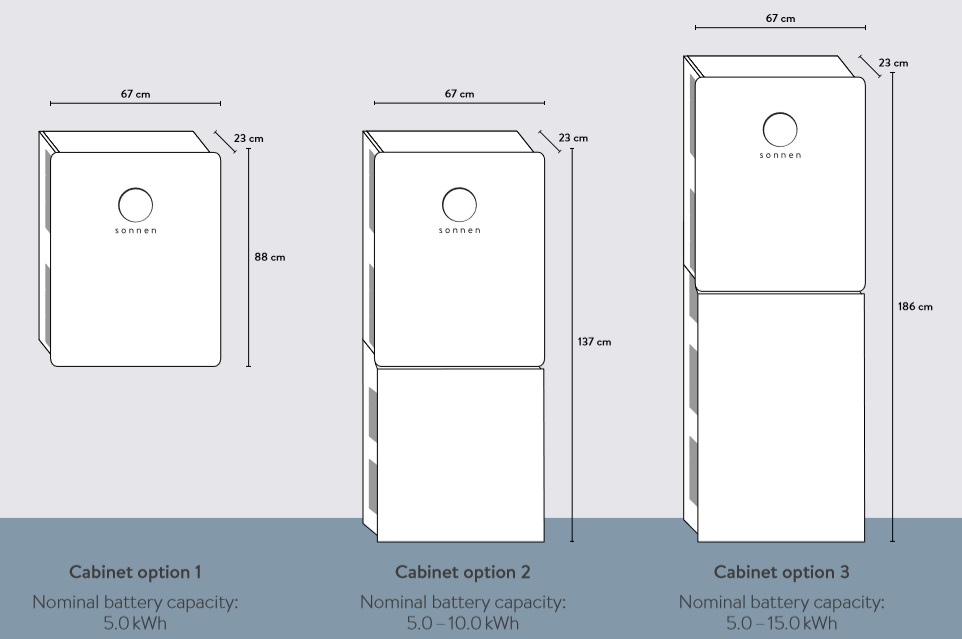 If you think you will expand your battery capacity in the future you can get a cabinet that is larger than initially required.
The diagram above doesn't really do justice to how pretty the Sonnen battery is.  Here's a photo to show you what I mean: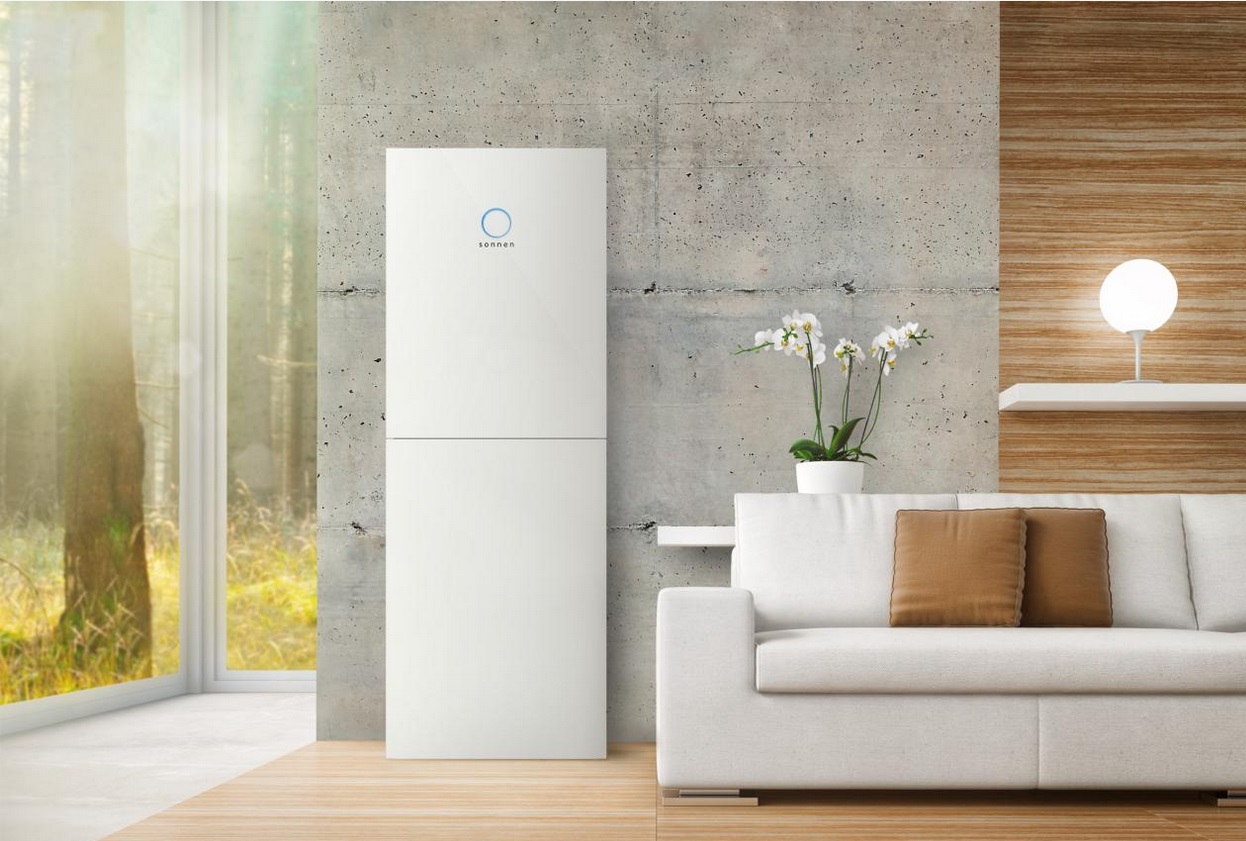 My first thought when I saw this picture was, "Doesn't it look pretty!"5.
The Sonnen battery is definitely pretty.  That circle on it glows blue and whenever I come across a large one I expect to see Doctor Who step out of it.  It would have to be a small Doctor Who, but that's okay, he comes in different sizes6.
Indoor Installation Or Metal Outdoor Enclosure
The Sonnen battery is not waterproof and must be installed indoors.  But if  you want to install it outside there is now an outdoor enclosure that looks like this: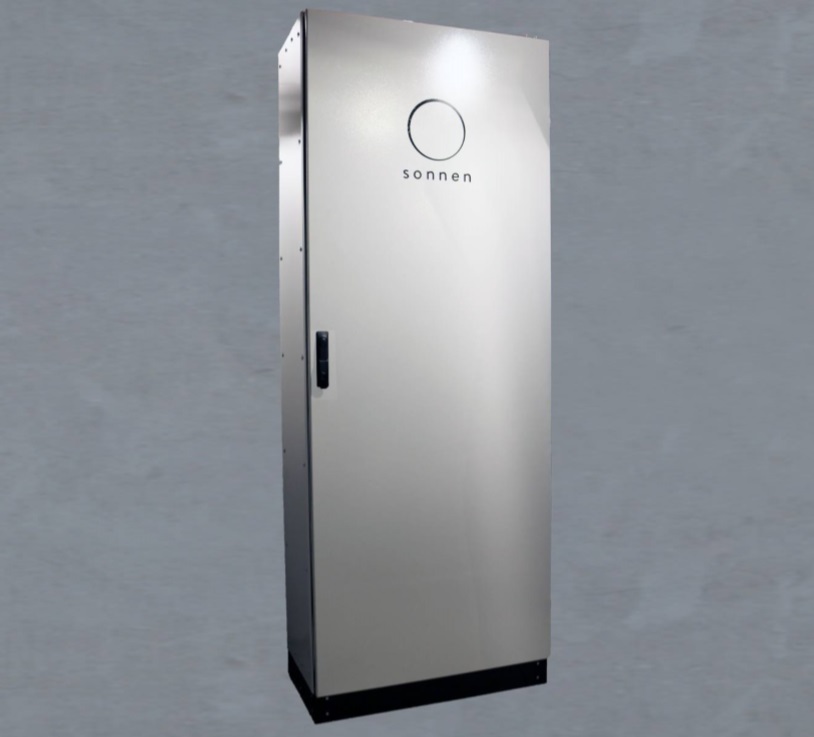 It's not nearly as pretty as what you'll see if you install it indoors, but on the bright side a really fat Doctor Who will be able to use it.  Its technical specifications, including its dimensions (which unfortunately only include space and not time) are shown below: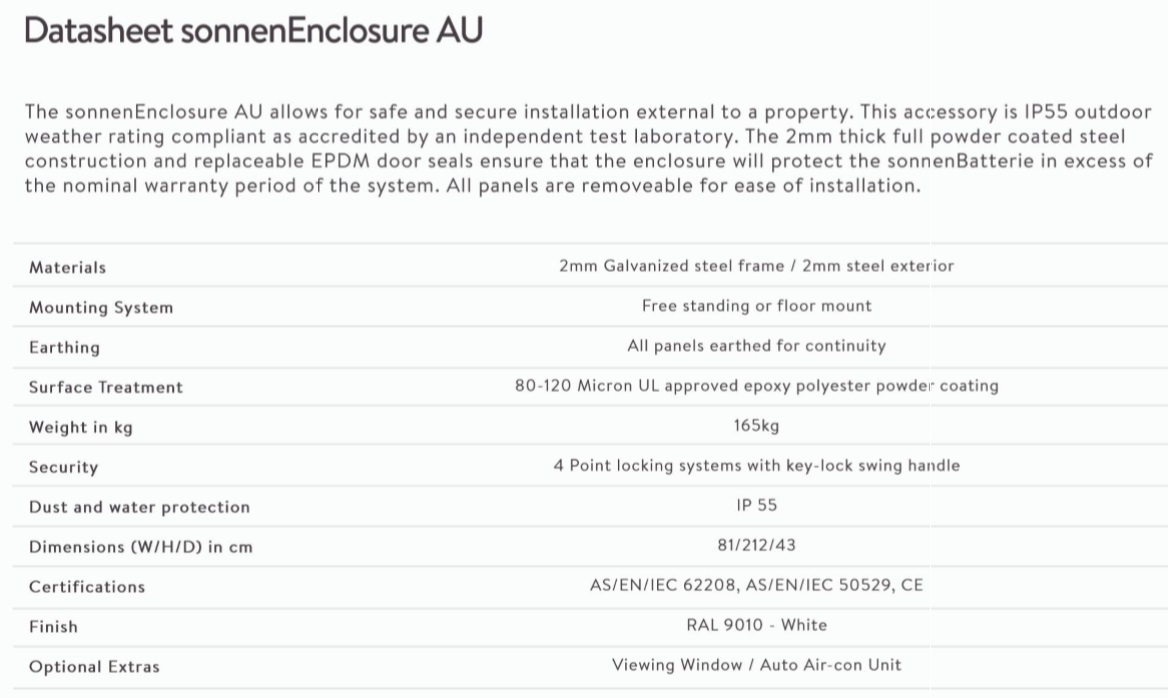 They say it will,
"…protect the sonnenBatterie in excess of the nominal warranty period of the system."
So presumably it has a warranty that is at least as long as that of a Sonnen battery system.  I know I wouldn't settle for anything less.
I have a price for the outdoor enclosure and it's not cheap7.  But I also know Sonnen was offering installers special deals on it so it is difficult to say what it will actually cost you.  If you're fortunate you'll get a good deal.  If you're not fortunate maybe you can find space to install it inside.
Operating Temperature
The air temperature the Sonnen batteries will operate at ranges from -5 to 45 degrees.  This range is fine for most Australian homes.  But if you are going to install it in a hot place outdoors it is possible to bolt a little air conditioner that to the side ensuring it doesn't conk out during a heatwave.  Sonnen couldn't give me a datasheet for it, so I doubt it's ready for prime time, but they told me it has the following features:
IP66 protection grade
Rugged housing
Suitable to extreme environments, -2°C up to +65°C
Integrated electronic temperature controller
I was able to get a photo of it by using my special spy skill which consisted of standing there and taking a photo of it: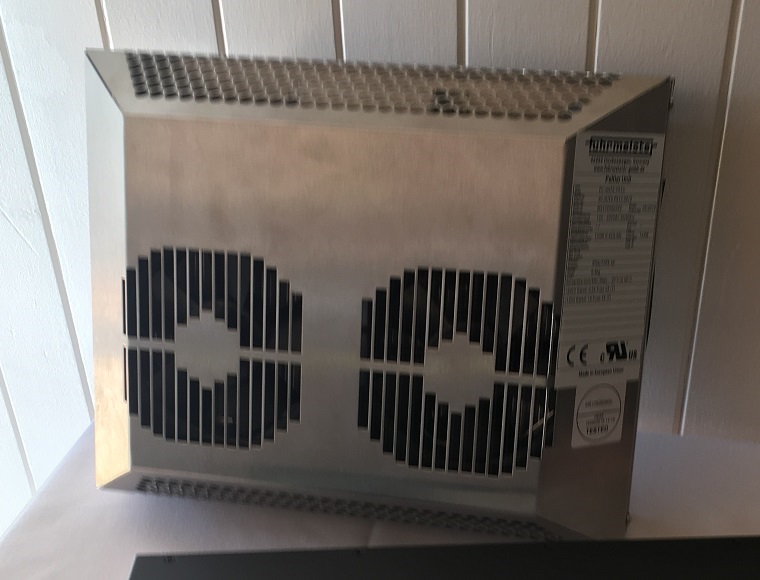 Backup Power Option Now Available
In the past Sonnen batteries couldn't provide backup. Now this is possible by installing a sonnenBackup-Box.  But before you get too excited I will point out it's rather limited.  Its nominal power output is only 1.8 kilowatts.  That's enough to run lights, refrigeration, TVs and laptops in a typical home but not much else.  You'll need to strictly limit electricity use when the grid is down.  It is also important to realise that this is not an uninterruptible power supply (UPS), as it takes about 3 seconds to switch on.
To put the sonnenBackup-Box specifications in context, the Tesla Powerwall 2 offers 5kW of continuous power in backup mode and grid switchover in milliseconds.
Here are the tech specs that I could only get by resorting to photographing an actual physical sheet of paper: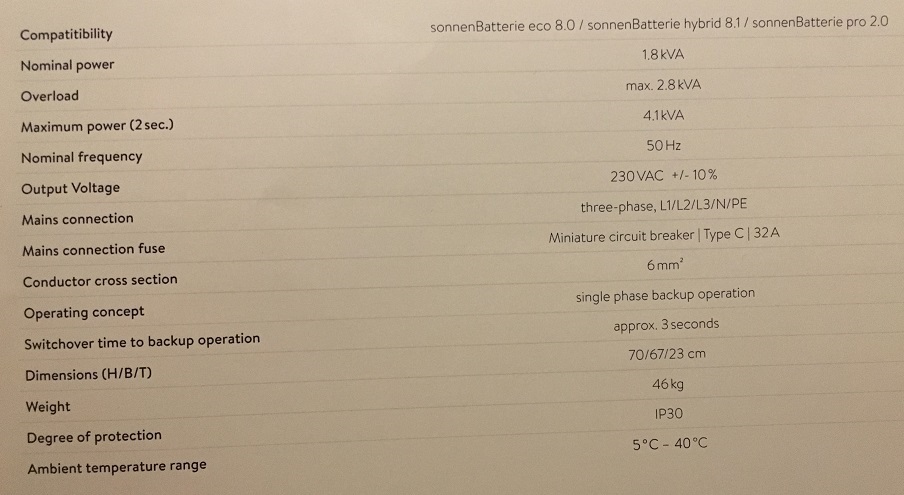 Sonnen says they expect the Backup-box to add several hundred dollars to the cost of an installation.  You may want to consider spending this money on a small generator instead.  Then you won't have to worry about having enough power to meet your needs if the grid goes down.
On the bright side, it is a pretty white box about 70 cm across.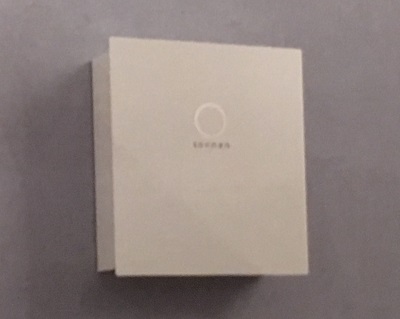 Maybe Doctor Who's poodle could use it.
UPDATE 1 October 2018: Mark in the comments said he had a datasheet for the sonnenProtect which is superior to the sonnenBackup-Box and he was kind enough to send me a copy8.  It can provide 2.5 kilowatts of continuous power from a Sonnen battery system in a blackout and functions as an uninterruptible power supply.  It will need to be located indoors or under cover.  Here are it's stats from the datasheet: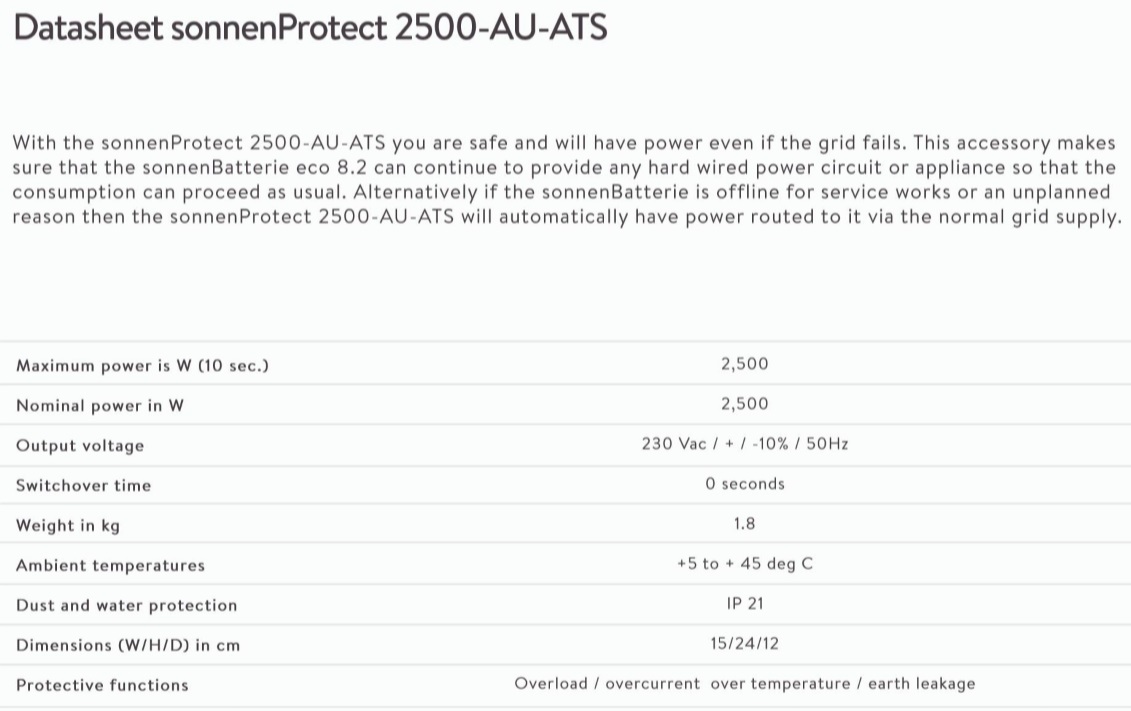 Clearly this would be what Sonnen intends to use for a backup solution in Australia rather than the sonnenBackup-Box.  It's not quite as pretty though.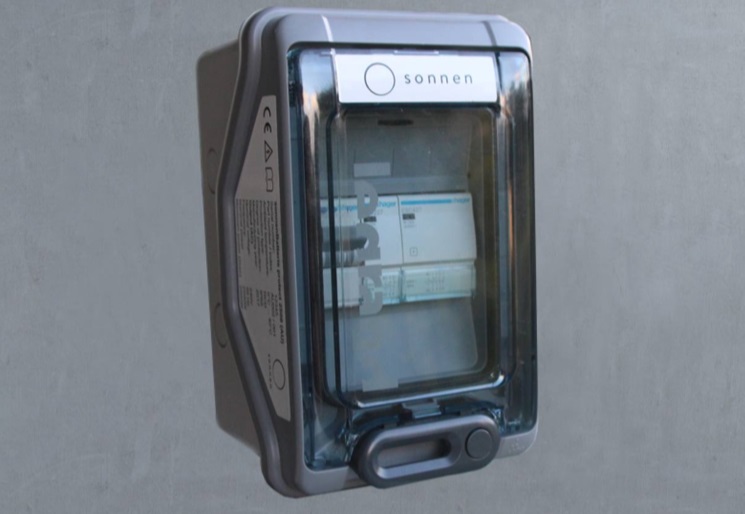 UPDATE 7 October 2018:  I spoke with Sonnen and was told that while the sonnenProtect can provide 2.5 kilowatts of power they only recommend putting around 1 kilowatt of loads on it such as lights, refrigeration, the electric starter of your gas hot water system if you have one, your internet router, and one power point.  This way if your battery is low when the blackout occurs it hopefully won't go flat before the power is restored.  It is not an uninterruptable power source or UPS because if the battery is charging when the blackout occurs it can take a few seconds to change over to providing power.  They also told me that, unlike the Powerwall 2, it cannot recharge from solar panels during the day when the grid is down.
10 Year Warranty
Sonnen warrant their battery systems for 10 years or 10,000 cycles; whichever comes first.  This means they have a 10 year warranty as no household is going to come close to 10,000 cycles in that time.  For the largest capacity system, assuming its battery doesn't deteriorate, you'd have to charge and discharge it for over 22 hours a day at full power to manage it.
Unfortunately, batteries do deteriorate and most warranties allow for this.  However, the Sonnen warranty makes no mention of deterioration in battery capacity apart from saying it doesn't cover "normal wear and tear" without saying what that means.

They don't mention battery deterioration on their website or any handouts or brochures I have seen.  While I'm not a lawyer, in my opinion this means if the Sonnen battery suffers any deterioration in usable capacity during its warranty period you will be entitled to a repair, replacement, or refund under Australian consumer law.  If I was a battery installer I would definitely want Sonnen to clarify if they expect it to suffer deterioration during the warranty period.
20 Year Design Life Vs. 10 Year Warranty Does Not Compute
You may have noticed on the datasheet information above that Sonnen says the design life of their system is 20 years but the warranty is for a maximum of 10 years.

This doesn't make sense.  If they are confident the system will last that long they should give a warranty of 20 years, or close to it, rather than half that period.  Maybe this means they are really confident about their design but much less confident about their ability to actually follow that design and make a battery that lasts 20 years?  More likely they just thought saying it had a 20 year design life sounded good and would help them sell a few more units without thinking through the implications in Australia.  And Australian implications are about 22 times bigger than German implications.
Consumer Guarantees protect Australians and these can entitle a customer to a repair, replacement, or refund after written warranty periods have ended.  In addition, Consumer Guarantees require companies to meet any promises made about performance, condition, or quality.
When they say it has a design life of 20 years, to me it sounds like they are saying it will last 20 years.  So if you buy a Sonnen battery system, be sure to keep copies of any material that says it has a design life of 20 years. Take screenshots of their site so if the system breaks down in 12 years time and Sonnen doesn't want to fix it saying the warranty is over, you can go to a consumer tribunal or small claims court and show them what they said about it having a 20 year design life.  I'm not a lawyer, but I suspect there is an excellent chance they will find in your favour.
Sonnen And Virtual Power Plants
The high cycle life of lithium iron phosphate batteries makes them very suitable for use in virtual power plants (VPPs) as it limits the extra wear and tear a VPP will cause.  Sonnen is creating a VPP in the form of its Sonnen Flat system, but rather than paying you to join their virtual power plant you pay them.  In return you get all your electricity use — within limits — included in that flat rate.  To explain its details and how the costs stack up will require a whole new article I'll have to do in the future.
Estimated Retail Price
I have estimated retail prices for the Sonnen batteries.  These are without the outdoor enclosure, the sonnenBackup-Box, or the cost of installation.  They are also just estimates and the real price may be higher or lower but I presume the prices will be somewhere around the following:
5 kilowatt-hour system: $8,700
7.5 kilowatt-hour system:  $11,000
10 kilowatt-hour system: $12,800
12.5 kilowatt-hour system: $14,600
15 kilowatt-hour system: $16,500
Estimated Retail Price With SA Battery Subsidy
The South Australian battery subsidy will take a great white shark sized bite out of the cost of a Sonnen battery.  Below I've put the estimated retail price after the applying the subsidy.  Where there are two prices the first is for a typical household while the second is for households that receive a pension or Centrelink payment.  Where there is one price it is because the maximum subsidy of $6,000 has been reached:
Subsidised  5 kilowatt-hour system: $6,200 or $5,700
Subsidised  7.5 kilowatt-hour system: $7,250 or $6,500
Subsidised  10 kilowatt-hour system: $7,800 or $6,800
Subsidised  12.5 kilowatt-hour system: $8,600
Subsidised  15 kilowatt-hour system: $10,500
Can I Save Money Installing A Sonnen Battery If It Lasts As Long As Its Warranty?
No. Not using my assumptions.
Are You Sure About That?
The lowest cost battery is a subsidised 10 kilowatt-hour system bought in South Australia by a pensioner.  Its estimated subsidised cost is $6,800 and has 9 usable kilowatt-hours of storage.  If I make the following assumptions:
Installation is free
Cycled once per day
Round trip efficiency is 87%
The cost of grid electricity is 38 cents, which is typical in South Australia
The solar feed-in tariff is 16.3 cents
The cost of grid electricity and solar feed-in tariff remain constant in real terms and results are given in today's money.
The battery suffers no deterioration in capacity.
Then each kilowatt-hour of stored electricity used will reduce electricity bills by 19.3 cents which will come to a total of $1.73 a day or $633 a year.  Over 10 years the savings will be $6,330 which is less than the $6,800 cost of a system.  As a normal household won't cycle it more than once per day, and is likely to cycle it less, it will only lose money.  If your feed-in tariff is less than 16.3 cents and your solar power system is large enough to use the battery at a consistently high capacity this doesn't mean the battery will pay for itself, it probably means you should get a higher feed-in tariff.  Becoming part of a virtual power plant that saves you money may let it pay for itself, but my preliminary examination of the cost of Sonnen Flat suggests that's not an option at the moment and there is no economic or environmental reason to jump the gun and getting a battery before it saves you money.
If it lasts beyond its 10 year warranty you could make more than your money back, but that's taking a risk.  Sonnen could remove this risk by increasing its warranty so it matches or is close to its design life.  If they are confident it will last that long it shouldn't be a problem for them.
Tindo Solar Is Sonnen's Partner In South Australia
Tindo Solar is Australia's only producer of solar panels.  They also install solar power systems and batteries and are Sonnen's partner in South Australia.  Tindo say they will be installing Sonnen batteries under the South Australian Home Battery Scheme. But Tindo Solar is not a CEC Approved Retailer, which the South Australian government said was necessary to install subsidised battery systems. So I'm confused. Maybe the government have decided to scrap the CEC Approved Retailer requirement and increase competition in the battery market.  Or maybe there are different rules for installers whose partners are going to build a battery assembly plant in the state.  Who knows?9
If You Want A Battery Then Sonnen Looks Like A Good Quality System
For a nine week period in South Australia, Sonnen is probably the most cost-effective home battery system available.  This doesn't mean it will save you money, but if you are not interested in an economic payback then Sonnen could be a good choice as looks like a reliable system that has proven itself in Germany and other small countries in Europe.  With the sonnenBackup-Box it now provides limited power during grid failures which is an important feature for most early adopters.  The backup power isn't much, but it is enough to turn on all the lights in your home so all the neighbours will know you have a battery. And that's what really matters, hey?