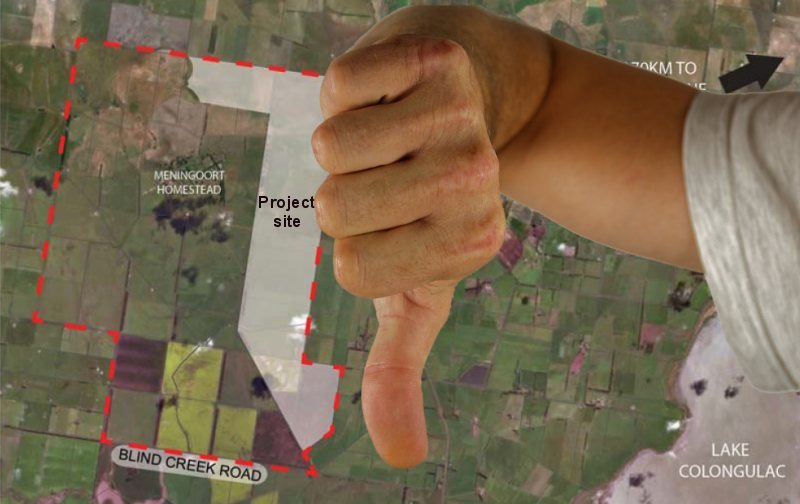 Plans for a major solar farm near Camperdown in Victoria have hit a wall, with Corangamite Shire Council unanimously rejecting the proposal.
As we mentioned last month, Bookaar Solar Farm was to be a 200MW facility boasting 700,000 solar panels, with the potential for energy storage to added at a later date.
A total of 86 submissions were received in relation to the application – 81 opposed to it and just 5 in support of the project.  The 3260 postcode has a population of around 4,800, so the number of those opposed who were prepared to go as far as lodging a submission was significant.
According to the agenda (PDF) for Corangamite Shire Council's meeting on Tuesday night, concerns raised about Bookaar Solar Farm in the submissions were:
fire risk
loss of agricultural land
landscape and visual impact
traffic impacts during construction
potential impact on native wildlife
creation of a micro climate as a result of the solar farm
noise issues
glare from the solar panels
Concerns such as these have been brought up in connection with various other solar farms across Australia and have subsequently been addressed1, enabling the projects to move forward.
Fears Of An "Industrial Landscape"
While Council's Consultant Town Planner recommended a Notice of Decision to Grant a Planning Permit be issued with various conditions attached, the six councillors present at the meeting voted against Bookaar Solar Farm says The Standard.
Cr Lesley Grant said the area needed to be kept for food production and not become an industrial landscape.
It's not clear at this stage if project applicant Bookaar Solar Farm Pty. Ltd., which is a joint venture between the owners of  the site and Infinergy Pacific, will appeal the decision. Things might be a little bit uncomfortable in Council's chambers though as a land owner family member is also a councillor (who didn't participate in Tuesday's vote).
There have been some rumblings that a community information session regarding Bookaar Solar Farm was less than satisfactory. Infinergy Pacific doesn't appear to be a signatory to the Clean Energy Council's recently launched Best Practice Charter for Renewable Energy Developments, an important element of which is effective community engagement. This doesn't mean to say it failed in this aspect through not being a signatory, but something obviously went very wrong.
Regardless of the circumstances, it demonstrates how crucial gaining and maintaining a social licence to operate (SLO) is to renewable energy projects – and that the use of productive agricultural land for large-scale PV is a hot-button topic.
"In a planning sense, it's a lineball call, but I will come down on the side of the community," stated Cr Neil Trotter.
The situation also again highlighted some Victorian councils feel there is a lack of guidance at a state level on the development of solar farms within their regions. Guidelines for the assessment of applications are currently being developed.
Footnotes
to relevant councils'/governments' satisfaction but obviously not to everyone's ↩