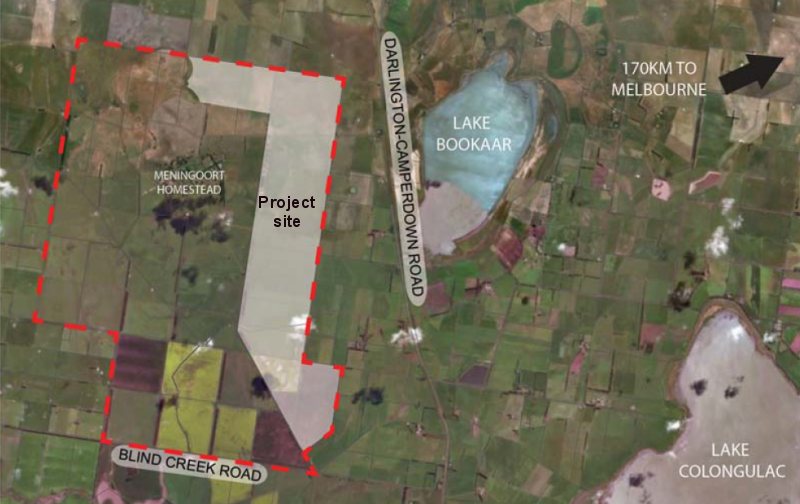 A planning permit application lodged for a 200MW solar farm near Camperdown in Victoria has locals taking an interest – positive and otherwise.
Bookaar Solar Farm is proposed for a site approximately 10 kilometres north-west of the town, which is around 190 kilometres west of Melbourne.
The facility will consist of 700,000 – 800,000 solar panels mounted on single axis tracking systems and up to 60 central inverters. A one-hectare area has been designated for battery storage, but capacity hasn't been noted.
Bookaar Solar Farm will generate enough electricity to provide the equivalent consumption of 80,000 Victorian households, while avoiding 450,000 tonnes of carbon emissions annually.
During the expected 12 month build time, 150 people would be employed; with 8-12 full time staff once operations.
The project's planning permit application report can be downloaded here (PDF). Corangamite Shire Council will discuss the proposal at their next meeting in September and will take into account concerns that have been raised by some in the community in arriving at a decision.
It's not as though residents of Camperdown and the surrounding community are anti-solar per se – there are around 295 small scale solar power systems in the 3260 postcode (population around 4,800). Some have raised common concerns associated with large scale renewable energy developments such as aesthetics, use of agricultural land, glare, noise and traffic during construction. While Bookaar Solar Farm will be 10 kilometres outside of town, there are 6 potentially affected properties within 1 kilometre of the site and 18 within 1.5 kilometres.
An initial information session was held in 2018 and some of the concerns raised have been addressed in the above-mentioned application report.
The project applicant is Bookaar Solar Farm Pty. Ltd., a joint venture partnership between the landowners of the proposed site and Infinergy Pacific. Making the situation a little tricky is a member of the landowner's family is also a Councillor, however, she won't be involved in the application decision.
Infinergy says it is currently developing a pipeline of around 300 megawatts of solar projects in Australia, with the other facility being the Metz Solar Farm east of Armidale (~100MW). That project received AEMO and Transgrid grid-connection approval last month and it's anticipated construction will commence early next year.
Infinergy Pacific is a subsidiary of UK-based Infinergy Limited, which has been involved with the development of more than 30 onshore wind and solar energy projects in the UK and the Netherlands over the last decade with a collective capacity of approximately 1GW.