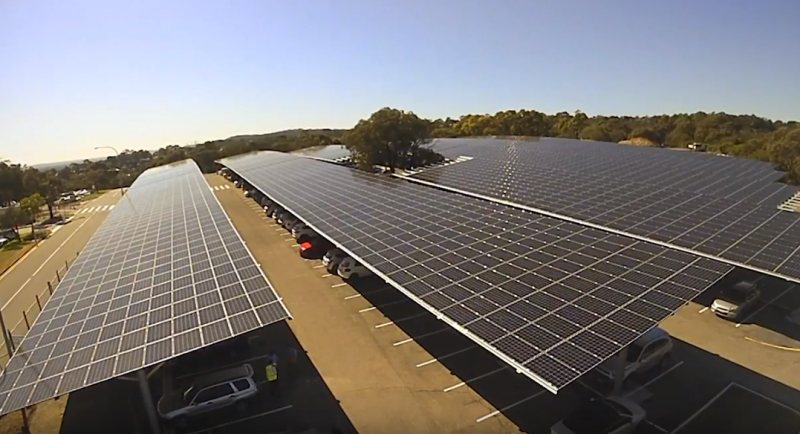 4,136 panels have been installed over a car park at Flinders University's Bedford Park campus in South Australia.
Originally to have consisted of around 3,800 panels, the new 1.8MW solar power installation at car park 3 will generate equivalent to 19.3% of the electricity needs of Flinders' main campus.
While costing $4.895m, the installation is expected to pay for itself within 7 years.
An interesting feature of the installation is the large tree between two of the arrays. What impact it will have on electricity production, if any, isn't clear.
This may now be the largest solar car park in Australia. A previous title holder, an installation at a Westfield shopping centre in Adelaide that was completed last year, is 647kW.
This latest installation at the Bedford Park campus adds to panels installed on the Information Science and Technology, Engineering, Physical Sciences, Student Centre, Health Science and Health Sciences Lecture Theatre buildings.
The 6,500 solar panels across the campus will generate an estimated 2,800MWh of clean electricity annually, slashing Flinders' power costs and emissions and demonstrating the University's commitment to sustainability.
Flinders Aiming For Net-Zero Emissions
In 2017, the University was responsible for the production of more than 24,000 tonnes of carbon emissions (tCO2-e), but has set its sights on becoming carbon-negative. It intends achieving zero net emissions from electricity by 2020.
"As electricity makes up the greatest proportion of our total carbon footprint, there be will be a strong focus on reducing our overall consumption through demand management (reducing electricity usage), on-campus energy generation (reducing reliance on network) and improved system flexibility (interaction with the network)," states Flinders' draft Sustainability Plan to 2022 (PDF).
The University also intends establishing an electric car charging station network for a range of different vehicles, which will be powered by solar panels.
On a related note, in June we reported an autonomous electric shuttle called Flex had commenced operations around the Tonsley Innovation District. The shuttle, which will be recharged at a solar powered garage near the Mitsubishi Administration building, will also service the Flinders Medical Centre and the University's Bedford Park campus within ten months.
The University is also home to FAST (Flinders Automotive Solar Team), which was to have participated in the Bridgestone World Solar Challenge for the first time last year with its fully solar powered vehicle, Investigator III. Unfortunately, last-minute mechanical issues during road trials prevented it from starting in the 3,000 kilometre event. FAST has set its sights on participating in the next Challenge in 2019.
As well as using solar power, Flinders is also engaged in other forms of solar research and development. Among its research is an ARENA-funded project involving Monash and Macquarie universities that seeks to advance the development of all-polymer solar cells, focusing on issues of scalability and stability.