Flinders University's first solar car entry in the Bridgestone World Solar Challenge, Investigator III, was unveiled yesterday – and the pressure is on to have the vehicle ready for next month's race.
Flinders Automotive Solar Team's (FAST's) electric vehicle will be entered in the Challenger class, which is for solar cars designed for practicality and appeal in a given market segment; such as family sedans or light freight.
The FAST team is shooting to average 100km an hour over the 3,000km road trip, which starts in Darwin and ends in Adelaide.
"We're excited to be incorporating technologies such as an energy conserving strategy engine, flexible and embedded solar panels, regenerative suspension and a novel mesh communications to our entry vehicle," said FAST director Dr Stuart Wildy.
However, Dr. Wildy stated later in the day the regenerative suspension 1 system may not make it into the final vehicle for this year, according to an ABC report.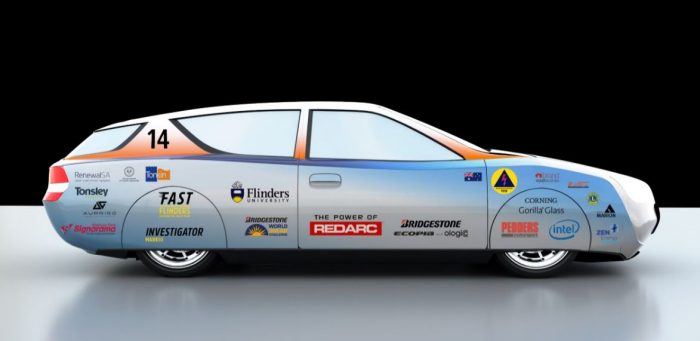 It's estimated Investigator III's maximum allowable solar array size of 5m2 will have a peak output upwards of 1000W. The vehicle's battery pack consists of 2,448 Panasonic NCR18650BF batteries.
"We connect 36 of these batteries in parallel to form one cell and we connect 34 of these cells in series to make one of our battery packs. In our solar car, we have two of these battery packs, which weigh in at a total of 120kg," states FAST.
One of the interesting aspects of the vehicle is the chassis is a steel space frame design. While heavier than carbon-fibre monocoque, this design is easily modified and safer during impact says the team.
Two Marand axial flux, brushless permanent magnet hub motors are used to drive the rear wheels of the Investigator III
Australia Well Represented At World Solar Challenge
Other Australian teams competing this year are:
The Challenger class is for vehicles built for speed and efficiency rather than comfort and practicality. This year, the maximum amount of space solar arrays can occupy on a Challenger class vehicle is 4m2. Dutch champions Nuon Solar Team have dominated the class in all but two Challenges since 2001. It will be interesting to see how they fare with reduced space for solar cells.
Another class is the Adventure Class, which is non-competitive. It enables cars built for previous races to run again, usually with new team members
At this stage, a total of 42 teams from all over the world are competing in the Challenge, now in its 30th year. It's the biggest event yet in terms of competitors and it's expected a global audience of more than 25 million will track the teams' progress.
The 2017 Bridgestone World Solar Challenge will officially start in Darwin on Sunday 8 October and finish on 15 October 2017 in Adelaide.
Footnotes
regenerative suspension converts the up-down motion of shock absorbers into useful energy, such as electricity ↩