The end of this week will see the completion of Australia's largest solar car park canopy project, installed at a Westfield shopping centre.
The installation at Westfield Marion  in Adelaide's south-west comprises 240 car parking spaces covered by 14 separate solar canopies with a collective capacity of 647kW. In addition to generating clean electricity, the canopies will provide shade for vehicles, something that will no doubt be appreciated by shoppers; particularly during Adelaide's summer months.
The project, installed by Origin Energy, is expected to generate 950MWh of electricity annually and avoid approximately 650 tonnes of greenhouse gas emissions each year.
Scentre Group, which owns and operates Westfield shopping centres in Australia and New Zealand, says close to 65% of all energy consumed in its centres is used for cooling and ventilation.
"Solar energy is a key pillar in our sustainable energy strategy. It reduces our reliance on traditional electricity generation, ensures greater cost certainty and provides a win-win for stakeholders and the environment."
Scentre Group is also examining other ways to reduce its energy costs in relation to cooling. UV treatment technology was recently trialed at its Westfield Hornsby centre, which keeps equipment free of dust and bacterial agents.
"By keeping the units clean, friction is reduced and airflow through the units is therefore more efficient. This treatment also reduces the lifetime maintenance requirements of the units."
Results from the trial indicated a 10% annual reduction in cooling demand, a drop in electricity consumption of 641,277kWh and an annual cost saving of around $121,000.
Other solar car park canopy projects recently completed in Australia include one at a shopping centre in Northam, which is around 97 kilometres east of Perth – the first project of its type in Western Australia.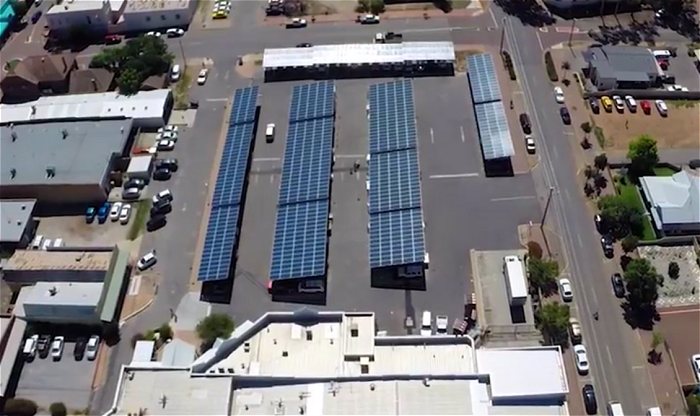 According to Perdaman Group, the Northam Boulevard Shopping Centre installation consists of 900 solar panels and will generate more than one million kilowatt hours of electricity a year; the equivalent of 40% of the shopping centre's annual electricity requirements.
Another significant solar car park project was completed at Sydney Markets in Flemington last year. Installed by Autonomous Energy, the 170kW system provides enough power to supply the entire Flower Market with electricity. At the time it was commissioned, it was the largest solar car park canopy in Australia.