Since the first Solar Independence Day in 2014, the UK's PV-based capacity has nearly tripled – an achievement well worth celebrating.
The 4th Solar Independence Day was coordinated by the Solar Trade Association (STA), promoting the huge strides in PV uptake throughout the UK and raising awareness of the renewable energy technology's benefits.
STA says 880,000 homes in the UK now have solar power systems installed, along with more than 40,000 small businesses and 1,000 schools. The UK's agricultural sector has also embraced the technology, with 25% all farmers going solar.
Recent statistics indicate 12.3GW of solar capacity is in place across a total of 916,800 installation – a thousand times more capacity than in 2006. Add in solar thermal and the number of installations climbs to 1.175 million. STA states 86% of the British public support solar, making it "unequivocally the nation's favourite source of energy".
"Our message today is that solar delivers real energy independence and the power to act on climate change to people, communities and organisations everywhere and indeed to the UK itself," said Leonie Greene, STA's Head of External Affairs
According to MyGridGB, which provides real time information and analysis of energy and carbon emissions in Great Britain, solar energy represented 6.6% of electricity generation over the past 28 days.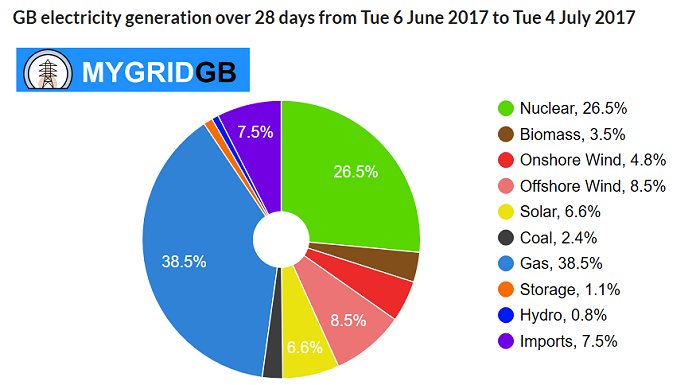 At midday today (UK time), solar made up 10.2% of electricity generation in Great Britain and at 5pm, 9.3%.
Last month, UK PV generation beat coal and nuclear for the first time. On May 26, solar output reached 8.75GW at around midday, supplying nearly 25% of the UK's total demand.
Among the announcements made during today's event was one from Aldi UK stating it will add another 11,000 solar panels on more than 50 of its stores by the end of the year. The company has already installed 85,000 PV modules on distribution centres and supermarkets across the UK that are collectively generating more than 17,500 MWh of electricity a year.
The future of solar in the UK continues to look bright, particularly in London. London's environmental strategy should be announced soon and is expected to include plans to significantly boost the rollout of solar in the capital. The strategy has been completed, but is among a backlog of announcements put on hold due to the country's snap election recent tragedies in the city.