In July 2018 the "Best Practice Guide: Battery Storage Equipment — Electrical Safety Requirements" was published.  This was a momentous event in the history of battery safety guides and I can remember exactly where I was when I heard the news.  I was in Australia1.  Before this day there was no specific product safety guide covering lithium home batteries.  But now, in our time of need, it is here.
The guide exists because there was a need for clear and consistent safety criteria for residential lithium battery systems.  While existing standards already applied it was important to develop one clear and consistent set of safety criteria so everyone would be on the same page — or the same set of 40 pages.
What The Guide Is For
The guide is made for manufacturers and importers so they can ensure battery systems they make or bring into the country meet minimum safety standards.  The report says:
"By applying the safety criteria, manufacturers and importers can demonstrate that their equipment meets the minimum acceptable level for safety for installation in household environments and provides an acceptable level for safety for installation in household environments and provides an acceptable measure of protection against hazards such as electrical, mechanical, thermal, fire and radiation."
Having one best practice guide should make suppliers jobs easier and will hopefully reduce the cost of home battery storage in Australia by a small, but still helpful, amount.
Who The Guide Is For
Because most of us aren't in the habit of manufacturing home battery storage systems or shipping container loads of them over from China, South Korea, the USA, or other weird countries; the guide isn't going to be of direct interest to a lot of people.  If you are a home owner looking for a battery system it's not going to help you select one suitable for your needs.  But if you are interested in the technical aspects of battery system safety don't let me put you off reading it.  It's 40 pages jammed packed with words.  And not just words, but also punctuation.  Just when you think one sentence has come to a full stop another one starts up.  It was so riveting I hardly fell asleep at all.
The guide is more valuable to installers who can use it to check if battery systems they work with are up to scratch with regard to safety and can allow them identify areas that may need improvement.  More generally, they can use the information and principles in the guide to determine if battery storage is safe to install in specific situations.
Who Made The Guide
The best practice guide was developed by various stakeholders.  These included but weren't limited to:
Australian Industry Group
Australian Consumer Electronics Suppliers Association
Clean Energy Council
CSIRO
Energy Networks Australia
Smart Energy Council
The development process consisted of people from various backgrounds who understand electrons2 and stuff working together to hammer out a suitable standard using their pooled expertise.
This standard making process doesn't always result in perfection, but I can't think of a better way to go about it apart from making sure the results are easily accessible — which has been done in this case.
Battery Systems Covered
The guide applies to batteries that are:
For residential use
Contain lithium
Have a storage capacity from 1 to 200 kilowatt-hours
Are permanently wired in and not portable or mobile
This means the guide doesn't apply to your laptop or electric car.  Not unless your laptop is very strange and your electric car has limited range.
It's hard to imagine a home needing 200 kilowatt-hours of lithium battery storage.  That amount seems more suitable for a reasonably large business.  But I suppose it's possible someone with a large mansion may want to cut themselves off from the rest of the world.  Malcolm Turnbull maybe.
Some Guide Highlights
The guide has a lot of information on how manufacturers and importers can make sure battery systems are compliant and which particular Australian standards may apply.  I did not find these parts of the report interesting and won't go into them.  But please feel free to read them yourself.  Go on — I dare you.
What I will do instead is make a list of not so boring points which I have selected from the guide based upon the criteria that I didn't fall asleep while reading them:
If a battery system's external enclosure is metallic it must be no less than 0.2mm in thickness.  This is important because unless it's good quality steel I could poke my finger through that3.
Battery modules must be sealed so they cannot be opened without breaking them.  This is so they can be returned safely to the manufacturer to be safely serviced. Opening a battery incorrectly can cause a sudden increase in entropy, which is science talk for things going pear shaped.
Detailed Safety Datasheets and installation instructions must be supplied.
If a system can be located outside its markings must be UV resistant.
After 12 months they will review if battery systems that can be installed indoors will be required to resist an external fire.  They will also review if battery systems that can be located outdoors will be required to resist seaside salt mist corrosion.
It has a risk matrix you can download here.  This is a large table that lists different hazards associated with battery systems, minimum requirements to meet the safety criteria, and where to find relevant sections of Australian standards.  Here's a small part of it: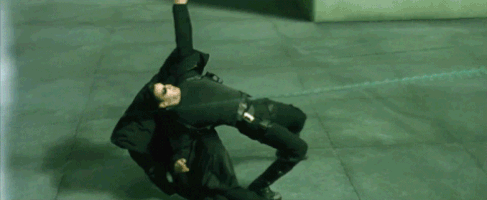 Whoops!  Wrong Matrix!  Here's the right one: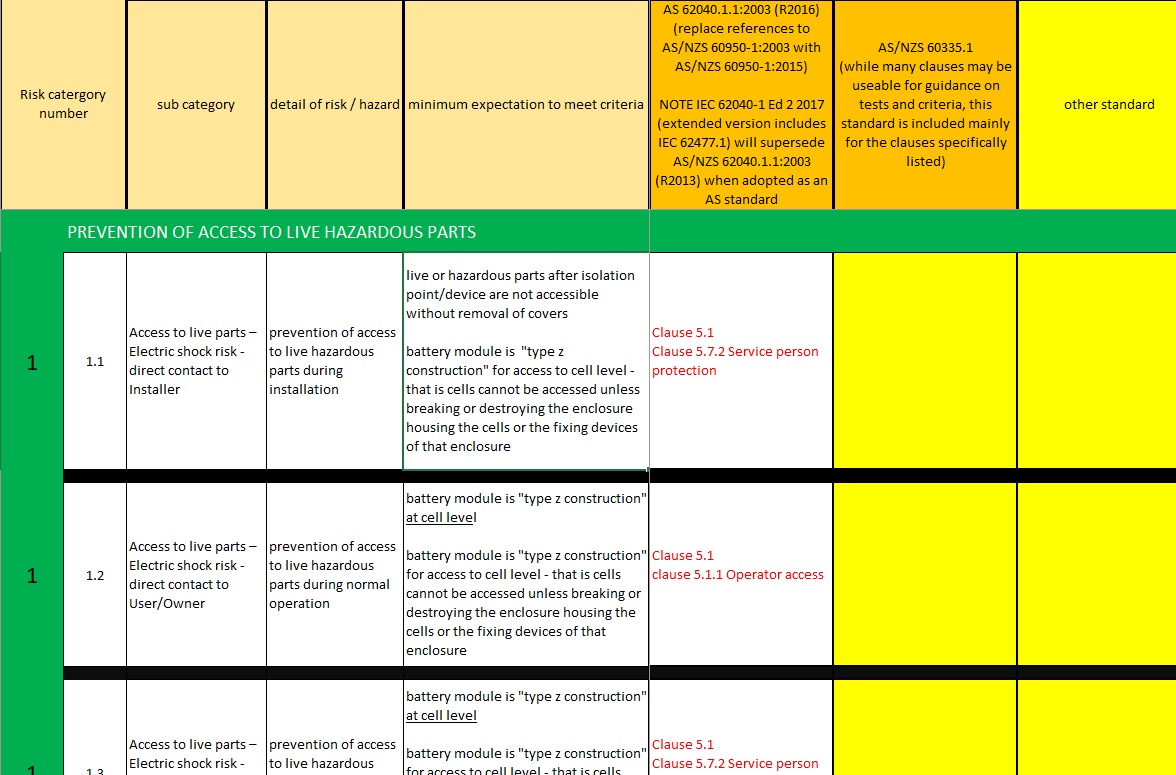 There — isn't this much more exciting than some boring movie full of explosions and kung-fu and gunfights and exploding kung-fu gunfights?
I Have Nothing More To Say
In all seriousness, if you are seriously interested in the serious matter of battery safety you are going to have to read the report yourself.  But if this brief article has convinced you reading it isn't necessary then I've saved you from 40 boring pages.  Or more like 8 boring pages and a long nap.
Footnotes
Actually, I can remember exactly where I was when Harold Holt shot J.F.K. while landing on the moon in an exploding Space Shuttle.  But I'm taking pills for that now. ↩
Given what particle physics is like, rather than understand electrons, it's more likely they fail to understand electrons in the correct way. ↩
Mind you, I'm not normal.  The reason why European DNA is only around 2% Neanderthal is because my family kept most of the Neanderthal genes for themselves. ↩