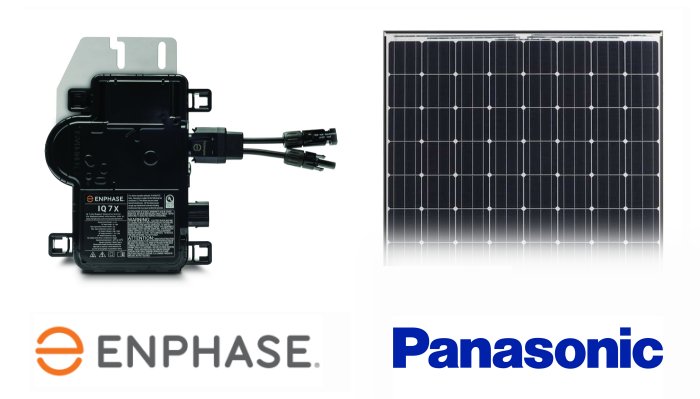 Panasonic has been showing off its recently introduced and new solar products – including an AC solar panel  featuring Enphase microinverter technology.
Back in February, Panasonic and Enphase Energy announced a partnership that would see Enphase's IQ 7X Micro microinverters1 combined with Panasonic HIT solar panels.
Earlier today, Panasonic Eco Solutions of North America unveiled the AC Module (ACM) at Solar Power International 2018.
The N330E HIT AC solar panel has an Enphase microinverter integrated on the back of the module, doing away with the need for a central solar inverter and providing more system design flexibility, redundancy, the ability for panel level monitoring and other benefits.
"The integrated Enphase microinverter is field-replaceable, removing the need to replace the entire solar module and yielding operation and maintenance costs savings that maximize return on investment (ROI) for homeowners," says Panasonic.
The N330E HIT AC Series consists of one model at this point, a 330W module offering 19.70% efficiency.
Further information on the N330E HIT AC can be viewed here.  Panasonic says it expects the module to be available in the U.S. in early 2019, but didn't mention availability in Australia.
HIT S Series Smart Module
Another new Panasonic product to feature panel level optimisation (PLO) is the recently introduced HIT S Series Smart Module, which features a SolarEdge Optimizer. The SolarEdge power optimizer is a DC/DC converter that boosts energy output by continually tracking the maximum power point (MPPT) of each panel and also enables panel level monitoring.
Other New HIT Modules
Panasonic also introduced the N340/N335 HIT+ Series with 20.3/20% module efficiency, and the N335K/N330K HIT+ BLACK Series with 20/19.7% efficiency. These panels feature a 40mm frame for increased strength and  a new water drainage system.
Harbor Plus Smart Battery
Also being demonstrated at SPI 2018 is Panasonic's Harbor Plus Smart Battery, a home energy storage solution boasting 17.1 kilowatt-hours usable capacity (total capacity 20.3 kWh)  and real power output of up to 10 kilowatts (5 minutes – continuous: 6.7 kW).
"Today, Panasonic is not only unveiling our latest HIT® series innovations, but we are also demonstrating the importance of strategic collaboration and technology integration with leading industry partners," stated Panasonic Eco Solutions North America's Mukesh Sethi.
Solar Power International is North America's largest solar industry event and is being held September 24-27 (local time).